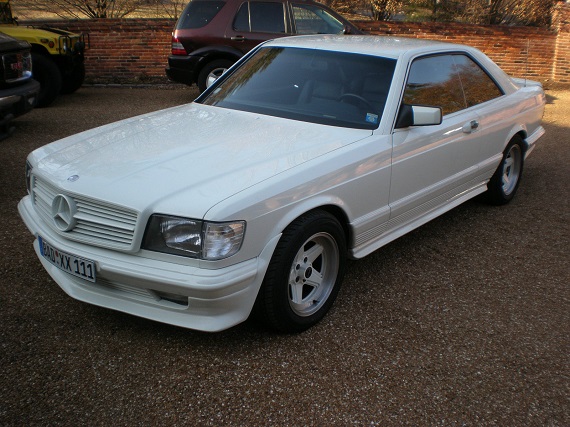 The words "authentic" and "original" become quite contested when it comes to 1980s AMG products. That's mostly because, in truly un-Germanic fashion, most of the records of the early AMG cars were lost in the move from an independent company to incorporation in the Daimler-Benz Goliath. That's really unfortunate, because it opens the opportunity for interpretation; without documentation, how is one supposed to truly show that their car is an original modified version? There are also questions about what level of modification makes a "authentic" AMG; because, technically, you could buy a steering wheel, wheels and aerobits from an authorized dealer in the 1980s and be able to claim it's an original car. But the big money tends to be reserved for the cars that were fully modified with upgraded engines, suspension, interior and exterior upgrades. We've seen a few of these variously modified SECs cross these pages, and today we get to look at another. This one straddles the middle ground of mods; a steering wheel, reportedly correct "Penta" wheels, and aerodynamic bits adorn this European market 500SEC, but the car also has the correct AMG suspension as well. With lower miles, will this 1980s spectacular dipped white example set the market ablaze?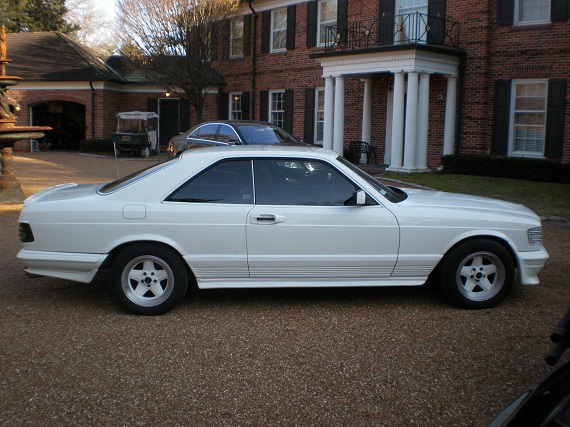 Year: 1984
Model: 500SEC
Engine: 5.0 liter V8
Transmission: 4-speed automatic
Mileage: 80,645 mi
Price: $26,500 Buy It Now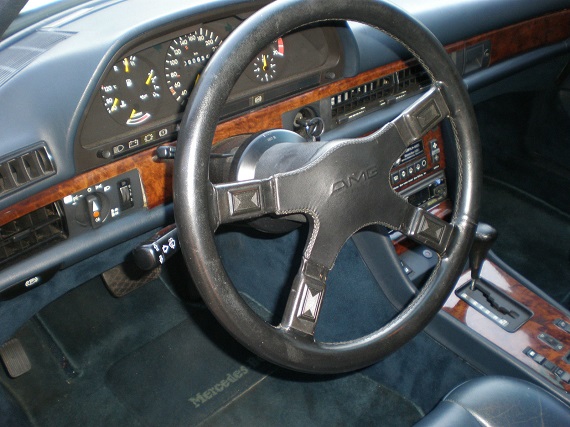 Hello, You are viewing my European 1984 Mercedes AMG 500SEC with 80,645 miles.

This is the AMG European version that has a faster 5 liter European engine, smaller bumpers, Euro lights, and AMG suspension.

The AMG options are, Authentec AMG body kit/spoilers. AMG springs that still have the factory markings, Amg Penta wheels (refinished) and AMG steering wheel.

Showing only 80,645 well cared for miles that spent most of its life in a garage.

This Mercedes is in wonderful, original, non abused, collector quality condition, that is well maintained.

The dark blue leather interior is in excellent original, condition with no rips or tears.

The dash, burl wood, headliner, carpets, door panels, and authentic AMG steering wheel are all in great, original condition.

Everything seems to operate as it should, for example, the automatic seat-belt extenders, power seats, sunroof, dual horns,

and the vacuum adjust leveling European lights.

The paint is in excellent condition with very few imperfections, (Great shine), very straight, no rust and very solid undercarriage.

Glass, painted chrome and stainless are also in excellent condition.

Mechanically the car is excellent!!!!!!! Runs, drives and shifts perfect great.

Work done in the past year include, lower ball joints,front shocks,steering damper,

strut guide mounts, fuel accumulator, water pump, tires, refinished all four of the AMG Penta wheels

to drive this car on a 2000 mile road trip.

The Ac needs a charge (compressor is leaking). I also have a new compressor (not installed) that comes with the car.

This is one of the BEST, AUTHENTIC, AMG 500sec European version Mercedes that I have seen in a long time. I have owned the car for over a year. I

purchased a 560SEC convertible to replace it in my collection.

Items also included with the car, original spare tire, books, jack and tools and maintenance records.

The car is sold in "As Is Condition".
I DO ENCOURAGE AND WELCOME PRESALE INSPECTIONS.

If you have questions, please send me your # and I will give you a call.
Please bid if you are serious and have available funds to complete this transaction.

Vehicle is located in a suburb of St.Louis Missouri USA

PLEASE CONTACT ME BEFORE YOU BID SO I CAN GIVE YOU EVERY DETAIL.

Thank you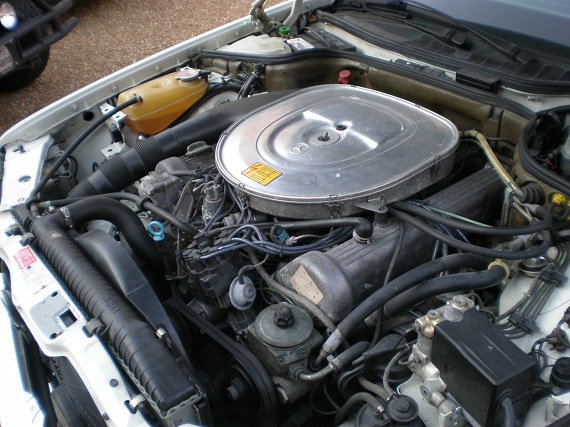 So, is this an original car? The bits look correct, but all of the bits presented can also be purchased independently, and there's no documentation that they're original. Odds are that with the suspension modifications, it's probably original – and it looks really nice, overall. The exhaust is a little over the top in my opinion, and it's odd that two different Euro plates appear in the auction but otherwise I would love to have a car that looked like this. However, the question is if this is a $26,500 example; without documentation or the engine modifications, it's hard to see why. A year ago, I looked at a 1983 example that – despite all relevant documentation, a much neater color combination, better presentation, better options and arguably better condition – sat at $20,000 with no buyers. I think the reality for this car is it's likely a mid-teens example; perhaps if you found the right person who absolutely had to have this combination they'd pay $20,000 for it. But outside of that, I'm afraid without the engine mods and documentation it's hard to prove the value of this example, as nice as it looks. The burgundy example from last January strikes me as a much better proposition overall, though admittedly it's no longer on the market.
-Carter