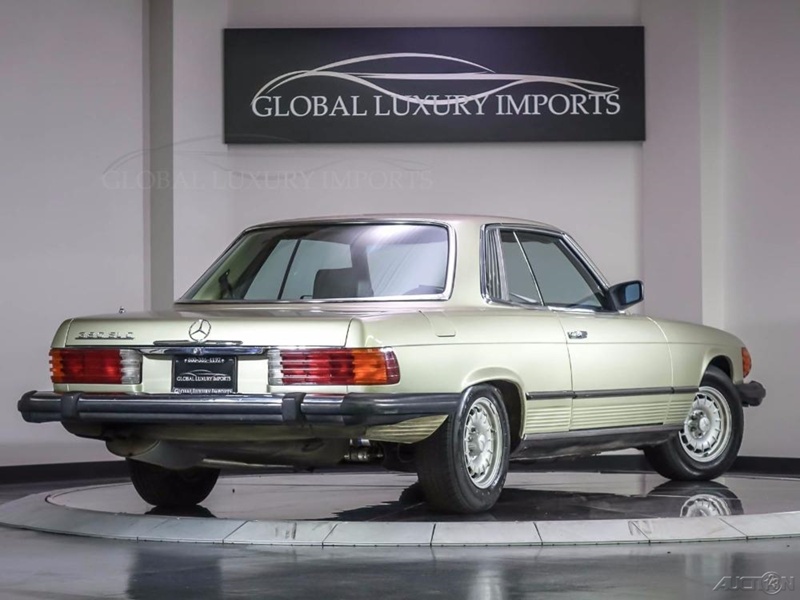 Last week I took a look at Kermit's convertible – a early production run R107 450SL that was all green. Today's 1981 380SLC represents the end of the run – but not for the 107 chassis in its entirety. As Mercedes-Benz moved to the new W126 chassis, it moved the big, personal coupe from the SLC to the SEC in 1982 and 1981 was the last year of C107 production. By the end of the run, there had been some changes to the lineup. Gone was the 4.5 liter M117, replaced by the smaller displacement M116 3.8 liter V8. With a single-row timing chain which proved problematic and low compression generating only 155 horsepower, they might just be the least desirable Mercedes-Benz V8. The later U.S. cars also enjoyed the added weight both physically and visually of the DOT-mandated 5 m.p.h. safety bumpers. It was as if Kurt Vonnegut's Harrison Bergeron were playing out with automotive subjects. But there are a few reasons to like this SLC. Like the early 450SL I covered a bit over a week ago, today's 380SLC comes to market looking like it could be Kermit's personal luxury sports coupe: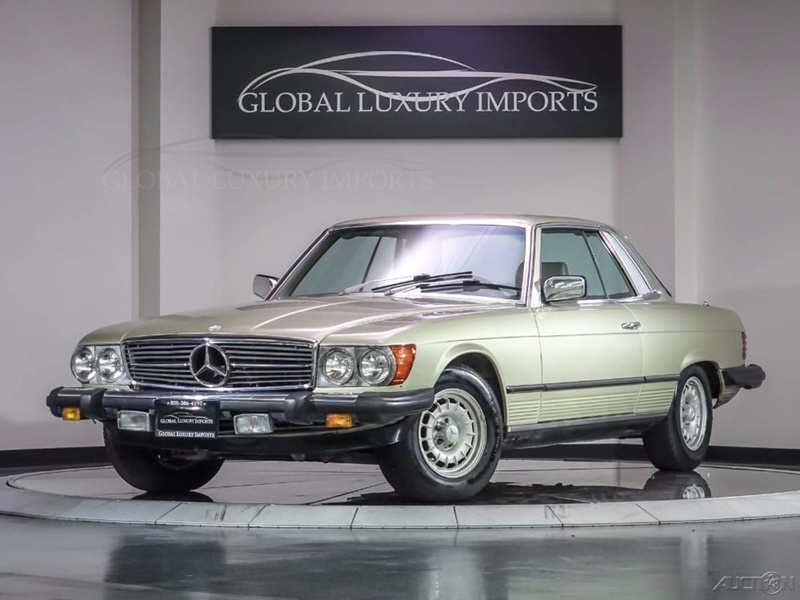 Year: 1981
Model: 380SLC
Engine: 3.8 liter V8
Transmission: 4-speed automatic
Mileage: 74,981 mi
Price: $17,800 Buy It Now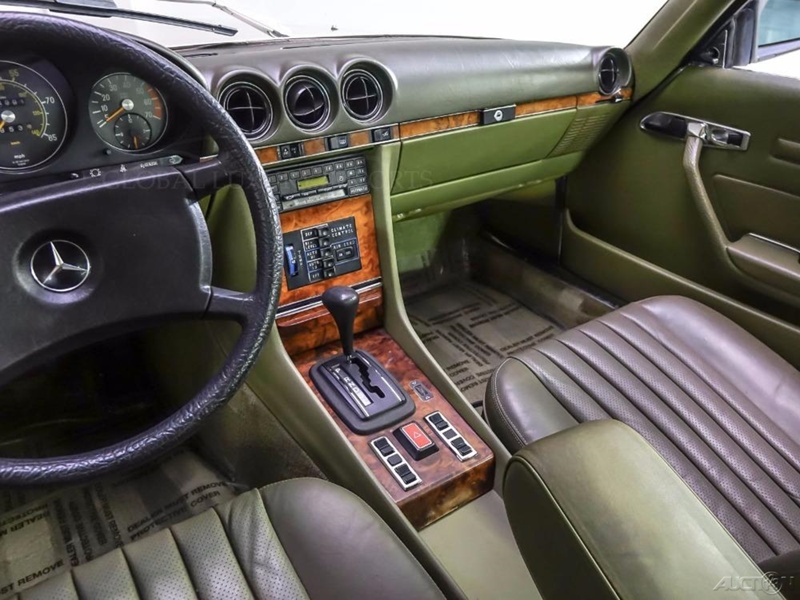 1981 Mercedes-Benz 380-Class 380SLCEXTERIOR: THISTLE GREEN- MB PAINT CODE #881INTERIOR: DARK GREEN LEATHER- INTERIOR CODE #236 (LIMITED-SPECIAL ORDER)ENGINE: M1 116.960 3.8l ALL ALUMINUM V8AUTOMATIC TRANSMISSION MAKE #722.304RUST-FREE380SLC BADGINGQUADRUPLE WINDOW LIFTSPOWER REAR QUARTER WINDOWSPOWER SUNROOFFULL REBUILD OF TOP END OF ENGINE @ 71K MILES+$15,000 IN SERVICE WORKSERVICE RECORDS AVAILABLE UPON REQUESTUNDERBODY PHOTOS AVAILABLE UPON REQUESTOWNER'S MANUAL/ MAINTENANCE BOOKLETSONE MASTER KEY, & 3 SPARE KEYSCLEAN CARFAX Financing available with competitive ratesWorldwide shippingTransportation to dealer availableCar Fax report available (Click on Car Fax icon to view the Car Fax report)Customer Satisfaction guaranteedIt is our goal to provide the most competitive pricing on the market in order to earn your business. At Global Luxury Imports we strive to make sure the vehicle will exceed your expectations. We want to make the purchase hassle free and as simple as possible. Applicable fees are; $169.27 Illinois documentation fee, $10.00 for a thirty day drive away permit fee for out of state customers, Illinois Customers will pay $95.00 Title fee and $101.00 for Illinois Plates, Sales tax (for Illinois residents and residents of tax reciprocal states with the state of Illinois). ERT Fee of $25. Please call or email to see if your state is reciprocal with IL. Out of state buyers are responsible for all state, county, city taxes and fees, as well as title/registration fees in the state that the vehicle will be registered. Global Luxury Imports prides itself in accuracy in our description and pricing, on occasions mistakes can happen. All descriptions, options, specifications are believed to be correct but from time to time there may be a mistake in advertising. Please verify all descriptions and pricing with your sales representative. If any mistake is made Global Luxury Imports is not responsible for the errors made. Global Luxury Imports also reserves the right to withdraw and terminate any vehicle listed for sale. Thank you!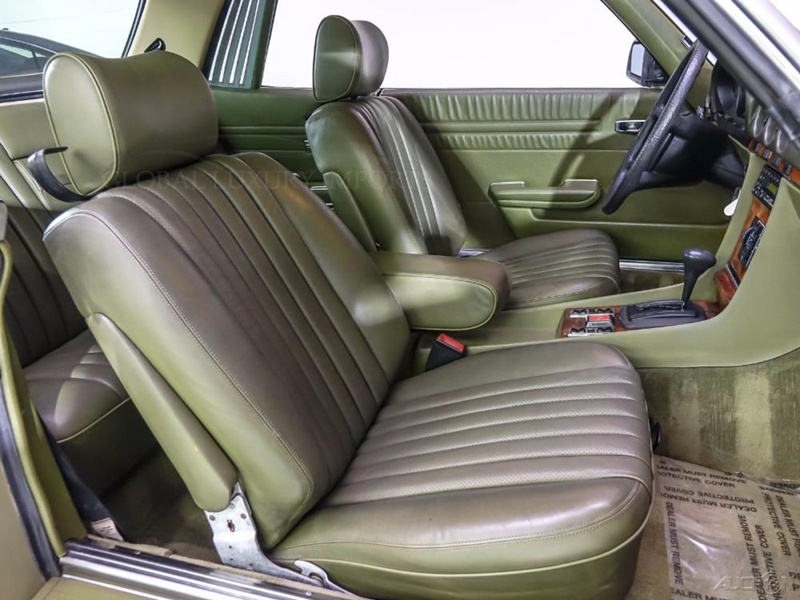 It would seem that the seller has at least some documented work in the not too distant past; a good thing, considering how lovely this SLC looks in Thistle Green with Bundt alloys and the dark green leather interior. Later in the production run, SLCs and SLs also moved to a 4-speed automatic instead of the 3-speed found in the 450 I wrote up. This unit, the 4G-Tronic, is a pretty solid unit that is generally considered trouble-free. In terms of value, these SLCs are generally on the low end of the classic Mercedes-Benz spectra, but the near $18,000 ask is close to what Hagerty claims Concours examples are trading for. The reality of the market, though, seems to be that you can get a very nice SLC for around half this amount as they're not the most desirable of the R/C107 lineup. This is a great one to look at, but the price will have to come down a bit before it gets much more than some passing glances I think.
-Carter