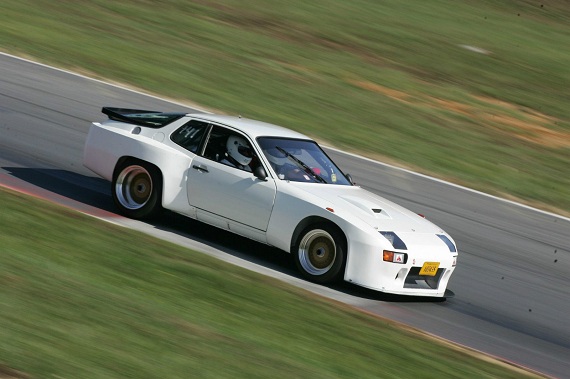 For some times, I had grandiose plans for a derelict 924S that my father had. Source a 931 bell housing, mate it up to a spare Audi 4.2 V8 I had, slap on a Carrera GT body kit, strip it out and stiffen it up and Viola! Instant track weapon on a budget. I had planned it out pretty well, but the timing just never came together quite right, so eventually it went by the wayside. I've since seen a few tribute Carrera GTs pop up and even a GTR over in Europe, and every time it makes me think "what if…"; today is no exception. As I came upon this posting, a sly smile crept across my face and thought about it all over again. Today's example doesn't follow the plan I had though; it takes an early European-spec 924 2.0 and swaps on the super-wide GTR panels with some crazy Compomotive wheels: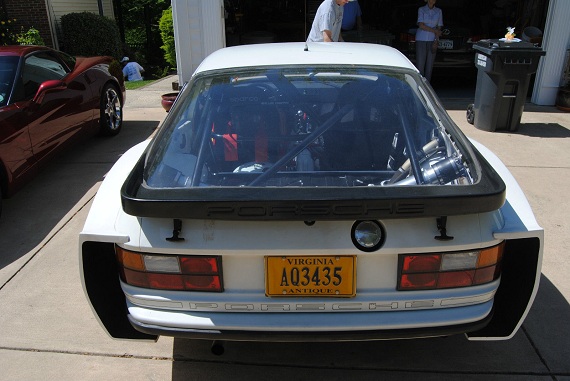 Year: 1981
Model: 924 Turbo GTR
Engine: 2.0 liter inline-4
Transmission: 5-speed manual
Mileage: 85,771 mi
Price: Reserve Auction
1981 Porsche 924 GTR

A Video is worth a thousand pictures, enjoy! (may only work on PC):

Up for auction is a rare 1981 Porsche 924 GTR Tribute car. After a 10 year labor of love, I have decided to place this one-of-a-kind street legal/track monster up for sale. This is a rare 1981 "all options" delete European Spec normally aspirated 924 (ebay wouldn't accept the European vin number so I had to fudge the year to get it to stick, but it is a 1981 model). Very unusual to even see a European 924 in the US let alone one that has been built to GTR specifications.

Here are the important bits:

– European spec 9.3:1 compression ratio n/a engine

– Weber Throttle Body (with ported intake manifold to handle increase in air volume)

– Custom Bosch K-Jetronic air/fuel Induction System (w/cone filter) with increased fuel flow

– Straight through exhaust system with original European resonator and racing headers. No muffler (original bolt-on exhaust with cat is included however). Has bung for O2 sensor in header (AFR gauge uses this).

– 85,770 original miles (138,000 Kilometers)…..yes the kilometers counter on the speedo still works!

– All gauges are metric and are original to the car

– Used Mobil 1 synthetic oil since it was introduced in the mid 80's.

– Sunroof deleted from factory to save weight (all US spec cars came with sunroofs)

– All other power options deleted at factory to save weight

– Lexan rear hatch (saves 50 pounds!)

– Lexan Lemans style sliding side windows (lemans correct for 1981). Does not have roll up windows. Side windows are fixed lexan.

– 5 speed manual trans (very tall gearing for autobahn touring)

– Still wears factory original Alpine White paint job (Please NOTE! Body work is white or in white primer and needs to be finished properly for concourse events. I was just having too much fun with it the way it is I never got around to it).

– 3 Piece 17×10 custom offset Compomotive "center-lock-look" wheels up front 255/40 Sumitomo HTRz's Tread like new.

– 3 Piece 17×12 custom offset Compomotive "center-lock-look" wheels out back with 315/35 Sumitomo HTRz's Tread like new.

– Koni adjustable "Yellows" up front with Ground Control height adjustable coil-overs w/250 lb springs.

– Ground Control adjustable camber plates up front as well

– Koni adjustable "Reds" out back with height adjustable coil-overs w/350 lb springs (retained and indexed rear torsion bars to give a variable compression rate under very hard cornering).

– Estimate RWHP at 175 (which for a car this light makes you feel like you are flying!!)

– 6 point Autopower rollcage (legal for SCCA/PCA/NASA, etc…..)

– On-board Halonex fire suppression bottle

– Four wheel cross drilled/vented disc brakes with stainless steel DOT braided lines. Fronts are ducted as well with high heat tubing (no spongy pedal at track days ever!)

– Real billet aluminum Lemans RSR fuel fillers on each side (functional tribute pieces not meant for putting fuel into) – UBER Rare!!!$$$$

– Custom made aluminum-look fuel filler pipes leading from RSR filler valves into rear valance area (tribute pieces not meant for putting fuel into)

– Real 924GTR dry sump oil filler cap (functional tribute piece not meant for putting oil into) – UBER Rare!!!$$$$$

– Real Porsche RSR/956/924GTR Boost Controller Knob and assembly (brand new unused condition and currently not connected) – UBER Rare!!!$$$$$

– Custom designed/track tested glass-fiber front splitter, creates gobs of downforce! Necessary for any Daytona track events (ie: Rennsport Reunions)!

– 1981 Lemans correct body work as used on 924GTR #36 924-004 (Hugo Boss Entry).

– 1981 Lemans correct rear spoiler/wing – UBER Rare!!!

– 1981 Lemans correct lighting package: 4×6 main beams (high and low) and factory correct Bosch fog/turn indicator pods (the factory used Porsche 928 fogs and turn indicators paired them up then flipped them over so they would fit the front body profile of the GTR). Fog Light Covers are also included to protect expensive fogs at track events (or state inspections!)

– 1981 Lemans correct interior layout for the 924 GTR: The 1981 924 GTR Lemans "Hugo Boss" #36 (924-004) entry was actually the same car used for the 1980 Lemans car #4 (924-004) and so 924-004 retained its original "flat dash" for the 1981 running of Lemans as well. HOWEVER, it's sister car, the #1 Hugo Boss 944GTP entry of 1981 had the newer "integrated" dash/console configuration that was used well into the eighties with the 924GTR BF Goodrich entries in 1982, and various GTR IMSA offshoots thereafter.

– 924 GTR correct shifter and solid aluminum knob

– 1981 Lemans correct side view mirrors with correct custom mounts

– Correct Bosch battery cutoff in center console (functional tribute item currently not hooked up)

– VDO gauges with flat-front glass with Lemans correct anti-glare bezels around each one

Disclosures:

– Keep in mind this is a tribute car and is cosmetically an identical clone to the real Porsche Factory 924GTR #924-004. All of the interior and exterior bits are real, and may or may not be hooked up and/or functioning as per the Lemans race in 1981. Good example of this are the interior switches for the headlamps and fogs. Although the lamps and fogs switches are mounted correctly in the center console (as per the original), the actual headlamp/fog switch is hidden under the dash by the driver. Just haven't had time to get around to re-wiring the console switches yet. Please ask questions.

– You can't go any where without getting attention with this car! You must not be shy about explaining that it's not a 944, and trips to the pump always turn into an afternoon affair as folks ask all kinds of questions. I regularly have people video taping me on the highway, you just have to get used to it. Folks at Porsche club events don't even blink an eye at a new GT3, but they all come over and check out the GTR. Stoplights turn into Q/A sessions…..draws a lot of attention!

– Car is in it's original patina,. My intent was to have the body mods finished in Alpine White as well, but I was having so much fun with the "just raced look" I never got around to it. My plan was to have it painted and liveried per the the #36 Hugo Boss 924-004 from the 1981 Lemans Race. However, decided best to leave it the way it is now in case new owner wants to go another direction with the livery.

– New owner will also receive the following: 1. original bolt-on exhaust with cat (so you can pass inspections), 2. BAE turbo kit (compressor turbine suffered foreign object damage and was destroyed. I am including the entire BAE turbo kit so you can see what is required to install a more modern turbo kit of this type) 3. Extra set of three (3) Borbet Type A wheels (10×17 rears and 9×17 fronts), and one (1) ROH wheel. Rubber is aged and this set of wheels was just an extra set I brought to track events in case I muffed up one of the Compomotive wheels. Use these wheels at your own risk.

– Majority of the miles I have put on this car have come from driving to track events. Most are a 3 hour round trip from my house. This car gets amazing gas mileage, and will go wherever you want it to go. It's noisy, it's uncomfortable, and it takes 100% concentration all the time…………………..it's perfect. Other drivers laugh when they find out I drive "to and from" track events, but you just can't get enough time in this car!

– The car is well sorted out for street/track events, and handles unbelievably well! Sure you'll get passed on the straight away by Corvettes and Ferrari's with 4 more litres of engine, but the GTR is right back pushing them around the infield by turn 3! Many drivers commented that the "GTR" on the track that day was very intimidating! ;o)

– I have 10 years worth of spares and other items that the successful bidder is welcome to take as well.

– My plans for the car were to add a GTR side turbo with custom intake. So successful bidder will get all the parts of this project as well (extra 924 aluminum intake manifold, BAE turbo kit (non functioning) to be used as reference for creating your own turbo going forward). Wanted to have car resprayed Alpine White (although original paint is in great shape!) and ad Hugo Boss livery and all numbering.

– I have done my best to disclose all of the known issues here in this listing. Please ask questions before you bid.

HISTORY of the car that is up for auction:

This European Porsche 924 was bought "all options delete" from the factory by a Doctor living in Austria in 1981. He wanted a car that could get him to work but also to the track on weekends. He was noted for taking it up to the Nurburgring as well as taking it out to the Autobahn on Sunday afternoons. Upon his death in 1990, his widow emigrated to the US and brought his beloved 924 through the Port of Norfolk, VA where of course it was immediately impounded for EPA/DOT violations. It wasn't until early 1992 that the car was finally brought up to US spec and allowed to legally roam the roads of the United States (new owner will receive all of this documentation). I purchased the car from her in 2003. It is currently titled and garaged in Northern Virginia.

– Why am I selling? Time for new project. I have had a blast building and driving this car, and now it's time for something else. If it doesn't sell, I'll keep it and keep on tinkering away on it, thank you for looking!

TERMS OF SALE:

$1,000 earnest deposit (wire transfer of funds to my account) due within 48 hours of auction close. Balance of funds wired to my account and bank confirm receipt of funds within 7 days of auction close.

You understand that this car and it's associated contents are being sold "as is" "where is" with no warranty stated or implied. You further understand that you are bidding to own, there are no contingencies associated with this purchase.

Please do not bid unless you have the funds immediately available to purchase this car within 7 days of auction close.

Ask all your questions before you bid, I will be happy to answer them.

Thank you!

and

Good luck!!!

Indy-Cars.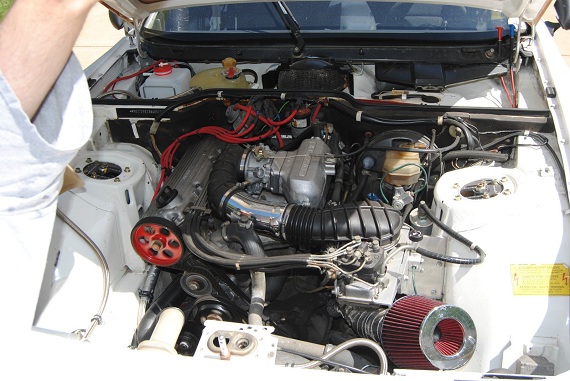 At first glance, this car looks pretty well executed. The wheels match the look of the original BBS centerlock wheels, the integration of the body kit looks to be well done overall and the interior is quite clean and tidy. I especially love the dash layout; simple and clean. Under the hood is where things are a bit disappointing; you'd expect, looking at the outside, that this car would at least be a turbocharged variant; while a turbo kit does come with the car, it's not installed. That makes the seller's claim of 175 rear wheel horsepower out of a normally aspirated 9.3:1 compression 2.0 inline 4 exceedingly difficult to believe. Brand new, that car had only 125 horsepower at the crank – figuring for a 20% loss, that's only 100 at the rear wheels. To achieve the 75 horsepower leap, then, the additions of the header and throttle body have added 90 horsepower at the crank. I just don't think it's possible to achieve 215 horsepower out of one of these 2.0s without turbocharging or some really serious, fully built race compression. So even if the engine isn't there, the package is still neat – but the price is outrageous. The seller has started the bidding at $25,000, so it's no surprise it's gotten no bids yet. The bodywork is unfinished, so you're buying a fully assembled track car with not much motor, some neat (but should be noted small) original details and some cool wheels. The way I figure it, you can get a stripped 924 for just to the right of free; the bodywork is admittedly a lot of work but can be had for a few thousand dollars from GT Racing, you've got a $1,000 bolt in cage and maybe $1,000 of other race goodies, and then some trick wheels that are probably worth a few grand. Obviously, if you pay someone to do all of this work it will cost a pretty penny – but I just see about $10,000 worth of parts here assembled together. Honestly, one of the reasons I didn't proceed is that you can find blown-motor 944 Turbo track cars for well under 10K that are basically ready to go with just a motor swap – I love the idea of the 924, but at the end of the day it didn't make sense to try to reinvent the wheel. If this car were half or less of the price, I think it'd be worth looking at. At $25,000? Pass, no matter how neat it looks.
-Carter