The rage in the 1980s was cutting the roof off of perfectly good cars, from the S-Class Mercedes-Benz to the E24 BMW. Not escaping this fate were sports cars as well, with Treser making a convertible Quattro. Carelli Designs gave it a go, as well – they were commissioned to create a run of convertible 928s between 1980 and 1981, one of which I looked at a few years ago:
A total of 8 cars were produced by Carelli Designs in Costa Mesa, California, but the project never progressed past the initial design phase. Carelli actually put a lot of effort into making the cars work well as convertibles, and they cost a staggering $80,000 in 1981. Today's car, though, doesn't appear to be one of them. Instead, this car is claimed to be one that was developed following Al Holbert's pre-production speed run in a 928 S4. Holbert took a mostly stock 928 to an impressive 171 mph, which Porsche claimed made it the world's fastest catalyst-equipped car. According to the selling dealer of the car we're looking at today, this convertible was specially-ordered to commemorate that achievement – maybe.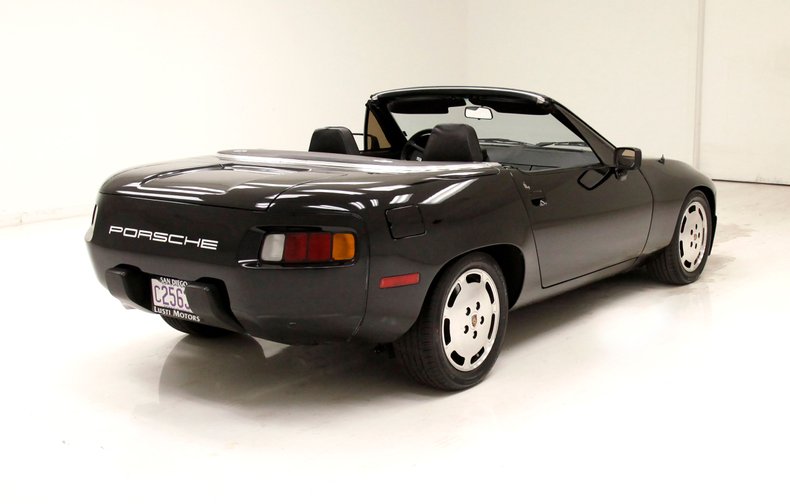 Year: 1981
Model: 928 Convertible
VIN: WP0JA0924BS821146
Engine: 4.5 liter V8
Transmission: 5-speed manual
Mileage: 69,000 mi
Location: Morgantown, Pennsylvania
Price: $35,000 Buy It Now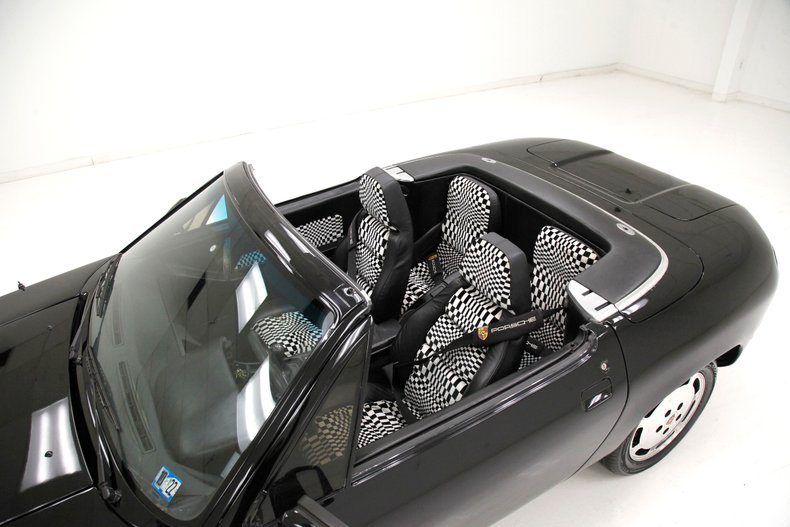 Classic Auto Mall
888-227-0914
sales@classicautomall.com
1981 Porsche 928 Convertible

Stock
3223

VIN
WP0JA0924BS821146

Miles
68,902

Engine Size
4.5 Liter V8

Transmission Type
5 Speed Manual

Drivetrain
RWD

Exterior Color
Black

Interior Color
Black

Description

1981 Porsche 928 Convertible

By the mid-late 1970s, Porsche was increasingly seeing the 911 as a car that was nearing the end of its evolution. The 928, along with the entry-level 924, were supposed to herald a new era of front-engine, rear-drive Porsches that would feel easier and more modern to drive. In fact, the 928 was seen as the brand's flagship product, ahead of even the mighty 930-series 911 Turbo. We all know how things shaped up in the end: The 911 is still extant in the lineup today, while 928 ended production more than two decades ago.

On August 7, 1986, famed American IMSA racer Al Holbert took a pre-production 928 S4 to the Bonneville Salt Flats for a few sprints. He went on to clock in the flying mile at 171.110 mph and the flying kilometer at 171.926 km/h, making the 1987 928 S4 the fastest naturally aspirated production car in the world at the time. For consignment, a convertible version of said 928 (not the one that did 171 MPH, but a version of that car.

Exterior
The 928's futuristic design and status as a luxury vehicle for the eccentric jet set, is mostly made of aluminum, and bathed in black for the version you are reading about. Shipped from Germany it went through a few owners eventually landing on one that had a brainchild idea to convert it to a convertible. All we know is that it was done in Rancho Santa Fe, California and has a black canvas top. Sporty I'd say, still having great curb appeal and 1980s lines and now a trunk. From its smooth rolling headlight nose to the iconic rounded rear, this car holds the line on German design. An integrated matching black neoprene and absorbent front bumper and two black rubber crash bumpers on back, it had to conform with US standards. Standard slotted Porsche wheels are on all four corners. "Ok who's the U boat pilot?"

Interior
I feel like I just crossed the finish line in first place with a gaze of this interior. Checkered flag inserts with molded plastic door panels complete with ac vents and power toggles and a carpeted lower, await our entry. Inside more wild eye-catching inserts of the checkered flag and it looks like it's actually waving at you. Black smooth bolsters keep your eyes from going crazy and give a nice edge line to the high back buckets. The back 2 plus 2 rear bench is in the same genre and looking good. Black carpeting for the floors, and the dash with the center console are all in black and utilizing the curvaceous design of the exterior. The checkered flags are really waving now!

Drivetrain
Under the hood in front the engine, (yes front engine Porsche, and it is as far back to the center of the car as it could possibly get for even weight distribution, and in 4.5 liter V8 form. It is topped with EFI and has a 5-speed manual transmission on the back with a 2.75 final drive. Everything is very clean and nice under here!

Undercarriage
Plenty of aero panels although the strengthening job on the frame rocker is showing as a bit wrinkly but is structurally sound. Independent suspension with power disc brakes are in front, and independent coil springs with power discs are on back. The muffler has a hole in it.

Drive-Ability
A quick starter and the test track provided a fun drive. Packed with performance this car is no slouch and handles great.

A fav of the 80's Jet set crowd, you would usually see a well-dressed female driving these as they were it car and a high end wife must have. Pony up! Schnell! Schnell! Frauline…

VIN DECODE
WP0JA0924BS821146
W-West Germany
P-Porsche
O-Sports Car
J-2 Door Hatchback
A4.5L V8
O-Manual Belts
92-928
4-Check Digit
B-1981
S-Stuttgart, Germany Assy Plant
821146-Sequential Unit Number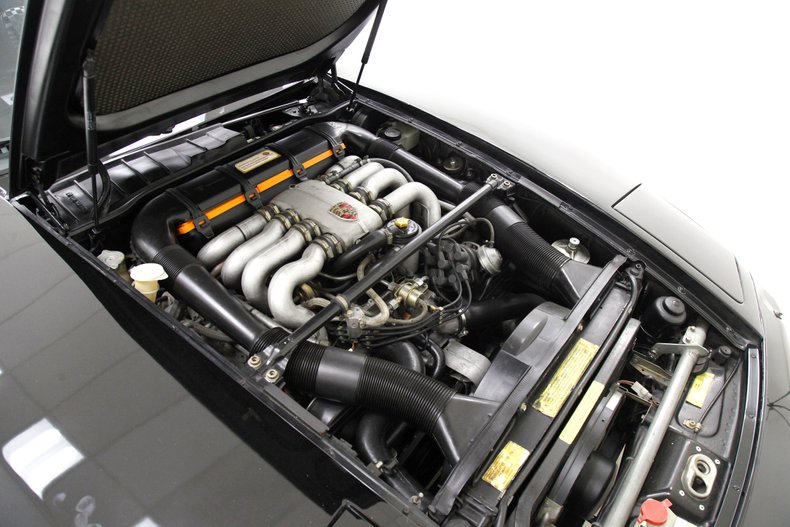 This car certainly looks a lot like the Carelli Design car, but the trunklid is different – and Carelli also slapped identification badges on their cars. The work on this one is claimed to be done in Rancho Santa Fe, which is about 70 miles from Carelli's Costa Mesa location. It's certainly possible that whoever made this one just copied Carelli's fairly high-profile design. One major difference, though, is the addition of the extra-slanty concealed headlights, which look at first like they may have been borrowed from a 930 Slantnose , though a closer examination shows that the shape is different. Step inside and you'll find a 5-speed manual transmission if you can look beyond the dizzying Pascha upholstery.
The condition appears to be good overall for a custom car like this. The asking price is $35,000, which isn't that outrageous in the grand scheme of things – but then, this is more a curiosity or a play thing than a serious collectable, I think. The seller's story peters out on the connection between this car and the Holbert story they lead with, and given that it's an '81 and not a ~86-87 to align with Holbert's record, I seriously doubt that it was actually related to the record attempt. But perhaps if it could be proven, it'd be an interesting footnote attached to an important name in American Porsche history.
-Carter