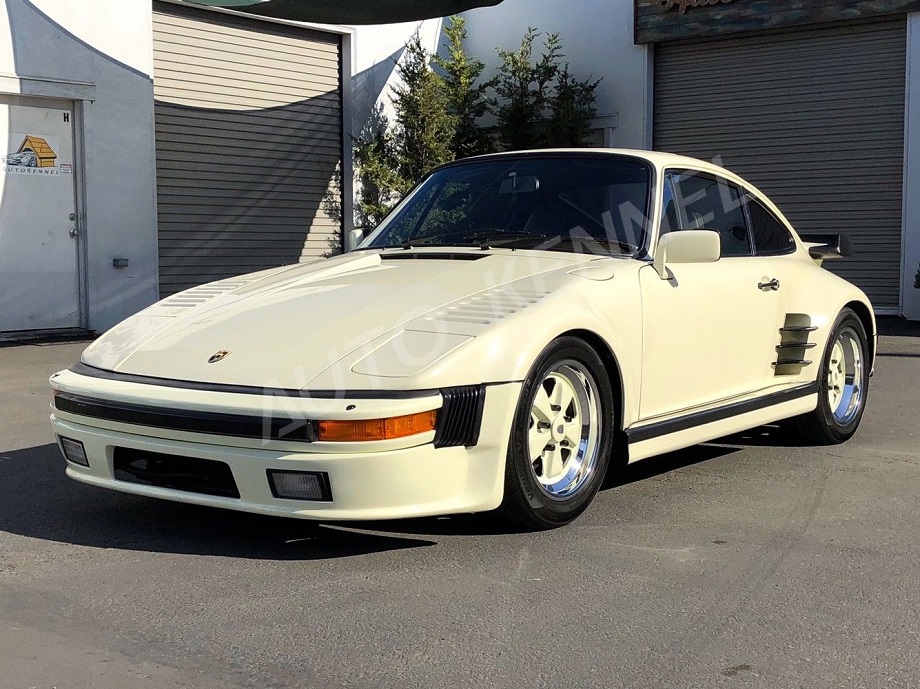 We feature the Slantnose pretty frequently around here. Mostly that's because I like them a lot – especially the coupes. Most of those, however, come from the final few years of 930 production when the factory M505 option was made available. We definitely always have an eye out for one of the rare, and very valuable, examples from 1989. Of lesser frequency (and I'll admit we may not have featured one at all) are the earlier Slantnose Turbos from before they were made an official factory option. As the seller of this particular 930 alludes, it isn't always easy to verify such builds. Given the frequency with which we see aftermarket Slantnose 911s – with sometimes very unreasonable prices and uncertain provenance – it is in many cases best to steer clear.
However, that doesn't mean we should ignore them altogether. Good ones exist and sometimes we see one that combines that audacious sloping front end with rarely seen colors and a price that doesn't make us shake our head. I think this one fits that bill: a Chiffon White 1982 Porsche 930 Slantnose, located in California, with Brown leather interior (including factory sport seats) and 83,800 miles on it.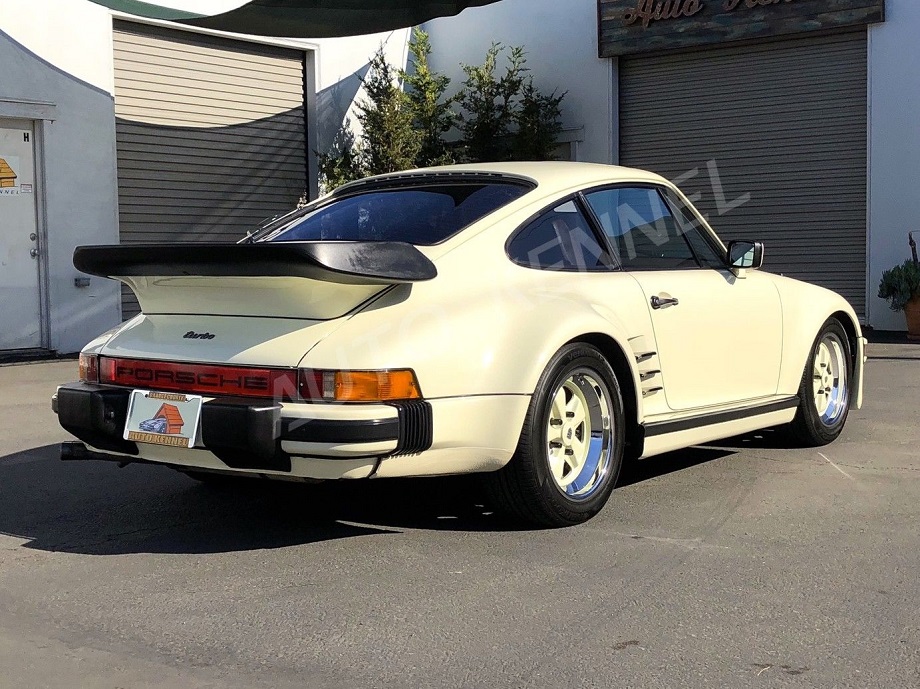 Year: 1982
Model: 911 Turbo
Engine: 3.3 liter turbocharged flat-6
Transmission: 4-speed manual
Mileage: 83,800 mi
Price: $79,990 Buy It Now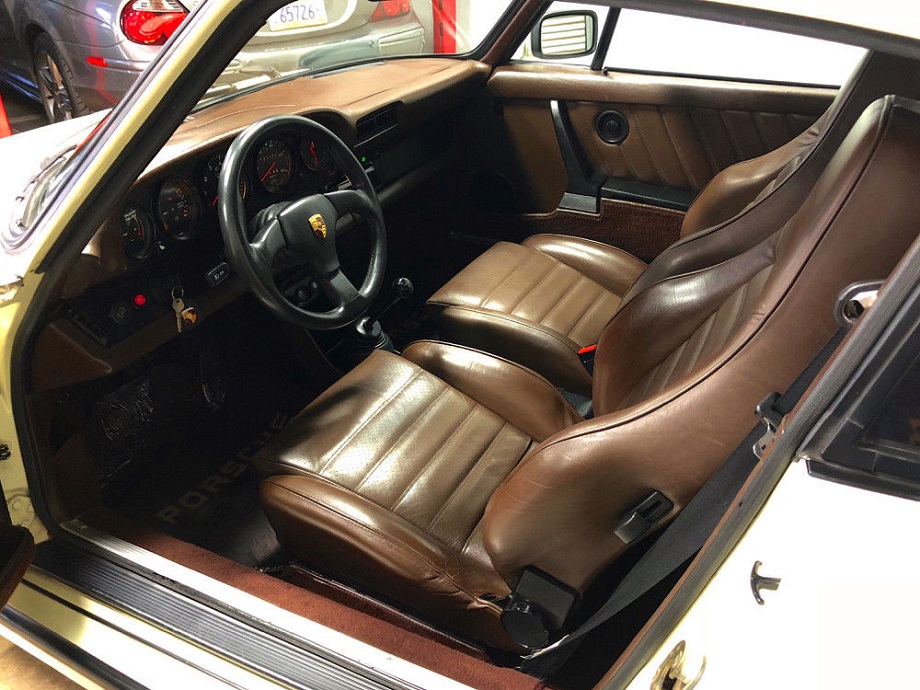 1982 Porsche 930/911 Turbo Coupe

Steel Slant Nose/Flachbau

(Factory Parts/Dealer Installed)

Sport Seats/Limited Slip Diff

Fresh Top End Engine Rebuild

Magazine Feature
Stock #0916

VIN # WP0ZZZ93ZCS000332

ENG# 67Cxxxx (M930/60)

TRN# 77Cxxxx (G930/34)

83,800 Original Miles

4,000 Miles on Top End Engine Rebuild

Chiffon White (182) on Brown Leather (YB)

4-Speed Manual Transmission

Clean and Clear California Title

Clean CarFax Report (available upon request)/No Accidents

Numbers Matching

California Porsche for 32-Years

In celebration of success in the late 70's at LeMans with the 935 "slope-nose" look 911 silhouette racecars, Porsche allowed a handful of customers to order street versions called flachbau or slant nose. The new look was wildly popular with automotive journalists as well as the rest of the public. From 1981 to 1986 Porsche took flachbau orders under their "sonderwunschen" (special order) program, later called their Exclusive Program. The work was performed off site at their Werke 1 facility in Zuffenhausen.

In total, only 204 "sonderwunschen slant noses" were built from 1981 to 1986. Each year the demand grew to the point where Porsche offered this as an "M" option code from 1987-1989. The sonderwunschen slants have been very difficult to track as Porsche purged their Werks 1 records every 15-years. Peter Morgan, author of the book, Original Porsche 911; Barry Smith and Phil Clark of the Porsche 930 SE Registry in Great Britain; and, the late Bruce Anderson, author of, Slope Nose Conversions and other 911 Customs, all agree that the factory's bookkeeping of the special wish slant noses were poor and, many of the original records are simply gone. Even the dealer orders were typically handwritten facsimiles. Furthermore, with the demand, Porsche wasn't equipped to build all the cars requested, especially early on. As a result, Porsche would sell the parts to the customer and allow the Porsche dealers to install them.

This Turbo was ordered new by an Arizona customer. It was built on December 14th, 1981. He purchased the car in Germany, had the conversion done at the German dealer with factory parts, took European delivery, and then legally imported it to the United States. It was ordered with the following factory options:

Equipment for Germany

Bumpers w/Impact Absorbers

Manual 2 Point Seat Belts (rear)

Higher Amperage Battery

Limited Slip Differential

Plain Electric Mirror – Right

Leather Sports seats (Left and Right)

Air Conditioning

Electric Sliding Sunroof

Alarm System

Pirelli Tires

It was imported and titled in Arizona on September 2nd, 1982 (see pic). This vehicle went through the strict DOT process and received the coveted BAR (Bureau of Automotive Repair) plate affixed to the driver door jamb (see pic). It remained in Arizona for 4-years before going to California on August 6th, 1986 when it went through California's strict EPA process and received a certificate of approval (see pic). This allows the car to be registered and smog approved in California. It is becoming increasingly difficult to legalize ROW (Rest of World) 930's in California anymore.

The original owner sold it to a local Southern California PCA member in 1992. This owner kept the car for 11-years before selling it to local friend who lived in the same town. This 3rd owner kept the car from 2003-2015. During his care, he lightly drove this Turbo and kept excellent records of the maintenance history. Shortly before selling it, he had the original K26 turbo rebuilt as well as a top-end engine rebuild performed.

Earlier this year, a good client of ours and local enthusiast purchased this Turbo as he has always liked the slant noses. Upon purchase, he delivered the car to TLG Auto in North Hollywood (one of SoCal's top independent air-cooled Porsche specialists) to have them do an inspection and perform any necessary services. They found this example to be in excellent condition with no signs of abuse, damage, or corrosion. In fact, they found most of the body to still wear its original paint. Furthermore, Total 911 magazine did a feature article earlier this year (see pics).

Highlights of recent/significant services and repairs include:

Rebuilt Turbo (K26) and heads/valve job (@75k-miles)

Spark plugs, plug wires, and oil pressure switch (@75k-miles)

Replace most oil lines (@75k-miles)

Replace cam oil lines, oil line to turbo, and oil cooler line (@61k-miles)

Replaced right rear wheel bearings

New sound pad

Oil service (@83k-miles/6-months ago)

New motor mounts

New factory wastegate muffler

A/C service (@79k-miles)

Replaced compressor

New receiver drier

New evaporator

Fresh R12 with dye test

Adjust ride height to European specification

This example is in very good survivor condition. The paint is original on all the metal panels except the slant nose fenders (all four). The paint was checked with a paint meter and the readings were consistently around 5.0. All the door jambs, engine bay, and trunk are also original paint. In 1981, the first factory slant nose was built. For 1982, only 38 were built. After careful research, I believe this example has factory parts installed by the selling Porsche dealership in Germany.

The paint looks great with some minor paint flaws and normal road chips from use. See pics for close ups shots. The glass is in great shape and original except for the correct Sigla replacement windshield. The inside of the pop-up headlight buckets has some surface corrosion (see pics on our website). The factory Fuchs wheels are wearing tires with at least 75%-life remaining and are dated 2013. There are no cracks and the rubber is still soft. The brakes also have about 75% life as well. The interior is equally as nice and also very original. The leather sport seats show minimal signs of use with just slight creases on the driver exit bolsters. The headliner is original and has no tears with just some slight slack in the sunroof panel (see pic). The original visors are just slightly puffy. The carpet looks great with no stains. The door panels are also in excellent shape with no sagging of the pockets. The dash is perfect with no cracks or warping. All the gauges function properly including the clock. This example was ordered without a radio. However, a very early Alpine unit (from mid 80's) was in the car near new and comes with this car (see pic). A later modern head unit has been installed and works fine. The A/C system seems to work fine and blows cold. A period-correct Porsche 930-S leather steering wheel has been installed (original included – see pics).

The best part of this early Turbo survivor is the way it drives. This is what Porsche intended these cars to be like. The ROW delivered Turbos had over 300hp and over 300 lb. ft. of torque. The whole package feels lighter and more responsive than our domestic delivered examples. This 930 fires to life easily with the first twist of the key. It holds an even idle with no excessive smoking. The power feels great with immediate throttle response. It builds power impressively quick. The shifting is smooth and very precise. There is no grinding or slipping. The brakes are truly one of the best parts of these 930s. They have great bite with no fading and are easily matched to the power. The handling is very intuitive with good balance. It does not wander and tracks straight. This is a very tidy package that would be a blast on any vintage touring event, yet is comfortable enough to be even used on a daily basis.

California registration is current through June of 2018. We also have a current legal California smog test, which it passed with flying colors.

This Turbo comes with both German and U.S. owner's manuals (US manual is dated 1979 as Porsche did not make an English versions from 1980-1985), original U.S. title/EPA docs, recent service records (2003-current), custom Colgan car bra, car cover, original steering wheel, original vintage Alpine radio, original tool kit, original air compressor, original jack, space saver spare, original and rear seat belts.

**Note: VIN and other numbers withheld to protect against fraud. All numbers including VIN, Engine, and color will be provided to serious buyers.

If you have any questions, please do not hesitate to contact Paul at 714-335-4911 or paul@autokennel.com

For tons of photos, go to: www.AutoKennel.com

This vehicle is sold "as-is" with no warranty, written or implied. In some cases, the vehicle does have the remaining factory warranty still in place and will be described above if that is the case. All taxes and fees are the responsibility of the buyer and are not included in the listed price. All vehicle sales will require a $65 document fee. The vehicle listed is described to the best of our ability. The information is based on our own research and statements made to us by the previous owner(s). To the best of our knowledge, the above information is accurate. We are not responsible for errors in our description of options or any other details. The above-mentioned vehicle is used and can be expected to show some wear and tear. It is not a brand-new vehicle. We do welcome all local pre-purchase inspections on vehicles in order to verify condition.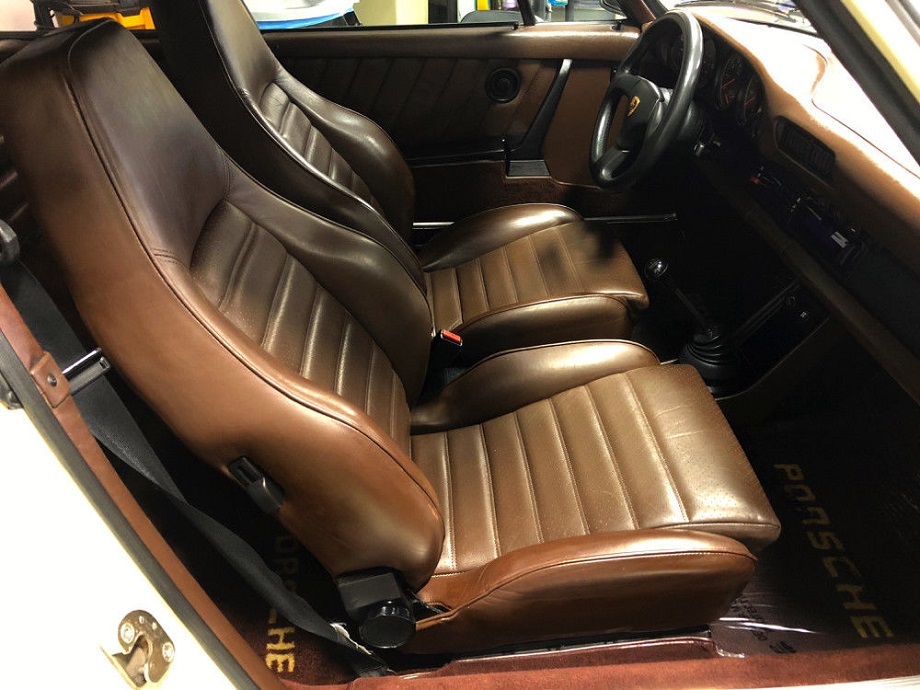 This is such a peculiar color combination. I really can't think of another word for it. It isn't garish; this isn't a combination where I feel the need to look away. It's just…unusual. Part of that peculiarity is that both the interior and exterior are fairly rare colors. We see brown interiors with much more frequency in the late 70s and early 80s than in other time periods, but even then it's rarely paired with an exterior like Chiffon White. It sort of reminds me of a cake: a chocolate interior with vanilla frosting. I'd be very curious to see it in person to get a sense of just how it all comes together.
Regardless of the colors, this 930 looks in great shape. So whether you like the colors or not you can't really quibble much with the condition. The paint is mostly original and the interior is original outside of an aftermarket radio (this 930 was ordered without a radio) and the addition of a 930 S steering wheel (the original comes with the car). As an example of an earlier RoW 930 this example presents quite well and that's without even getting into the uniqueness of the Slantnose itself.
It's priced quite well I think. I don't see these early dealer-installed Slantnose models often enough to know whether buyers hesitate to pay the typical premium a factory Slantnose commands, but given the condition and rare colors this asking price wouldn't be bad even were it a standard 930. Demand for the Slantnose can be a bit of a love/hate affair, but they are rare and if all appropriate documentation is present with this one, then I think this makes for a nice opportunity to get your hands on one of Porsche's most eye-catching – and very 80s – builds.
-Rob