About 2 years ago we featured a very clean, very low Mk1 Rabbit Diesel. That car stuck with me because of the simplicity of the modifications, cleaning up a classic design and making a great little cruiser with no performance pretensions other than great gas mileage. Today's is a little lighter in shade of tan and styled slightly differently, but the main themes are there: clean, low, and diesel. Having covered just 114k miles in its 32 years, this car is an amazing survivor, especially when you look inside at the classic red interior. The headliner has been replaced, but holy cow those seats and carpet! The car comes with all the original parts to return it completely stock, which is great to have in the garage, but as it sits it would be an excellent around-town cruiser.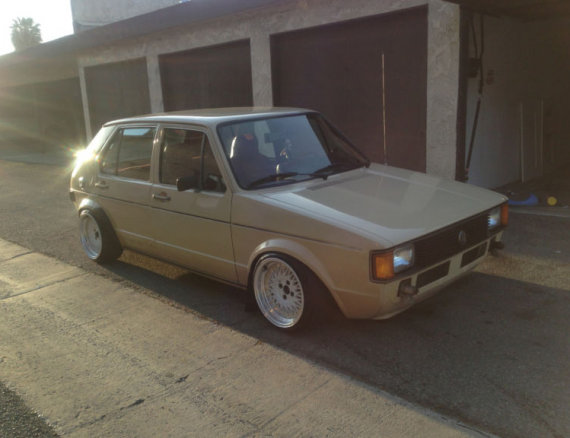 Year: 1981
Model: Rabbit LS Diesel
Engine: 1.6l inline-4 diesel
Transmission: 4-speed manual
Mileage: 114,000 mi
Price: $5,950 Buy-It-Now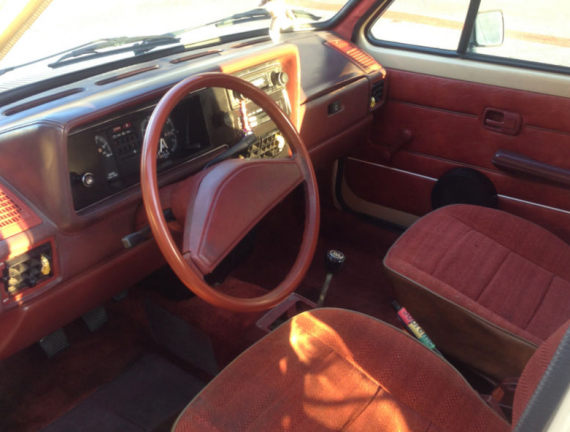 Up Forsale is my baby, 81 Rabbit MK1 with 114,xxx original miles. I really don't want to sell this car, but due to my financial state, I must. The interior is immaculate for its age, nearly perfect (pictures speak for themselves). It has a 4-speed manual transmission, 1.6L diesel engine which gets about 45 MPG.

Here is the story:

I bought the car from a tow yard. I believe this grandpa-owned vehicle was never owned up to, so they sold the car to me. Once I bought it, I opened up the trunk and saw a box filled with Maintenance stuff. This grandpa really took care of his car. I believe I am the second owner and this car starts like a champ, runs like a champ. Never failed me. I've done road trips with it without a problem. 100% Reliable, and will start without making any weird noises. You must see to believe that this car is in the Best shape for its age. It is my daily driver, so the mileage continues to rise at a slow pace. I get thumbs-up everyday, and break lots of neck. So if you like that attention, this is your car. This car is truly one of A kind.

Interior:
Stock seats (front and rear) no rips or tears
Carpet has no stains
Matching red/orange Suede headliner done by Xquisit Designs
Installed a Kenwood Head unit in the glove compartment w/ HD radio etc.
Custom 6 inch Speakers on front door panels with tweeters in the dash board
(replaced 3.5 inch speakers on the dash board with tweeters)

Engine:
A/C was disconnected by previous owner
Nothing wrong Mechanically
Diesel gets about 45+ mpg

Exterior:
Removed both front and rear bumpers (will include them)
Removed Trim (will include them)
Raceland Coilovers (will include stock suspension)
Brand new ESM-002 Wheels 15×8 (will include stock wheels)
Brand new Federal Formoza tires (2 months old)
Front Tire Size 165/45/15
Rear Tire Size 165/50/15
Large Duckbill Lip
Overall Straight Body

Just simply clean.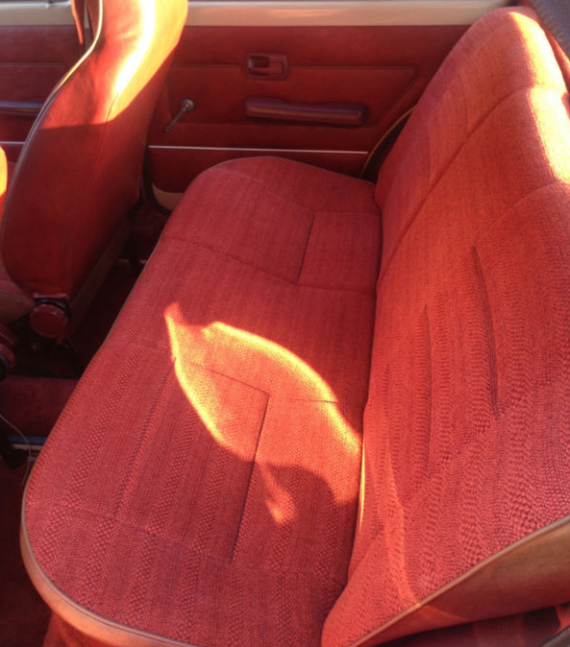 Clean diesels (in looks, that is…) have been solidly climbing in value as their durability and efficiency are finally appreciated in this country. The well-chosen modifications on this Rabbit combined with the ability to put it all back to stock, should you choose that route, make this a fantastic example. Yes, it's a lot for a 1981 Rabbit, but a GTI this clean would be going for a few thousand more, so I think the seller's price is reasonable.
-NR