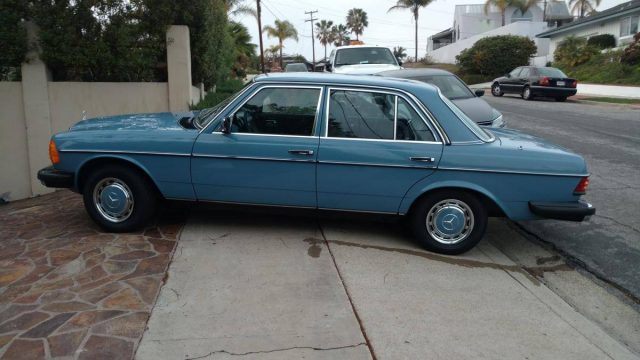 If I had a dollar for every time I've seen someone advertise the car they were selling as "low mileage", I'd be a very rich man. I'd guess 99% of the time it's some sort of crazy formula used to justify an older car with still a bunch of miles on it. Usually it's the "only averaged 7,100 miles a year!" line or something of that sort. Well, if the car is 29 years old, that's still over 200,000 miles and the whole low mileage thing goes right out the window. But no one else said you had to be rational (or honest) to sell a used car on the internet, that's for sure.
But today's car actually lives up to the term "low mileage". Heck, that is probably an insult to how few miles this 1983 240D has on it, or at the very least extreme understatement. If you can believe it, which I think I do, this W123 for sale in California has a mere 1,356 miles on it. That's it – 1,356. It's the story of the owner bought it, got sick and it sat in a garage buried under a pile of rubbish for the last 35 years. Of course in typical Mercedes diesel fashion, it had a splash of fresh fuel along with a new a battery and it fired right up. Now that I can say I've probably found one of the lowest mile (or maybe the lowest period) W123s left out there, I had to take a closer look.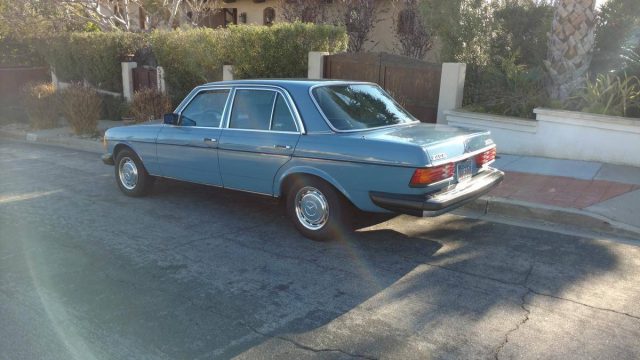 Year: 1982
Model: 240D
Engine: 2.4 liter inline-4
Transmission: 4-speed automatic
Mileage: 1,356 mi
Price: $18,000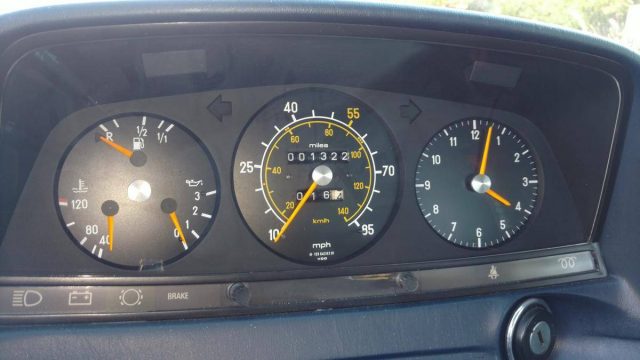 1982 Mercedes-Benz 240D, The original owner drove the car from San Diego to Vegas and back then parked it in his garage. He got ill and it stayed, covered in bags and boxes, until I was hired to clean and remodel the house for his estate. We put on new tires, a battery, changed the fuel and with one crank it started up and runs perfect….NO SMOKE. It had 1296 miles when I bought it and I have put on about 150 miles until I parked it covered in my garage where it is today. This car is MINT and needs to be in someone's collection. I am not a collector and don't want to drive it for fear that it may get nicked. It still has the dealers temporary registration on the front window.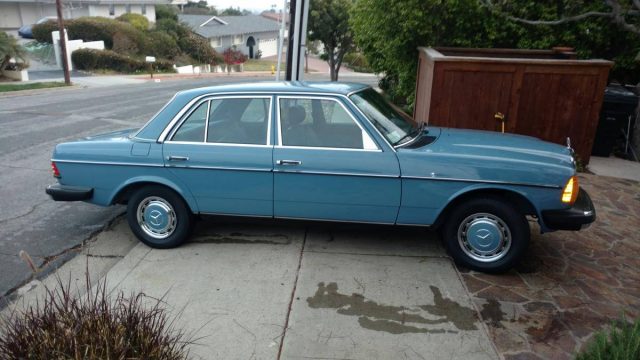 The seller is massively underselling this car. Poor photos from random angles and no shots of the interior or engine don't do the condition favors or represent it well. I'm very curious to see what the wood looks like since it hasn't be exposed to any sunlight but is still 35 years old. The seller also makes no mention of any work needed to the brakes because I don't think I'd trust 35 year old pads and rotors. The good thing about this W123 is that it's the rare China Blue which is a highly desirable color on any Mercedes. I must admit this does look like a brand new W123 from what I can see, but sitting under a pile of junk for that long still gives me pause at some aspects of the car. I'd like all the fluids to be swapped out but the seller doesn't mention any of that.
The asking price for this 240D is $18,000 and I have no doubt in my mind that someone is going to pay that. This is someone's second chance at one of these that they missed buying 35 years ago or had one then sold it and now they want another go round. It wouldn't surprise me either if a private collector bought it to stash away in a collection. I've seen 240Ds and 300Ds sell for much money with obviously many more miles so whoever ends up with this car probably isn't going to make a bad purchase — if you can justify spending $18,000 on a 240D in the first place.
– Andrew