We featured an early model, gasoline powered W123 coupe last week, but the 123 coupes you see more often here in the states are the later 300CDs, with the 3.0 liter OM617a turbocharged five cylinder diesel engine. Not a sports car by any means, but a luxurious touring machine with loads of durability and a good helping of economy. This 300CD for sale in California looks the business in basic black over the famous hard-wearing, palomino MB-Tex upholstery.
Year: 1982
Model: 300CD
Engine: 3.0 liter turbocharged inline five diesel
Transmission: 4-speed automatic
Mileage: 126,372
Price: $14,995 Buy It Now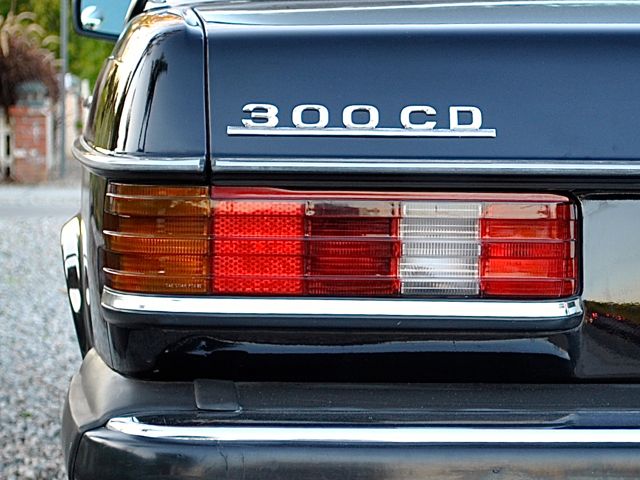 1982 was the first year Mercedes introduced the turbo charger into the 123 series coupes. These cars already had a reputation for being very reliable and economical. Now they also had plenty of power for everyday driving. This particular car was finished in black (MB color code 040) with Palomino color MB-Tex interior. This was a very rare and elegant color combination. Mercedes only made 8007 of the turbo diesel coupes and it will be hard to find one with low miles and in this condition. The body is still in wonderful shape all around and the paint still shines like on a much newer car. This car was always garaged and it really shows.

The interior is still in amazing condition. Even the original dashboard still looks great. The carpets are clean and the wood-panels are excellent. There are no rips or tears in the seats. The door panels and the headliner are clean as well. This car really stands out and i get compliments every time I drive it. People can not believe that it really is 31 years old. It has only had 2 owners and it has always been pampered. It comes with the books and the service records. Everything works on it. The Michelin tires have about 85% left. All the gauges are working the way they should. The AC is blowing cold from all the vents.

There are no oil leaks and the car runs terrific. It is not slow at all and a true pleasure to drive in town and on the freeway. This car cruises comfortably at 85mph while still getting 27 miles per gallon of diesel. The original radio has been upgraded with a newer unit with a CD player. Even the original power antenna still works. With the low miles and the gorgeous color combination this car could be perfect for a collector. There are just not that many clean 300CD's like this around anymore and they are bound to only go up in value. It would also serve well for somebody who would like to drive a elegant classic car every day, but needs it to be extremely reliable. With 27mpg of diesel it would also be the perfect candidate for Bio diesel conversion. This way you could drive it on vegetable oil or even free waste oil from restaurants. I have never tried this in this car, but with gasoline prices where they are today, it sounds like a great idea.

I would prefer to sell this car to somebody locally, who could actually come out and see it / test drive it. But I would also be helpful with shipping arrangements or a airport pick up. Please have your funding in order and do all your "due diligence" BEFORE placing a bid. This is a wonderful 31 year old classic car in great condition and it will be sold WITHOUT a warranty "as is" and "where is." All shipping charges will have to be paid by the winning bidder. If you have any questions, please contact me through Ebay and I will get back to you quickly. There are many more detailed pictures to look at, please ask, if you need anything else. I will be out of town this weekend, but I check my emails often. I will be able to show the car anytime next week. Thank you for looking at my auction.
The 1978 280CE we featured this week failed to meet its reserve with a final bid of $5,800. I have a feeling if the bidding nudged closer to $10,000, it might have sold. It always impresses me how many good W123s are out there, especially ones with over 100,000 miles looking like they just rolled off the showroom floor. From the paint to the carpets to the chrome trim, this 300CD looks factory fresh and would be an excellent way for someone who wants a practical classic with a side of modern safety and good fuel economy. At almost $15,000, this is strong money for a W123 diesel coupe. For some, it might be worth it at that price. I'd say if it could be had for somewhere between $13,000 and $13,500, it would be well bought.
-Paul