With the rise in E30 BMW M3 prices, it is strangely curious that its contemporary, the Mercedes-Benz 190E 2.3-16 has not seen similar appreciation. Good examples can still be found at relatively low prices these days. Perhaps this is because the car was slower? Maybe it wasn't hard edged enough with enthusiasts? Whatever the case, when you come across a good one, it's worth pausing and taking a look, because these compact saloons have a lot to offer and represent a transitional period in Mercedes-Benz performance history, right before AMG would become integrated into the company as the in-house tuner.
Year: 1986
Model: 190E 2.3-16
Engine: 2.3 liter inline four
Transmission: 5-speed manual
Mileage: 123,785
Price: $14,900 Buy It Now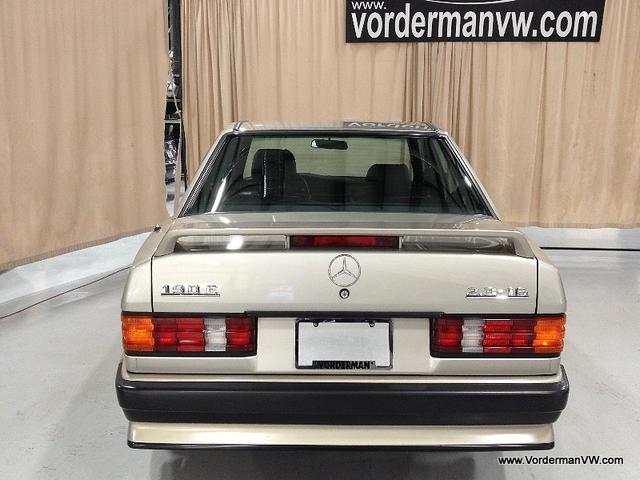 In the late 1970s, Mercedes Benz teamed up with British race car engineering company, Cosworth, to develop a car built for high speeds, amazing handling capabilities, and durability for some of Germany's toughest racing series'. After setting the bar high in the racing world, Mercedes introduced the 190E 2.3 16V to the public in September of 1983. This specific 16V we are representing has had a long history with the Vorderman family. In 1992, a friend of Reg Vorderman purchased this car from him with less than 20,000 miles on the odometer, and has owned it ever since. Oil changes have been performed every 3,000 miles, and we have access to all service records, as well as all the original keys & owners manual. The car is in near-perfect condition and completely up to date with service. No rust, never smoked in, and we just installed four new tires. EMail Alex Vorderman at Alexv@vordermanvw.com for any questions or to schedule a test drive. Don't miss this opportunity to take home a big piece of Mercedes Benz history!
A big piece of Mercedes-Benz history is certainly an understatement, as this car would be the first to win a manufacturer's championship in the Deutsche Produktionswagen Meisterschaft (DTM) race series in 1991, after they began awarding a trophy to manufacturers. Mercedes-Benz would go on to win it again in 1992. Prices for the 190E 2.3-16 are climbing, albeit slowly. About $14,000 to $15,000 is about the tops you can consider paying, and a car falling into this category would be the best of the best. Rougher examples which are still drivable can be had regularly for less than $10,000. This particular car has been well looked after and looks fresh, even considering the mileage. If a prospective buyer could knock around $1,000 to $2,000 off the asking price, it would be a great opportunity to buy this purpose built, tuned Mercedes-Benz.
-Paul