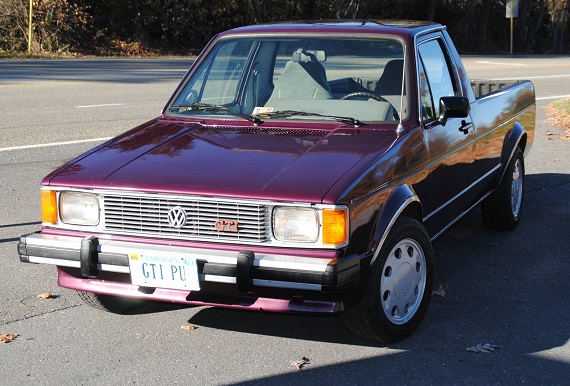 Volkswagen of America's small pickup truck offered a unique experience at the beginning of the 1980s; basically, the front half of the pickup was a Rabbit, which meant relative comfort, reliability, easy of use and driving and good fuel economy. In back, Volkswagen stretched the wheelbase nine inches and swapped in a tubular axle supported by leaf springs giving the pick up 1,100 lbs of payload capacity and a six foot bed – not too shabby! They even launched a "Sportruck" model, which gave you bucket seats and some really trick decals that covered most of the side. You also got some amazing options for the period, like a tachometer (wooooow) and a 5-speed transmission. However, the mix of 1.7 liter, low compression 8V motors available weren't exactly going ignite your enthusiast dreams. 78 horsepower channeled through the manual would return a not particularly stunning 0-50 time of 9.7 seconds. 60, you'll remember, was illegal in the United States at that time, so why bother designing a car that could approach it?
But Westmoreland, PA produced some other neat Volkswagens around the same time, though – notably, the U.S. finally got the higher compression, higher output GTi. Though Volkswagen themselves never combined them, that hasn't stopped some enterprising individuals: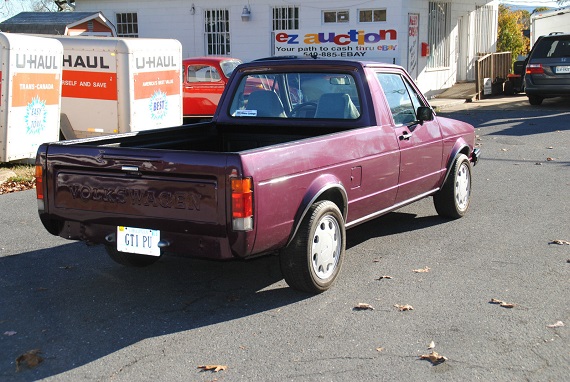 Year: 1982
Model: Rabbit Pickup
Engine: 1.8 liter inline-4
Transmission: 5-speed manual
Mileage: "100,000" mi
Price: No Reserve Auction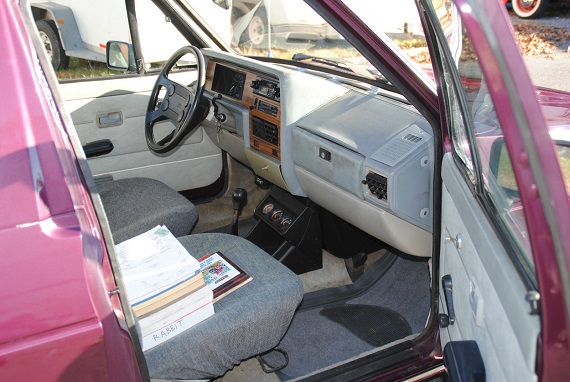 You are looking at a

VERY custom

1982 VW Rabbit Pickup

The owner has created a custom one of a kind Rabbit GTI with several great combos of appearance and performance.

The changes started with the front end sheet metal and grille being replaced with GTI parts and pieces.

The next important part was the installation of a 1990 1.8 L 8V "PF" Engne from a Jettta. Throw in a throttle body and fuel injection from a GTI and you have a great combo of performance. The engine is hooked up to a very smooth operating 1984 GTI five speed transmission. A new clutch, pressure plate and throw out bearing was installed at the same time. (Less than 5,000 miles ago)

Grey cloth interior that is very clean. The car has been nicely repainted in a deep grape color that looks great! Overall fit and finish is great!

The pickup bed was generously coated with Rhino bed liner.

The wheels and tires are from a modern Scirroco and are known as Teardrop Alloys.

Take advantage of this rare find at a super low price. You could not build a car like this for the opening low, low bid.

There are several service and repair manuals included with this auction.

This car starts, runs and drives very well! Feel free to come to Staunton, VA and check the car out in person.

Q u e s t i o n s ? C o n t a c t R u s s t h r u

e B a y m e s s a g i n g

Please see pics

NO RESERVE!!!!

Take advantage of the SUPER LOW opening bid with

NO RESERVE!!!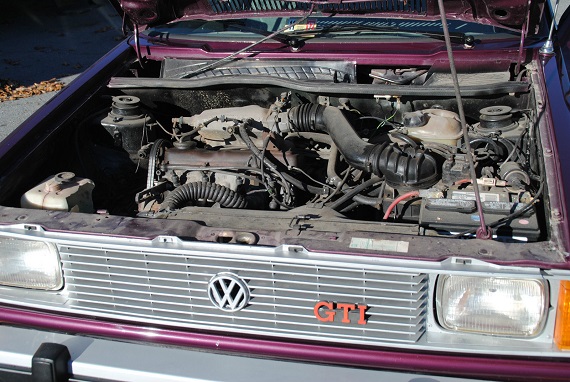 Obviously, this isn't a full GTi, but you get the close ratio 5-speed as opposed to the more economy biased boxes in other VWs at the time. What's a bit strange is the combination of the earlier GTi CIS K-Jet injection, but it is matched with a 1990 Jetta motor that would have run Digifant. The motor with that injection ran a bit over 100 horsepower – about what the first and second generation early GTis had – but I wonder what the final output number is here. Regardless, if we say it's 100 horsepower, that's still over a 25% increase from stock and should be felt. The suspension appears to be lowered, and the 16V teardrops look great. The inclusion of the painted silver/gray grill picks up (no pun intended) the machined OEM+ wheels and original chrome bumpers well, though the chrome rub strips on the fenders are a bit overkill. The package, in all, is tidily pulled together by the color and the right accessories without being overdone. Inside is a bit more plain, but that's fine – it's neither outrageous nor in bad shape. Bed treatment and recent maintenance round out the list of desirable items on this truck. Desirable, too, is the pricing. The auction is no reserve and the seller has opened the bidding at a very reasonable $3,795. So far, the market would seem to indicate that this is a bit too much as no one has bitten – but snipe in at the last second, and this will be a fun little classic utility vehicle with a truckload of character.
-Carter