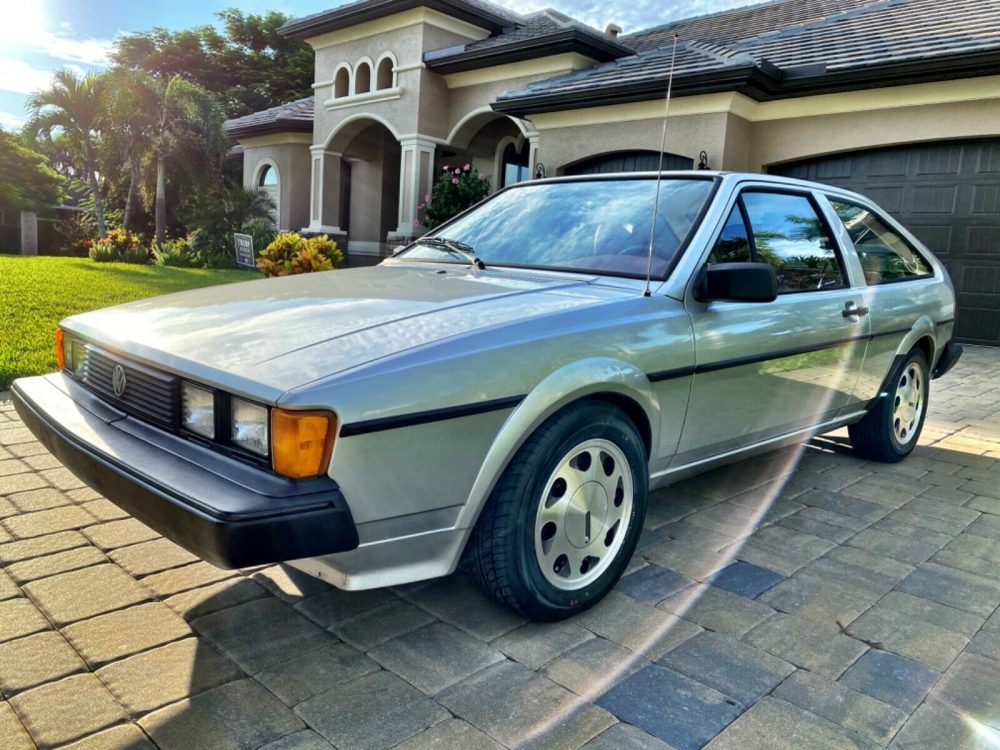 This Scirocco we looked at back in August is back on the block wearing teardrop 16V wheels and sporting a substantial price drop to $11,500 (from $17,900).
Though the shape of the new Scirocco was modern for the time, underneath the specification changed little from the outgoing model. It was still a Mk.1 underneath, with a 1.7 liter, 74 horsepower inline-4 providing adequate motivation to the 2,000 lb. coupe. Where the original Giugiaro design had held lovely nuance, the Karmann-penned follow-up borrowed heavily from the Asso di Picche design (ironically, also from Giugiaro) meaning it was all angles, everywhere. But it pulled it off reasonably well, and the second generation was quite popular, selling about a quarter million units in total. There were rolling changes throughout the years as more power, bigger spoilers and wheels, and even a more traditional second wiper appeared. But in terms of purity, the simple design shows through well despite the clunky U.S. spec bumpers on the early models like this 1982: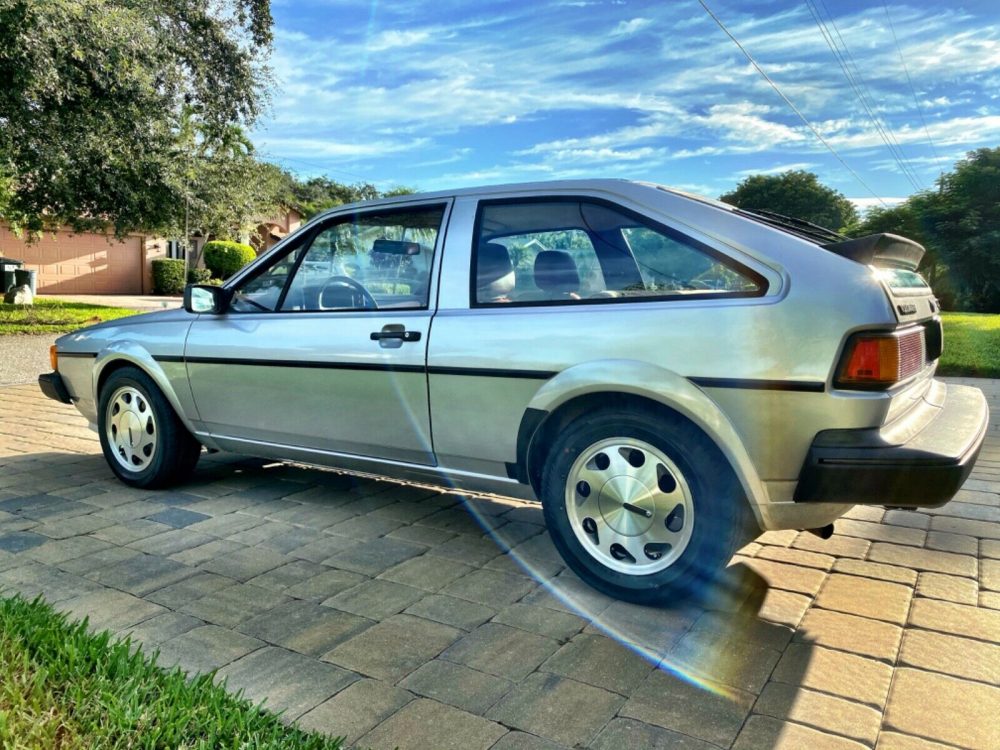 Year: 1982
Model: Scirocco
VIN: WVWCA0534CK041043
Engine: 1.7 liter inline-4
Transmission: 5-speed manual
Mileage: 96,500 mi
Location: Fort Myers, Florida
Price: $11,500 Buy It Now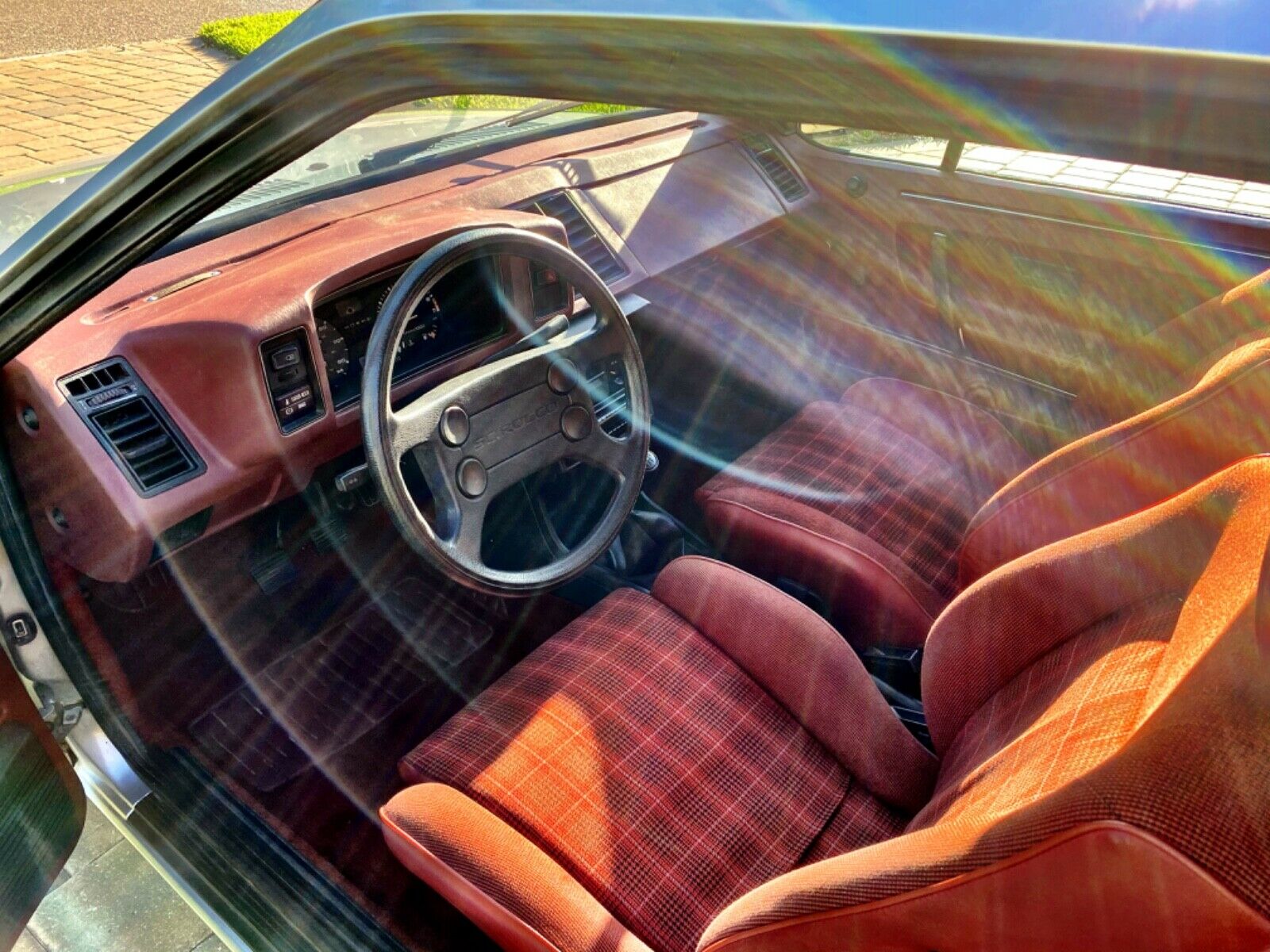 Selling this very original rust free 1982 Volkswagen Scirocco – a unique and rare sliver/red color combination car. This woman owned vehicle stopped running 8 years ago, sat and slowly became covered in moss (I have "before pictures)…which seemed to protect the original paint. Carfax shows the mileage to be accurate at 96,500 miles. The fuel tank was drained, a new fuel pump was installed, as were new plugs, wires, timing belt, fuel pump relay and distributor cap and the car started right up. The ignition switch was replaced which solved an erratic starting problem. The oil and filter were changed as was a cracked axle boot and all new shifter bushings were installed. New front rotors and pads were installed. The a/c was converted to 134a and now blows ice-cold. The paint is in excellent original condition with just some minor imperfections. A paintless dent professional removed the small dings and the car was buffed and waxed. The original Tarrantula wheels were fitted with new OEM size tires and the car was aligned. The interior is nearly perfect. The cloth seats were upholstery cleaned and show zero wear and no tears or imperfections. The headliner is in good condition as is the rear luggage compartment cover. The "Scirocco nemesis" cracked dash was replaced with one that had a small crack repaired and as the pictures show – matches perfectly. New custom floor mats were ordered and will be included with the car. The spare tire looks to have never been out of the car and the original manual is included in the glovebox. All the electrical switches, gauges and lights work as they should and the car drives and shifts like it did when it was new in 1982.

Like all the cars I sell, I try to accurately represent them to avoid wasting anyone's time – check out my Ebay seller Feedback. `I've personally owned and restored 10 '83-'84 GTI's and this is the third Scirocco I've worked on. You can find out more about me at volkswagengarage and you can contact me with any additional questions at 239-292-2370, my name is Mark

Here are several recent testimonials:

Gary M.

"I just purchased a 1983 VW Rabbit GTI from Mark and felt he was extremely informative and represented the car honestly. The purchase price was fair and he's willing to work with you as long as he knows the car is going to a good home. Mark knows more about classic VW's than most. Very helpful before, and after the purchase. I feel like I've gotten a great deal and made a new friend and the same time….you will as well. Thanks Mark!"

Eric B.

"I love the GTI I bought from Mark. The car was in fantastic condition and drives just as good as it did in 1984 – I'm amazed at how quickly it starts every time I turn the key. This was my first time buying a car sight-unseen (I live in California) but his communication was such that I never had any worries about trust at all. He's also been great about answering any questions I have and I know I can count on his help down the road."

Mark C.

"I couldn't be happier with the GTI. I have no reservations or regrets after purchase which is a surprise to most people. There's plenty of horror stories out there about people buying cars on eBay or other websites that don't see the car prior to purchase. Mark is different. I feel He's an honest guy and he went out of his way to help me with making it easy."

Tom H.

"I recently purchased a 1985 Scirocco and I couldn't be happier. I reached out to Mark about any cars he was working on and he sent me pictures of the car as well as all the work he did to get it in like new condition. It drives great! Knowing I can call him with any questions regarding the car makes it even better. If you're looking for a VW, look no further."

Kevin F.

"I have been restoring old Volkswagens to original condition as a hobby for over forty years and have bought cars from many people. I take pride in making sure the cars are right when I am finished with them. I wanted to buy a water cooled Volkswagen that I could just drive and enjoy. The 1993 Volkswagen Cabriolet that I bought from Mark is a wonderful car and it is exactly what he described to me. I have to say that after all these years he is on my gold list of respectable people. These days when so many people are scamming others it is nice to know one who can be trusted and is very honest. Mark made my purchase a pleasure and for the first time I was able to buy a car without any worries!"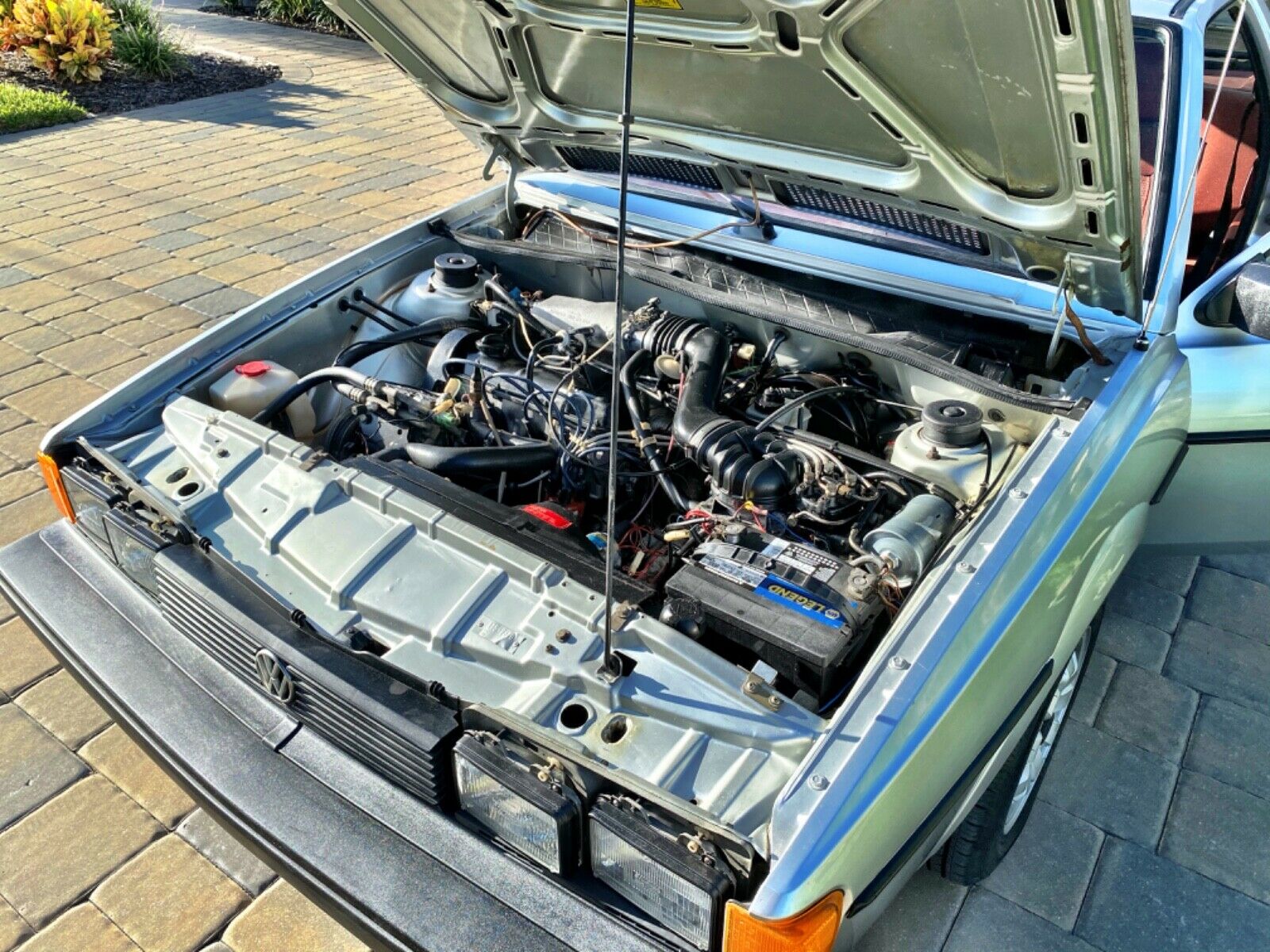 If the setting and subject matter seem familiar, it's because we've seen quite a few early water-cooled products from this seller. He manages to find nicely preserved examples, lightly restore them, and present them pretty well. Frankly, I'm glad it's still working for him because they always look special. This Scirocco is no different, and looks lovely in Diamond Silver Metallic over red patterned cloth sport seats. The original 'tarantula' derivative 13″ alloys are there too, and generally this car looks to be in great shape as a survivor.
The question comes in the price, which is admittedly a bit steep at nearly $18,000. You can get into a decent 996 for that money, or an E36 M3, or a 944 Turbo, or a few early AMG Mercedes models – and if you look carefully, you can even find the Scirocco's more polished Audi cousin, the Coupe and Coupe GT for sale for a lot less. Which you'd rather have is not my business, but regarding pricing – well, if you haven't been paying attention, 80s Volkswagens have been setting all sorts of records over on Bat recently. How about $20,250 for a Jetta 16V? $15,000 for a Cabriolet? $17,500 for a GTi? Or the staggering $32,500 for a Scirocco 16V? While I love to see a clean second generation Scirocco appear, one will not be finding its way into my garage. For now, I'll make due with my lowly Audi Coupe GT.
-Carter