Warning!
This post is in our archives. Links in this post may have been updated to point to similar cars available to bid on eBay.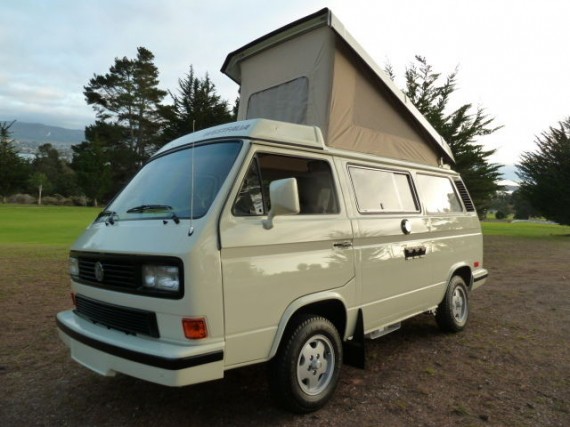 Westies have been showing up with a wide range of prices recently, from "what are they thinking?" $15k examples to "WHAT ARE THEY THINKING?!" decked-out $80k specialties. Today's has had a beautiful restoration and a rebuilt 1.9l diesel swap, resulting in a beautiful and original-looking van. The original vehicle only had 52k miles to begin with, and a more powerful and like-new GoWesty engine means this van is ready for the next few decades. All work and modifications are subtle and well-chosen, with a price that seems surprisingly within reason.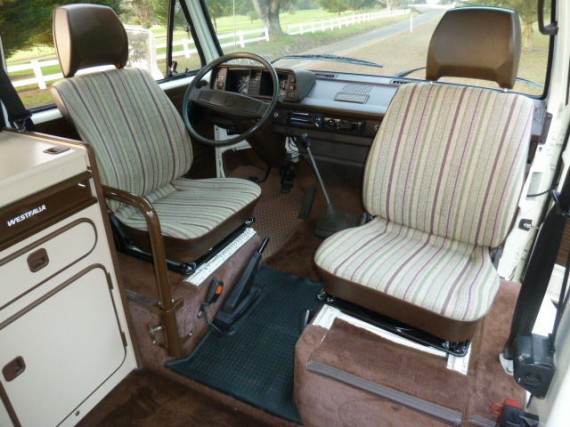 Year: 1982
Model: Vanagon Westfalia
Engine: 1.9 liter diesel inline-4
Transmission: 4-speed manual
Mileage: 52k mi on chassis, 100 mi on engine
Price: $27,500 Buy It Now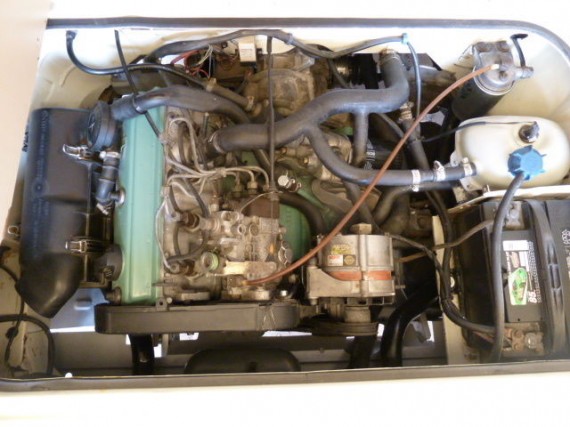 Up for your consideration is my beautifully fully restored DIESEL Westfalia. It has been meticulously taken apart and has gone through a complete and extensive restoration back to factory new like condition. I will try not to bore you with all the details of restoration but here goes:

Vehicle started out as a rust free and accident free California factory diesel.

Lets start with mechanicals:

As you know original diesel vanagons came with the historically underpowered 1.6 liter engine. That engine was removed and in its place now purrs a professionally installed 1.9 liter engine fully rebuilt by GoWesty in Los Osos, CA! Full GoWesty rebuild included but not limited to:

Brand new German piston and rings

All new bearings

Rebuilt crankshaft and rebuilt rods

Brand new headstuds upgraded from factoy bolt setup

Brand new injectors

Brand new internal and external seals, etc, etc. (the crew at GoWesty are complete and thorough as some of you may know)

A brand new exhaust unit was installed as well as new belts, new engine oil and fuel filter, and new German fuel lines.

Engine runs and sounds as great as it looks!

It starts right up like a diesel does and purrs like a kitten.

It ony has 100 miles on it since rebuild.

Engine was professionally installed by the experts at Westy Werks in San Luis Obispo. These guys are experts at what they do! Price for engine upgrade was over 5000k in receipt. Westy also has a new clutch disc, a new throw out bearing, a new needle bearing, and a new pressure plate as well as a resurfaced flywheel with engine work done. The cooling system frequently gets neglected in these westys but not mine.

Cooling system was also refurbished with:

Brand new Behr radiator

New fan switch

new coolant expansion tank

New coolant sensors and full coolant flush and refresh!

Nothing was left untouched or unattended to during mechanical restoration.

Onto the axles:

Braking system was fully rebuilt with:

New front and rear brakes.

New front and rear brake rubber lines.

Complete brake system was flushed and refreshed with new fluid.

Westy rides no new front and rear KYB performance shocks.

tie rods are both brand new, upper and lower ball joints in are in good condition.

Now onto the exterior body and paint work. As I have mentioned, westy was a perfect restoration candidate being a rust and accident free, clean and dry California vehicle. Van was totally stripped of all rubber, all glass, all lights, all trim, and even the pop top prior to body and paint work. Even all the doors, slider and hatch were taken off to paint the jambs and all the crevices properly!

Talk about labor intensive but I feel you get the best results when this is done! Minor scratches and dings were repaired and westy now sports a beautiful and shiny 2 stage Dupont base clear coat paint job. Paint was entirely color sanded and buffed to perfection! Paint color is original factory Pastel While code L90D. I am sure paint looks better now than the vw factory would have ever imagined. You can only fully appreciate this paint restoration in person.

Van was painfully put back together with all new GERMAN window seals. Not the cheap junk found out there. We even replaced the glass seals on both front doors which is difficult to do and new A pillar drip railings were also installed (genuine VW German moldings of course). All handles were restored and all seals around all handles are new as well as marker lights / new units also. Windshield wipers restored with new shaft seals. Windshield nozzles and seals are new. Even the slider door cover seal is new and slider door hinge refurbished. Fuel door encloure is all new. Windshield is brand new with integrated tint strip.

Poptop was upgraded to later model removed from a 1990 Westfalia with the cool sunroof. Pop top tent is brand new upgraded 3 window cotton canvas model. All new sunroof parts (seals, skylight, brakets, bolts) were sourced from GoWesty and new pop top and luggage rack seals were also installed care of GoWesty. Even the velcro for skylight screen was replaced.

Did you notice poptop is body color? Both luggage rack and pop top were completely stripped and refinished and repainted to match body color. Extra coats of clear / 4 to be exact / were placed on poptop for better sun protection. Every nut and bolt was removed from luggage rack restored and replaced new with stainless steel units. Even luggage rack drain hole screens were replaced during luggage rack restoration. I bet you didn't know there were screens in there to keep junk and leaves from collecting under the luggage rack.

Upgraded bumpers are from late model westfalia which were meticulously prepped for paint to match body color. Euro headlights were sourced from later model westfalia, fully restored inside and out and have new bright Sylvania ULTRA bulbs in them. New rare German emblem found to complete the upgraded and restored front grill. Rear view mirrors also upgraded to larger sturdier and nicer late model westy units. (Power not hooked up as I prefer to operate them manually)

Westy has new GoWesty upgraded hook ups with quick release nozzles installed. . .much better and user friendly than the old stock units. Rear hatch struts are new. New GERMAN antennae

Interior restoration:

Since the van was stripped completely for restoration, Dynamat sound insulation was installed everywhere inside. You can read about the benefits of Dynamat online but it does wonders for isolating sound keeping noise levels way down. All the doors sound solid upon closing now.

Interior panels / headliner were stripped and restored with New GoWesty material which fit and look awesome and original. The original interior fabric was in great condition and a tribute to the quality and durability of the original fabric. I chose to get the front seats taken apart and restored with new foam / bolsters / taking out the original horsehair. Front seats are much more comfortable now compared to original.

Back seat and upper bunk was completely removed from vehicle and all fabric was thoroughly washed and shampooed. All curtain were also removed and washed.

The refrigerator works on all 3 modes, 12v, 110v, and propane / both original ice trays are present. The sink faucet is a brand new GoWesty unit. The stove top works perfectly and the grill top still has its original blue plastic protectant on it. Camper retains both front and rear tables. Propane tank and hardware was completely removed from vehicle, sand blasted and power coated to perfection. It was rebuilt with new filler and bleeder valves and is topped off.

The entire dash was removed for cleaning and restoration. All air ducts were cleaned out as historically crazy stuff gets into there! No more breathing in years of collected dust and debris, etc, etc. It is just like new now. A brand new blower fan motor was installed while we were in there as these units have a tendency to give out with age.

Original brake and clutch pedal rubber were left intact and show little wear a testiment to vans low original miles. Original analog dash clock still keeps time perfectly. Everything works on the van down to the squirters, and I mean everything just like the day it left the factory. Nothing needs attention or work. Stereo has been upgraded to new Kenwood KDC-X996 Am/FM/CD with remote, Sirius Xm ready, Bluetooth, iPod, iPhone, Pandora, etc, etc. Brand new Kenwood door speakers, brand new fully retractable Hirshman antenna , made in Germany.

Brand new front RubberTite Hex tan floor mats protects the carpets, the entire carpeted areas of the van has been fully cleaned and is super clean. Brand new fire extinguisher rated for types of ABC fires you may encounter. All four Carat alloys have been completely refurbished, sandblasted and repainted. Michelin Agilis 81, 8 ply 185 r 14C radials are some of the best tires you can have for the Westy and are like new. Spare tire is like new.

All suspension parts, upper, lower ball joints, tie rod ends, steering rack boots, wheel bearings, rear axles/drive shaft has been checked and all are in proper working order/ in good condition and do not need to be replaced.

Regarding to diesel powered westy, although this westy provides much more power as compared to the original 1.6 liter engine, with the 1.9 liter AAZ engine it will top out at 65 mph. If you enjoy just cruising and always wanted a reliable a great mpg and fully restored to better than new diesel westy this is it. If you want more power out of this diesel engine, you can add a bolt on stock turbo set up or convert this engine to a petrol Tiico set up running motor with very little parts required. These are the options that the shop gave me, but I decided to leave this up for the next owner. I just love the simplicity of the current set up as it is.

Currently registered (expires November/2014) and insured in California, it's under my name. Still has the original Ca. blue license plate. Good news for Ca, buyers as well as in many other states, you will never ever have to smog this van.

Vin numbers are : WV2ZG0254CA099618, not sure why it did not register with eBay using Autocheck so I had to enter all 0's. Here is some infornation from the dealer who sold me the car, here are his description of it:We do not know a lot about the history of this vehicle but looking at the original log book it appears that it might have been a European delivery vehicle that made its way back to Santa Maria California by late 1982. A dealership stamp shows its 15k mile service done there at 14,481 miles. After its 22,500 miles service preformed in August of 1986 in Lompoc Ca, The log book is not filled out any more. But we do have a detailed hand written log book starting in 1982 with 14,480 and ending in 2008 with 50,136 miles.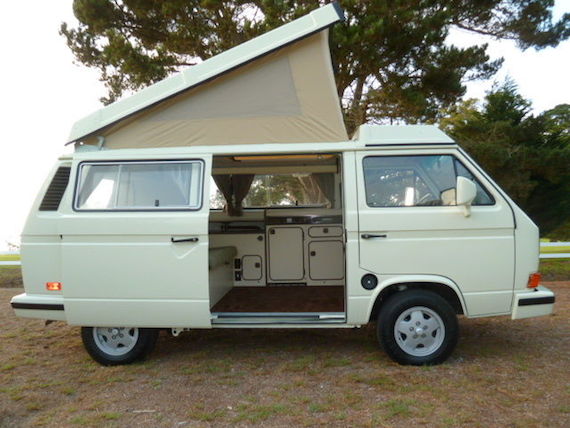 It's gorgeous, has a great engine transplant, everything works, and it has very few miles. I'm surprised the Buy-It-Now isn't $20k higher, but whoever ends up buying it, on a bid or at full price, is getting an outstanding Vanagon for a relative deal. Of all the Westfalia's we've written up here recently, this is the one to buy.
-NR