With evangelists like the folks at flüssig magazine, the front-engined, water-cooled Porsches are finally getting the respect they deserve. Long living in the shadow of the car they were supposed to supersede, the 911, these sports cars have now become collectable in their own right, praised for their performance and practicality. Today we'll take a look at four examples of the breed, all dressed in black and ready for some action. We'll start with this very clean 944 Turbo for sale in Los Angeles.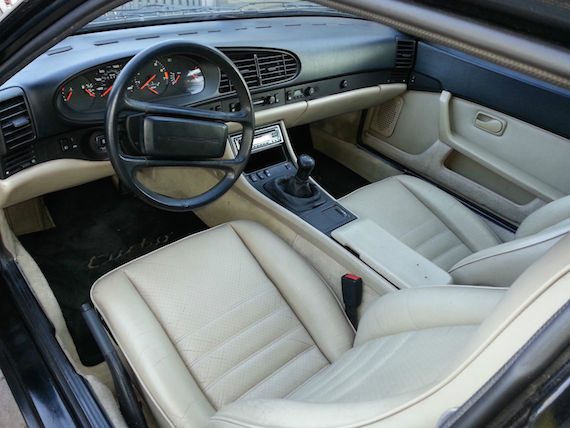 Year: 1986
Model: 944 Turbo
Engine: 2.5 liter turbocharged inline-4
Transmission: 5-speed manual
Mileage: 69,431 mi
Price: $12,500 Buy It Now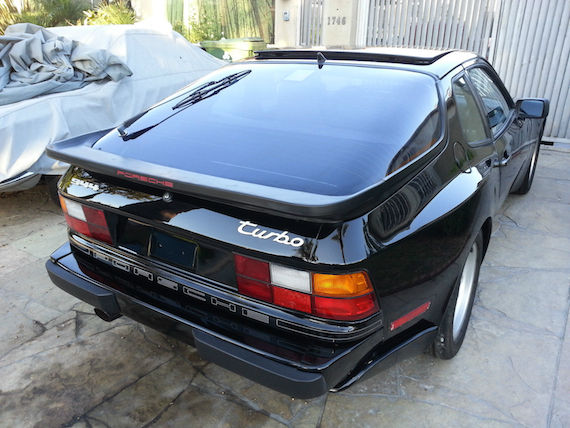 Up for sale is 1986 Porsche 944 Turbo
2 Owners
Low Miles at 69k
Original Color Black/Linen colors
Mechanically sound, no issue, ready as a daily or weekend driver
No known accidents in history
Runs and drives beautifully.
These are getting harder to find in original, unmolested condition with low mileage and as one or two owner examples.The car is now available for viewing by appointment only. SERIOUS INQUIRIES ONLY PLEASE! A non-refundable deposit of $1,000 is required within 24 hours of end of auction and the remaining balance by bank wire within 7 days of the end of auction. Buyer is responsible for shipping, however, I'll be happy to help with referrals and arrangements. GOOD LUCK and HAPPY BIDDING! Thanks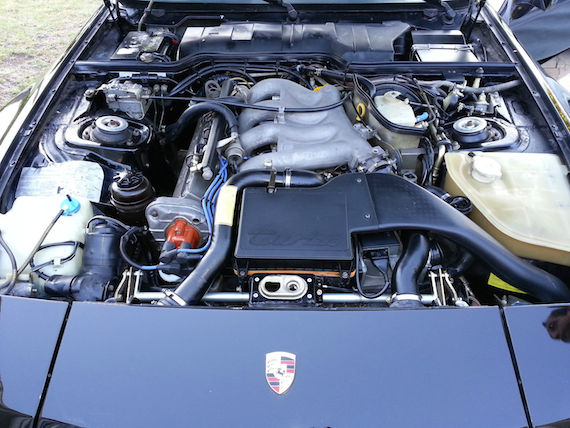 The 944 was one of those quintessentially yuppie cars of the eighties. If it wasn't the 911 Turbo you lusted after, then it was this sports coupe, with its wide hips and concealed headlamps. This car is priced a little bit under what Hagerty lists as a Condition 2 car, which is just about right for a clean, unmolested example with lower mileage should bring these days.
Next up, we'll take a look at the 944s successor, the 968. This example for sale in Iowa has covered a decent amount of miles and is a bit rough around the edges, but would be serviceable for someone wanting a modern classic they could drive daily.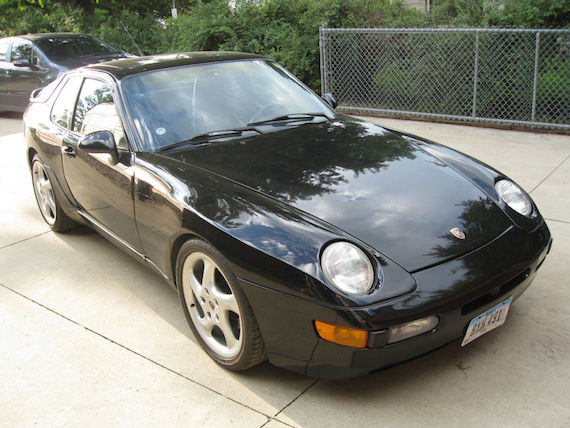 Year: 1994
Model: 968
Engine: 3.0 liter inline-4
Transmission: 6-speed manual
Mileage: 166,870 mi
Price: No reserve auction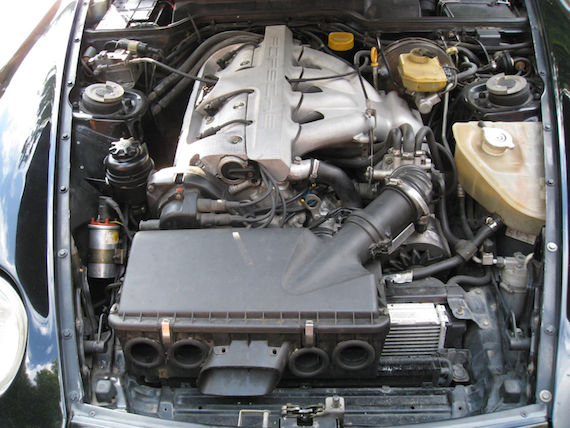 For sale is my 1994 Porsche 968. This rare car (one of 2,500 coupes built from 1992-1995) is black on black with some tasteful modifications and 18″ Porsche Turbo Twist wheels. This car has a 6 speed transmission and currently has 166k miles. Factory options were Power Seats and Painted Spoiler (no Limited Slip Differential). This car is actually a 1994.5 which mean the car has 993 style front and rear seats and upgraded connecting rods from the factory. Runs and shifts great. A/C blows cold. This car would be a great track car/weekend car or even a daily driver. Recent Timing Belt done.

Recent maintenance include: Alternator, DME Relay, Fuel Check Valve, Fuel Filter, DME Temp Sensor, Vacuum Lines, Throttle Position Sensor, Spark Plugs, Rebuilt Power Steering Pump, Stereo, Amp
Yet to be done but included is brake fluid for brake/clutch flush and an oil filter for an oil change.
Also I can provide receipts showing that the timing belt was replaced on 5/13 and the water pump in 11/10.

Being a 20 year old car, it is not in new condition. The paint is original and looks good for its age. There are a couple minor cracks and dings on the outside. On the inside, the dash is cracked (very common) and there are tears in the driver's seat and the passenger rear seat bottom. Mechanically, the car is a little cold blooded but runs great once the engine is up to operating temperature. It does have an oil leak (oil pan gasket stated previous owner) and the volt gauge doesn't work (I replaced the gauge but it didn't fix the problem).

Upgrades to the car include the following: Modified Airbox with K&N Filter, Design1Racing Short Shifter, RacerX Chip, Adjustable Fuel Pressure Regulator, B&B Exhaust, 18″ OEM Turbo Twist Wheels, Aftermarket CD Player and Amplifier

This is my 3rd 968 and 8th Porsche total. Only reason I am selling is that I have upgraded to a 1999 Porsche 911 and currently the 968 is a 4th car.

This is a NO RESERVE auction so please only bid if you are a serious buyer. Feel free to ask questions before bidding on the car. Buyer arranges shipping. Thanks for looking.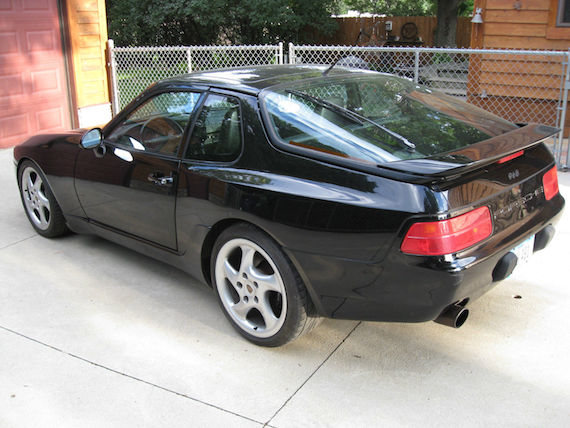 After talking with Pablo over at flüssig magazine about these 968s, I'm determined to have one in my garage someday. I'm going to be watching this one closely, as it is on offer at no reserve. This should be a good bellwether as to where driver condition 968 coupes are settling in the market currently.
Our next car is a similar 968, albeit one year older with a little less mileage. For sale in New Jersey, this 968 is also a bit tattered and has been repainted at some point, but is still a perfectly serviceable machine.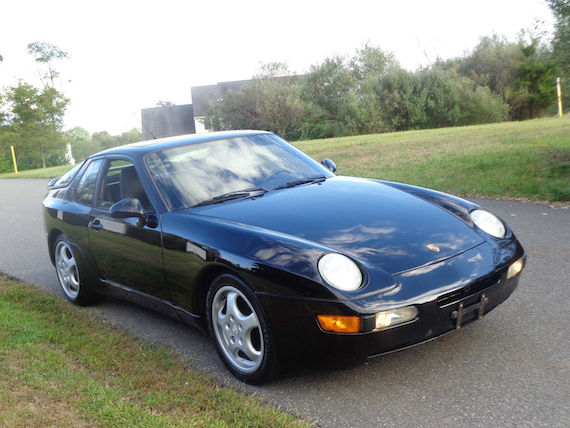 Year: 1993
Model: 968
Engine: 3.0 liter inline-4
Transmission: 6-speed manual
Mileage: 141,514 mi
Price: $8,995 Buy It Now
1993 Porsche 968 Coupe 6 Speed

Thank you for viewing my ad. You are looking at a clean 1993 Porsche 968 Coupe with a 6 speed manual. The mileage is 141,514 and the car is finished in Black with Black interior. Less than 5,000 968's were shipped to the US from 1992-1995. The Autocheck is clean with no accidents. The car comes with the original spare tire, jack, tool kit, and Porsche air compressor.

Condition:

This Porsche shows well. The history is clean with no accidents. The car was repainted at some point and the job is nice. The lower part of the front bumper is off (see picture). The hood has a couple of dents and is currently being repaired by my body guy. The driver seat bolster is torn, and that is being repaired as well. The car drives great, I personally drove this car for more than 150 miles with no issue. The dash has cracks in it (see picture). The headliner in areas is sagging and I will try to take care of this the best I can. The engine makes the power it should and the clutch and transmission operate smooth. This 968 will drive anywhere you want to go

This 968 is a great opportunity to own an inexpensive Porsche at great buy. This is not a show car, the car is not perfect buy shows very well. You could make this one into a Track/Auto X car for the weekends, or bring the car to shows and events.

Send me real offers and I will consider! Thank you.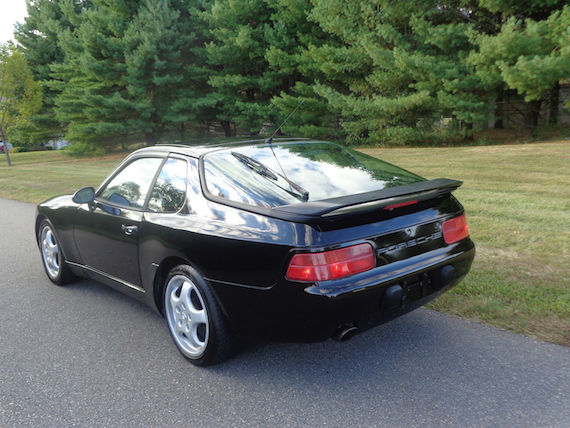 At just shy of $10,000, this puts this car right around a Condition 3 vehicle in the eyes of Hagerty, which seems just about right. I'll be watching the two 968s in this post to see if the no reserve example fetches more or less than what the above example is listed for. With either car, I could see myself living out my 968 Club Sport tribute fantasies. Both are driver quality vehicles that could stand to use a little bit of improvements. If you were going to invest some money, than why not have some fun and throw in some CS upgrades?
Finally, we've saved the best for last in the form of this very low mileage 1994 928GTS. This was the end of the line when it came to the evolution of Porsche's front-engined V8 grand touring coupe and have become highly prized over the last couple years by collectors. This example for sale in New York comes from an owner looking to downsize his collection, having owned a number of 928s in the past.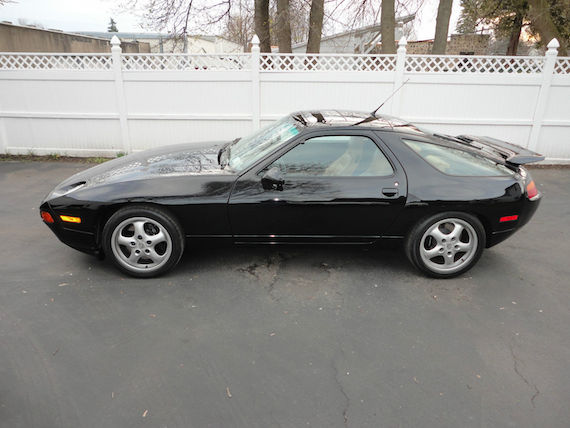 Year: 1994
Model: 928GTS
Engine: 5.4 liter V8
Transmission: 4-speed automatic
Mileage: 23,343 mi
Price: Reserve auction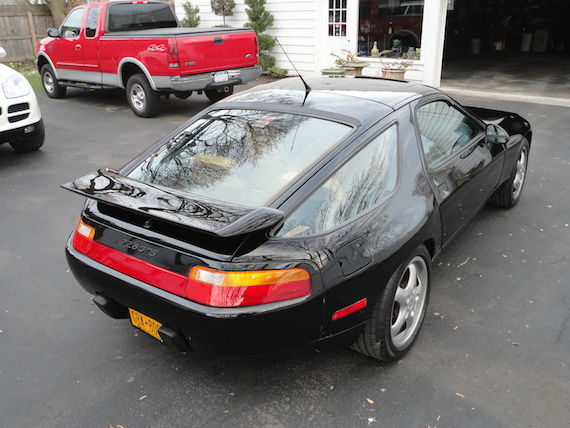 This Porsche 928 GTS is among the finest in the country, and is rare. There were only 139 made in 1994, with the first 20 being of the 1993 specs, and the last 119 made with the highest level of technology ever produced for the line. There were only 77 made in the final year of production, making my car one of the last 200 made of Porsche's first 8 cylinder super car. I have an independent appraisal made two years ago when I bought this investment, which depicts the car to likely appreciate in value by 5% per year if kept in the same fine condition.

This GTS is highly original except for maintenance items. Only the stereo has been changed from the factory presentation. Now, I have a Blaupunkt Toronto BT, with MP3 and USB compatibility in addition to Bluetooth. There is a 12″ woofer and a huge amp in the hatchback area which is shielded by the hatch cover. I have the original carpet and padding, and the cargo net to go with her, but not shown in the pics. The original tan floor mats are not shown and go with, and have some signs of wear. The battery is new with a trickle charger set up, installed for storage. The paint is in extraordinary condition. I know there are some, but I find no sign of chips when I wax her, so a great job of cover up was done. This car has not been damaged and the paint is original. The Michelin Pilot Sports are all new with about 1,500 miles on them. All services are up to date, including the timing belt and water pump service. This car needs absolutely zero service, as I have made sure all fluids and services have been performed so I could drive her with confidence. There are no leaks. The AC is strong and the exhaust sounds truly terrific. It softly roars, more than any other Porsche Ive driven. The original tools are there but it looks like one slot is empty. The original tire and changing tools are also there as original. The oil pressure is very high and she does not ever over heat.

I've had 19 Porsches and acknowledge this one to be well above average. I am selling due to my advancing age and lack of time to drive several vehicles. If I can qualify you as a serious buyer, I can provide references and the independent appraisal mentioned above. However, I recommend that you also have the car appraised or qualified before buying. Let me, John, know of your questions by email to Rx4jp@aol.com.

Last comment. I've had manual transmission and AT 928s. These cars are so powerful and well geared, that you would seldom get to use more than two gears on US roads. With the Automatic, you get ease of touring even in traffic, plus a frightening 'stomp-down' when you open her up. I honestly believe the AT makes the car seem faster. It is certainly more accommodating.

Good luck in your search. These are fantastic cars.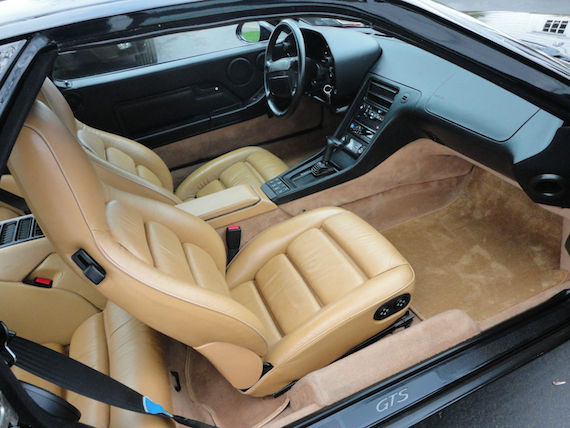 If you're looking for an affordable front-engined Porsche, the 928GTS isn't exactly one you would include on your shortlist. Most of the good ones are hovering in the $40,000 to $60,000 range, with a few optimistic collectors seeking even higher sums. The last 928GTS we featured did not sell at $59,000, but that was a 5-speed manual example with 68k miles on the clock. Will this lower mileage automatic car near that figure? Time will tell.
Out of all of these cars, I'd probably eye up the lower mileage 968, as I'd like to have a Porsche that I could use on a regular basis, after setting aside some cash to get it sorted properly and on which I could put my own personal touch.
-Paul