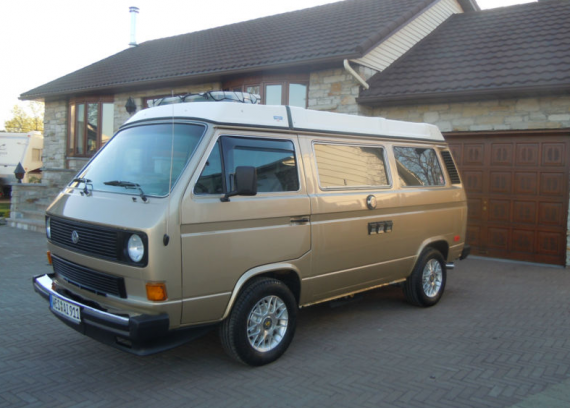 As soon as I saw this van I emailed one of my best friends from home and said "this is YOUR van!" Not because he should buy this one, but because it is the result of a swap we have been talking about for years. He is the lucky inheritor of a gold Westy as well as a 1974 911S that has been unfortunately and rustily neglected since a complete rebuild over 15 years ago. Our dream has been to combine the two for the perfect aircooled Westfalia. It may lack the durability and cheap repairs of Subaru-swapped vans, but I can only imagine the perfection of hearing an air-cooled 911 engine in a VW camper. His project has yet to commence, so we'll check out this one for now.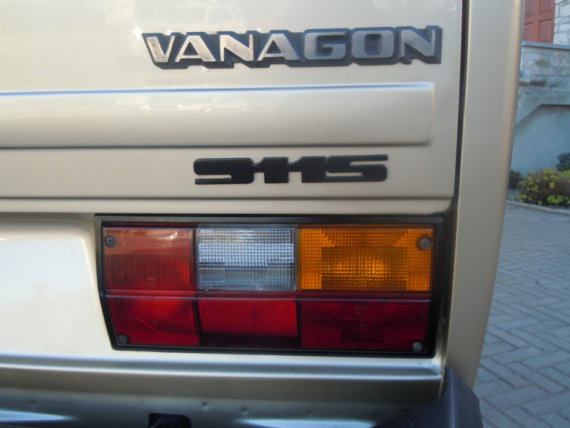 Though currently in Canada, today's 1982 Vanagon was originally a California car and should be easy enough to get back to the States, should you choose to get awesome. It was completely restored in 2004 with the transmission rebuilt and a rebuilt 1977 911S motor installed. From almost every angle it's classic and perfect Westy, extremely clean and beige through the interior and exterior. That's until you lift the rear engine cover or peak underneath and see a yellow Porsche flat-six hiding under there. Holy moly.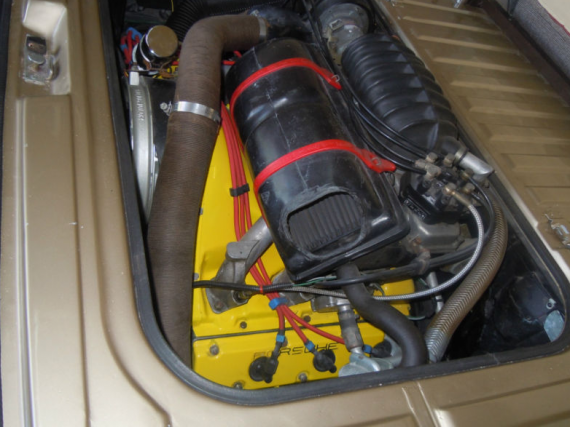 Year: 1982
Model: Vanagon Westfalia
Engine: 1977 Porsche 911S 2.7l flat-six
Transmission: VW 4-speed
Mileage: 5,600 on rebuild/restoration
Price: Starting at $25k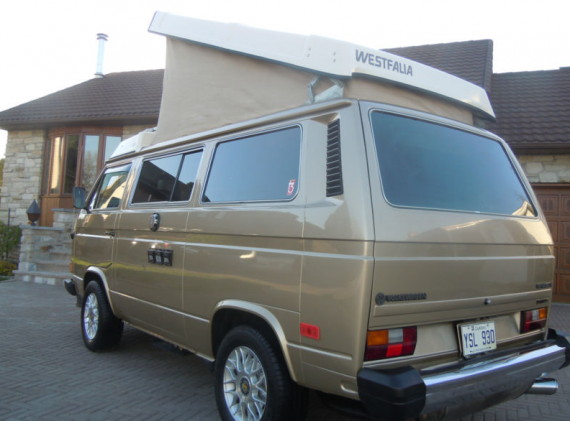 1982 VANAGON WESTFALIA VIN: WV2ZA0254CH023527 (Last year of Air-cooled) from California, 100% RUST free.

– Imported to Canada in 2001 for a complete 3 years GROUND UP restoration.
– More than $50k was invested in this Westfalia.
– This Camping Car is for a true VW Purist or Enthusiasm, it is top quality and probably one of the TOP 5 VANAGON T3 in the world.
– Only 9000 KM (5 600 miles) since the complete restoration it was achieved in 2004.

We are now retired and have changed our travel plans. For more information or pictures, feel free to contact Claude. I am located in Montréal, QC, Canada. More pictures photobucket, see link below

http://s1316.photobucket.com/user/claude_couture/library/?sort=2&page=1

EXTERIOR BODY

– Current color: Savannah beige Metallic LH1V (Original color: blue)
– Dismantled completely inside-out.
– All paint stripped.
– Professionally adjusted, detailed and painted (Epoxy primer, SIKKENS Base coat Clear coat)
– Water block-sanded 2000 and buffed.
– The Body is Laser Straight.
– Lubricant and Penetrant protection Oil was apply inside on all seam and strategic place body before to reinstall the interior
– Professionally TINTED windows

The choice of original VW color SAVANNAH BEIGE METALLIC LH1V (85-88) was picked for the best match with the BROWN and BEIGE interior and the original TAN color tent. Pop Top has been painted with the original color using a good Urethane quality paint; Bolts were replaced with Stainless Steel and new plastic vent.

INTERIOR

– Brand new materials (seats, carpets, seals, rubbers, curtains…)
– Refurbished cabinet equipment: looks and works like new

ADDITION and/or UPGRADE

MOTOR

2.7 liter Porsche 911S, 1977, serial 6272175, 175HP. The motor has been 100% rebuilt with a Porsche Specialist ($12,000 cost)
KENNEDY Engine spacer and Stage 1 pressure Plate
HI-Torque Starter from IMI Performance
SS Tubing and hoses for the oil cooling system going to the front oil cooler
Pertronix Distributor Ignition to eliminate Point for easy maintenance
New CIS Fuel Distributor
The Fan and Valve cover has been upgraded with Porsche Turbo Model for better service
Complete SS 304 exhaust system: tig weld pipe and ( 2 ) 2.5 inch outlets

TRANSMISSION

Original 1982 model 091, DK with 4,57 transaxle, 100% rebuilt
Upgraded with 3rd gear 1.17 (weddle industries)
Upgraded with 4th gear 0.77 (weddle industries): a perfect upgrade with the Porsche Motor (3400 RPM at 70 MPH)
Agreement, performance and reasonable fuel economy at 20 mpg (14L/100km), regular gas 87

MISCELLANEOUS

1. 15 x 7, ET 35 Mag Wheels with 215- 65-15, Michelin Agilis 51, 8 ply TIRES. Bolt pattern 5X112 with direct bolting.
2. Dual isolated battery system ( auxiliary Yellow Top Optima Battery) c/w separate fuse box.
3. Inverter 120 V
4. AC/DC battery charger
5. TV and CD players connected with 6 speakers Audio Clairion system
6. Complete refurbished Dash with:
Lecarra steering wheels
New speedometer from SHK (Germany) installed in 2004 at 00000,0 KM
7 new VDO gages (RPM, Oil Pressure, Oil Temp, Oil Level, Cyl Head Temp, Voltmeter, Vacuum)
7. High Power Halogen H4 Head Lights with city light incorporated
8. Shady boy awing
9. Portable toilet
10. Luggage Box including entry soil carpet and 2 chairs
11. One Extra 15x7mag wheel
12. New coils spring and bilsteing shock bringing the vehicle to a perfect high
13. Front Vinyl Bras, to protect the paint from road hazards. Note: It was always worn on the highway to prevent paint chips on the front of the car.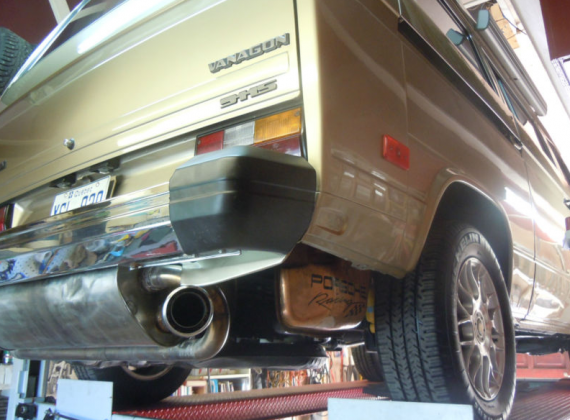 Talk about a sleeper! I'm surprised at the lack of brake upgrade as this tin can has double the power it originally came with. And unfortunately the fake rotors on the wheels do even less for the looks than the performance. I can get over that (it IS French-Canadian, after all), as this is a very cool van with an exceptional swap. With 3 years and $50k in the restoration, it's obvious this van was cared for. The $25k starting price may cause initial sticker shock, but if this had a GoWesty bill of sale, it'd be going for at least twice that. Clean stock Westfalias can easily eclipse $30k these days, so this is a relative value for a damn cool car. I'm dying to get my friend's van project going because I have to hear that engine in a van!
-NR