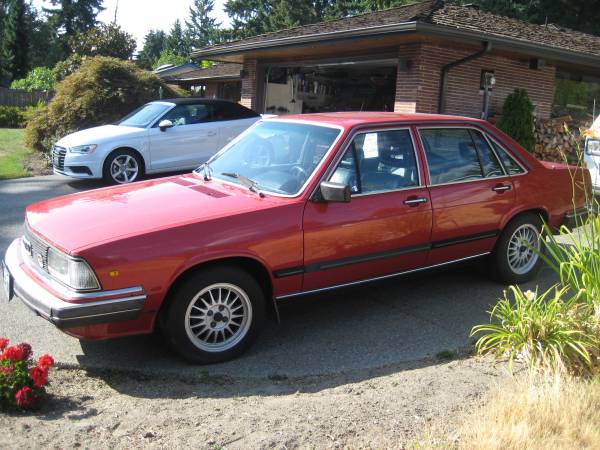 The word "rare" gets tossed around an awful lot, and if I'm frank we misuse it often. We talk about rare color combinations, rare drivetrain configurations, or rare specifications. But how about an entire model line that's rare these days? Now, that's worthy of taking a second look, and while all early Audis fall into that category, the Type 43 large chassis cars are truly not often seen anymore. There are a few reasons that; Audi's focus in 1984/5 shifted towards the more popular all-wheel drive models as they looked to go upscale in the market with the new Type 44 chassis. Additionally, many of the early Audis that were sold in the U.S. were sold in areas that left their rust-prone metal fatigued. And the Type 44 chassis was so thoroughly modern, it instantaneously rendered the still fairly new Type 43 a dinosaur of design. If "Video Killed the Radio Star" in 1978, aerodynamics, modern design and quattro killed the first 5000 in 1984. Looking back, though, the 5000 was a lovely design; sure, it was boxy and the U.S. didn't really get the top-spec European 200 5T model. But by 1983 there were 3 different options to choose from; the base model was the 5000 S, available with the 2.1 inline-5 found also in the 4000 5+5 and the Coupe GT. At 100 horsepower, it wasn't much of a match for the weight of the Type 43 chassis, but it was available with a 5-speed manual. Step up to the 5000 Turbo, and you got a healthy bump to 130 horsepower but could only select the dim-witted but reliable 3-speed automatic. But the sleeper of the trio, and the one that was seldom selected, was the 2.0 liter turbocharged inline-5 diesel option: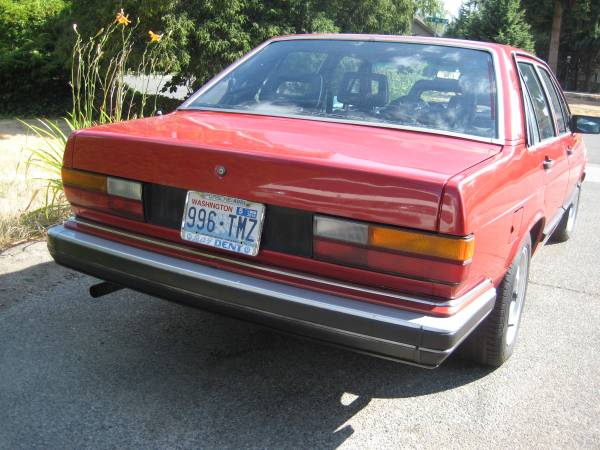 Year: 1983
Model: 5000 Turbo Diesel
Engine: 2.0 liter turbocharged inline-5
Transmission: 3-speed automatic
Mileage: Not Listed
Price: $2,500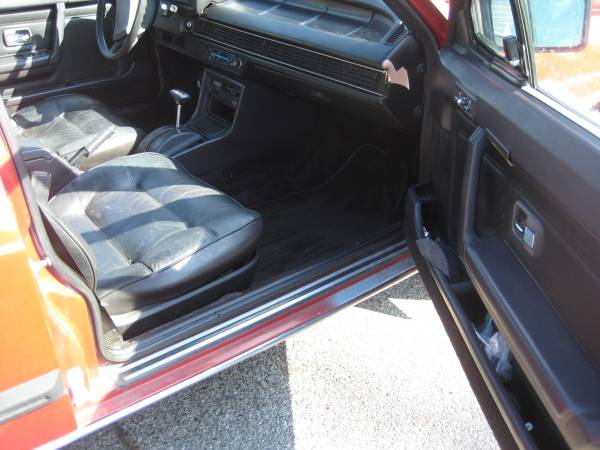 Offered up for Sale – RARE

1983 Audi 5000 Turbo Diesel finished in Bordeaux Red Metallic over Dark Brown Leather Interior.
I have owned the car for over 15 years. Engine and Transmission were completely Rebuilt along with all accessories, etc about 2k ago. Engine was redone at Redmond Workshop and Transmission and other services at Autohaus Vic. Have all receipts. Over $11.000 in all new running gear. I am a long time Audi Type 43 Fan and have owned many over the years. But ready to part with this one after a long time.

I am ready to sell since I do not use the car that much. There is a relay that sometimes works other other times does not to start the car. But enging is tight, new and has lots of power.

Call for a showing. Curtis at show contact info
•do NOT contact me with unsolicited services or offers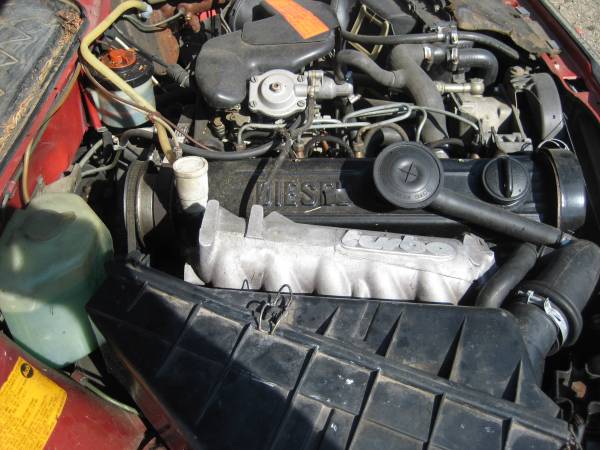 The 5000 Turbo Diesel shared some aspects with the 5000S and 5000 Turbo, but was unique in its own right. The staggering 23:1 compression ratio resulted in a not staggering 84 horsepower, but the lumpy inline-5 did produce nearly as much torque as the gasoline-powered Turbo model at 127 ft.lbs.. While the gearing of the transmission was the same as the 5000S and Turbo automatics, the Diesel had a much longer final drive at 3.08 (v. 3.91 in the 5000S and 3.73 in the Turbo) to match the lower power delivery of the motor. Brakes and most of the other running gear was shared with the 5000S, but the cooling system was from the Turbo. Performance wise, this was not a fast car; 0-60 took a leisurely (and loud) 14 seconds and it would top out only 100 m.p.h.; but the diesels were about fuel mileage and this one returned mid-to-high-30s on the highway; impressive for any large sedan, even today. But let's talk rare for a second…this is one seriously rare bit of kit. Finding any Type 43 is hard. Finding a Turbo Diesel is even harder. Make it a running one, and you're on to one hand in the U.S. in terms of number. Then make it in the condition of this example, and you're likely looking at one of the best condition Type 43s of any sort still around in the U.S., never mind with the infrequently seen Turbo Diesel designation. It's been fully overhauled and is in simply stunning condition, from the beautiful exterior with added Euro-headlight goodness and some optional 15×7″ Ronal R8 alloys fit. It looks, in many ways, like a 200 5T that was never offered here. Inside the great condition carries over with a clean leather interior rather than the usual tweed these cars carried. Rare…rare…rare! I wish I was a bit closer, because I'd seriously consider picking this car up as an occasional show car. It's so cool to see, such an incredible survivor that not many will even have a recollection of. On top of that, the asking price is far below was a clean equivilant Volkswagen diesel would trade for. This car is absolute pure win in my book and should make the next owner quite happy.
-Carter