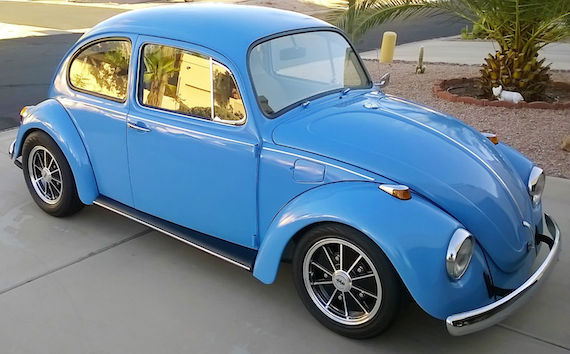 For all the Alpinas, AMGs and Andials we might feature, there is one German cars that has remained a favorite of automotive customizers for years: the original Volkswagen Beetle. There's an infinite amount of ways you can go with Beetle modifications, from dune buggy to dragsters. One popular modification is the Cal Look, consisting of a lowered suspension, aftermarket wheels and sometimes removal of the bumpers. This freshly restored 1968 Beetle for sale in Arizona has shades of that style, but retains the original bumpers. Wearing a bold shade, it looks great sitting on Empi style wheels.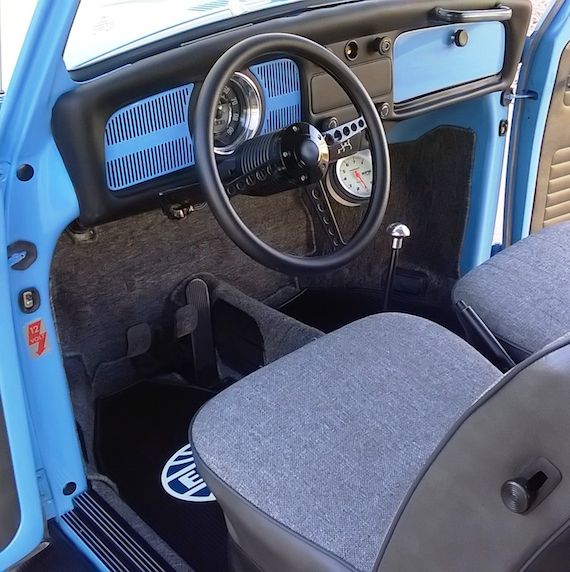 Year: 1968
Model: Beetle
Engine: 1.7 liter flat-4
Transmission: 4-speed manual
Mileage: 665 mi since restoration
Price: Reserve auction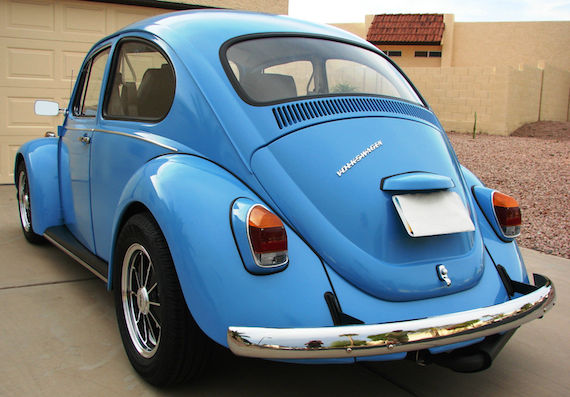 For sale is a restored 1968 VW Beetle sedan. Southwest car. Restoration was completed in 2014 and it now has 665 miles since completion. Original miles on chassis is around 115,000. The body had no rot or major damage, only minor surface imperfections. Never hit or in an accident. It was then stripped down to bare metal and resprayed with single stage paint. Not the original color. The trunk still has the original color and under the carpet there is still factory markings, kinda cool. The pan is not detailed but was pressure washed and what remains is some of the original heavy undercoating and very little light surface rust. Solid body and pan. Matching pan and body VIN numbers. The car is not a concour car but driver quality that would definitely do very well in a local car show. Will go down the freeway at 70 MPH with no effort. Great car and ready to cruise to the show!!!

– Rebuilt Engine: 1776cc, Dual Port, Dual Relief case, 8:1 Compression, 665 miles on the motor. Valves were readjusted at 500 miles.
All New Components: 69mm counterweight crank, 90.5mm thick wall P&L's, CB Performance 2280 "cheater" cam, SCAT lifters, Bugpack HP oil pump and filter, Doghouse oil cooler, alternator, Dual 34 ICT Weber Carburetors with Pro Linkage, 12lb flywheel 8 dowel, SCAT Pro Gland nut, Kennedy clutch, 009 distributor with PerTronix Ignition, Quietpack Exhaust. Rebuilt heads with stock size valves. Machine work was done by European Auto in Phoenix.

-Rebuilt Type 3 Swing Axle, Freeway Flyer transmission by Dons Bus Box in Phoenix. New Type 3, 5 hole rear drums, brake hardware, shoes, wheel cylinders and lines.

-New 2 inch narrow ball joint front end, 2 1/2 Drop Spindles and adjusters. New 5 hole drums, brake hardware, wheel cylinders, shoes, lines and master cylinder. New bearings, ball joints and Urethane bushings.

-New 5 hole BRM clone rims. New Continental tires, Front 165/60/R15, Rear 195/65/R15.

-All new interior: New Headliner. FatMat sound deadening on pan, doors and panels. New Gray TMI tweed seat upholstery and new foam. New carpet, door panels, dash, dash components, sun visors, grab straps, seat belts, dome light, Forever Sharp Steering Wheel, Ignition switch and blinker switch. Speedometer was restored at time of restoration and miles set to zero. It is slightly off on the MPH due to the different sized tires (roughly 5 MPH). Gas guage is original but not accurate (sending unit is new along with voltage regulator/vibrator) and shows a little over half when full and goes down from there. There are new guages available but wrong face so kept the old. I was told these are one year only speedos and gas guage set ups and wanted to keep original look.

-Virtually every rubber piece on the car is new. New front windshield. Side and back glass is original with VW markings and in very good condition. Refurbished wing windows. New door handles. New blinker/tail light/license light lenses, headlights. New early bumpers with late to early bumper brackets. All new trim, sill plates and running boards. New shift bushing and coupler. New headlight and blinker relays. Unique Parts Speed Ball Accelerator kit and new throttle cable. New battery and cables.

-Two items that are not working. Windshield wipers, wanted the no wiper look so did not look into the repair. Plus it hardly ever rains here in Phoenix. Horn is also not working and was not on my priority list. Both would be a fairly cheap fix as these parts are cheap and available from multiple supply houses.

Feel free to email any questions you may have or if you would like to see or have the vehicle inspected, please do so before end of auction. Please do not bid if you do not have sufficient funds to purchase the vehicle. All shipping arrangements and costs are the responsibility of the buyer.
Clean, clear title in hand. Private party sale. Good Luck!!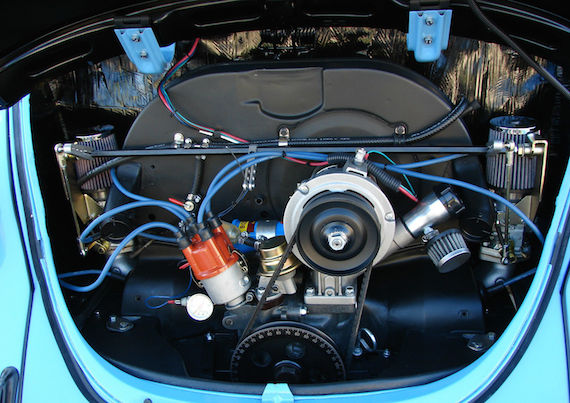 I have a kind of on-again, off-again fascination with the original Beetle. This restored example caught my eye as it is not overdone. The modifications are period and tasteful and with the car's engine tweaks you can certainly have some fun with it. Nicely restored examples of late '60s Beetles are hovering in the $12,000 to $20,000 these days, depending on the spec. Good originals might even fetch a tad bit more. I'd suspect a car like this will probably be worth in and around the $15,000 mark. If you want a reliable car to have fun with, take to shows and won't break the bank when it comes time to fix it, there are few better choices than a vintage Beetle.
-Paul