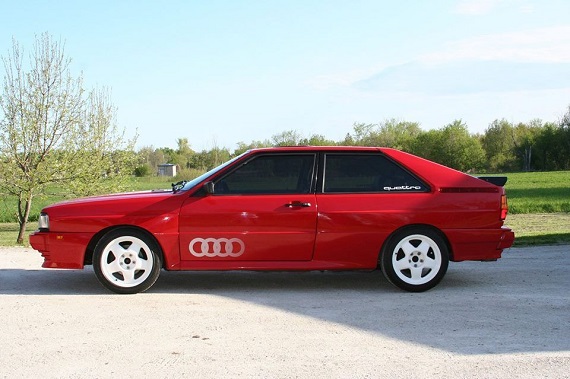 Contrary to popular belief, most of the elements of the Quattro were not pioneering. It was not the first production car with all four wheel driven – that distinction goes to the Jensen FF, which beat the Audi to market with a luxury 4WD GT by a full 15 years. It was not the first car to introduce turbo technology, as many manufacturers had been playing with forced induction for some time. Notably, some of the team that developed the Quattro came from the halls of Porsche, having worked on projects like the 924 Turbo previously. Even the signature box flares were borrowed from the Group 5 cars that raced in the 1970s. But the Quattro was the first to put all of these elements together and set the blueprint for what would become a fairly standard hot package going forward. The Ford Escort Cosworth, Lancia Delta Integrale, Subaru Impreza 22B, and Golf Rallye are but a few of the many that copied Audi's trendsetter. And while some that followed were dynamically better than the Audi, it still has a mystique somehow greater than the both the sum of its parts and its inherently flawed design: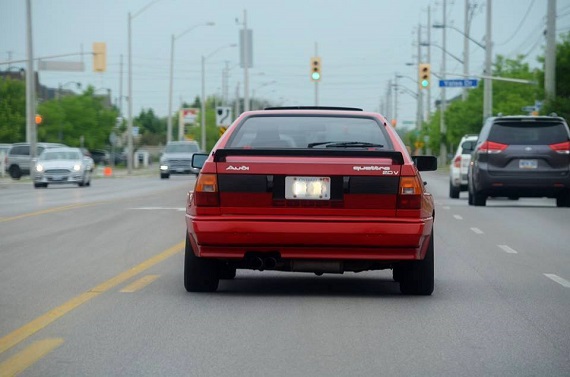 Year: 1983
Model: Quattro
Engine: 2.2 liter turbocharged inline-5
Transmission: 5-speed manual
Mileage: 158,000 mi
Price: Reserve Auction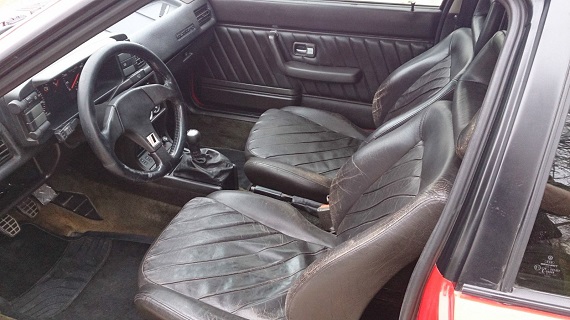 Beautiful example of a rustfree Ur Quattro, engine transplant was done by the 3 top members of the Toronto Audi Quattro Club.
This car has been to many carshows in Canada and the US the most important is Carlisle PA in May every year.
The car was in the spring edition of Fourtitude magazine in 2013.
Car was brought into Canada by a movie company 30 years ago.
19 years ago the car had an engine fire and the colour was changed from Mars red to Tornado red, I bought the 7 years ago car and had it painted again.
The paint still has a high gloss and car and driver get thumbs up wherever we go.
It's very fast car and should not be underestimated.
Many new parts and nothing but the best.
Email or call if you want more info, full disclosure to anyone..

New G60's brakes front
New Main/end seal
New Steel oil cooler lines
New larger oil cooler
New Porsche 944 intercooler
New original shift bushing NLA now
New bushings all around
New control arms
New Billsteins front
New rich and lean gauge
New boost gauge
New exhaust temp gauge
New 034 short shifter kit
New supension all around
New Clutch with Kevlar disc by EuroDrive clutches in Burlington, ON.
New wheel bearings
New oil catch can

1983 Audi Ur Quattro
with 1991 Audi 200 2.2L 20V Turbo engine transplant.
24 PSI – 300 HP 1250 KG car
Chipped ECU
3 inch exhaust turbo back stainless with flex piece
Audi S2 air

A $1000 US non-refundable deposit is required within an hour of buying commitment.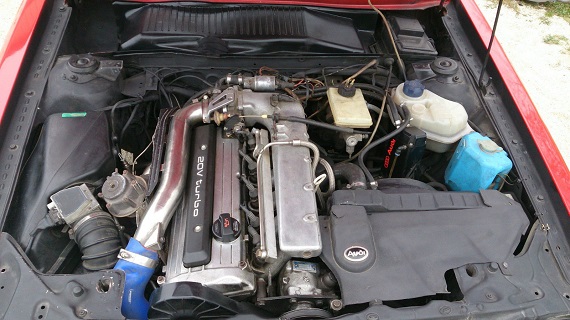 The look of this 1983 is certainly fetching with the gleaming Tornado Red paintwork matched by rally-inspired white Compomotive (I believe) wheels. But it's under the hood where the real magic happens, with a later 3B transplant providing the motivation the original cars never really had, at least in U.S. spec. Inside the brown leather shows the 32 years of age its accrued, but presents reasonably well and features one of the great (and expensive) Nardi Personal Audi Sport wheels. Is this car a collector and top of the market? I think it's a bit too modified to make that claim. It's not the original color, has a bit of a checkered past with the movie company and engine fire, and isn't in it's original engine configuration. But as a resto-mod, it's one impressive build that should provide serious entertainment to back up the rally looks. If you drive an original U.S. spec Quattro, I'd bet like me you'd feel a bit let down. They feel, if anything, a little slower and less nimble than the front-drive GT models, even if on the fly they're faster. But with 300 horsepower, upgraded brakes and suspension along with bigger wheels, this car will have none of those troubles and will meet or exceed your dreams of driving the car that redefined off-road racing and the luxury GT marketplace.
-Carter