Warning!
This post is in our archives. Links in this post may have been updated to point to similar cars available to bid on eBay.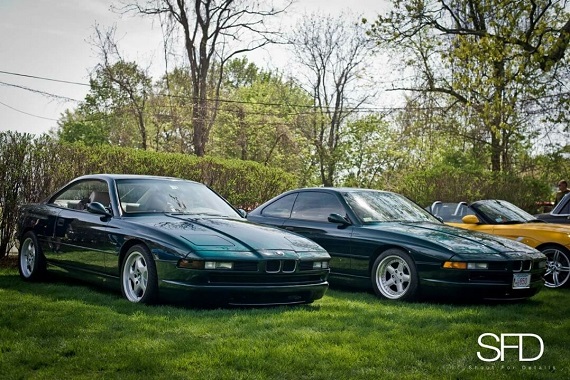 For many, the top dog of the E31 lineup for BMW was the 850CSi. Others will contest that aftermarket tuner Alpina got it just right with their modification of the 850CSi, the B12 5.7 Coupe. Let's be honest though – great condition examples of those cars are hardly affordable for most, and the exotic performance comes with some potentially costly maintenance on the big V12. But I think our reader John may have spotted the perfect alternative to those cars, and it's a bit unusual. When BMW launched the 840Ci, I remember initially thinking it was a bit of a letdown. After all, the company was seemingly running away from the signature V12 and replacing it with a smaller and less powerful V8. That, in many ways, doesn't seem like progress. But the M60 produced 9/10s of the power of the M70, yet was less expensive and got better fuel economy. Of course, unfortunately it was also only available in the U.S. with the 5-speed automatic – and it was a lot less powerful than the CSi model. At least most of them are…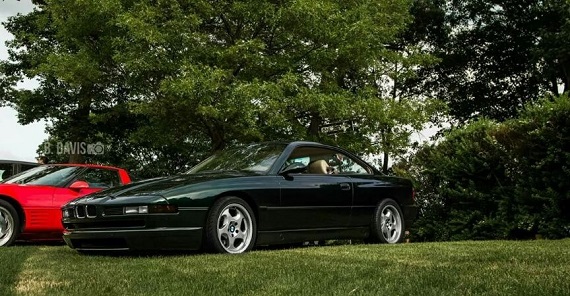 Year: 1995
Model: 840Ci
Engine: 4.0 liter supercharged V8
Transmission: 6-speed manual
Mileage: 89,600 mi
Price: $25,000 Buy It Now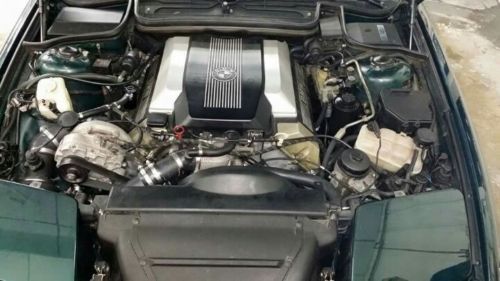 Let me start off by saying I do not need to sell. I always post my toys before putting them away for winter and if I get what I want for them, they go. If I don't, they stay and get more work done to them and the price will climb. So, have owned this car a little over a year. Bought it from an Audi guy that just couldn't fit his kids and wanted to get back into an Audi. It was a bone stock E31 at that point. I've owned close to 50 BMWs and after the E9 sold, I needed something without B pillars around. So I bought it and started making it my own. First up was the Becker Indianapolis head unit. Matching illumination, says "BMW" on the face at start up. As oem looking as it gets yet can plug in your phone. $750.00

Next up was the csi body kit. That consists of front and rear air dams and the side mirrors. Actually the last side mirrors BMW ever produced so those are about impossible to find anymore. Everything was professionally painted and installed at my shop. (More on that later) About $3000.00

Next up was cooling system refresh. Zionsville all aluminum radiator ($600.00) fresh water pump, clutch fan, hoses belts, valley pan (google it if you don't know BMWs) and probably whatever else you can think of. Intake gaskets and that sort of stuff while I was in there too of course.

So now it was time for more power. Seeing as I'm a Dinan dealer, it made sense to go with his kit. Except the kit for the 8 series was a god awful powerdyne unit. That wouldn't do. Soooo a kit for a 1997ish e39 540i was used. It's a Vortech VS2 unit. Took some effort but nothing crazy and far more reliable due to it being oil cooled. You'll have lots of questions about this and I'll be happy to answer. The basic stuff that went along with that: Dinan tune, bigger fuel pump, bigger injectors, bigger pressure regulator, new fuel filters while I was there, new drive belts all around, Air conditioning recharge and again, more stuff I'm sure I am forgetting. ($15k retail on this kit btw)

So that was fun and 411whp is great. Except the automatic transmission couldn't hold the power without going into limp mode. Thankfully I knew that this was coming and set the blower up to be used with a manual. My god, what a project. Dinan clutch and flywheel, rouge short shifter, M5 illuminated shifter, Dinan pedal set, custom serviceable driveshaft, Diffsonline custom 3.64 Limited slip differential, new master cylinder, new hoses new this new that (About $4k of new this and that)(I have so much paperwork to go with the car lol) and in the end, I have 1 of maybe 5 E31 V8 supercharged 6 speeds in the world. She is a blast.

So why I posted her: Google "Sansossio Auto Couture" or auto body. This is what I do allllll day every day for 25 years. I thought it'd be fun to build myself another custom project. It wasn't really. And realistically, she is an old lady. It's a great cruiser but things go wrong with old stuff. Suspension is starting to show signs of needing love. The interior is not bad but not great and could use a new drivers seat or at least some work and the rear shelf could use replacement. The exhaust sounds incredible but it is not nice. You won't die or anything but you don't want anyone crawling under there. There's stuff I'm forgetting I'm sure but I'll add more pics or answer any questions as honest as possible. Title in hand and I can assist in shipping.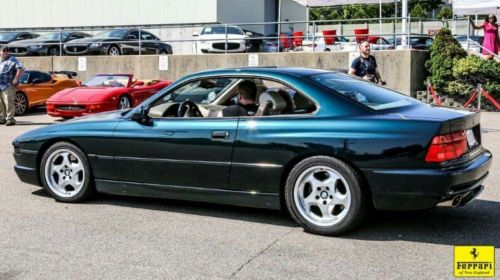 While most 840Cis are rather unassuming in look, this one stands out in what appears to be Oxford Green Metallic because of the CSi body kit and M-System II "Throwing Stars". But it's not just looks, as the M60 is now Vortech supercharged and with 411 wheel horsepower on tap, this car should easily best S70 performance. On top of that, the 6-speed conversion makes this one really well executed package. Unfortunately, there are no great detail shots and none of the interior. But, at only $25,000, this car is a fraction of the price of the Alpina B12 we looked at last week and significantly less than the ask on most, if not all, 850CSis we've seen. There will undoubtedly be some gremlins to work through, but there's also a lot of potential for a really unique package encasing it.
Thanks to our reader John for the great spot!
-Carter