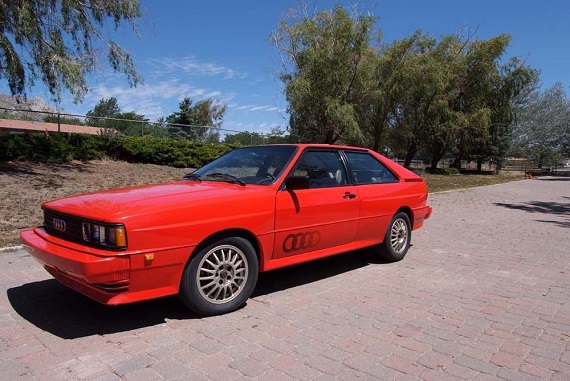 From what was arguably the least desirable Porsche product from 1985 yesterday, we move on to the most desirable Audi product from the same period. Contrary to popular belief, the Quattro did not pioneer many of the technologies it is credited with. What it did do, though, was for the first time marry turbocharging, full time all-wheel drive and a slinky coupe shape together with just enough luxury to partially justify its $40,000 price tag. For those not quick with inflation numbers, that's just shy of $120,000 in today's buying power – about the same as a lightly optioned 2017 RS7. What you got for that amount was surprisingly sparse; a manual sunroof, rear wash/wipe, and electric mirrors and windows – that was about it. Under the hood, the off beat inline-5 produced only 160 horsepower in U.S. trim, and toting around the best part of 3,000 lbs it was far from the performance produced by dollar-for-dollar equivalent models. You've often heard the expression that today's Camry outperforms a 1980s Porsche? Well, a Kia Soul could give one of the U.S. spec Audi Quattros difficulty in a race. Coupled with a reputation for rusting and poor electrics, these expensive Audis were sold in sparse numbers and are a very rare sight today, especially with lower miles and original like this one: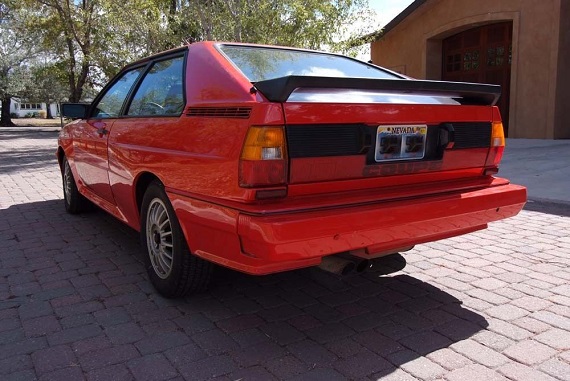 Year: 1983
Model: Quattro
Engine: 2.1 liter turbocharged inline-5
Transmission: 5-speed manual
Mileage: 82,596 mi
Price: Reserve Auction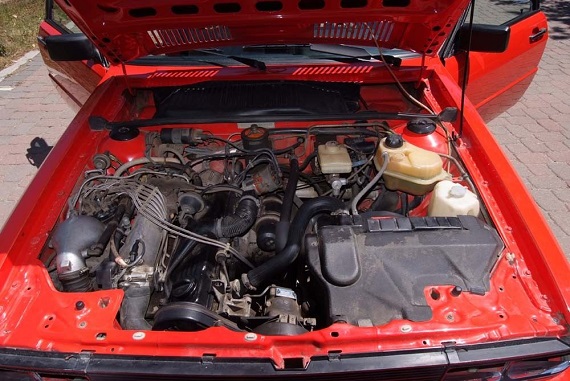 Only 664 Audi Ur-Quattro's were imported to the U.S. (1983 –1986) In the first year, 1983, only 240 were imported. The warranty and Maintenance book shows delivery to the dealer in Santa Clara CA on December 7 1982, manufacture in Germany in April 1982. The owner purchased the car in April 1983.This car must be one of the first in the West Coast or perhaps in the U.S.

The Ur Quattro Coupe was the first production car to use the famous Audi full-time four-wheel-drive system and turbocharger, the same system that Audi used to dominate the rally world.

The car has the 2.1-liter inline five-cylinder 160 Bhp turbo-charged engine mated to a smooth shifting five-speed manual four-wheel transmission. The paint color is Mars Red. The interior is light beige leather with front pleated bucket seats along with a matching rear seat, door panels and headliner. It has a sunroof.

Included with the sale of the car is the original spare tire, jack, warranty and maintenance manual (with some stamps) the original owner's manual, original purchase paperwork and window sticker (sticker price $37,865) showing clear one-owner provenance from new. Included with the car is a set of four winter tires on steel rims and two books on the Quattro by Alan Henry and Jeremy Walton.

The car is original. Has never been in an accident. Has clear title. One owner from new.

Body and interior are in excellent shape. Antenna is damaged. Mufflers will need replacing soon.

Engine starts and runs OK. 82596 miles on odometer. Last major service was at 78548 miles in February 1995.

Only been driven 4000 miles in last 20 plus years!

Has been kept in heated garage.

E-mail vennard@itis.com for more information. John.
One of the 240 reported 1983 models sold, this Mars Red Quattro looks very nice offset with the unusual to see tan leather interior. It appears to be mostly if not all original and unlike nearly every one we see, has only been with one owner who apparently has records back to original purchase. One thing that isn't particularly reassuring is the last major service, which while only 4,000 miles ago is now 21 years in the past. Items like the belts are certainly in need of replacement at this point, but generally speaking the WX inline-5 is quite cheap to repair. The other note is that it may have had paintwork; both rear stickers are missing on the trunklid. Checked out, an all-original example like this should probably be kept as such and such examples are demanding a premium today, especially in Europe. Bidding so far has hit $25,000, but the reserve is still on. Some Quattros have been reported to be trading for double that amount, but there aren't a tremendous amount of comps for this 1983. I'd expect that the seller is hoping for at least another $10,000 and maybe closer to $40,000 – whether some devoted Audi fan in the U.S. considers it's worth that is another matter, but it wouldn't surprise me to see this one head back to the fatherland if the reserve is lifted.
-Carter