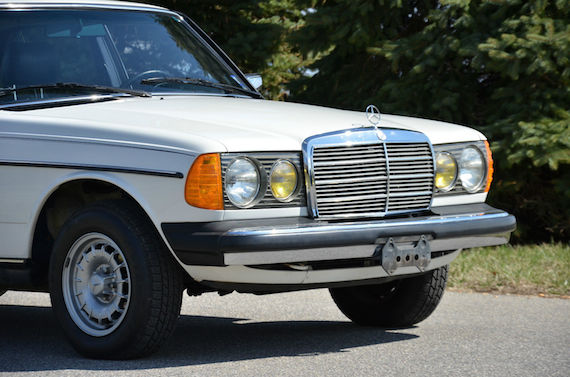 Given all the fuss surrounding the recent GM recall hearings on Capitol Hill, I can't help but think that the probability of these sorts of issues coming from all manufacturers in the future is higher, simply due to the added complexity of cars and the technology they are packing as compared to years prior. I hate to be one that eschews technological advancements, but take a look at cars from a few decades back, specifically the 1980s and 1990s, and you'll see that a good balance between technology and simplicity was achieved while retaining driver involvement. Mercedes-Benz has always been a bit ahead of the curve when it comes to technology, but one of their most revered vehicles of recent memory is the W123, if based solely on one factor: durability.
This 1983 Mercedes-Benz 300D for sale in New Jersey is one of the lowest mileage examples we've ever featured here on GCFSB. We've featured a lot of sedans, coupes and estates in varying states of condition and have noticed that prices are on the move, if not in an E30 M3 type frenzy. Look up durability in the dictionary and this car's picture is beside that entry.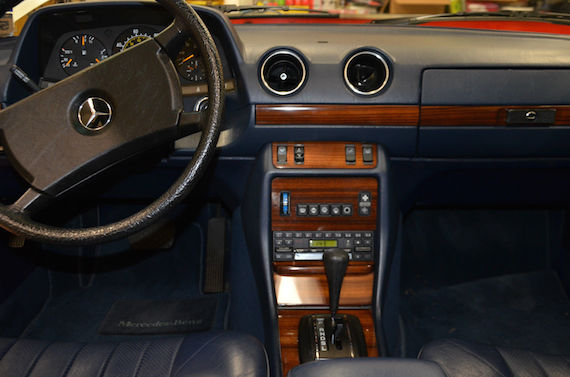 Year: 1983
Model: 300D
Engine: 3.0 liter turbocharged inline-5 diesel
Transmission: 4-speed automatic
Mileage: 35,103 mi
Price: $30,300 Buy It Now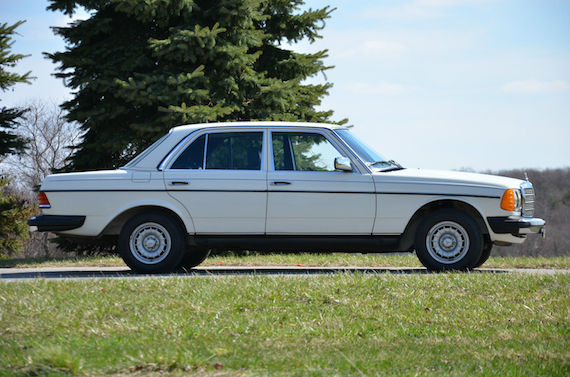 SHOW QUALITY ALL ORIGINAL 1983 MB 300D WITH ONLY 35K MILES

Here is a truly rare, once-in-a-liftetime find…A true 100% all original UNRESTORED show grade 300D that is so perfect inside and out that it could easily be on display in a museum. The series 123, 300D sedan is widely regarded as one of the best Mercedes Benz sedans ever built. Known for their near indestructibility, ultra precise build quality, and legendary "vault-like" construction, this car built entirely in Germany (of virtually all parts/components also made in Germany), represents the pinnacle of perfection from what is now a bygone era in the auto industry. Mercedes designed and built this car with the objective of simply making it the best car in the world and by looking at the incredible examples, such as this one MB actually exceeded that goal. There may not be another vehicle ever made that over 3 decades later stills performs and looks like it did when it came out of the showroom. The 300D has clearly demonstrated a level of durability and longevity that is unparalleled by virtually any other vehicle ever built.

While a lot of truly beautiful 300D's exist all over the country today thanks to thick gauge steel body panels that didn't typically rust (or even easily dent), leather that virtually does not even wear, and mechanical components that were designed and built to run for literally hundreds of thousands of miles, finding a nice example today may not be all that rare. These cars were typically bought new to be driven and used on a daily basis by their owners. Rarely were they garage queens. What makes this one rare is the fact that it was bought new as an extra vehicle and stored in a climate controlled garage by its proud owners, only being driven on every once in awhile and of course only when the weather was perfect. It is 100% original inside and out and virtually showroom perfect in every possible aspect. This is clearly a result of meticulous care throughout its history and of course to the extremely low original mileage of 35,103. That's not a typo. This car has only 35k ORIGINAL MILES since it was purchased new in 1983. The original paint shines exactly as it did sitting on the showroom floor of Stephenson Motor Company in Dallas. The interior still has that new mercedes smell. For those not familiar with 80's era Mercedes Benz, this is a distinct smell of high quality leather that typically found in high end cars such as MB, Rolls Royce, Aston Martin and other luxury cars of that time. The car has obviously never been smoked in, has had no pets in it, or even had any food or drinks in it. The back seat looks like it has never been sat in (see history below). It has truly been maintained and cared for in a way that you typically might see only with a rare exotic sports car.

HISTORICAL PERSPECTIVE – Unique to the North American and Japanese markets, the 300D turbo diesel represented the core of the MB lineup in the mid-1980's. Known for incredible durability and longevity, it's not uncommon to see examples still on the road today with a half a million miles or more on the odometer. Many automotive connoisseurs and historians consider this particular MB model to be the most over-engineered vehicle ever built. Quite simply MB spared no expense in designing this car to virtually last forever! It is the very model that coined the term "vault-like" construction for Mercedes Benz. When you close the doors, it truly feels and sounds like you are closing the door on a precision made vault. This superior engineering and build quality ultimately earned unprecedented sales for the series 123 with almost 2.7 million cars eventually being produced over a period of just 10 years. Clearly educated automotive buyers appreciated the virtues of this automotive work of art as the series 123 became the German automakers absolute most successful ever. The 300D truly represents a marvel of German engineering at its best.

DESCRIPTION/OPTIONS – Classic White exterior (MB paint code 737) with blue leather interior upholstery (MB Option 252), in-line 5 cylinder 3.0 liter pre-chamber fuel injected turbocharged diesel producing 120 horsepower, 4-speed automatic transmission, power-assisted 11 inch diameter 4 wheel disc brakes, 4-wheel fully independent suspension, electric power sliding sunroof (MB option 410), automatic A/C and heat climate control system (ICE COLD A/C), 6-point vacuum powered central locking system (including doors, trunk, and fuel door), power steering, cruise control, original Becker Europa AM/FM cassette stereo with 4 wide range speakers (still sounds amazing!) and adjustable height power antenna, electrically heated rear windshield, quartz chronometer, tachometer, 3-way adjustable driver and passenger leather bucket seats, parcel nets on front seat backrests, 14″ light alloy wheels, front and rear center folding arm rests, front center cargo tray in matching zebrano wood, halogen head lamps, halogen amber fog lamps, factory lightly tinted glass, 2-speed windshield wiper with interval mist control, real zebrano wood dash trim, 120 standard features (including unitized steel construction with over 4700 weld points), premium high density Velour carpeting, full spare and original MB tool kit, original MB first-aid kit, 21.1 gallon fuel tank, 27 MPG fuel rating, includes original Owners Manual, Mercedes-Benz dealership stamped maintenance booklet, comprehensive maintenance records since new, along with other Mercedes-Benz literature. The original manufacturer's suggested retail price in 1983 including factory options was $32,999.

EXTERIOR CONDITION – In one word, the condition of this exterior is absolutely STUNNING! The classic white paint is in truly showroom new condition with a clear and deep shine and is of course 100% rust-free (not even a spec anywhere). The polished aluminum trim, which wraps all of the exterior glass and also runs along the roof rails is like new all the way around without any blemishes or fading. The lack of any fading shows that this vehicle has been properly stored indoors since new. Both the front and rear bumpers are in excellent condition without any scratches in the chrome and the rubber body sleeves and bumper guards are still rich in color, completely unfaded and appear as new as well. The original belt molding body trim, which lines all of the doors, fenders, quarter panels and trunk, is perfect with absolutely no fading or scratches. The factory 14″ inch Bundt style light alloy wheels are in excellent condition all the way around and actually very close to the quality of the brand new spare in the trunk. The spare tire has never been used. The original factory MB tool kit and jack are in brand new condition as well. The carpeted trunk is perfect and looks as if it has never had anything in it (no stains, pilling of the carpet, or wear of any kind. The original pin stripe is in very good condition. The original door seals, trunk seals, glass seals, rubber weather-stripping, etc are all excellent with no cracks and still feels very pliable and forming perfect seals on everything. The original factory glass is perfect all the way around. The original chrome grill shines like new and is perfect. The headlamp housings are excellent, as are the side markers and tail lights and all emblems are still bright and shiny. The original factory window sticker, interior stickers, interior door jamb specification plate, dealership inspections signature sticker, core support stickers, emission specification stickers, coolant warning stickers, etc are all in place and look as new.

The undercarriage, fuel door opening, fuel lines, etc STILL HAVE the original rust protective Cosmoline was undercoating and there is not a spec of rust anywhere on the vehicle. (Cosmoline coating is a wax like material that MB spread on top of its already 30 pounds of high grade rust protection on the underbelly. This is clearly one of the factors that contributed to these cars rarely ever rusting.)

INTERIOR CONDITION – Once again this would be described as STUNNING! The interior of this 300D is absolutely perfect in every way including the fact that it still smells new. The blue leather upholstery is in perfect like new condition. There are no rips, no tears, no fading, no diminished support in the padding, no pleats/creases beneath any stitching and virtually no wear anywhere whatsoever. The stretchy parcel nets on the seat backs are still snug against the seats. The original Velour carpeting still has the factory sheen ,which is something only seen on ultra low mileage cars, and is absolutely perfect with no stains, fading, unraveling and essentially no wear at all. The real Zebrano wood dash and console trim are excellent and still have clear deep shine. The headliner is nice and tight to the ceiling and has no sagging or flaws of any kind. The instrument cluster is bright and looks as new and the clear lenses are perfectly clear and without any scratches. The accessory switches, knobs, buttons, turn signal lever, cruise control lever, etc are all rich in color and in like new condition without any faded symbols and are in perfect working order. The original tool kit looks to have never been used. The vehicle comes with plush matching blue Mercedes OEM replacement floor mats and also includes the original mats in excellent condition. The original brake pedal and gas pedal show almost no wear at all which is consistent for a vehicle with such extremely low mileage. Overall the interior condition of this vehicle is as equally impressive as the exterior.

MECHANICAL CONDITION – Although I've never driven a brand new 300D I can't imagine that one could possibly run or drive any better than this one. The ride quality is simply amazing and in my opinion on par with any new MB sedan available today. Cruising on the highway at 75-80mph, feels like you're really going 50mph as the car is that smooth and stable. The engine noise at high speeds is incredibly quiet for a diesel thanks in part to MB's comprehensive insulation/sound proofing. It rides perfectly straight with no pulls and literally soaks up bumps like they are not even there. On the highway, it is surprisingly quiet for a diesel vehicle and the lack of wind noise even at high speeds is truly amazing for a 30 year old vehicle. There are no rattles, squeaks, vibrations, or funny noises of any kind. The inline engine is torquey and smooth and the transmission shifts sure, timely, and correctly. The steering is tight, responsive and completely vibration free. The independent suspension soaks up the bumps on par with any modern Mercedes sedan. This is truly like going back in time to the Mercedes showroom in 1983 and driving a brand new one. As amazing as this car looks, the ride quality and handling is EVEN BETTER. Mercedes engineered and built this vehicle to go hundreds of thousands of miles and with just 35k miles on it, this car is barely broken in.

ACCESSORIES- Everything works perfectly. All power windows open and close fast and smoothly. Central Vacuum locking system works as new, locking and unlocking quickly and completely. Cruise control sets and holds speed precisely. All lights, including dome lights, accessory lights, etc are bright and in perfect working order. This vehicle is truly as new in every way possible.

VEHICLE HISTORY- This car was purchased new at Stephenson Motor Company in Dallas TX on June 6, 1983. The owners were having trouble deciding between a blue one and a white one so they wound up buying both and using the blue one as their daily driver and this one became their preserved garage queen only being driven once in a while. The car was eventually sold by the original owner to a collector in Texas in April of 2010. This owner was equally meticulous with the storage and maintenance of the vehicle and over the course of the 3 1/2 years he owned it put approximately 9k miles on it, driving it only in nice weather. I purchased it from him in November of last year. He drove it up to Atlanta where I met him to take delivery of it. I then drove it up to my home in NJ. The 800 mile drive was an absolute pleasure and the car got accolades all along the way back home. Since then I parked it inside a heated/air conditioned garage and have not taken it out until about two weeks ago (due to the harsh winter up here). I've driven it around town on nice days over the past two weeks and have now reluctantly prepared myself to part with it. I am a collector primarily of vintage International Scouts and Land Rovers and this is not the type of car I would usually have in my collection. I purchased it because my wife and I simply could not resist when we saw it. We are now in the process of building a new home and our garage space is a bit less than we originally anticipated so I'm forced to downsize our collection (I have a few other all original super low mileage vehicles that I will be listing over the next few weeks).

The previous owner entered the vehicle in a Texas Mercedes-Benz show in 2011 and it won "Best 1980's Model." This car is truly of the highest caliber of all original show quality Mercedes and in my opinion would likely win its category in any show its entered in. This is without question a legitimate "Best of Show" caliber car and represents a true investment grade vehicle that should appreciate in value for years to come. If you're looking for the absolute best example of Mercedes' ultimate engineering masterpiece, or you're looking for a great vehicle to cruise around town with on nice days, or even for a safe, luxurious, and highly fuel efficient every day driver to travel in comfort with, this amazing work of automotive art can truly fulfill any of those purposes. This may well be the single best all original 300D in existence today.

The vehicle is located in Wall Township, NJ and should be seen in person to be fully appreciated as the pictures truly do not do it justice. Please message me for appointments. Good luck!

No zero feedback bidders please. If you have no feedback please message me prior to bidding. Any zero feedback bids will be canceled unless contacted first.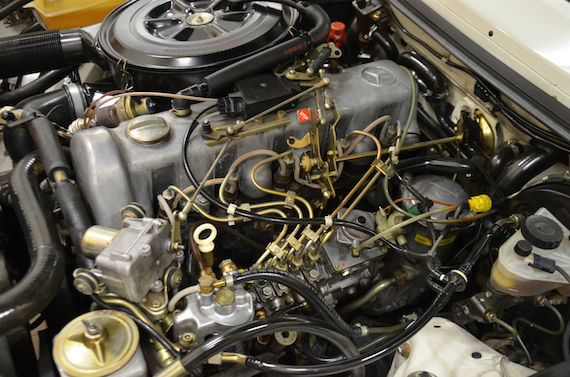 There's been a few marque specialists of late specializing in low mileage, high quality examples of our favorite classics. One of which is Mercedes Motoring based in California. I wouldn't be surprised if we see this 300D reappear in their inventory in a few weeks, so good is this particular car. The asking price here is roughly double to triple what you could expect to pay for a very good example with higher mileage, say in the 75,000 to 150,000 range. Is extremely low mileage worth it in this case? These cars have a strong following and it wouldn't surprise me if the right buyer comes along and snaps this up in short order.
-Paul