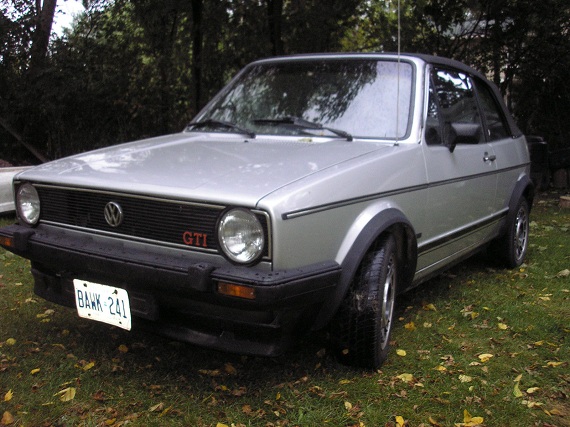 The Volkswagen market is fairly fickle these days. Some low mile, original cars go for big bucks; other times, its unlikely modified cars that draw the money. But it seems in general that the 16V Scirocco and original GTi are the two shining stars right now for 1980s Volkswagens. What do you get when you put them together and chop the top off? A 16V Cabriolet, of course! Granted, this isn't how this car was delivered from the factory, but if you're looking for the best of three world, perhaps you can enjoy this Cabby modified in the style of OEM:
Year: 1983
Model: Cabriolet
Engine: 2.0 liter inline-4
Transmission: 5-speed manual
Mileage: 200,186 mi
Price: No Reserve Auction
1983 silver Rabbit convertible. Originally sold in Germany and brought to Virginia by a Serviceman. Sold in Germany as a GLI it has European H4 headlamps with washers, no sidemarker lights, European Bumpers, wiring harness etc. Engine swap was done about 7 years ago at a VW shop in Kitchener, Ontario. Engine is a 1990 Passat 2.0 litre 16 valve rated at 134 horsepower.Roof and body are both in good shape. Included with the car are various spares and a new in the box outer roof skin. Car has been stored for 7 years, getting a run around the block annually. It will need new tires and a speedometer cable. A replacement dash cluster (included) will need to be installed for dash lights. All lights, wipers, brakes, steering and Air Conditioning worked last year when driven. When the engine was installed I had the shop put in upper and lower front stress bars. Rear sway bar is original to the car. Buyer feedback will be observed. I am not responsible for shipping. A non refundable deposit of $300 is due on winning bid and car will be paid in full when picked up. Feel free to contact me (705.340.5812) with any questions. Car is located in Kawartha Lakes Ontario Canada.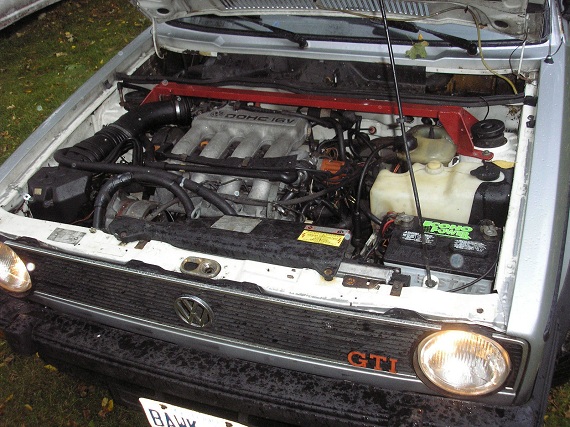 It's neat that it's both a Euro car and has the 2.0 16V swap; to a U.S. Volkswagen cabriolet fan, I'd imagine both of these score pretty high on the "want-ometer". Sure, you can drop a VR6 in but with double the power of the original you're pushing that chassis. The 16V seems like a great fit, and obviously worked well in the Scirocco. The look is very much early GTi and the "Snowflake" alloys fit right in. Condition overall looks like a good driver and that's what many want – it's not overdone, over-modified, or undriveable. It's also dirt cheap right now, with bidding languishing around $1,500. To me, if it can stay below $2,500 – $3,000, this is probably a pretty well bought car and could provide a lot of entertainment!
-Carter