Welcome to the latest project car installment, part 2 of my recent GLi purchase. In part 1 I was still giddy with the new acquisition and the car was coming back from Paul at Sports Car Shop with some fueling and suspension tweaks. It didn't take long before I sent the car back for more work though, but I'm getting ahead of myself. Here is how she looked after getting raised up significantly when I got her back the first time earlier this winter (Instagramed of course):
Soon after we got a ridiculous 18″ of snow in two days, which is unheard of in the Pacific Northwest. The Jetta got sidelined while the trusty Volvo XC70 got us the necessary supplies (snacks and booze).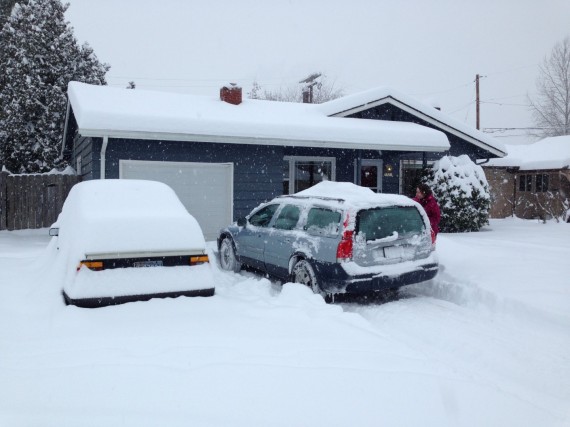 While the nice shiny lips on the Enkei92's helped to distract from the overall condition of the car, I've never cared for staggered rims on front wheel drive cars. It's like nails on a chalkboard for me. Plus when these came out originally they were much more at home on late 70's and early 80's cars and trucks.
So I set about finding a set of Corrado Sebrings from the G60 model as I've always thought they looked the part on MKII's, and in fact had them on our Golf several years back. This time around though they were harder to source and I actually bought them from a very nice guy on Craigslist in Phoenix, some 1300 miles away. For less than $400 they arrived at my door and really suit me much better with that OEM+ look. Here's a shot shortly after they were mounted: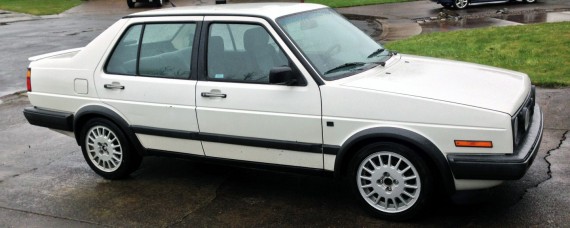 The replacement of the in-tank fuel pump, as well as setting everything in the fuel injection back to factory specification, helped the hard starts and idling quite a bit. The primary fuel pump is still making a fair bit of noise so that will be addressed soon as well.
While it was definitely more fun to drive after Paul's initial tweaks, I definitely had an urge to do more as soon as I could. There is so much potential in this car and every time it comes back from him, it's closer to the vision I have for the end result. So back it went for more work at the hands of the master. Here's the list of repairs and improvements this time: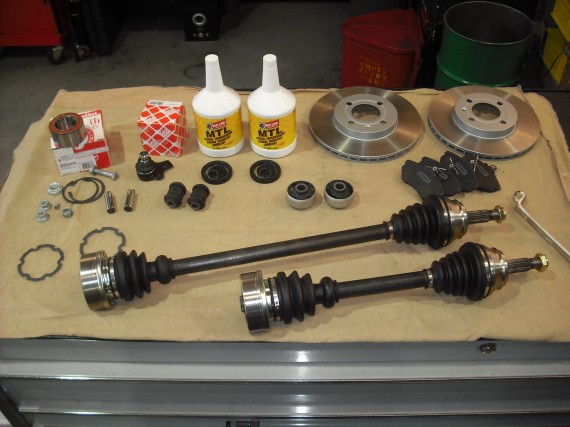 A new starter was fitted as it was becoming more obvious this would be an issue sooner or later.
Front brakes and discs, axles, ball joints, motor mounts, and all the related rubber and bushings. Shame on the previous owners for spending more on wheels and cheap suspension than properly taking care of key components on the car!
Refreshed the shifter and it's very crisp now.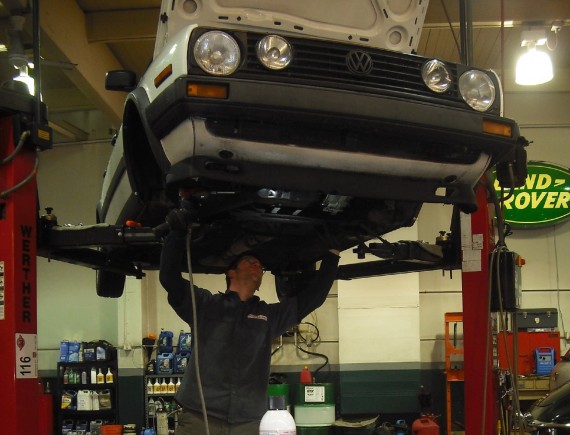 It's hard to describe just how much a difference these small changes made and that are often overlooked. With these improvements in place the shitty suspension is almost tolerable. But really I plan to put on an H&R Cup Kit next and this will truly make the car a respectable driver and a pleasure to drive.
After that it's time to put in the headliner, make sure the grill is appropriately dressed, and fit a proper, period car audio system. Thanks for following along,
dc
I've had this post in draft for weeks as I've had other distractions preventing me from finishing. Here's a wallpaper in 1920×1080 of how the car looks right now with all the repairs currently in place.