As car enthusiasts, we all had that poster of an exotic car hanging on our bedroom wall when we were younger. One of the cars that made the rounds in my room was this very car, an Arena Red 993 Turbo. This car was the culmination of over twenty years of experimentation with turbochargers in the 911. The addition of all-wheel drive made this car a much more tame prospect than its predecessors and you won't mistake this for anything but the hot 911 with that sculpted, body colored wing. This 911 Turbo for sale in Ohio has just over 30,000 miles on the clock and includes more aggressive sports seats along with the rear seat delete option.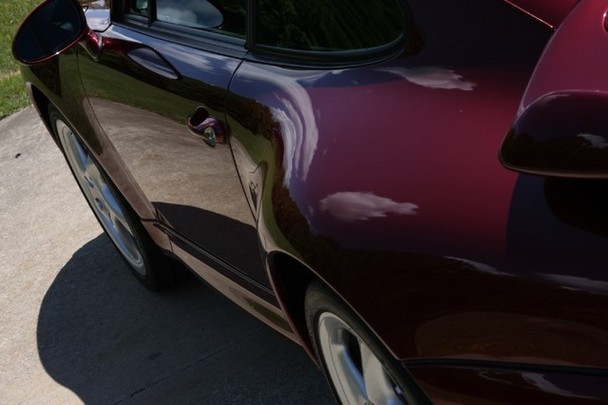 1996 Porsche 911 Turbo Arena Red! Black sports seats FACTORY Exclusive carbon fiber package Turbo S fog lights/brake ducts 30,000 original miles ZERO modifications Kills bugs fast! Arena Red is an AWESOME color, and it"s the color from the famous launch ad! This one just arrived, it"s priced right, and it"ll move quickly!

Here are the option codes per the sticker: C02 – US Emissions X52 – 5 Open CD Storage on Console Covered in Leather X56 – Carbon Package Lower Dash, Carbon Package Instrument Cluster and Panel X57 – Carbon Package Door Panel Inserts, Carbon Package Door Panel X70 – Aluminum & Chrome Package Door Sill, Door Entrance Panels (threshold) in Stainless Steel with Porsche Insignia X71 – Aluminum Painted Instrument Dials with Brushed Chrome Inner Rings, Aluminum Instrument Dial M373 – Sport Seats, Left Electrically Height Adjustable M374 – Sport Seat, Right Electrically Height Adjustable M419 – Rear Luggage Compartment (Rear Seat Delete) M454 – Automatic Speed Control M650 – Electrical Sliding Roof M688 – Radio Porsche CDR-210 00051 – Special Order Color 09981 – Vehicle Transfer to VRS for the installation of Exclusive parts 09991
No matter the mileage or condition, the 993 911s are not cheap propositions, and the Turbo is even less so. Arena Red is a color that fits this car well, as evidenced by Porsches advertising at the time. It seems this color was on every Boxster and 911 to grace a magazine fold out in those days. The mileage on this one is certainly attractive, as it isn't another one of those garage queens that has been stashed away for eternity. It's good to see at least this car has gotten some exercise, but it still presents as new. The asking price of almost $84,000 is getting up there towards the top of the range. If this car was priced around $10,000 less, it would be an attractive buy for the person seeking one of the most revered 911s to date.
-Paul