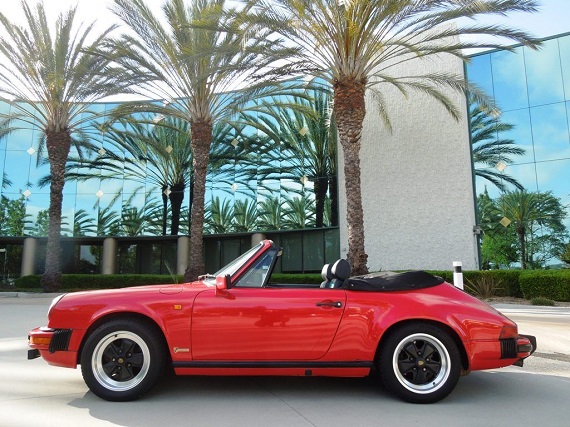 As we begin to close out Convertible Week here at GCFSB, let's take a look at an example from the very first year of the 911 Cabriolet. Porsche had experimented with an open-top 911 far earlier with the release of the Soft-window Targa. Those models allowed for both an open top and open rear window while integrating a fixed rollhoop. I've never thought the design looked right and, I guess unsurprisingly, the Soft-window Targa eventually gave way to the hard-window Targa with which we are all very familiar. For a number of years that was it. Due to their concerns over safety regulations rendering the full convertible obsolete, Porsche never committed to making a true Cabriolet until the 911SC was ending its model run, more than 15 years after they first introduced the Soft-window Targa. That makes those first Cabriolets somewhat special as not only were they the first 911 Cabriolet to be produced, but they also happen to be the only year they were produced as a 911SC. That second point holds less weight with most people, but for someone who might have a preference for the SC over the 3.2 Carrera, options for open-top motoring dwindle quite quickly. The example we see here, an Indischrot 1983 Porsche 911SC Cabriolet, located in California, with 45,205 miles on it appears aimed at the collector crowd (at least based on how it's been priced), though for someone who might want to spend a bit of time driving their Cabriolet there is enough mileage here to retain much of the long-term value even with some additional mileage each year.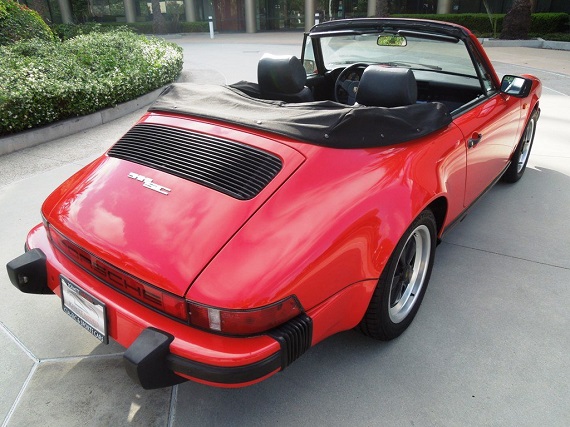 Year: 1983
Model: 911SC Cabriolet
Engine: 3.0 liter flat-6
Transmission: 5-speed manual
Mileage: 45,205 mi
Price: Reserve Auction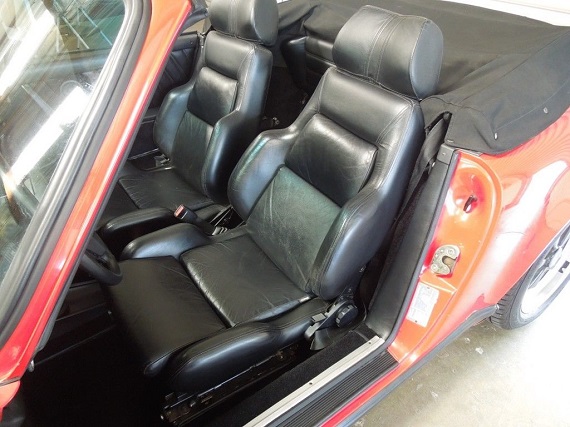 Up for sale is a 1983 Porsche 911 SC with only 45205 original miles.

It is a European version and comes in Indian red (Indisch Rot) with black interior.

The paint is all original and is in fantastic condition considering the Porsche is 32 years old.

The car looks stunning (even from a 3 ft distance) and has no dings, dents or heavy scratches.

All gaps are even and the car has never been in an accident.

Please take a look at all the detailed pictures and judge by yourself.

The VIN # is WP0ZZZ91ZDS150465.

The Porsche is absolutely rust free.

All four FUCHS rims look perfect without any curb rush.

You will find some small paint chips here and there which I purposely didn't touch up.

There are two flaws in the paint which I pointed out I the pictures.

I think that those flaws are from polishing through the paint.

The interior is as nice as the exterior. All leather, dash and carpets are almost flawless with minimal signs of usage.

The dash is absolutely free of cracks.

The car has never been smoked in and there are no unusual odors.

All gauges are in perfect working order.

The mechanical condition is outstanding and the car has always been well taken care of.

I have lots of service receipts which are up to date.

A recent service included new timing chains and valve cover gaskets.

There are absolutely no oil leaks.

The engine starts right up (without smoke) and the tranny shifts flawlessly.

There are no mechanical issues and the clutch is also in great shape.

The AC compressor has been removed from the car, so no AC, but the compressor comes with the car.

I also have other parts that come with the Porsche like the front spoiler rubber lip, some spare belts, the original "Blaupunkt" radio ect. .

The soft top has two small 2" tears and for that reason I will replace it with a new one.

I am a certified Mercedes-Benz technician with a degree from Germany and I am more than happy to answer all tour questions you might have about this wonderful 911.

Please don't hesitate to call and discuss a "Buy-it-Now" price at 760-445-2921, since the car is also listed on other online advertising sites.

Air cooled Porsche with such a low mileage are harder and harder to find, especially in such great condition.

Very experienced with shipping nationwide, will arrange shipping to your home town.

International buyers welcome, will assist with worldwide shipping out of Long Beach, CA.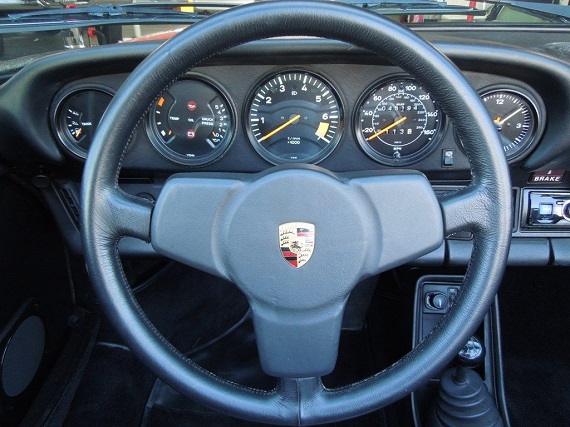 This particular 911SC happens to be an European model and those never seem to garner as much attention as many of the examples I see for sale that were built for the US market. That could help us understand why this auction sits with zero bids, though the high starting bid of $40K certainly plays a significant role in that regard as well. If we compare the pricing here to that of the Cassis Red Cabriolet from a few days ago, which was a G50-equipped 3.2 Carrera, then we quickly see that this seller is expecting too much. If there are no stories and everything else checks out in good shape then this is probably a low-$30Ks car. We've gotten somewhat used to seeing 911s priced well above where they actually sell so there's nothing too jarring there and for the right price this should still make for an excellent top-down driver.
-Rob