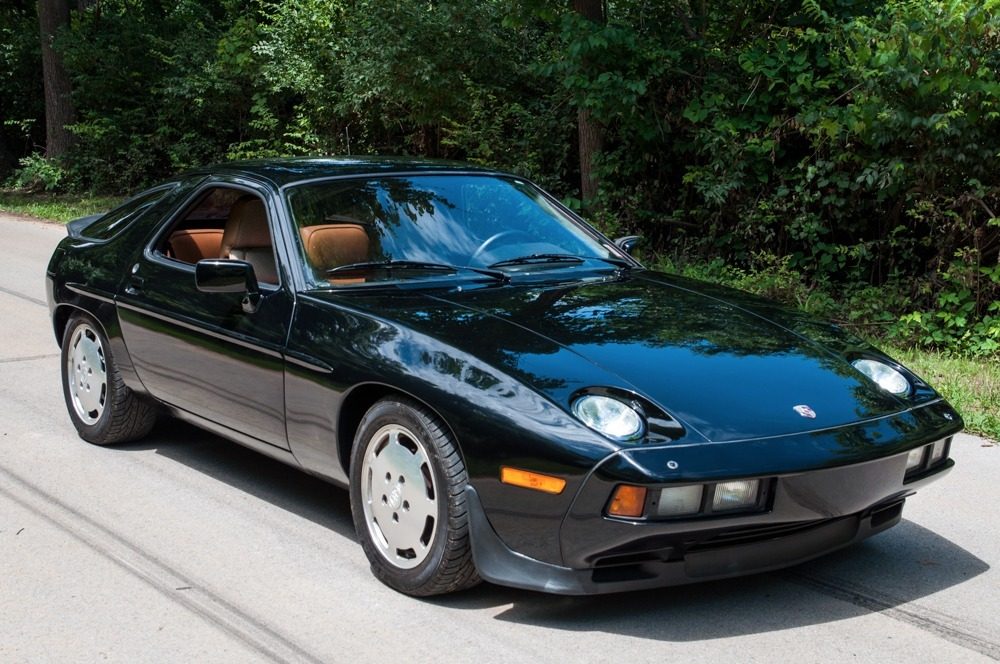 I focus a lot on the final model in the 928 line, the GTS. For good reason: as the final evolution of the model's 17 year run the GTS is a very attractive car that brings with it the highest levels of performance and refinement that we covet so dearly in any GT.
However, they also can be very expensive. So for the Grand Tourer on a budget we need simply to turn the clock back a little and look at one of the early 928s. From there prices become much more reasonable. Which brings us to this: a Black 1983 Porsche 928 S, located in Missouri, with an interesting Berber cloth/tan leather interior and 76,161 miles on it. 1983 was the first year of the S for the US market and along with some minor aesthetic evolution it brought with it an increase in displacement from the original 4.5 liter V8 to a 4.7 liter V8. Naturally power was up slightly as well to 234 hp. This one also is equipped with a 5-speed manual.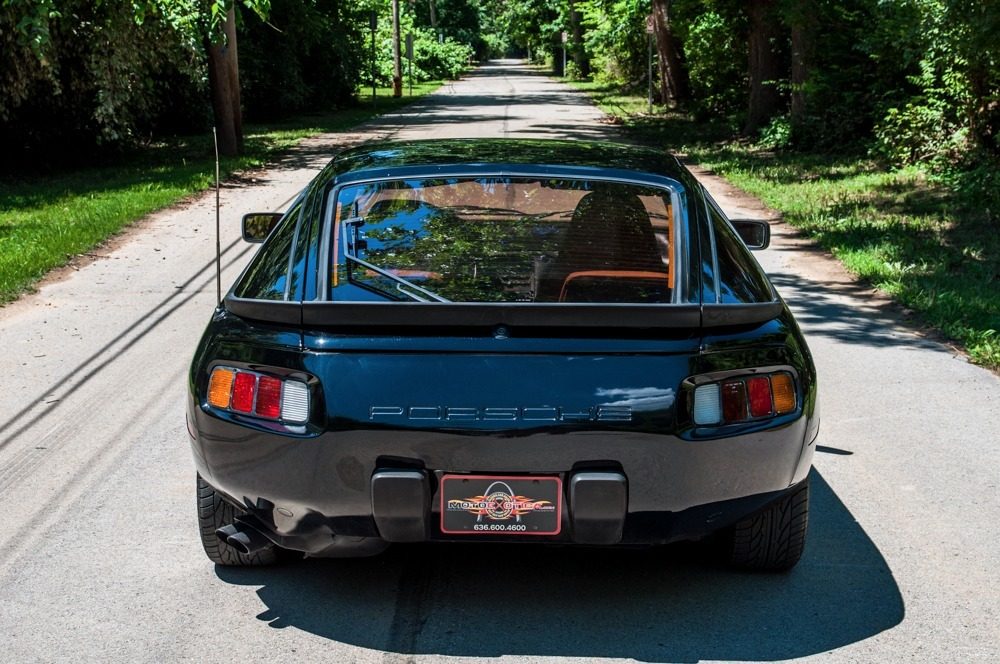 Year: 1983
Model: 928 S
Engine: 4.7 liter V8
Transmission: 5-speed manual
Mileage: 76,161 mi
Price: Auction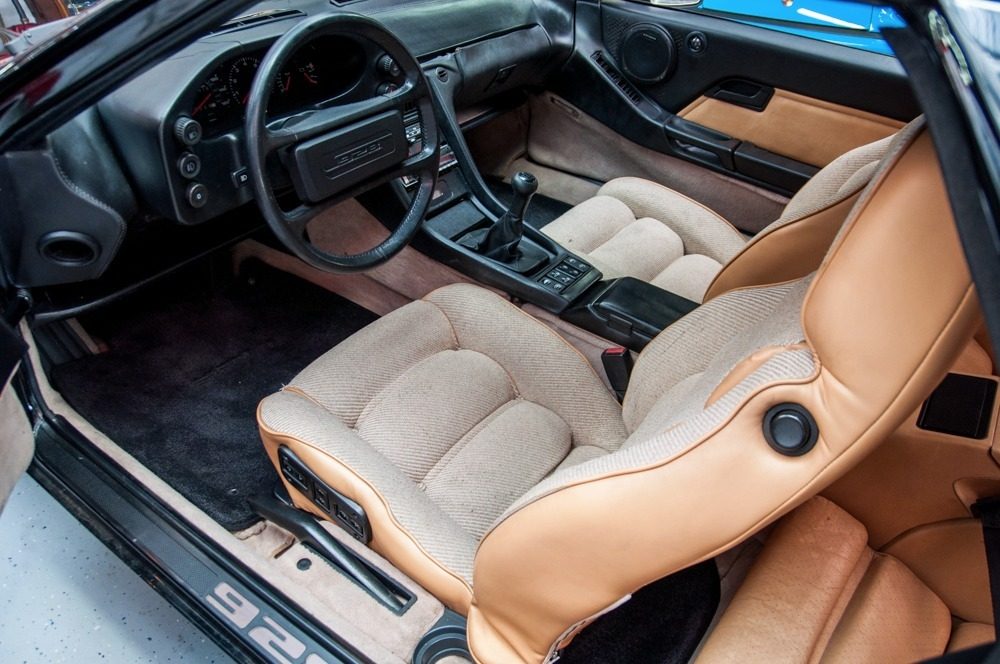 1983 Porsche 928S

Same owner for the last 17 years who kept detailed documentation on extensive service and maintenance of over $30,600 in costs!!!
One of 8,315 928S models made in 1983
Sold new on September 1st, 1983 at Capitol Import Autos in Milwaukee Wisconsin
Primarily a Florida and California car
First year for 4.7L V-8 engine
Hard to find optional five-speed manual transmission and limited-slip differential
Desirable black exterior and tan Berber cloth/leather interior
Includes original owner's manual, original maintenance book, original warranty, decade of California registrations and $30,600 in maintenance records
Looking for a German Grand Touring car that is more unique than the Porsche 911? MotoeXotica Classic Cars is proud to offer this 1983 Porsche 928S dressed with black exterior. This 928S has the hard to find manual transmission option and the previous owner for the past 17 years kept this car extremely well sorted with over $30,600 performed in service and maintenance since 2000!!! All information has been extensively documented and very well organized and is all included with purchase of the car. After reviewing all of the service records on this particular Porsche it really makes you realize how costly it really is to properly keep a vintage Porsche on the road but the next owner of this 928 will have the piece of mind that this one is fully serviced and ready to go.

Made in Stuttgart, West Germany in June 1983, this example left the factory with the following options: Blaupunkt Monterey AM/FM stereo with cassette deck, limited-slip differential, small rear storage compartment, protective side moldings, Five-speed manual transmission and additional 4×15-watt amplifier. The 928S was shipped to the United States and sold new on September 1st, 1983 at Capitol Import Autos in Milwaukee Wisconsin. Dressed in very desirable black exterior, this car's paint and trim are in overall very good order, as are its windows, which are clear and intact. The rear hatch glass and the flanking side glass panels are tinted.

This Porsche rolls on radial tires at all four corners, sized 225/50R16, and wearing factory, vented wheel covers. Its body panels are straight and solid, including its body-colored bumpers, which were a novel idea when the car debuted. Its engine bay is very tidy and the cargo area appears in good order.

Externally, the S wore new front and rear spoilers and sported wider wheels and tires than the original 928, but the main change for the 928S was under the hood, where a revised 4.7 L engine was used. Backing this upgraded engine is a five-speed manual transmission. Other model year changes include:

North American introduction of "S" model. Standard 928 (4.5 L) model dropped
New style hydraulic motor mounts
Engine shocks deleted at same time
Optional four-speed automatic transmission for North America
Car body and torque tube changed to accommodate longer gearbox
Inside, the tan Berber cloth/leather interior is in overall good condition. The seats and matching carpet are all in good order, as is the black headliner. The instrument panel is in fair shape, with at least two cracks visible upon inspection. The original four-spoke steering wheel is present and is in good shape. The inner door panels show some wear, likely due to the aftermarket speaker installation. The mirror glass, center console and shift lever all look good. Please note, this car's air-conditioner, sunroof and stereo are all inoperable.

The Porsche 928 was a luxurious grand tourer (S-segment) from 1978 to 1995. Originally intended to replace the company's well-known and famed 911, the 928 combined the power, poise and handling of a sports car with the refinement, comfort and equipment of a luxurious sedan to create what some Porsche executives thought would be a vehicle with wider appeal than the compact, quirky and sometimes difficult 911.

Since its inception in 1949, Porsche has manufactured only seven front-engined models, four of which were coupes, including the 928. The car has the distinction of being the company's only coupe powered by a front-mounted V-8 engine and the company's first production V-8 powered model. This design marked a major change in direction for Porsche, whose cars had until then used only rear- or mid-mounted air-cooled flat engines with four or six cylinders.

Porsche used a transaxle in the 928 to help achieve 50/50 front/rear weight distribution, aiding the car's balance. Although it weighed more than the sometimes difficult-to-handle 911, its more neutral weight balance and higher power output gave it similar performance on the track. The 928 was regarded as the more relaxing car to drive at the time. It came with either a five-speed dogleg manual transmission or a Mercedes-Benz-derived automatic transmission, originally with three speeds, with a four-speed from 1983 in North America and 1984 in other markets. More than 80 percent had the automatic transmission. Exact percentage of manual gearbox cars for entire production run is not known but it is believed to be between 15 and 20 percent.

The body, styled by Wolfgang Möbius under guidance of Anatole Lapine, was mainly galvanized steel but the doors, front fenders and hood were aluminum in order to make the car more lightweight. It had a substantial luggage area accessed via a large hatchback. The new polyurethane elastic bumpers were integrated into the nose and tail and covered in body-colored plastic; an unusual feature for the time that aided the car visually and reduced its drag.

The 928 qualified as a 2+2, having two small seats in the rear. Both rear seats could be folded down to enlarge the luggage area, and both the front and rear seats had sun visors for occupants. The rear seats are small (due to the prominent transmission hump) and have very little legroom; they are only suitable for adults on very short trips or children. The 928 was the first vehicle in which the instrument cluster moved along with the adjustable steering wheel in order to maintain maximum instrument visibility.

The 928 included several other innovations such as the "Weissach Axle", a simple rear-wheel steering system that provides passive rear-wheel steering to increase stability while braking during a turn and an unsleeved, silicon alloy engine block made of aluminum, which reduced weight and provided a highly durable cylinder bore.

Porsche's design and development efforts paid off during the 1978 European Car of the Year, where the 928 won ahead of the BMW 7 Series, and the European Ford Granada. The 928 is the only sports car so far to have won this competition, where the usual winners are mainstream hatchbacks and sedans/saloons from major European manufacturers. This is regarded as proof of how advanced the 928 was, compared to its contemporaries.

Competition to this Porsche in 1983 included Audi's Quattro, BMW's 633CSi, Chevrolet's Corvette, Jaguar's XJ-S, Lotus' Esprit S3, Mercedes-Benz's 380SEC, Nissan's 300ZX and Toyota's Supra.

Documentation includes original owner's manual, original stamped maintenance book, original warranty info, decade of California registrations and $30,600 in maintenance records for the past 17 years.

This car is currently located at our facility in St. Louis, Missouri. Current mileage on the odometer shows 76,161 miles. It is sold as is, where is, on a clean and clear, mileage exempt title. GET OUT AND DRIVE!!!

CLICK HERE TO VIEW OUR YOUTUBE VIDEO

VIN: WP0JB0929DS862033

Note: Please see full terms and conditions listed below that pertain to the purchase of any said vehicle, thank you.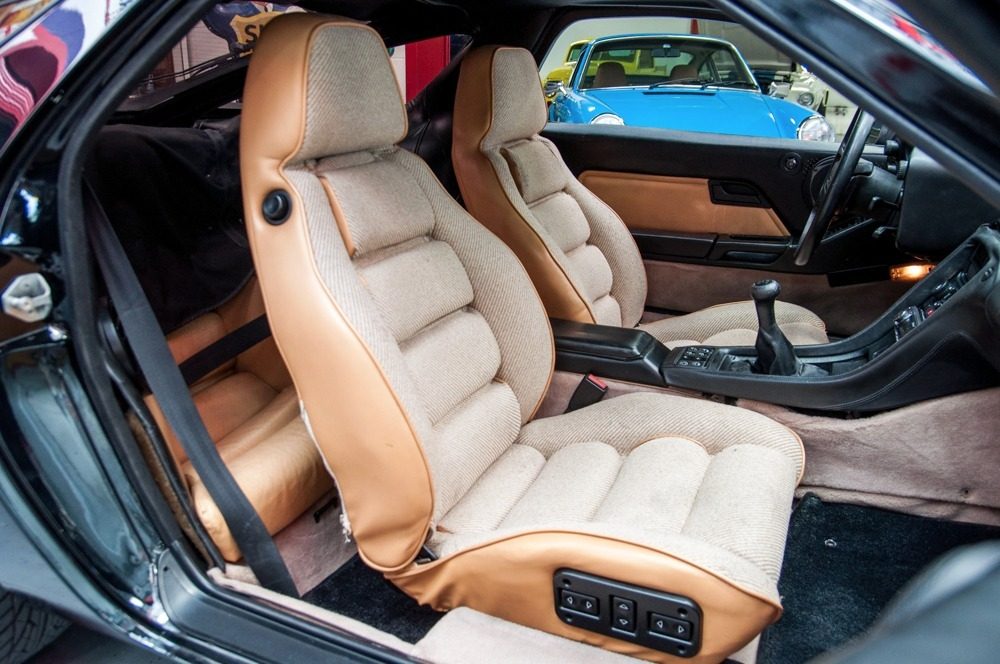 I like the overall look of this 928 quite a bit. The condition looks very good throughout with not too much wear to be seen in most areas. The paint and interior fabric both appear well cared for. I'm not sure whether those areas are entirely original, but they look in good shape. While not the best of Porsche's interesting fabric seat inserts I do like these seats. They bring a nice change of pace and contrast to the interior. There's just something cool about them, even if in a very '80s way. I can't recall seeing them in other 928s so I'm guessing they're an uncommon option.
The seller provides us with a little bit of this car's history, though much of that seems reserved to the second half of its life. Service receipts are present for the past 17 years of its ownership (by a single owner) so that should give current buyers a good sense of where its current service levels reside. All of this is on auction with no reserve and a starting bid set at what seems to me to be a pretty reasonable point at $15K. There are no bids so far so we'll have to see where it goes.
I spend a lot of time looking at the 911 market and it's become quite clear over the past year or two that the bubble has burst and values have come down quite a bit for your everyday car. They still aren't cheap cars, but prices are lower. I do wonder though whether those higher prices might have pushed Porsche buyers toward other models from the marque. The most obvious would be the 928, the model Porsche itself thought would replace the 911 as its top dog. I don't spend nearly as much time engaged with its market, but Hagerty does show values for the 928 rising over the past year. Granted, that's typically for the very best examples, but still given that values for these early models have long been much lower relative to the 911 there may be some correction in store. I don't mean that to suggest I see significant upside with this particular 928 S, but those who do cherish these cars may want to have these rising values in mind. The time to find one fairly inexpensively may be dwindling. And if you do end up with one that increases in value, that's all the better.
-Rob