If there is one German car that is an honorary Alfa Romeo, it's got to be the V8 quattro.
From the dated underpinnings of the Type 44 chassis, Audi emerged in 1988 with an all-new 4-cam aluminum engine that could be mated to an automatic transmission. While today most enthusiasts decry the death of the manual, it was still a luxury that people paid dearly for at other points in automotive history, and the technical achievement necessary to combine the two was not unsubstantial. It benefited from a new generation of quattro models, which instead of utilizing manual differential locks had a Torsen unit in the center to automatically split power. But the V8, equipped with the automatic, couldn't use that Torsen in the middle, instead relying on a multi-clutch differential. Instead, the Torsen unit was moved to the rear of the car. Coupled with a more rearward weight bias with the shorter V8 and the gutsy torque on offer throughout the rev range, though much of the car was borrowed from the rest of the lineup it took on an entirely different character. That was matched with new, updated bodywork outside and a wider stance with flared arches. The effect? Magical. And, complicated.
The results of both were that the V8s developed a unique fanbase separate from most of the other models. The Phantoms of the Four-Ringed Opera, these cars have long-lived in the shadows, myths that are only seen rarely, cars no average mortal would consider owning. The social pariahs who do own them are even more strange, lurking in the dark corners of the internet muttering "NLA" to themselves while figuring out creative ways to keep their coveted creations running, mostly though cannibalization of others. It seems Audi managed to pull off the unfathomable achievement of creating a whole new and unique set of VAG problems specific to the V8.
Being a V8 quattro owner isn't particularly rewarding. No one has any idea that your car even existed – sometimes, not even Audi dealers. And it will break. Often. When (not if) it does, it will certainly be very expensive to fix. But like an Alfa, occasionally it all works and suddenly you have the greatest car ever conceived. It's comfortable, quiet, sporty, refined, simple in ergonomics but has everything you need. The steering is sublime for a 90s Audi. The brakes were fantastic. The transmission was a big step forward in design for Audi from the venerable 3-speed. It had a great radio, greater seat heaters and one-touch power windows. It was cutting edge.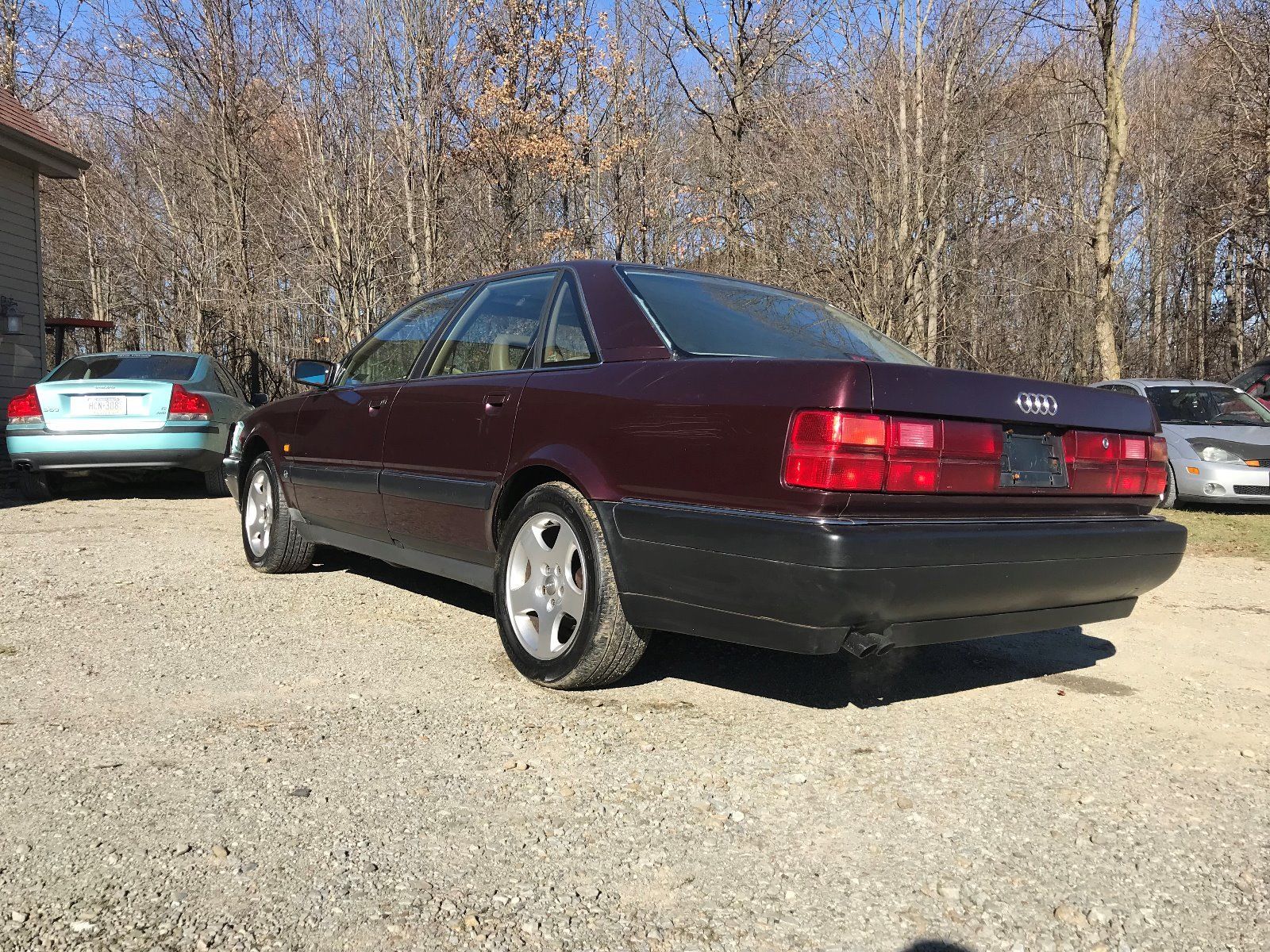 Year: 1990
Model: V8 quattro
Engine: 3.6 liter V8
Transmission: 4-speed automatic
Mileage: TMU
Price: No Reserve Auction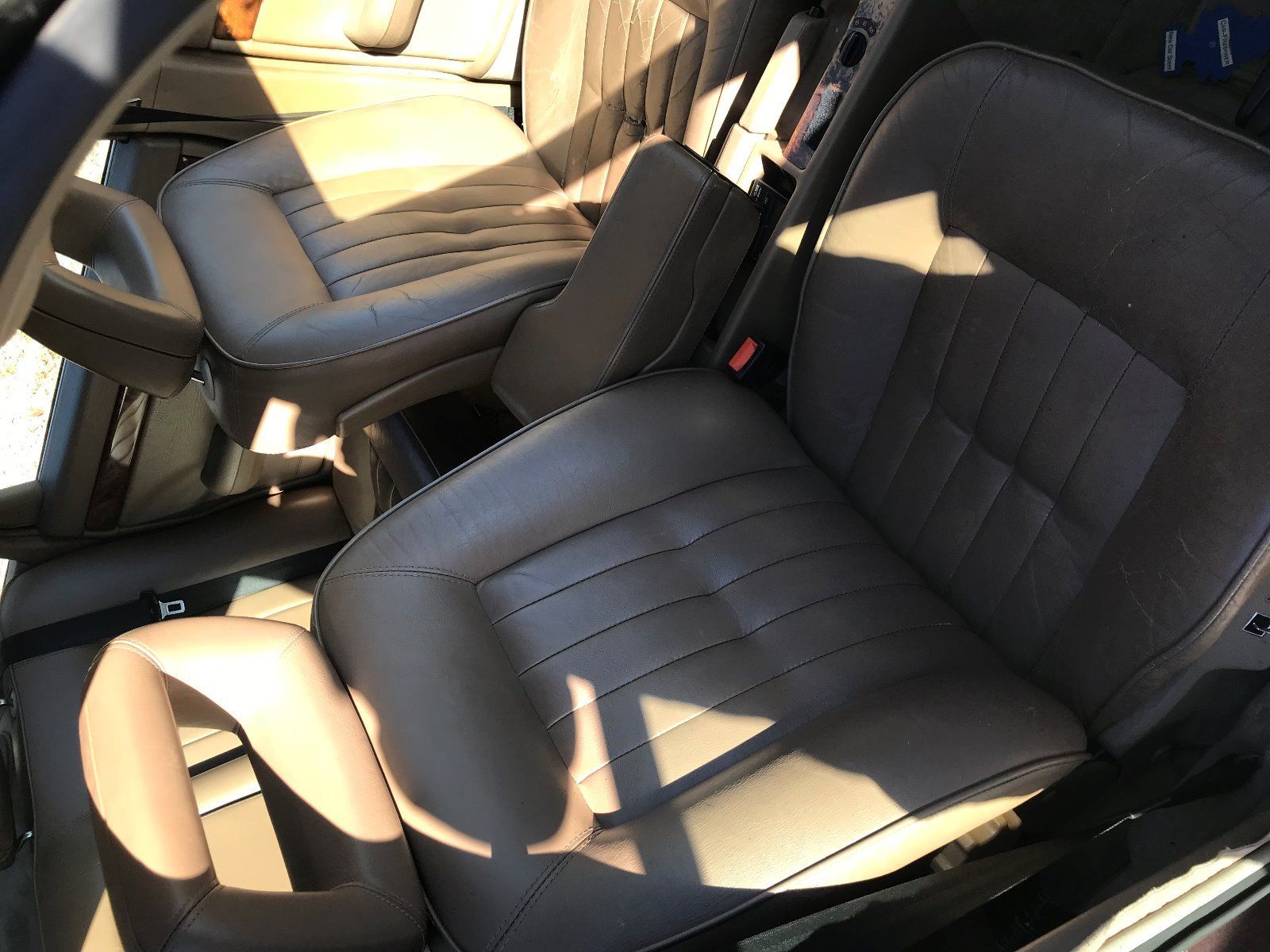 1990 Audi V8 Quattro
Cyclamen Red metallic with Travertine Connolly Leather and walnut wood trim interior trim.

3.6 V8 w/247 – HP
4 – Speed automatic with "s" sport, "E" economic and "M" manual operation
Quatro full time all wheel drive

Car runs and drives fine. Brakes are a little spongy but stops fine.

Odometer is not working it quit at 155,720 I would guess total miles around 165K (not that it matters) Engine runs strong, transmission shifts well.

Speedometer works fine all windows work fine, the sunroof sometimes gets stuck, body is in nice shape does show some scratches here and there but no rust.

All in All a pretty nice rare 90`s Performance European Sedan. There were less than 4000 of these cars imported into the USA in 1990. Would make a nice inexpensive starter for a restoration.

Happy bidding and good luck.

All sales are final please ask any questions before bidding.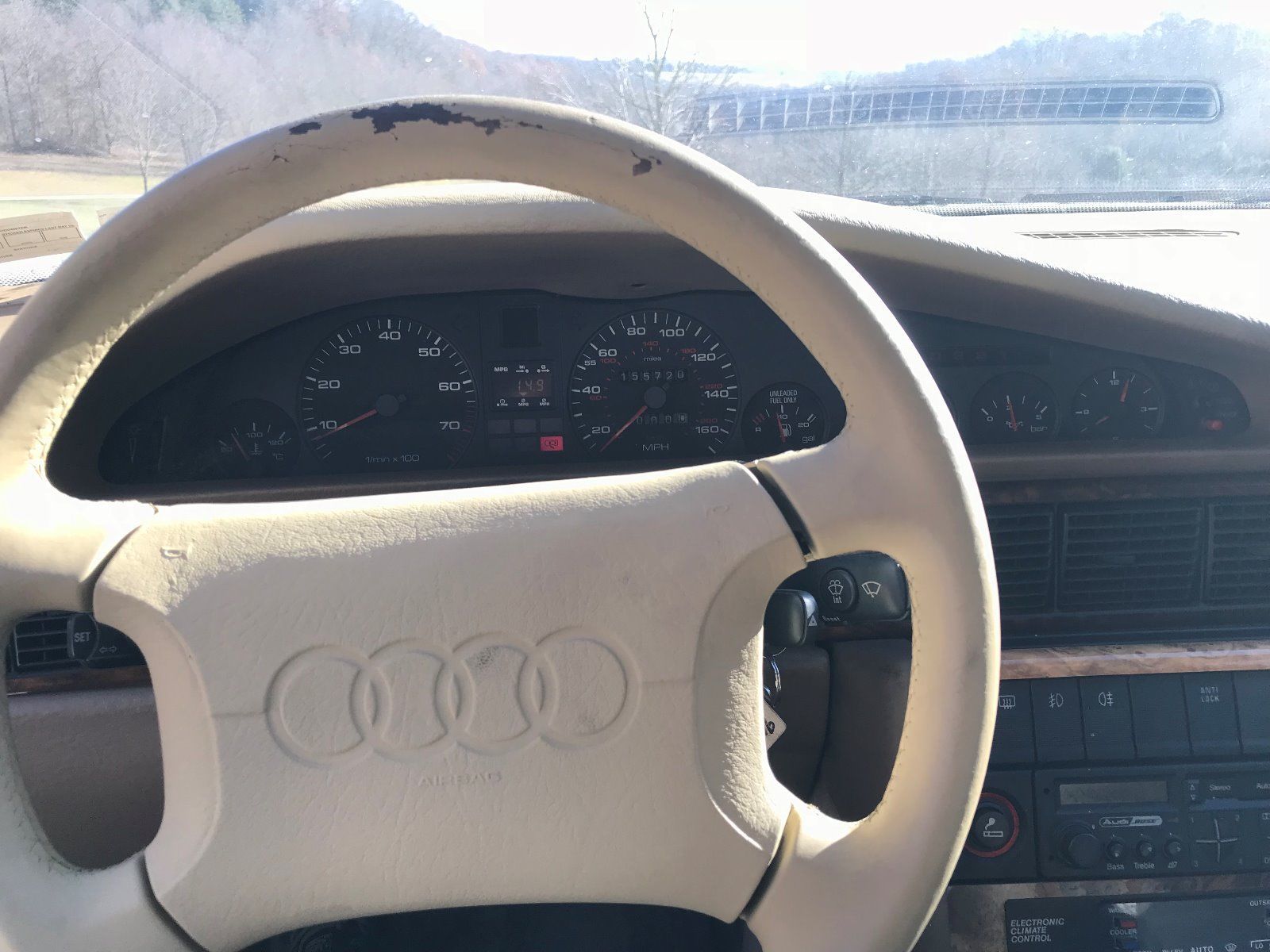 Of course, the problem with cutting edge luxury cars from any era is that, very quickly, they're no longer cutting edge. By the time the V8 quattro launched in the U.S. – late 1989 for the 1990 model year, Audi was already deep in planning for its replacement. That car, which would become the A8, was vastly superior in most aspects to the antiquated V8 model. Yet I still get a chill every time I see a nice D11.
This 1990 carries the PT 3.6 liter V8. It was rated at 247 horsepower, but you only really felt that if you opted for the model's no-cost manual transmission. Few did. The later 4.2 model was on paper not a huge increase in power – only 30 more – but it felt and was quicker. The 4.2 also enjoyed some later "upgrades"; they sported an upgraded transmission to solve early failures, and shared Girling G60 two-piston front calipers in place of the infamous 'UFO' floating design from the early cars. Designed to haul the heavy cruiser down from Autobahn speeds, they didn't really work well on U.S. roads. So even though about 2/3rds of the V8s sold here were from that first introductory year, the later models are in my mind the ones to get unless you've found a manual or an absolutely outstanding example.
The Cyclamen Pearl Metallic generally looks good though there isn't any really close detail disclosed. The bumper covers have lost their paint and somewhat ominously the car has the tow-hook installed on the front; prophetic of its impending failure. And there was a lot to fail on these cars; complicated high-pressure hydraulics, transmission control units, and my personal favorite – the throttle wedging open. This car has the upgraded Connolly leather in Travertine which shows typical wear and obviously wears the wrong wheels, here being 45MM offset A4/A6 wheels. It looks like the UFOs might be gone (a common swap), but it's still got a Bose radio (no word on how much those speaker amplifiers crackle!).
Classifying this as a potential restoration candidate is probably generous. That's not because it's not worthy; much of the trim and the general base seem to be quiet good for a V8 at all. It's because I can't calculate just how insane you'd have to be to want to undertake such a task. Contemplating V8 ownership at this point in history is insane enough; the thought of restoring one to its former glory truly should put one in a mental institution. If it doesn't, it'll certainly be the poorhouse.
-Carter