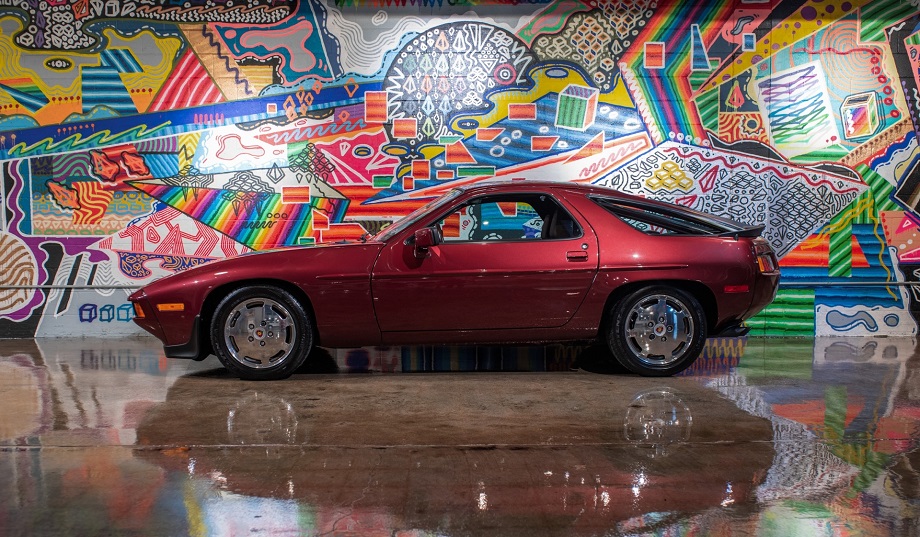 Here we have another very pretty 928. But first a question: The seller refers to monochromatic interior/exterior combinations as an iconic '80s theme. Was these really iconic? I was a kid so I can't really recall what the crazy cars were like (My mom had one of those huge Buick or Oldsmobile station wagons. It was not sporty and I believe it was black with tan interior. We slept in the back on long trips. My dad's 911 was black on black, but I don't think that's what they mean.) Color-matching the interior and exterior definitely seems more prevalent in the '80s. I know I've commented on the blue on blue combination that we almost never see outside of the '80s and early '90s. Burgundy also seems popular. I've seen green on green a few times and those are…quite something. That was the '70s though. I digress, I guess I hadn't thought of this as an iconic '80s thing to do. Perhaps it is and this 928 uses it to nice effect.
This is a Ruby Red Metallic 1983 Porsche 928S with, you guessed it, a Burgundy interior, 47,915 miles, and a very desirable 5-speed manual transmission. One other quick digression: The seller refers to the color as Rubino Metallic, which I had never heard of before. Thankfully the paint code sticker provides clarity and confirms it is rubinrotmetallic or as it's typically called in English, Ruby Red. It looks spectacular!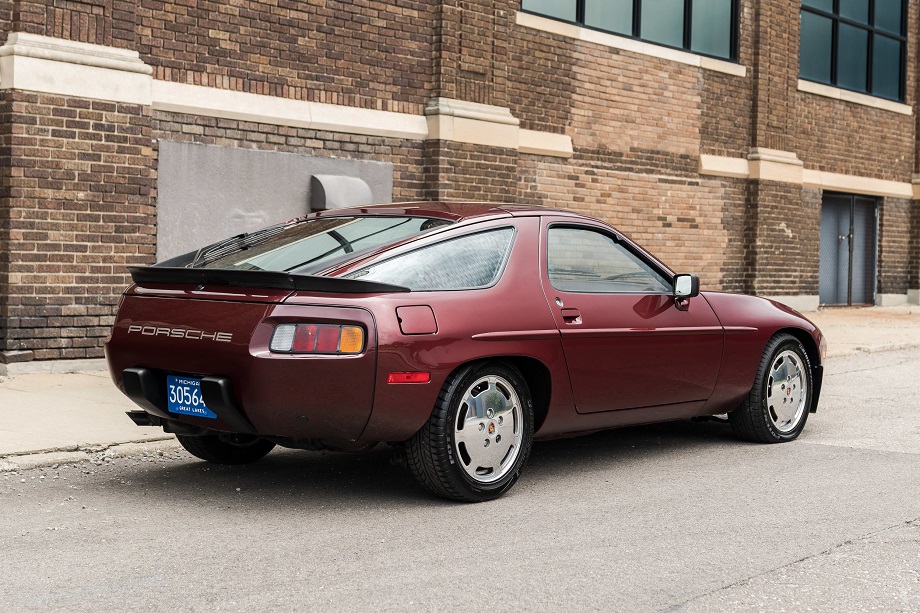 Year: 1983
Model: 928S
VIN: WP0JB0929DS861352
Engine: 4.7 liter V8
Transmission: 5-speed manual
Mileage: 47,915 mi
Price: $38,000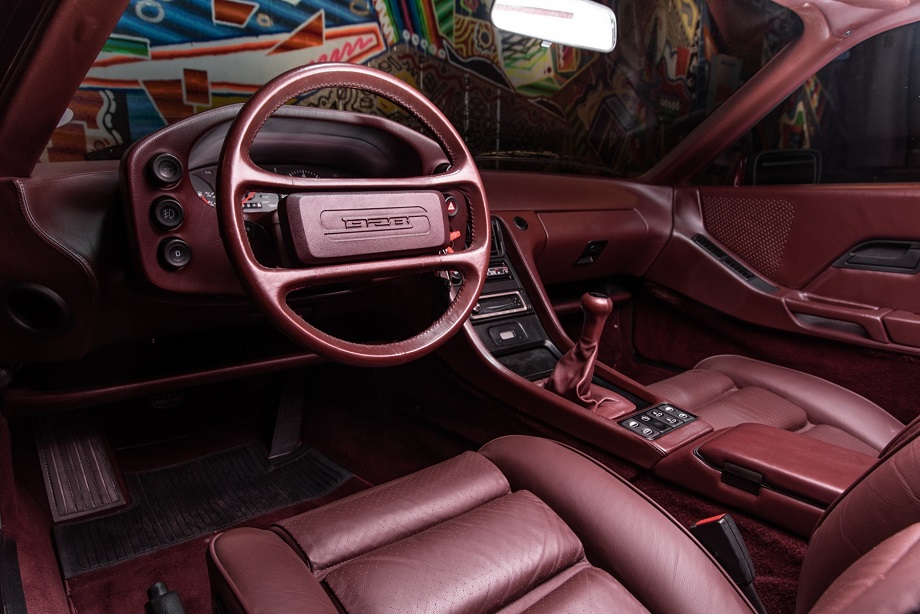 -Chassis # WP0JB0929DS861352
-Showing just 47,915 miles from new
-Well optioned with desirable 5-Speed manual transmission and LSD
-Extensive service records and original sales invoice
-Largely original paint, finished in iconic 80's monochrome color scheme

The Porsche 928 was first introduced at the 1977 Geneva Motor Show. Originally designed to replace the iconic 911, the 928 was built to have the best qualities of both a sports car and a luxury grand tourer. After much back and forth it was determined that a 4.5 liter V8 making 240 hp in the European market would be placed in a front mounted configuration and a slick, well-appointed cabin would provide the comfort needed to cover miles of open road. The 928 was available with both a 5-Speed manual transmission as well as a 3-Speed automatic (later upgraded to a 4-Speed). Both the body and the engine underwent minor changes throughout its life time, with the engine topping out at a 5.4 liter V8, making 345 hp, in the 1992 GTS version. Although it never ousted the 911 as originally intended, the 928 sold well, with just over 61,000 vehicles being delivered worldwide during its production run from 1978 to 1995.

The car on offer here, chassis number WP0JB0929DS861352, is a 1983 Porsche 928 S, finished in iconic 80's monochromatic of Rubino Metallic exterior and Burgundy Leather interior. The paint on the car is believed to be mostly original, with the exception of the rear quarter panels and the rear bumper which were professionally resprayed. The car is well optioned with a desirable 5-Speed manual transmission, Limited Slip Differential, Power passenger seat, and some additional interior comfort options. The car has a clean CARFAX report, showing regular but limited usage and well cared for past. It should be noted that a mileage discrepancy is noted in 2010. Early history on the car is a little vague but it appears that the car spent most of its early life in Indiana, with the first CARFAX entry being at 20,000 miles in 1991 in Fort Wayne, Indiana. The car was sold in 2006, ending up in Florida where it was driven sparingly and maintained appropriately with the included service records to show as proof. In April of 2014, the car was sold again with around 47,591 miles and wound up back in Michigan. As it sits now this 928 is in fantastic, well sorted and properly maintained condition. A large binder is included detailing the judicial service history of the vehicle as well as the refreshment or replacement of all pieces and components. With its iconic 80's color scheme, powerful V8 engine, well-kept service history, and posh, well-appointed interior, this example makes the ideal candidate for a comfortable driving and spirited use. Included with the sale of the car are the tools, air pump, original sales invoice, and extensive service records.

Please visit www.LBILimited.com for many more photos and details. Worldwide shipping is available upon request. Follow us on Instagram and Facebook @LBILimited #claimyourclassic.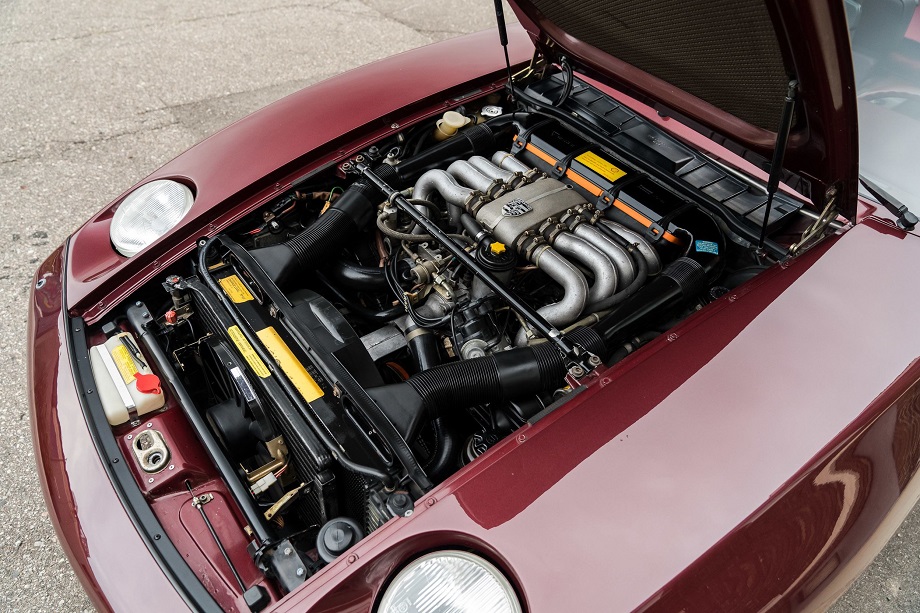 If you find your way over to the seller's website you'll find that you are provided a huge number of pictures, which they've separated into two categories: detailed photos and glam photos. Now that is iconic '80s! Their listing on Classic Driver only provides the glamour shots and the paint really pops well in these photos. Even the chrome wheels, which I might normally hate, look great and provide just the right contrast. Have no fear it's not all sadness once we step into normal lighting as even in the detail photos (taken on what appears to be a fairly dreary day) this 928 still looks really good. I think we can all appreciate seeing both types of pictures as they really show us the range Ruby Red possesses. On that futuristic 928 profile it looks great, and I dare say much better than on the 911s I have seen it on. The interior too looks in very nice shape. There's very little in the way of noticeable flaws and overall this 928 presents as a very well cared for Porsche. It also is said to come with extensive service records. All excellent.
Now let's get to the caveats. The paint is stated to be mostly original with the only non-original panels being the rear quarter panels and rear bumper. The CarFax is said to be clean, but that type of painting definitely sounds like an incident of some sort. Perhaps an entirely minor accident, but one nonetheless. There also is a mileage discrepancy noted and below the paint sticker there is a sticker noting that the speedometer was replaced at 38K miles in 2005. I'm not sure that is related to the mileage discrepancy, but who knows. The included service receipts may help shed additional light on the issue and help confirm these miles as original. Given what we are told and what the CarFax shows these aren't items that would cause me to dismiss the car, but they are useful to know. This remains a very attractive 928 that appears to have been very well maintained. If a PPI reveals few, if any, mechanical issues you can probably breathe easily.
Like the Minerva Blue 928 we featured last month this one is priced pretty high. It does have a manual transmission that should attract a good bit of notice, but I'm not sure it's all enough to fetch this sort of price. I imagine you could find one that's less expensive, but I don't know that it would look this good. This one deserves a premium and for those in the market definitely a closer look.
-Rob