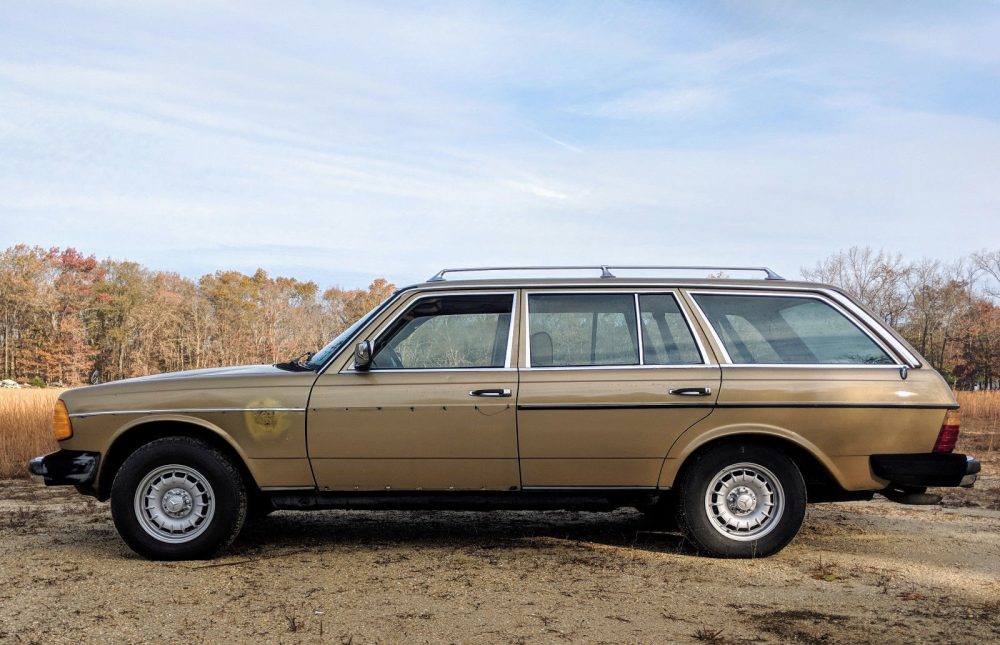 It has been some time since I've looked at the world's most favorite wagon, the W123 Mercedes-Benz 300TD. We've been at the point with them for a while where unless it is an absolute heap, they are all worth saving or at least maintaining to the point of usable service. Sadly, some of the S123s ended up being used as work horses or straight up beater cars that took them to the point of no return. Today's car, a 1983 in New Jersey, is one of those cars. Cosmetically, this one is pretty far gone and thanks to an odometer that stopped working who knows how many moons ago, mechanically it is a bit of a question mark as well. Question is, if it is cheap enough, is it worth it?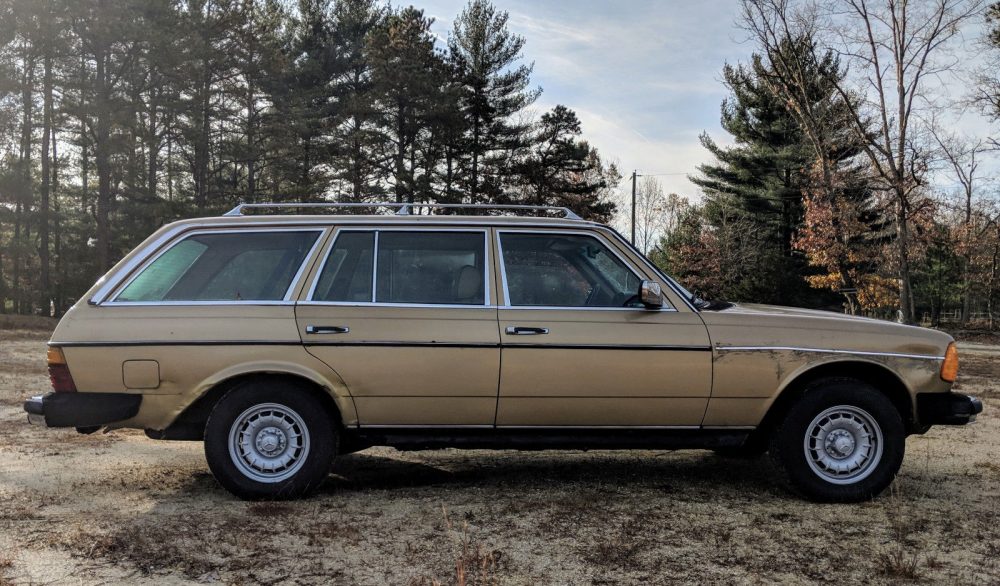 Year: 1983
Model: 300TD
VIN: WDBAB93A8DN015554
Engine: 3.0 liter turbocharged inline-5
Transmission: 4-speed automatic
Mileage: TMU
Price: No Reserve Auction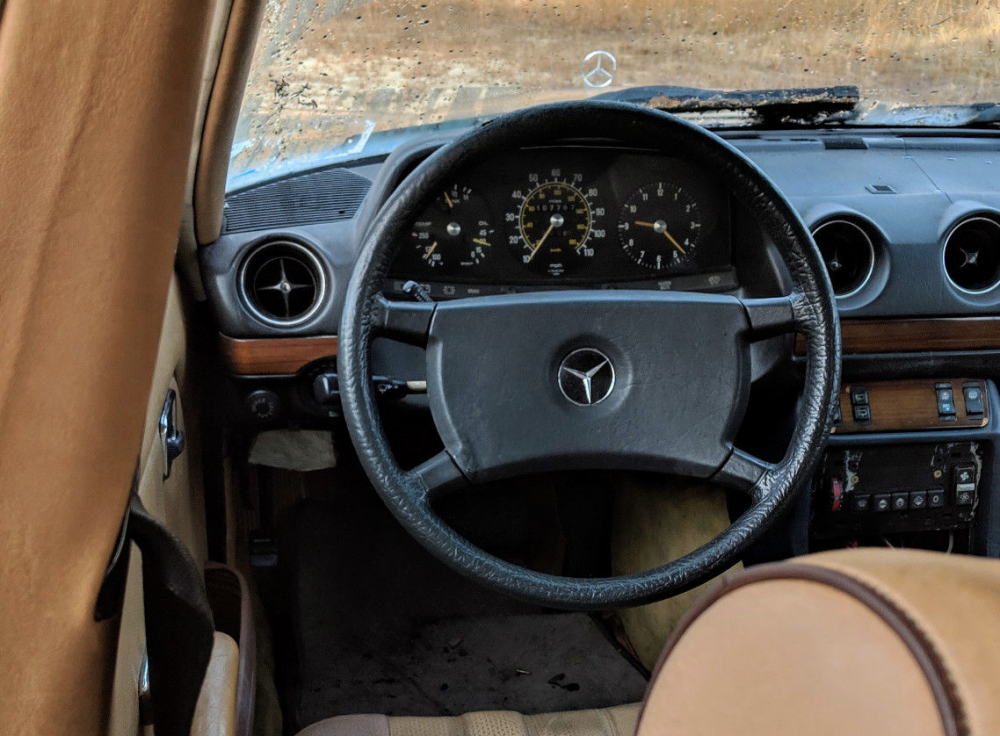 1983 Mercedes 300TD Wagon
Turbocharged 5cyl Diesel
Restore while driving, Great investment project

Unfortunately, I need to sell one of my projects to move forward with the others. I decided to let go of this one. These wagons are getting tough to find and the prices keep rising. This is one of the few vehicles that you can put money into and still get it back out when you sell.

This one runs and drives, engine runs great. The picture of the exhaust is while the car is running, as is the picture of the gauges. No smoke. Mileage reads 107000 but not exactly sure on the mileage because the odometer is stopped. Judging by the clean, rust free underside of the car, it probably doesn't have too many more miles than that.

The outside: Most body panels are in great shape with the exception of the passenger side fender which is dented, and the passenger side quarter panel which is both dented and rusty. Why the rust has been almost completely isolated to this panel I'm not sure. Pics will show more.

The interior: Good overall condition. Previous owner had a big switch and wire coming from the battery through the passenger door and stuck to the dash. This was run to the blower fan for the heater. I removed all that and fixed the correct buttons in the console. when I purchased the car, the console was badly damaged from the radio being stolen. I bought a good used console and replaced the bad one. Carpet is faded in the back, which hides the factory 3rd seat. This is a desirable option in the wagon.

The mechanics: Engine starts up and runs beautifully as would be expected for these old diesels. Transmission shifts through all gears with no issues at all. Brakes were not working at all so I replaced the master cylinder. This solved the non working issue but they are still spongy. May need to be bled again, car stops but with good pedal pressure. A/C probably doesn't work, defrost does. All power windows are in operating condition. Needs the odds and ends that you would expect of a 35 year old vehicle.

Overall an easy project. A good Father/Son car if that still happens these days! If you are a Mercedes person, you know how hard these are getting to find. Prices keep going up! My plan is to eventually get myself a perfect sedan for a daily driver.

Transportation is your responsibility. Car will start right up and drive onto a trailer. I would not drive it a far distance because of spongy brakes and also because it probably hasn't been on a long trip in quite a few years if ever. You probably should give it a good going over safety wise. Clear NJ title in my name ready to be transferred.

Any other questions, ask away. I'll answer em to the best of my knowledge but I am neither a mechanic or a Mercedes expert. I just like cool things! Thanks for looking and bid bid bid!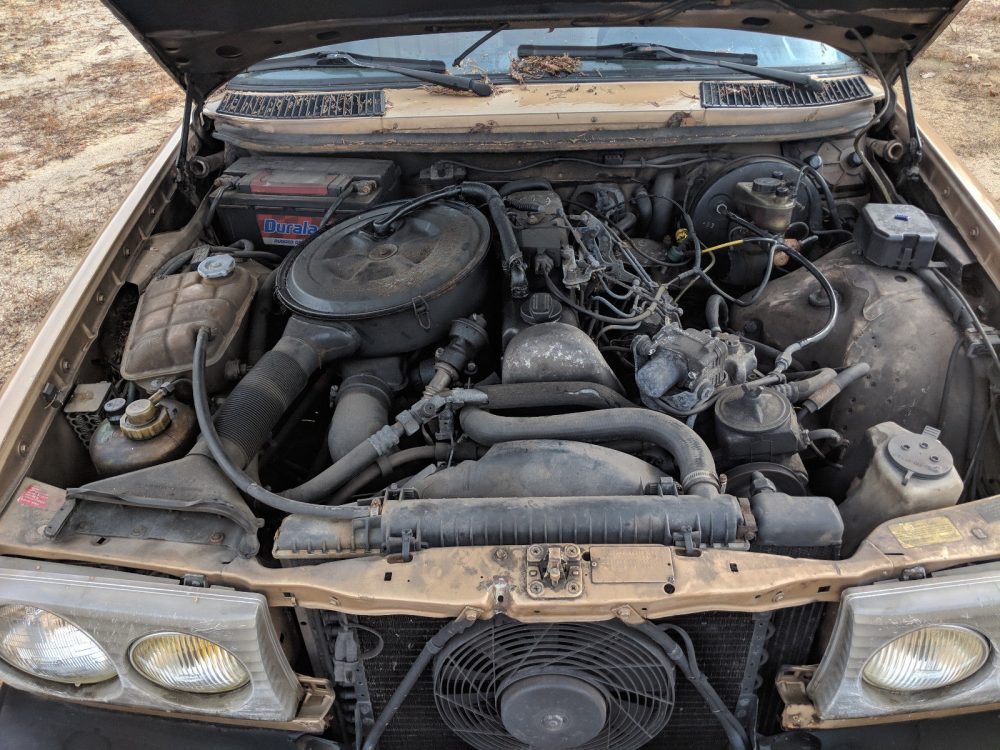 I really don't like taking sellers to task on stuff that they own, but I have no idea what makes you say this car is an "investment" or "great shape" at all. This thing looks like it lived in a swamp. Every single panel is messed up and I wouldn't be surprised if they used a horsehair paint brush to paint this car. There are literally giant rust bubbles forming under the paint from the terrible prep work they did on it and goodness knows what is going on with that front passenger side fender. The ad literally says "Most body panels are in great shape" and I'm wondering if I'm looking at the wrong car. Even the door latches have gold paint on them for some reason. The biggest problem is the massive rot hole on the bottom of the body right before the rear wheel arch. It isn't any better on the other side either because you can still see some body filler poking through the paint where they tried to fix that hole. Inside, the car is totally filthy and there is probably a reason there are no photos of the dash area or center console. The seller says the odometer stopped working, but that isn't even the correct gauge cluster for a 1983 300TD, so goodness knows how many miles this thing has. The photo of the engine seems to support this thing having a bunch of miles given how much blow-by is coming out of the crankcase. Did I mention the brakes don't work all that well either? I know you have to be optimistic when selling a car and present it's good side, but this is just way off base in terms of how sad this car really is.
The seller started this auction at $1,795 and that is probably all that it is worth as it sits right now. The body is too far gone with the rust and dents that unless you take it down to the bare metal and mechanically it is a total unknown because you don't know the miles. Looking at all the condensation in the rear window and the clogged up water drains, I'm willing to be this thing leaks a bunch of water into it as well. If you want to buy this 300TD and drive it as-is, I see no problem with that. But putting any kind of money in it besides the bare necessities? I think you are wasting your time. At least the car has nice wheels, I'll give it that.
– Andrew