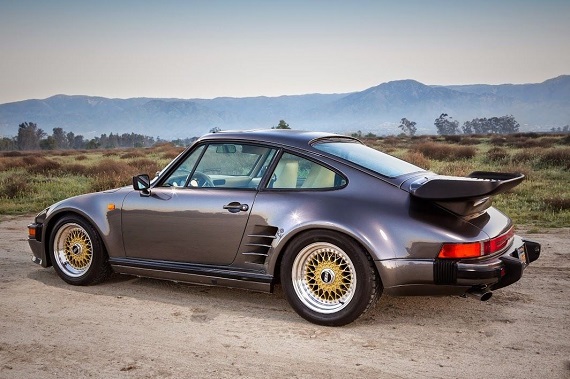 Porsche's Sonderwunsch-programm (Special Wishes or now Porsche Exclusive) has been around for some time with the aim of providing its customers with opportunities to create unique color and trim combinations that allow their cars to stand apart from a standard model. Most commonly we see these features in the interior or as paint-to-sample exterior colors. The car we see here, a 1983 Porsche 930 Slantnose located in California, appears to have gone for the entire catalog with upgrades to the interior, a paint-to-sample exterior, along with the Slantnose option first made available in 1981. This 930 also was fitted with the power kit, which raised power to 331 hp, though sadly the engine has seen some modifications and those pieces are no longer fitted. The seller states that many of the original power kit components are included in the sale. It is obviously quite rare to come across any Special Wishes 911, but it is even more rare to find an early 930 Slantnose, especially here in the States where the car was not available until 1986. Engine modifications aside, this is a fantastic looking 930 that absolutely stands apart from other examples of its day.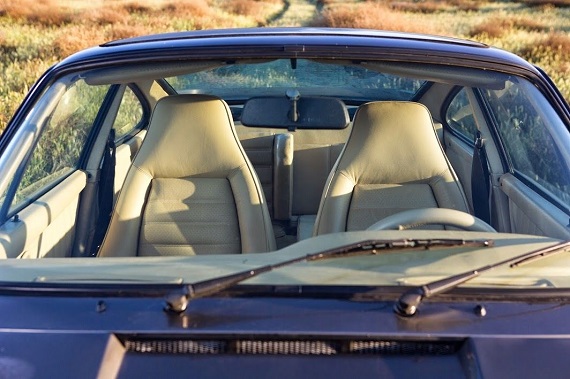 Year: 1983
Model: 911 Turbo
Engine: 3.3 liter turbocharged flat-6
Transmission: 4-speed manual
Mileage: 38,600 mi
Price: Reserve Auction
1983 Porsche 930 Special Wishes Slant Nose
VIN: WP0ZZZ93DS000695
Engine: 67D0722
Mileage: 38,600
Location: Loma Linda, CA (about 1 hour from LAX)

Pictures: https://plus.google.com/photos/102381976421756816409/albums/6071049766188936401

This is a numbers matching, investment grade vehicle that you can still really enjoy driving. I will be driving it to the SoCal All-Porsche Swap & Car Display in Aneheim on Sunday the 8th. Please contact me if you wish to examine the car at the event.

I am a lifelong Porsche enthusiast who buys, enjoys, then sells unique 911s occasionally (1 or 2 per year) as a part of my hobby. Here are links to the two 911s I sold last year:

1976 930 Copper Brown with Tartan plaid interior
1966 911 Slate Gray with Red interior featured in Excellence Magazine

Vehicle History

My 930 slant nose was invoiced in March of 1983 and delivered to Mahag Porsche in Munich. The EPA and DOT paperwork indicate that Bruce Canepa imported my car in January of 1985. I've spoken with Bruce about my car, and he asked me if the rear spoiler grill and rear air intake slats were painted body color (they are). He added these touches to the factory slant noses he imported as well as body colored wheel discs for the BBS wheels.

Bruce then pointed me to a car he had recently sold that he imported for racer Rick Mears around the same time as mine which had very similar Special Wishes work done to the exterior and interior:

http://www.canepacollection.com/detail-1985-porsche-911-turbo_slantnose-used-11725640.html

Bruce does not recall whom he imported the car for, and I do not have any records (other than Carfax info) before the previous owner who has owned it since 2000. The previous owner was a perfectionist when it came to maintaining the car's appearance and mechanics, but only put about 4,000 miles on it during his ownership. I have enjoyed driving it for the past six months.

About the Special Wishes Slant Nose

The Special Wishes factory slant noses made before the official option package M505 and M506 in 1987 were very interesting to me. They were made to order for Porsche's weaIthiest clients, and usually contained a lot of "cost-no-object" customizations. I did a lot of research on the Special Wishes slant noses…OK I was obsessed with them! I obtained very rare Special Wishes brochures, books, and magazine articles and learned everything I could about them.

The downside to the pre-1987 M505/506 slant noses is that the factory kept no records of the work done, so it will not show up on the Kardex build sheets or the Certificate of Authenticity. This is because the Special Wishes work was invoiced as a work order by the Werk I repair workshop, not a line item on the Kardex build sheet like the M505/506 slants. Most owners did not keep these invoices, so one must look at other paperwork and body features for telltales of a Special Wishes slant.

For more info, review this thread on Pelican Parts which contains a wealth of knowledge

I compiled everything I've learned, and scanned the period articles and brochures, into a .pdf file downloadable here.

Interior

Features from Special Wishes
Cashmere full leather covered interior, including:
upper and lower dash
ignition key rosette
steering column cover
center console
heater control box
round door lock plates
sun visors
door panels and arm rests
all rear upholstered panels.
Center Console with VDO outside temperature gauge and clock (with 1983 date codes), plus A/C and fan dials.
Factory Rootwood dash measuring ¼" thick (see pics).
Rootwood door handles on each side. I have not been able to verify if Special Wishes supplied these, but they are of very high quality so I would not be surprised.
VDO boost gauge with maximum boost indicator needle, which can be reset with a special key. This replaced the clock next to the speedometer.
Early 930S Steering wheel by Italvolanti with raised hub, date coded 2/1983 (another clue that the slantnose work was done at the time of manufacture)

Original cashmere carpet is in excellent condition, and is representative of the low mileage and care given to it.
A set of cashmere Lloyds "Turbo" floor mats are included.
Original Blaupunkt cassette deck is included
Power windows work great
All gauges are functional and have correct date stamps except the speedometer, which is dated 1984.
The speedometer was changed to MPH when imported to the USA in January 1985.
Headliner is in excellent condition
The previous owner had the sport seats and dash top recovered in Porsche OE quality genuine leather upon purchase in 2000.
Work was performed by Tony Garcia, then working at Autos International, known to be the best restorer of Porsche upholstery. Receipt included.
As noted in the PPI by Powerhaus, the original seats were in good shape but showed some wear (typical for Cashmere), and the outer beading was worn, so the previous owner had them reupholstered to make them perfect.

Body

930s The underbody, rocker panels, and fender wells still have all of the original undercoating, and the excellent condition confirms the low mileage of the car.

Original Special Wishes paint to sample color.
Paint gauge shows two layers of paint (original plus respray), no filler on any part of the body.
The paint is in excellent condition and shines beautifully.
The body was inspected by Powerhaus when the previous owner purchased the car in 2000, and was found to have no accident damage (see PPI report). Car has 5000 miles since then and still has no evidence of accident damage.
Every window, door and body seal were replaced with new in 2001 (have reciept).
All of the slant nose body work indicates a Special Wishes produced slant nose.
No slats behind the headlights. This was done on only a very few Special Wishes slants.
No evidence of welding insert panels on the underside of the steel front fenders.
Round popup headlight system from the 944.
Single 944 headlight motor, mounted in the center under the hood latch, rotating both headlights via a large rod.
The mounts used to attach the 944 Headlight rod, and the through-fender bearings are Porsche Special Wishes parts.
Uses factory wire harness and relay board for headlight motor.
Shock supports appear factory quality, not cut and welded to make room for the headlight buckets.
Jack extensions welded to the rockers
Rearmost edge of the rear air intake follows the curve of the wheelwell opening.
BBS 3 piece 15×7 and 15×9 wheels with "uprated" suspension. This alone cost $4550 on the 1987 price list!

Documentation

The original German owners manual and an English version are included. Also have a copy of the US M505 Slantnose owners manual.
Kardex report from inquiry at Porsche Classic:
VIN 93DS000695
Engine: 67D0722 is original
Transmission: 77D0753 is original
color 99=special wish
interior YA= Cashmere
dealer 116=Mahag Porsche Dealer, Munich
invoice March'83
options 186=2-point safety belts rear
220=limited slip diff
261=electric mirror right
409=sportseats
498=rear lid without model designation
650=sliding roof

Copies of all the EPA and DOT importation documents dated January 1985 filed by Bruce Canepa's import company, indicating the car as a "935S". This is good evidence that the car was converted by Special Wishes, as no factory slant nose parts were available outside the factory before 1985.
Rare 1984 German Sonderwunsche brochure, with complete price list, detailing the options available with beautiful photographs.
Limited edition Special Wishes/Exclusive 25th Anniversary book from the Porsche Museum.
August 1982 Christophorus factory magazine, with article from Rolf Sprenger (father of the factory slantnose) describing the Special Wishes offerings with photos.
June 1987 Automobile magazine with slantnose on the cover, with article about Special Wishes/Exclusive and the costs involved. The BBS 3 piece 15×7 and 15×9 wheels with "special suspension" are mentioned here.
I have a folder full of service and repair records from the previous owner who owned it for the past 13 years. See Photos.
California Smog compliance paperwork from 2000.
There are no records prior to 2000 other than the EPA and DOT importation documents, however, the Carfax shows regular mileage increases in the 1990s.
Photos of the car from 2000 when the previous owner purchased it.
PPI results from Powerhaus from when the previous owner purchased it in 2000, verifying that it checked out as a low miles factory slantnose with the 330hp power kit parts, and that it had no accident damage.
Records of parts purchased and installed during my ownership.

Mechanical

This 930 runs, shifts, and drives as you would expect from a low mile, well maintained example. Starts and idles great, no grinding in any gears, boost comes on smooth and strong.

Original numbers matching "power kit" engine (cost $16,795 extra!) and limited slip transmission.
Showed good leakdown numbers at the PPI in 2000.
In preparation for power upgrades, the engine was disassembled and resealed with new head studs in 2000. Have photos and receipts of the work done at Powerhaus.
Upgraded by Powerhaus to K29 turbo, full bay intercooler, and Powerhaus stainless steel heat exchangers and muffler to run safely at 1 bar of boost. The original heat exchangers and muffler were not kept.
See receipts for other work done by Powerhaus.
All the parts to convert it back to the Special Wishes 330hp "power kit" were kept and are included (see photos), with the lone exception of the #7006 K27 turbo itself which are readily available.
Air conditioner does not work. It is still R12 but has an upgraded rotary compressor. Needs conversion to R134A.

Links:

Lots of Pictures:https://plus.google.com/photos/102381976421756816409/albums/6071049766188936401
Documents including my Slantnose guide (with brochure scans), and Carfax report are available in my Google Drive: https://drive.google.com/drive/#folders/0BxVKmDV_zUJHNHdwd1ZWQVpFMmc
Terms and Conditions:
There is a reasonable reserve so that I can keep my options open, however I will likely accept the top bid even if the reserve is not met!
Please do NOT ask for a buy it now price…the value of these is hard to establish so I want to let the market set the price. This auction will be completed and will NOT be ended early.
Car is sold as-is with no warranty. You may subject the car to a Pre Purchase Inspection (flatbedded both ways at your expense to a reputable Porsche specialist shop within 60 miles) within 3 days after winning. You may cancel your purchase if the PPI reveals anything major that I did not already disclose in the auction and I will re-list the car.
Payment by wire transfer or cashiers check only. Title will be given immediately upon payment, but funds must clear my bank before the car leaves my possession.
I have sold cars overseas before (I have references) and will be happy to work with foreign buyers. I may be able to deliver the car to one of the export companies at the port of Long Beach.
Thanks for your interest, and happy bidding!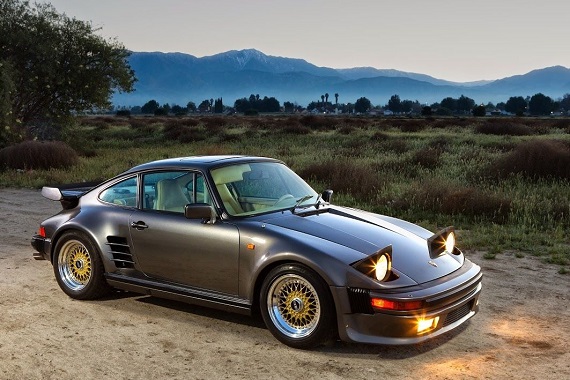 These wonderful pictures at sunset help provide a good atmosphere for this ad, but they aren't terribly helpful for seeing a lot of detail on this particular car. Thankfully the seller has provided quite a few pictures, including some nice detail shots, to help alleviate that issue and he also appears to have a firm grasp on the background and distinctive characteristics of this 930 Slantnose. Given that this is a Special Wishes build there certainly is a lot of verification necessary to insure that everything here is as it purports to be and I assume it is that extra legwork – not to mention the engine modifications – that keeps this auction sitting with zero bids. That said, the condition here looks quite good inside and out with a number of interesting touches here and there that encourage us to linger over the car for quite some time. It is always difficult to determine the appropriate value of such a car, especially given that this is a European example that originally came with the power kit, but with a wealth of documentation and so many unique features this is sure to find a home somewhere.
-Rob