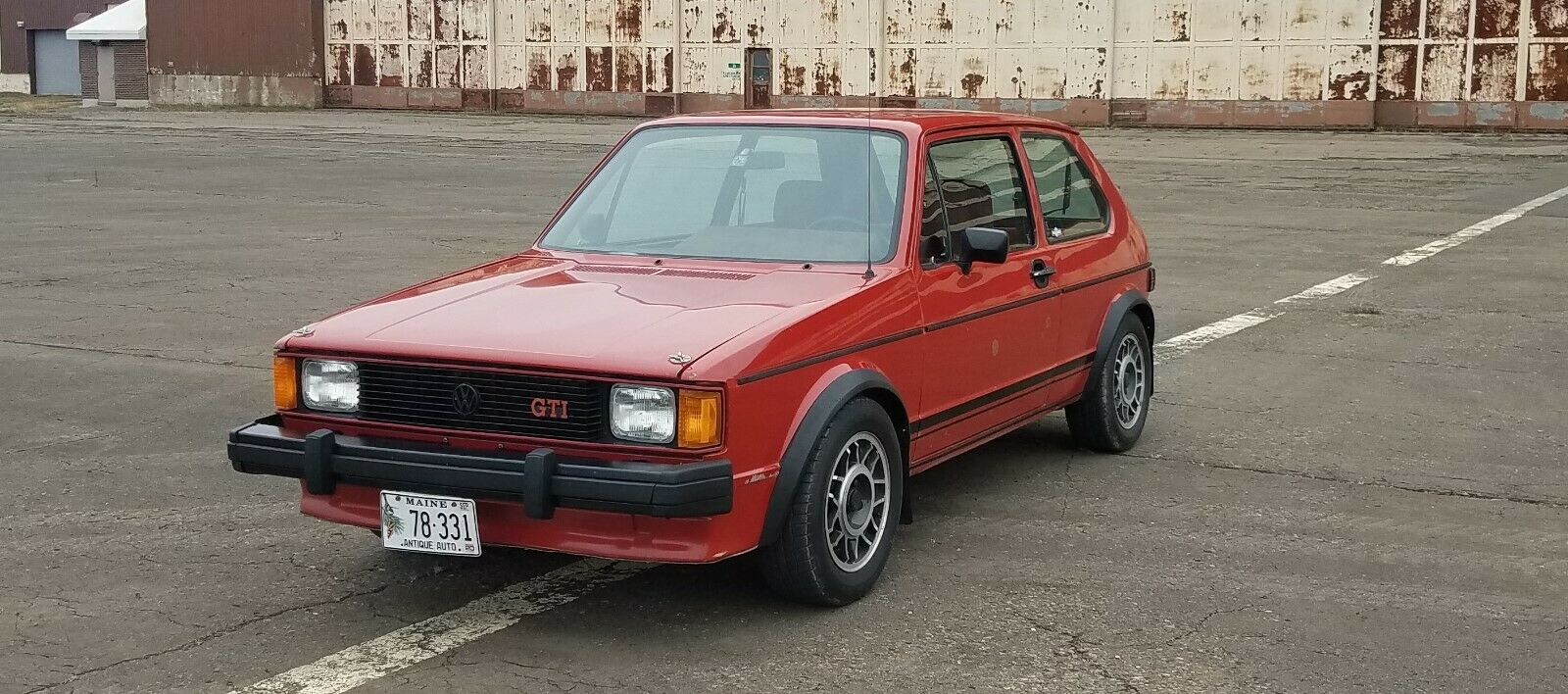 I owned an A1 GTI once. It was one of the worst automotive decisions I've ever made. This comes from a man who bought a non-running Audi 200 Avant full of bees in a field in New Hampshire, mind you.
Back in 1998, I bought a non-running, rusty and very tired black over blue 1984 example for $300. I had every intention of "restoring" it to back good condition, but I was 21 and a poor college student and it was 14. But it wasn't the age (or the mileage, Indiana), it was how it had been treated in that 14 years. After all, my current Passat is 17 years old and while it's not perfect, it's pretty damn nice. Heck, my M3 is 16 years old and basically looks and drives new. No, age was much harder on the cars of the early 1980s; plastics weren't as durable as they are now, nor was paint. Metal was more rust prone and the electronics were no where near as reliable even though there were so far fewer in the car. To back my GTi up, you could simply look through the crease in the bodywork between the taillights and the rear floor where there was no longer metal. Every single bushing was gone, and what was left vibrated like an unattended paint shaker at Home Depot set to high. The paint was ruined – the car had clearly been hit at some point, so the passenger door and fender were a different shade of black than the rest of the car, which could more be described as dark gray spread very thinly over light gray primer. One time it started itself, which was a bit scary. Another time, it refused to start because the starter had removed itself from the transmission, but only enough to jam the gear into the flywheel. Then one fateful night one a ride home from a late shift at work, the fuse box lit on fire, consuming the functionality of all electrics save the high beams. I had sunk a few thousand dollars into keeping that car running and improving it over the year and a half I drove it. Ultimately I sold it for parts – for $300.
I won't over romanticize my life with a GTI. I was not sad to see it go. I don't wish I had it back – in fact, it may be the only car I owned that I never long to sit in again. Indeed, I even have more connection to a few parts cars that I bought but never drove. But, I will say that it did provide me with some entertaining stories. And when it ran right (there were at least two times), it was really a joy to be behind the wheel. There were glimpses of its former glory; you could get in, start it up and immediately be driving at 11/10ths everywhere you went. 40 m.p.h. has only felt near as exhilarating on my bicycle. And the shape was beautiful in such a strange, boxy way. I certainly wouldn't mind owning a GTI (again), and every time I see one pop up I take notice:
Year: 1983
Model: GTI
VIN: 1VWDC0171DV041912
Engine: 1.8 liter inline-4
Transmission: 5-speed manual
Mileage: 159,599 mi (shown)
Location: Caribou, Maine
Price: $5,000 Buy It Now
The GTI was purchased new in May 1983 from Presque Isle Volkswagen Inc. by an Airman in the 42nd CES (Civil Engineering Squadron) at nearby Loring Air Force Base. He ended up trading the car in to Danny Brewer Inc. in Caribou, Maine on April 18, 1984 with a slipping clutch.

On April 27, 1984, a highly-respected local technology teacher, motorsports enthusiast, and car nut, bought the GTI from Danny Brewer Inc. with 18,435 miles and a 60-day warranty. He was beginning his career as a teacher at Caribou High School, and this would be one of the newest cars he would ever own. Because of this, he was meticulous in maintaining the car and keeping maintenance receipts. He drove to Caribou every day from Westmanland, about a 30-mile commute round trip. The miles quickly racked up. He drove the car up until 2000, when he purchased a black 1983 Rabbit GTI to use as a winter driver.

In the fall of 2007, he was at a local tire shop flipping through the September 2007 issue of "Automobiles" in the waiting room. On page 78 was the Volkswagen Rabbit GTI; #25 on the "Greatest Cars of All Time" list. This moment was the turning point in his obsession with Rabbit GTIs. After the Red GTI had sat for about 5 years, he towed the car to Caribou High School and began work on what would become his "sleeper".

The engine and suspension were removed and rebuilt. The suspension was rebuilt with Prothane polyurethane bushings, 21mm rear sway bars, 17mm front sway bars, and Vogt land coil overs. The engine was rebuilt by Caron & Sons engine shop in Caribou. It was bored .020. Other work includes: brake line kit, braided brake line kit, front left and right calipers, rear drums, heater core, shift kit, etc. While the engine and suspension were off the car, the engine bay and undercarriage were cleaned. New left and right floor plans were welded in, other spots were riveted and covered in undercoating rubber. Basically, every moving part was replaced or rebuilt with documentation to prove it. Hood pins were added to eliminate the hood release cable, which he was tired of breaking all the time.

The car was back on the road in July 2011, after about 3 years of work. In August 2011, he brought his newly rebuilt GTI to the former Loring AFB for an autocross event hosted by Cumberland County Motor Club, that happens once a year. Sometime after the event, he began to experience trouble with the CIS system and thought the fuel pump was bad. After street driving the car less than 200 miles and spending thousands of dollars and hundreds of hours working on it, he was weary to spend anymore.

In September 2019, I stumbled upon & bought the GTI. I immediately started working on it. He said he believed the fuel pump was bad, it wasn't. I replaced the fuel filter, cleaned the pressure regulator and fuel lines, and replaced the CIS distributor from another car and it fired up.

The following I have done in my ownership:

New OEM molded carpet
New grille
New vinyl side decals
New wiper motor
New blower motor
Repainted front + rear bumpers
New headlights
New front pads + rotors + right caliper
New fuel filter
New CIS distributor
New battery
New door handles

The Royal Red paint is completely original. I used a single stage buffing compound to restore the shine from the faded paint. I restored all the plastic fender flares and bump strips back to black. I removed and painted the front and rear bumpers. I re-applied the vinyl side stripe. There is a new wiper motor, blower motor, front grille, headlights, front rotors and pads, and new door handles with locks. The interior is in great shape for a 36-year-old car. The driver's seat was modified to sit more like a bucket seat but retaining the original cloth, it also has a bracket so the seat wouldn't move during racing. I fit comfortably in the seat, so I haven't removed it. There is a tear on the right-side bolster. The passenger seat has a small split in the cloth. The Kenwood head unit does not work. The rearview mirror needs a new lens. The rear seat is mostly intact other than some tears on each side in the brittle cloth. I purchased and installed NOS frontal molded carpet. The other carpet pieces are original. It retains the original spare tire and lug wrench. The cardboard headliner is completely gone. The roof unfortunately has several dents caused by the weight of the snow that accumulated during the winters outside. It is not noticeable unless you are looking at the roof. The hood also has a similar large dent. I think a talented auto body person could pop out these dents and at the same time save the original paint. The battery tray was unfortunately cut out and is missing. This was done to redistribute weight by placing the battery in the spare wheel well in the trunk, for whatever racing purpose. I RE-relocated the battery back to the engine bay, but must use a ratchet strap to secure it in place.

For documents, I have the original dealer packet including the original Window Sticker, owner's manual, "Rusty Jones" warranty, touch up paint bottle, Warranty & Maintenance booklet, Pirelli tire warranty booklet, paperwork from when it was traded in, various registration papers, a complete folder of receipts before the rebuild, and a complete folder of receipts during the rebuild.

As for rust, the body is really not that bad. I have been living in Northern Maine for over 10 years and the only cars that are not rusty are ones that are never driven. This car was a daily driver for just under 20 years and despite how well taken care of it was, there are rust spots. The rust on this car however in no way effects the drivability. Any rust found during the rebuild was repaired. Please see the pictures for detail. If more pictures are desired, please contact me.

***The wipers are removed in the first two pictures while I was waiting for a new wiper motor & transmission.

For shipping calculations, we can get this car to Bangor ME for pickup. You'll find that it's much easier to arrange transport from Bangor than our location.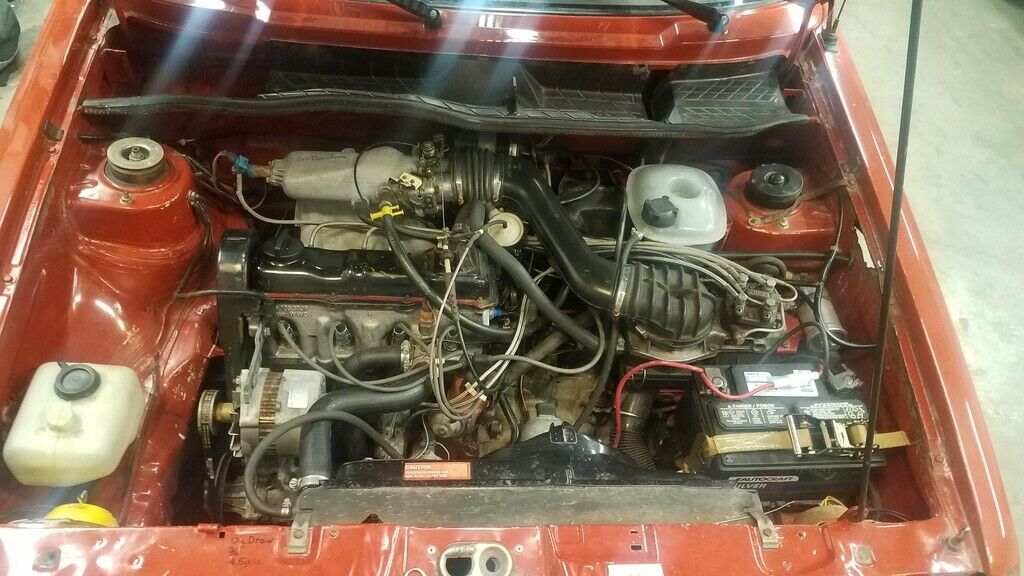 Royal Red over Red wouldn't be my first choice of color, but it's neat to see the vivid color combination match the spunky nature of the A1. Off the bat, this car isn't perfect I'll fully admit. But it's quite presentable and seems to have a great and documented history – it's fairly rare for one of these cars to go back to nearly new with all records. You can see the amount of work done to this car above and the obvious needs that it has. The seller is quite forthright with the current status, though I admit I was pretty surprised to see the lack of disclosure about what is almost certainly a non-functional odometer. The XXXX99.9 with a zero'd trip is a near certain predictor. But even accepting that to me this is an interesting counterpoint to the Quattro from yesterday. Unlike that car, this one is fully functional. It's an equal icon in its own right. And, frankly, it'll be much more fun to drive (unless you turn the power way up on the Audi) and far easier to keep long-term. Beyond that, there's the price. How many automotive legends can you own for $5,000? Not many is the answer. This may not be the perfect car, but it's the right combination of affordable, fun and usable.
-Carter