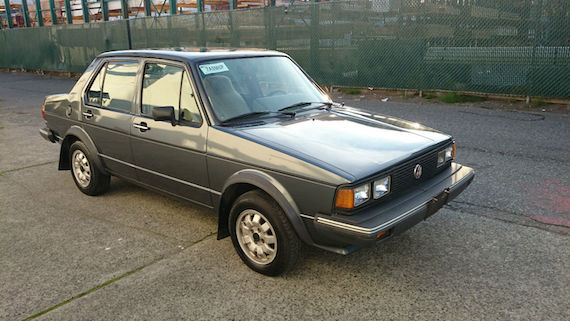 I love MK1 Volkswagens in general, and the Jetta exemplifies the simple rectilinear style of the early 80s. Though weak, the diesel engines are robust and efficient, making them a perfect little around-town or mellow commuting car. Today's spent most of its life with a single owner, covering just 119k miles – roughly a third of what these cars often achieve. If it continues on this path, it could be a nonagenarian before it needs a rebuild! It's not perfect, but it has a lot right. Overall, with a no-reserve auction and low bidding, this could be a great deal for a utilitarian sedan.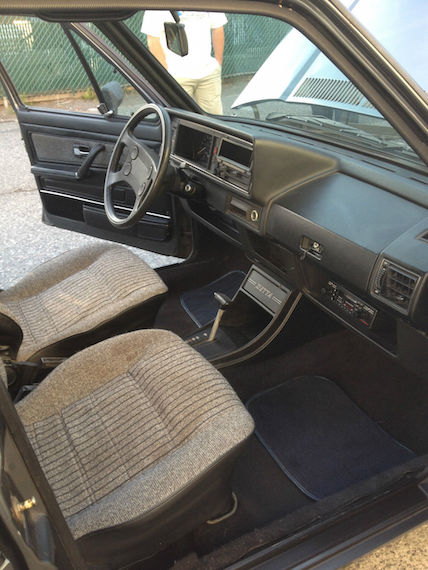 Year: 1983
Model: Jetta
Engine: 1.6l diesel inline-4
Transmission: 3-speed automatic
Mileage: 119,800 mi
Price: No-reserve auction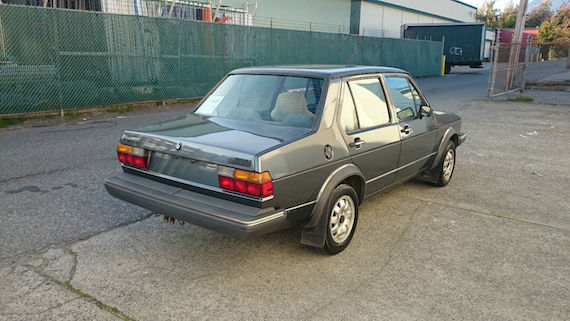 I am offering this 1-Owner beauty up for consideration with world-wide shipping available.

I was chasing the purchase of this vehicle from the original owners for several years and have a VW collection of my own. During the 2013 holidays I managed to add a 1978 Rabbit Diesel to my collection and have since invested a lot of time and money into it.

A month ago this Jetta finally became available for purchase and I bought it, I am now the owner of 3 1-owner MK1 VWs and I cannot keep this car and have to unfortunately pass it on.

What makes this car great is that I have done absolutely nothing to it in any way to pretty it up for eBay, Other then give the car a quick wash and vacuum it is exactly as left

by the original owners. The car has not been polished, it has not been touched up, detailed in any way, I have not washed under the hood or tried to make it look any other way then it does, I havnt even replaced the $6 headlight that the chrome inside has peeled and looks terrible.

This Jetta is one of the best running. driving, and looking MK1 VWs I have ever owned, it drives like a brand new car, everything is tight, there are no loose rattles, or squeeks, there is no slop in the suspension, the brakes are excellent, the transmission shifts perfect, the glass is all excellent, the car lived outside on the street and here it rains more often then not and the car is bone dry inside.

The car has had a complete exterior repaint between 5-10 years ago. all the door jambs and under the hood, in the trunk is all original. I have had the car on a hoist to assess it for any rust, wear and tear or other damage.

Underneath the car is in fantastic condition, even the exhaust still looks new and has a 12/82 factory VW date stamp that you will see in the photos following. Only the rear mullfer has been replaced. I would not hesitate to drive this Jetta across the country.

The interior is in excellent condition aswell, the dashboard is not cracked, the original VW Radio is included along with the factory cubby pocket. The radio is removable and plugs it when slotted in place, so you can either have the radio playing or you can pull it out and put the pocket in.

The seats are excellent and have had seat covers on them since new. The padding in the front seats will need to be replaced to truly make the interior look perfect, but the material, is not ripped or torn anywhere.

Mechanically the Jetta is like new, it fires right up instantly with no smoke and runs perfectly smooth. It has a rebuilt injection pump and new glow plugs. The car has only covered 119,000 original miles and has been regularly maintained. I do not have service records, but I can prove the mileage based on Emissions test history and I know the car was serviced at a local VW Dealer in the neighborhood to present day.

As I have not done anything to alter this car since I purchased it, there are a few minor items that need attention if you want the car to be 100 percent perfect.

These are very minor trim items that will cost a couple hundred dollars at best to rectify, I just did not want to mess with the car and wanted to present it as it is.

The items that need attention are the following :

– Passenger side rocker trim piece is missing
– Glove box lid is broken
– One High Beam headlight needs replacing because its ugly ( it lights up perfect )
– Left drip rail trim is missing a piece
– There is a small tear in the headliner ( 1-2 " )
– There is a small bubble under the right rear quarter flare on the very bottom ( Minor )

Other then those items, the car is RUST FREE and is really incredible.

I am willing to help in shipping the car world wide and i am willing to answer any questions necessary to insure this Jetta finds a forever home with the right care taker.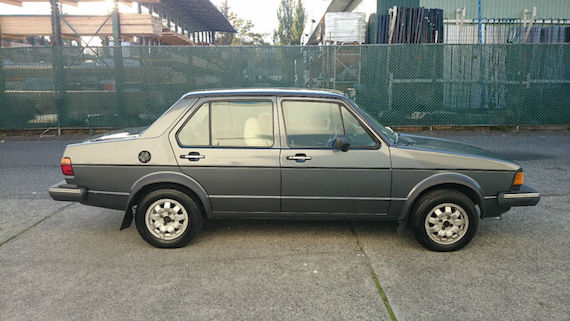 80s Jettas aren't trying to be anything their not. You get simple, you get good gas mileage… and that's about it. The automatic is the big downside for me here; not being in control of the asthmatic 1.6l diesel could get frustrating. If you don't see the point in teaching your 16 year old to drive a manual, though, this would be money well spent for a first car.
-NR