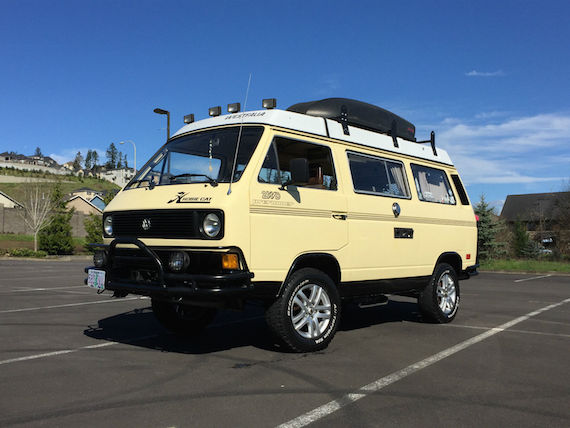 Today we have a gorgeously restored Westy that ticks just about every box. Featuring a litany of perfect modifications, the exterior is highlighted by an OEM tan repaint, tough and functional Rocky Mountain bumpers, good-looking Passat 16″ wheels, and a GoWesty lift kit for better clearance and that great Syncro look. Under the rear sits a like-new 2.4 liter wasserboxer from GoWesty connected to a rebuilt transmission. The interior looks pretty original but decent for nearly 200k miles, and just about everything functions minus the a/c. Locked, not quite stock, and ready to rock, this is about as ready-for-fun as the come.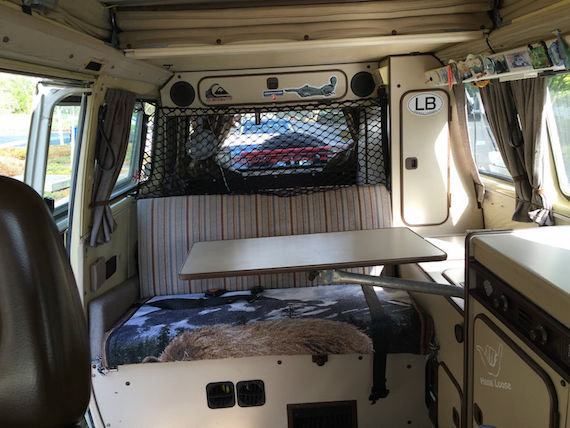 Year: 1983
Model: Vanagon Westfalia
Engine: GoWesty 2.4 liter flat-4
Transmission: 4-speed automatic
Mileage: 188k mi on chassis, 20k mi on engine
Price: $34,445 OBO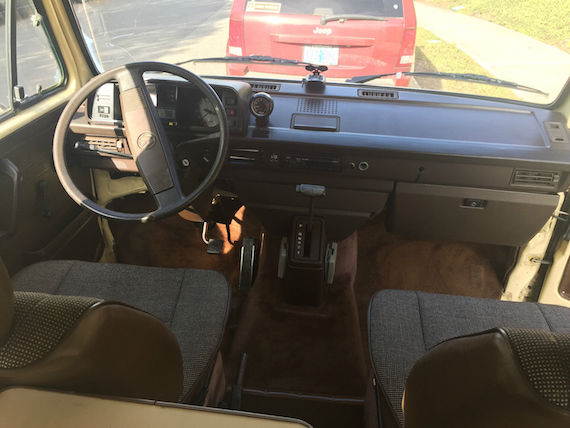 Van was rebuilt and painted in 2010. Total chassis miles are 188,000. The restoration was complete when the chassis had 168 thousand miles. Has a 2.4L GoWesty water cooled engine with 20K miles on it. The odometer was replaced at the time of the restoration and was set to 0 miles. Please see service records below. The car fax report shows discrepancies that are wrong, the pics below will show dates and actual miles. The transmission was completely rebuilt as well. Has New 16 inch VW Passat wheels with BF Goodrich A/T off road tires. New brakes as well. Most off all the mechanical components were rebuilt. Poptop canvas is original and in decent shape. Installed poptop struts to help lift it up when there are items in the Yakama SkyBox. The SkyBox has 21 Cubic Feet of storage space. Comes with bunk ladder that works great for small children reaching the top bunk as well as getting into the SkyBox. Installed an off grid 12 Volt battery system and 2000/4000 Watt inverter that will run for a few days on battery system. Has a Propex propane furnace with 7 day programmable timer and thermostat (sleep like a baby with this bad boy heater). Has custom Rocky Mt. Motor works front and rear bumpers with rear gas can / spare tire swing. Has remote start and keyless entry & door locks. Van Is a 2WD but has the GoWesty Lift kit installed. The refrigerator still works on propane, 110 Volt and 12 V DC. Sink water pump still works. Propane cooktop also works. Has an onboard digital battery charging system to charge the onboard RV battery system. Van will drive 85 MPH down the freeway. The van has been a part of our family since 2008. Its really had for us to let go of but of family is out growing it. We are selling so we can use the money for a down payment on a new home. The van was only driven a handful of times maybe only 200 miles. Van does not have Air Condishioning. Very sad to see this beautiful rig just sit and not being used. We have many many great memories and many great road trips.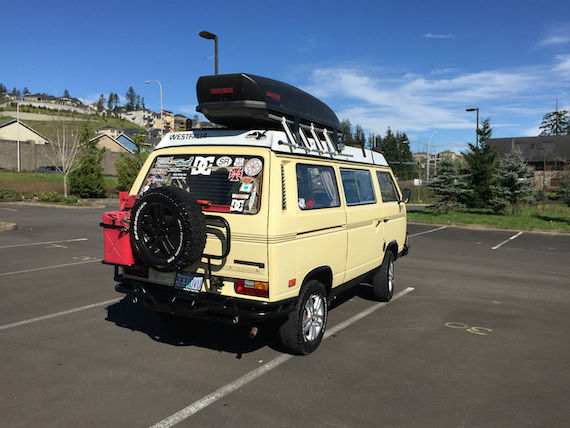 Even at just under $35k, this van sits in a sweet spot between the $50k-plus Syncro monsters and the need-some-love Westies in the teens. It's clearly been thoroughly vetted and enjoyed, and while I am attracted to the value of cheaper Vanagons that need some love, it would be so nice to be able to jump in and drive around the country with heat, cooking, and sleeping arrangements all sorted. This is a Westy done right, and I imagine the seller will get close to his asking price.
-NR