Audi's flirtation with chopped top mid-range sedans has always been an interesting one. Starting with the B4 series, Audi combined the front-drive 90 platform with parts of the Coupe platform to create the handsome and understated Cabriolet model. While not much of a performance machine, it was a good looking and reasonably sensible choice for a luxury 4-seat German convertible. It was not particularly sporty though; while Europe saw a range of engines, the U.S. received only front drive 4-speed automatic V6 models. The B4 model long outlived the rest of its siblings, soldiering on until 1998 when it was seemingly replaced by the TT model. The Roadster model wouldn't be available until 2001, but the promise of an all-new convertible that was much sportier seemed logical. However, Audi returned to the 4-seat drop top market in 2003 with the A4 based Cabriolet model. Based initially on the B6 platform, it then seemed natural that Audi would finally offer a performance variant to compete against the popular M3 convertible; however, unlike the B3/B4 platform which had a Coupe model, there was no A4 based Coupe. To solve this problem, Audi's skunkworks quattro GmbH undertook modifying the platform to create the 2006 S4 cabriolet.
Now, on the surface, this was a bit strange. Beyond the question of why you need a really fast convertible, you now had the question of why you needed an all-wheel drive convertible. But the Audi offered great looks, a stunning soundtrack and some trick interiors and flashy exterior colors to really help set the S4 apart. But many of the S4s were coupled with automatic transmissions; coupled with the chain problems the V8 heart is now known for, if you want a B7 cabriolet is it now smarter to consider the less flashy models?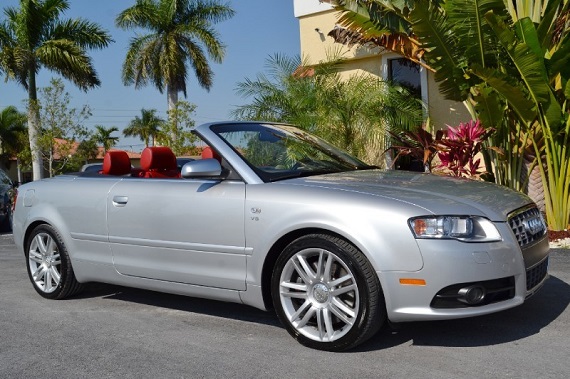 Year: 2007
Model: S4 Cabriolet
Engine: 4.2 liter V8
Transmission: 6-speed automatic
Mileage: 42,845 mi
Price: $23,970 Buy It Now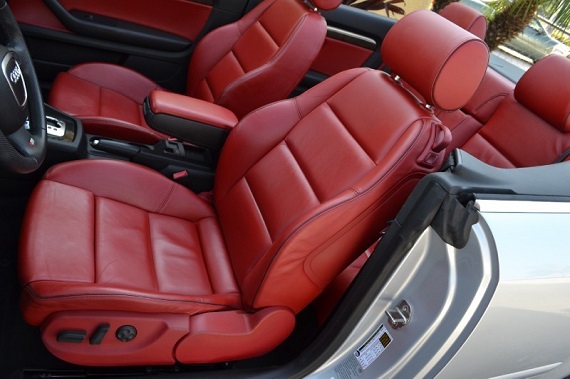 2007 Audi S4 Convertible

Call me (Tom) at 239-693-4000 9AM to 10PM 7 days a week!

Auto Express South, located in Sunny Fort Myers, Florida, proudly offers this 2007 Audi S4 Convertible with only 42,845 original miles. This S4 had an original MSRP of $59,850.00 and is shown in Light Silver Metallic paint on Heated Crimson Red/Black Leather seats. It is an absolutely stunning color combination and really sets this Audi apart from the rest. The previous owner took meticulous care of this S4, it has regularly serviced since it was purchased new. All service records and mileage are documented as well! This convertible is in outstanding condition and has been thoroughly inspected by our service department. You could confidently get in this vehicle and drive it across the country if you wanted to!

This 2007 Audi S4 is special; due to it's stunning and rare color combination and very low mileage. It has been extremely well kept and would make the future owner very happy! It comes optioned with:

4.2L DOHC SEFI V8 Engine

Audi Dvd Navigation Plus $1,950.00 Option

Gas Guzzler Tax $1,300.00 Option

Bluetooth Phone Prep $500.00 Option

Gray Birch Interior Trim $400.00 Option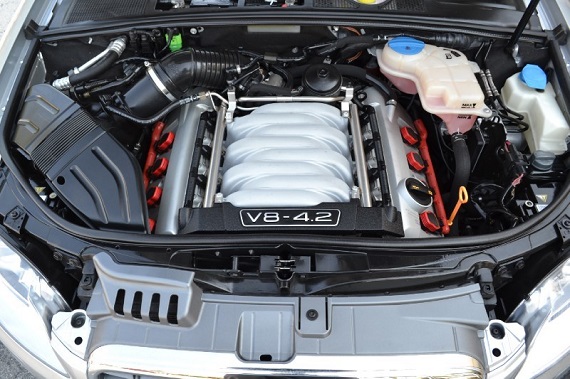 The S4 carried a hefty premium over the standard A4 Cabriolet. Even in S-Line trim, comparing the 2007 to 2009 pricing of these two models reveals there was a $27,000 difference – enough to buy an A3 to match your A4 Cabriolet. But the performance between the 4.2 and 2.0T was pretty different as well; with 140 horsepower more and instant torque, the V8 returned sports car levels of performance. I laughed a bit when I saw this dealer listing the Gas Guzzler tax as an optional extra, but a little research reveals interestingly there were two different levels of tax; the manuals were hit for $400 more than the automatics. This particular example isn't one of the flashy colors; Sprint Blue or Imola Yellow would suit the car better in my opinion, but the car is equipped with a pretty awesome interior and the optional Birch trim. That red leather with contrasting piping is simply stunning. All in all, it's a nice package. I'm not a fan of the late B7 S4 wheels personally, but they're correct for the model. Miles are lower, condition appears to be quite good, but a few things keep me from getting too excited. First, were I to venture into this S4 market, the car would have to be a manual. Second, I just don't like the silver exterior and B7 wheels. It's good looking, but it could be much better looking in my opinion. $24,000 is market value according to Kelley Blue Book, but to me it's a strong price to pay for one of these convertibles – especially when you consider what else you can get that's quite similar.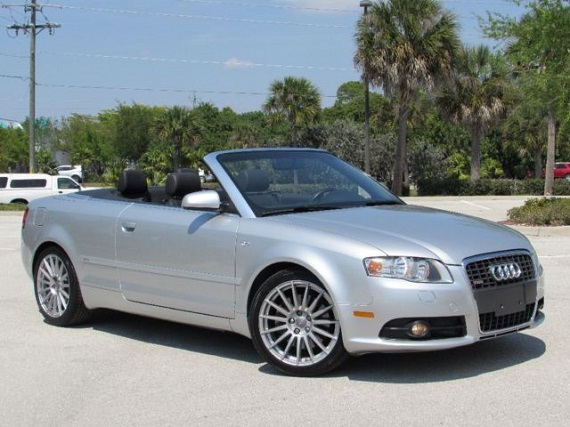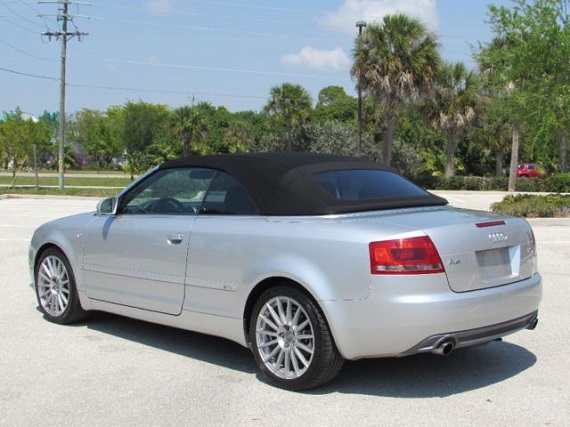 Year: 2009
Model: A4 2.0T S-Line Cabriolet
Engine: 2.0 liter turbocharged inline-4
Transmission: Constantly Variable Transmission
Mileage: 47,493 mi
Price: $18,950 Buy It Now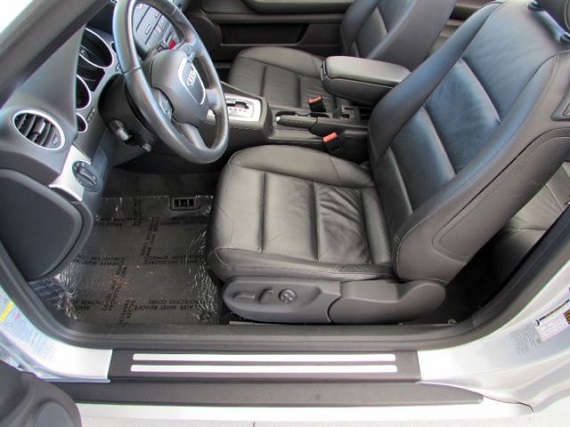 2009 Audi A4 2.0T S-Line Cabriolet
TurboCharged 2.0L In-Line 4-Cylinder Engine
Multitronic CVT Automatic Transmission

!! Excellent Miles !! ONLY 47,493 MILES !! Non-Smoker !!

Light Silver Metallic Exterior with Black Soft Top
Black Premium Leather Interior

This exquisite 2009 Audi A4 2.0T S-Line Cabriolet is in excellent condition inside and out, combining cutting edge styling, safety, comfort and exhilarating performance. Equipped with a 2.0 Turbocharged engine its fast and a fantastic cruiser. Step on the accelerator while trying to merge into traffic and you will not be disappointed. Keep your foot on the floor and the car will hit triple digits and keep on pulling.

!! S-Line – Performance Styled Front and Rear Bumpers !! 18in Alloy Wheels !! Front Fog Lights !!

When sitting in this car you'll easily forget that you are in a convertible. The ride noise is minimal and the headliner looks like it belongs to a hardtop. You feel like you are in a much more expensive car. The silver aluminum trim gives the interior a crisp, sharp look. The interior is finished with a super clean and fresh Black Premium Leather. The exterior is finished in a smooth and glossy Light Silver Metallic with an excellent condition Black Cloth Top. Stepping up to the S-Line adds sharply styled front and rear bumpers. This color combination is superb!

!! Bluetooth Hands Free Phone Interface !! iPod Interface !!

This 2009 Audi A4 Cabriolet is nicely equipped with standard and optional features such as: 4-Spoke Multifunction Leather Wrapped Steering Wheel, Audi Symphony AM/FM Radio with In-Dash 6-Disc CD Changer, Automatic Dual-Zone Climate Control with Dust and Pollen Filter, Bucket electrically adjustable 10-way driver and passenger seat with height adjustment, front seat center armrest and pull-down rear seat armrest, Electronic Cruise Control, Front and Rear power windows with "One-Touch" down and pinch protection, Driver Information Display and Computer with average speed, average fuel consumption, instantaneous fuel consumption, and range for remaining fuel and much more !!

– FACTORY INSTALLED OPTION AND PACKAGE PRICES –
iPod Glove Box Interface – $250
Connection to ext.entertainment devices ipod.
18in Wheels – $750
Front and rear wheels with 18 inch rim diam, Front and rear tires with 235 mm tire width and 40% tire profile; Summer performance tires.
Premium Paint Charge – $475
Premium metallic paint.

The interior includes a full dashboard console with covered storage box, full floor console with open storage box, front seat cup holders and pop out rear seat cup holders and a glove compartment with Ipod interface. Safety additions include driver and passenger front airbags with occupant sensors and multi-stage deployment, Active rollover protection system, 4-Wheel ABS (Anti-lock brake system), ESP (Electronic Stabilization Program).

!! 18-inch 15-spoke Alloy Wheels and 235/40R18 Kumho Ecsta up front and 235/40ZR18 Accelera All Season Performance Radials in the rear !!

This 2007 Audi A4 offers a spacious cabin, an abundance of comfort and convenience options and an economical 2.0 Liter 4-Cylinder TurboCharged engine with Sport Manual Shift and continuous variable automatic transmission modes. EPA mileage est. (cty/hwy): 23/30 mpg. This 2009 Audi A4 Convertible is in excellent mechanical condition all around; you are more than welcome to have a certified mechanic check it out. With only 47K miles this A4 has barely been broken in. This beautiful Convertible looks, runs and drives absolutely great!

!! Keyless Entry W/1 Multi-Function Keyed Remote !! Owners Manuals w/Case !! New Factory Floormats 4-Piece !! A Full Sized Matching Spare with Jack and Tools !!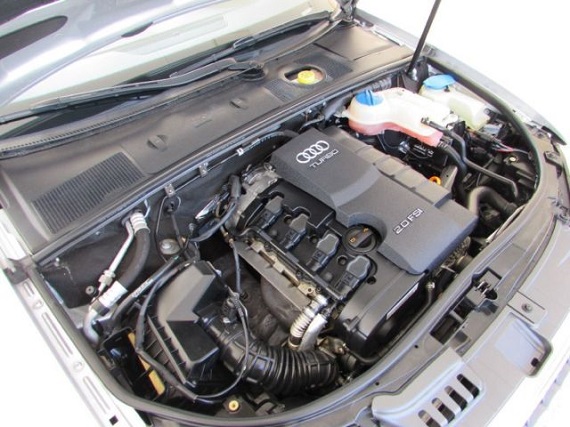 If you're willing to forgo a bit of the sporty performance the S4 offered, you can still have a quite quick and competent A4 Cabriolet. Especially when equipped with the S-Line package, the visual difference is negligible and in fact I prefer the look of the S-Line multi-spoke wheels that were seen on the Ultrasport A4 and the DTM edition S4. From a maintenance perspective, this front-drive A4 also forgoes the all-wheel drive bits – making it long term a bit more affordable to maintain, at least in theory. The 2.0T is also a bit more thrifty not only on gas but also on long term maintenance compared to the 4.2. You do lose the trick interior, but with the top down it has to be said that if you're just looking for flashy drop-top Audi looks, most passer-bys would be hard pressed to tell the difference between the S-Line A4 and the S4. Smart consumers also save quite a bit on the purchase price, too – nearly $6,000 leaves you plenty in the bank to maintain the car down the road – or, perhaps buy some matching tires.
It's not often that we say getting the smaller motor automatic makes sense, but I think in this case the "base" model probably is the smarter choice than the top-spec model. I'd miss the V8's soundtrack and awesome interior, but the rest is so similar in automatic guise that if dropping the top and looks were my goal, the 2.0T front drive S-Line makes a lot of sense.
-Carter