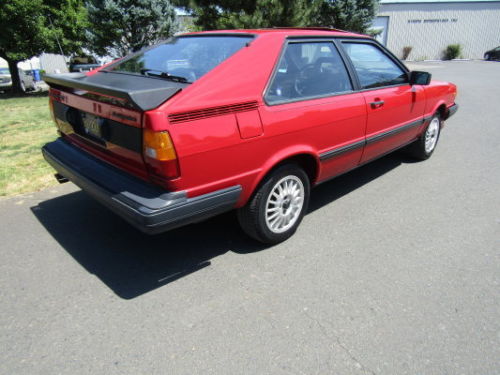 Like the 1984 Audi 4000S quattro, the 1984 Audi Coupe GT was a bit of an odd bird in the U.S. market. The GT was a light revision of the earlier Coupe; the major difference that was noticeable immediately was the Quattro-inspired 14″ Ronal R8 wheel design and raised spoiler shared with its bigger brother. Coupled with the deep chin spoiler and 4-quad headlight design, the Coupe GT introduced in mid-1983 looked like a fitting tribute to the turbocharged halo model.
Power now came from a 2.1 liter inline-5 (code WE) which cranked out 100 horsepower. Matching its European "5S" counterpart, the U.S. spec GT got an overdrive 5-speed manual with a 4.90 final drive; it helped economy slightly, though the slab front end certainly didn't. But the new close(r) ratio box over the early economy-minded 5 speed helped acceleration little. Despite the lightweight 2,500 lb curbweight, Audi claimed the GT could hit 60 in a little over 10 seconds and it was out of fizz at about 109 mph. Despite this rather tame performance for a 'Grand Tourer', the GT's numbers were on par with the GTI and better than the Scirocco. Plus, the longitudinal engine layout with equal length driveshafts coupled with a longer wheel base made them quite fun to drive.
But what was really unique about these cars was that they were an intermediary; the end of the Type 81 Coupes before the Type 85 Coupe GTs launched with heavy revision and more power (along with bigger brakes) for 1985. So while the later Coupes were basically a front-drive quattro, the 83-84 Coupe GT was like a 5-cylinder powered VW in some ways. They retained the smaller 4×100 mm bolt circle on the hubs with 239mm (9.4″) front disc brakes and rear drums, which is a blessing for wheel and brake upgrades should you want to go that route.
But on an example like this '84, I hope someone keeps it stock!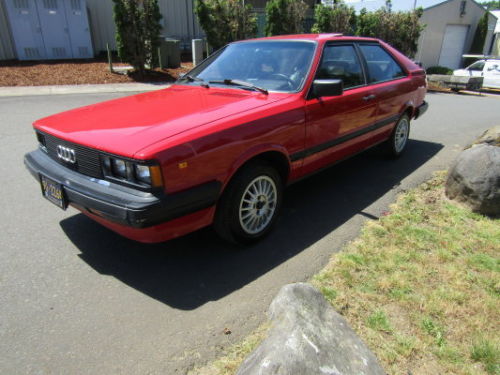 Year: 1984
Model: Coupe GT
Engine: 2.1 liter inline-5
Transmission: 5-speed manual
Mileage: 184,050 mi
Price: $5,500 Buy It Now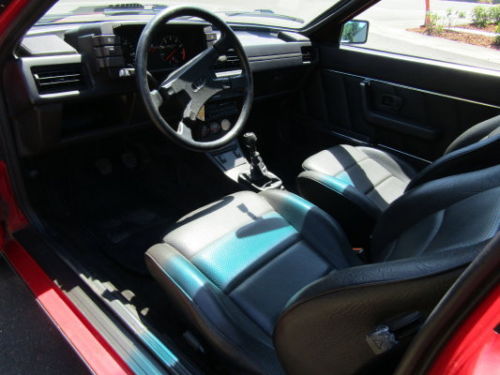 For auction is my classic 1984 Audi Coupe GT. It is in excellent original condition with 184,050 miles. Car does not show its age! Voted Best Sports Car in America in 1985 by Car and Driver Magazine. It has a 2.2 litre inline 5 cyl. that runs excellent. Coupled with the 5 spd transmission this car is a blast to drive! The interior is original and untouched. Factory black leather, A/C (will need a recharge), factory AM/FM Cassette, factory sunroof, power windows, power mirrors and perfect dashboard. The exterior is original paint except for the drivers side rear quarter panel. This panel was repaired and repainted prior to my ownership. The car is completely straight and dent free except for one small ding in the same repaired/repainted quarter panel. Factory front air dam and rear spoiler are in excellent condition. Car has the four original factory wheels in excellent condition on tires that have approximately 70% tread. Recent service includes: new exhaust system, timing belt, engine belts, fuel filter, air filter, plugs, battery and front and rear wipers.

Questions and answers about this item
Q: Just wonder any rust on any part of the body ? Any rebuilt engine or transmission? Can you also have more detail pictures for the interior dash and how do you consider for the interior condition. A/c still work? Thanks Tim
A: Zero rust. Engine and transmission are original as far as I know. Interior condition is a 10 on a scale of 1-10, 10 being best. A/C works – but, needs to be charged. I will attach more photos of the interior.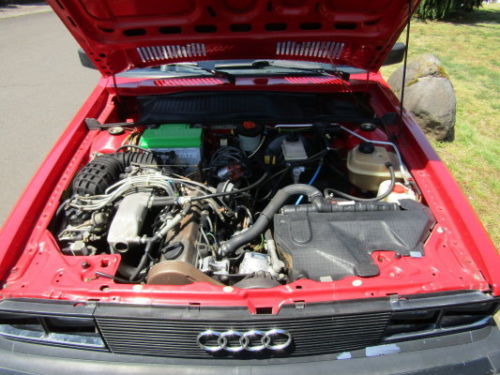 So it really was a mixed bag – you got the upgraded transmission but without the hotter engine; the bigger spoilers and wheels without the bigger brakes, and without the arguably nicer interior of the Type 85 models between 85 and 87.5. Some love the pure, gruff design of the Type 81s a bit more, while I have a soft spot for the later coupes, personally. The 83-84s sold in greater numbers than the later cars, with about 3,500 Coupe GTs moving from dealer lots in '84.
This one is very nice overall in mostly original Tornado Red. Unfortunately, that color is quite hard to color match, and the driver's side seems the worse for the respray. The interior, from what is shown, does look very nice but the pictures lack close detail – and I suspect based upon the look that the car actually has vinyl interior rather than leather. It's nice to see the original radio still in place, though, and overall the presentation is quite good. So, too, do the mechanics appear to be sorted, with a lot of recent work. However, we get a few stretches once again, with the A/C that needs to be recharged and the proclamation that the GT won the '85 Car and Driver award – which it did, albeit in later Type 85 guise. Pricing still seems quite competitive and accurate around $5,000 for a quite nice and driver-ready, occasional show Coupe GT if you prefer the early look.
-Carter