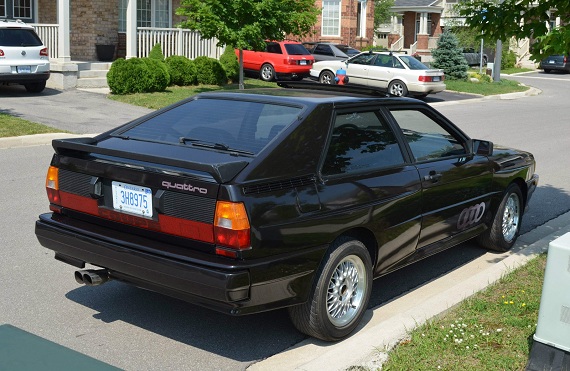 To me, it's pretty amazing that the Quattro hasn't really received the attention of the E30 M3. The Quattro beat the M3 to the market by 6 years with its squared, chunky boxflare stance. It was all-wheel drive, turbocharged and cutting edge. It revolutionized the World Rally Championship and firmly cemented Audi in the halls of motorsports and enthusiasts minds. The offbeat 5-cylinder hanging in front of the wheels seemed an odd choice, but Audi has returned with an updated version of that power plant in some of its newer models, and the sound and performance is no less memorable than it was in the original. Indeed, in terms of what a single car did for a brand, the Quattro was much more influential for Audi than the E30 M3 was for BMW in my mind. Yet today, if you want to get a great condition E30 M3 with under 100,000 miles you're looking at over $50,000 to play; if you want to get into the original Quattro, nice examples can be had for half that amount: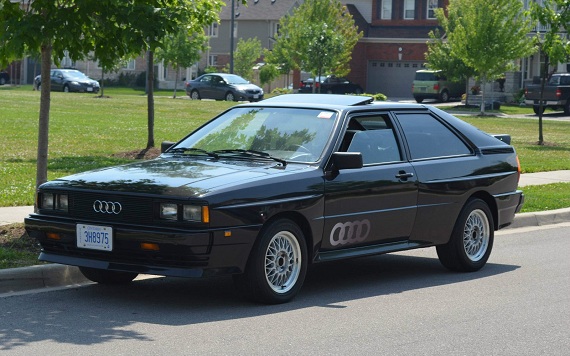 Year: 1984
Model: Quattro
Engine: 2.1 liter turbocharged inline-5
Transmission: 5-speed manual
Mileage: 80,385 mi
Price: $25,000 Buy It Now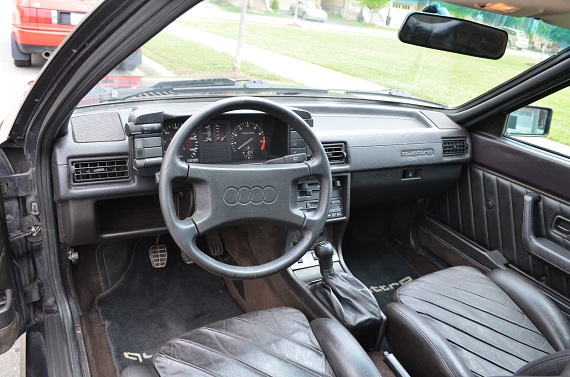 Rare opportunity to own a classic Quattro, 1984, the best year!

1984 model year offered many improvements over the more common 1982 and '83 cars.

– New style wiring harness and under hood fuse box (no more nightmares).

– Upgraded and slightly lower suspension and rolled rear fenders to allow use of 8″ wheels.

– Upgraded dash ('84 specific) and better switchgear.

This particular car originally sold in New York has only done 80,000 miles.

It was imported to Canada 2005 and has been local to Toronto.

Many recent upgrades/work.

– Bilstein HD shocks all around

– Proper blue urq strut mounts

– G60 brake upgrade in front

– Brand new rear brakes, includes calipers and emerg. cables.

– Vacuum brake booster upgrade (no more Bomb failures)

– New sunroof seal (OEM)

– New Fuba manual antenna (OEM)

– New rear muffler, stainless steel Magnaflow

– New front ball joints

– New control arm bushings all around

Car has all of the North American options

– Air Conditioning

– Cruise Control

– Leather interior

– Heated seats

– Power Door locks

– Power and heated mirrors

– Sunroof

Car is in great condition, repainted in original Montego Black sometime before importation to Canada so more than 9 years ago, still shines lovely and shows only couple of small chips (shown in pictures).

Interior is immaculate, carpets non faded and leather hardly worn and supple.

Original '84 only dash has no cracks and only an updated radio (Gamma) is the only non original item. Original radio is included with the car.

Car still has the original owners manual and most of the previous owners maintenance records (in Canada).

Car come with either the BBS wheels, or the 5-spoke Speedline lookalikes (last picture), buyers choice.

All shipping costs are buyers responsibility. I can assist with shipping etc.

10% down payment 48 hours after auction end. Balance within 7 days.

More photos at:

plus.google.com/photos/105156652653047389875/albums/6030091760066787329?authkey=CP-MyvPD9MqMaw
The Quattro has become even more recognized over the past decade as Audi slowly acknowledged that it made cars before the A4. The Quattro is one of the best, but buying one can be a bit of a headache. Lack of rust-proofing and fender liners coupled with the intended use of the car means that rust is a lingering issue on the early models. They had some suspect electrics early on, part of the other legend that Audi bred. And, truth be told there just aren't nearly as many floating around these days as there are E30 M3s. If you want one, it's best to find one with some documentation and in good shape, as there's a list of "No Longer Available" parts nearly as long as the list of rally victories the Quattro amassed. Despite that, there's an enthusiast fan base that loves to support these cars, and the seller is one of the better known members of that group; he's also one of the most knowledgeable Quattro enthusiasts out there. With recent upgrades and maintenance this car has some serious pluses in the "want to own" column, but the seller is also aware of the potential value of the car and has priced it at $25,000 – higher than a few of the later cars that we've seen over the past few years. However, these cars have been steadily on the rise and I don't see the asking price as all that outrageous considering we've seen 4000 Quattros in the mid-teens and GTs brushing $10,000 recently. These cars are truly coming of age, and finding a good example will increasingly be tough and expensive as they get snapped up. From an investment perspective, you're buying probably in the middle of the market; from an enthusiast perspective, you're buying a legend.
-Carter