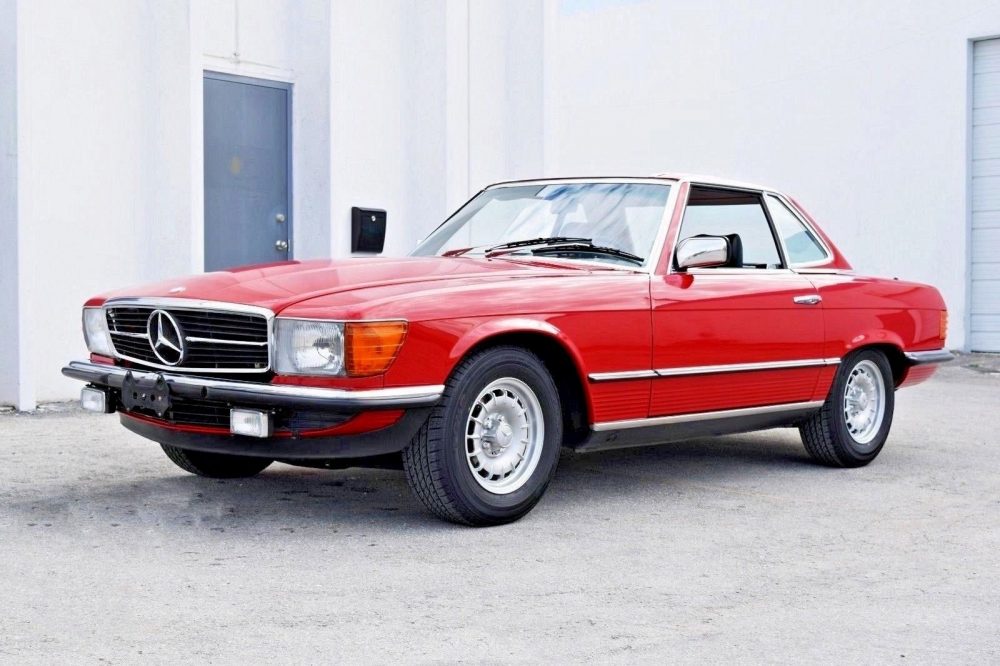 For every Craiglist-special Mercedes-Benz R107 out there with its average condition and crazy price, there is one R107 that is actually worth the money. You wouldn't believe the number of 450SLs and 380SLs I dig through day after day with phrases like "Great condition" and "A real peach" only to see they have tires on them from 1996 and the canvas top is full of mold. I chalk it up to nearly two-thirds of the 300,000 R/C107s built ending up in North America over the unheard of 18 year production run. Combine that with their durability and most people treating them like some sort of investment, and you now have a market flooded with R107s. As the baby boomers hit retirement and their three-bedroom ranch house has a for sale in the front yard, so does the SL in the garage. The overwheling majority of the time they are over priced (in my eyes) and there just aren't many buyers out there for them. The W113 Pagoda is a much more attractive car and the R129 is a much more livable car with its modern amenities. You are left with the R107 right in the middle with its giant bumpers, four eye head lights and underwhelming performance numbers. However, there is a beacon of light for the R107. This car is none other than the 280SL 5-speed.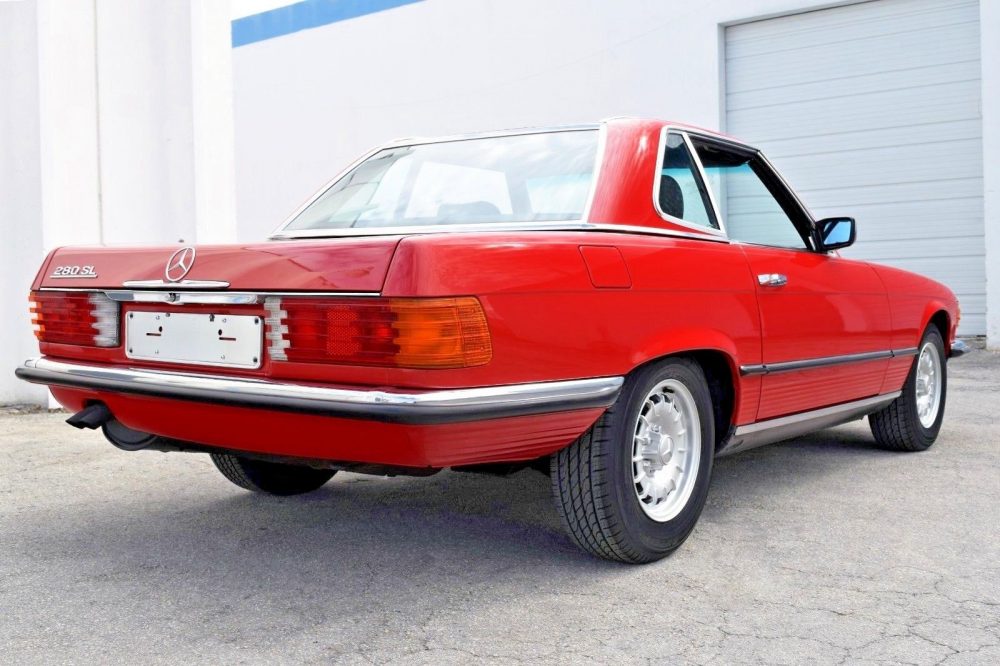 Year: 1984
Model: 280SL
VIN: WDB1070421A013163
Engine: 2.8 liter inline-6
Transmission: 5-speed manual
Mileage: 26,298 mi
Price: $39,500 Buy It Now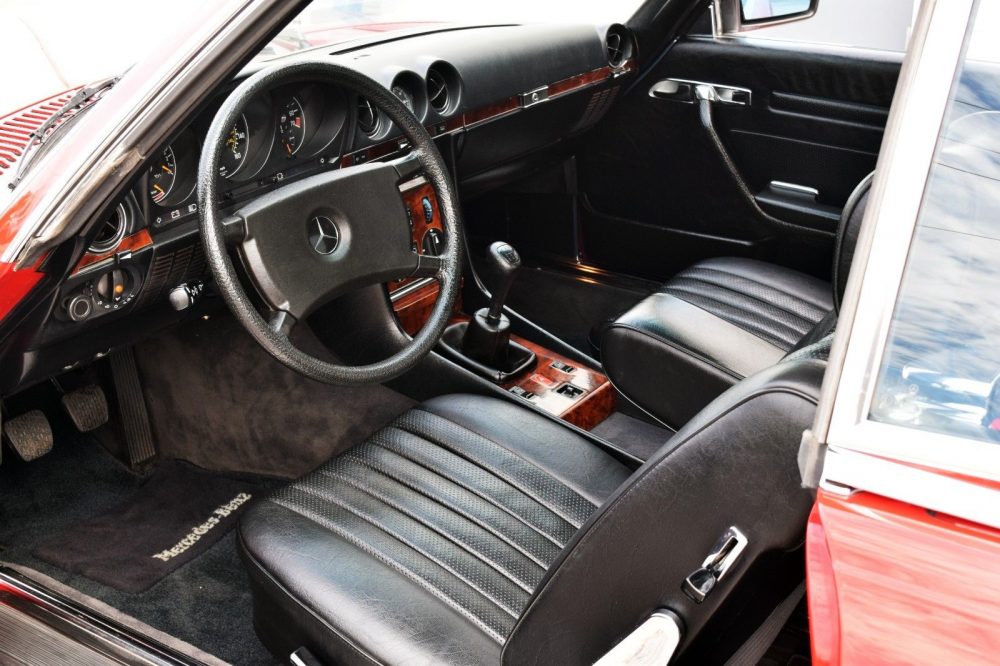 Rare Euro 5-Speed manual, one owner, original paint, original interior, MINT!

This 1984 280SL is very impressive from every angle, a true no excuses car. One owner only, European market Roadster drives amazingly showing its immaculate condition.

The Signal Red paint is all original.

Clan Carfax, VIN WDB1070421A013163

The suspension is tight and there is no play on the bushings and bearings, the steering wheel has no play and no clunckiness, typical of the R107 Mercedes.

The driving experience is incredible; the 2.8-liter twin cam engine is responsive with good torque and it is very well paired to the factory 5-Speed manual transmission, which shifts smoothly and precisely. This car doesn't feel nose heavy like the V8 US cars allowing it to corner nicely, even is spirited drives.

The engine bay shows how well this car has been taken care of, the plating, coating and rubber elements, as well as the stamps and stickers are all there.

This car has and shows 26K original miles with no doubt.

The interior is all original and in impressive condition for a 34-year-old car. The burl wood has a beautiful grain and a deep shine with no fading. The carpeting in the cabin and the luggage compartment looks unmolested as well as the spare tire.

The factory radio works and tunes to your favorite FM Stereo station. The power antenna works perfectly.

The Euro headlights, reflectors and bumpers show impeccably on the rust-free chassis with Eurospec ride height. Rust doesn't know this car.

Except for the tires and the gasoline this car is 100% ORIGINAL, should be in a museum! A Time Machine to 1984!

Serious inquiries Call

305-443-7626 Bernard

305-527-6867 Eddie

Follow us on Instagram for live updates!

@rmcmiami
Can Ship (Insured) Anywhere Worldwide if Needed.
Located in Miami, Florida 33126
Financing Available with Approved Credit
Trades Always Welcomed (UP or DOWN)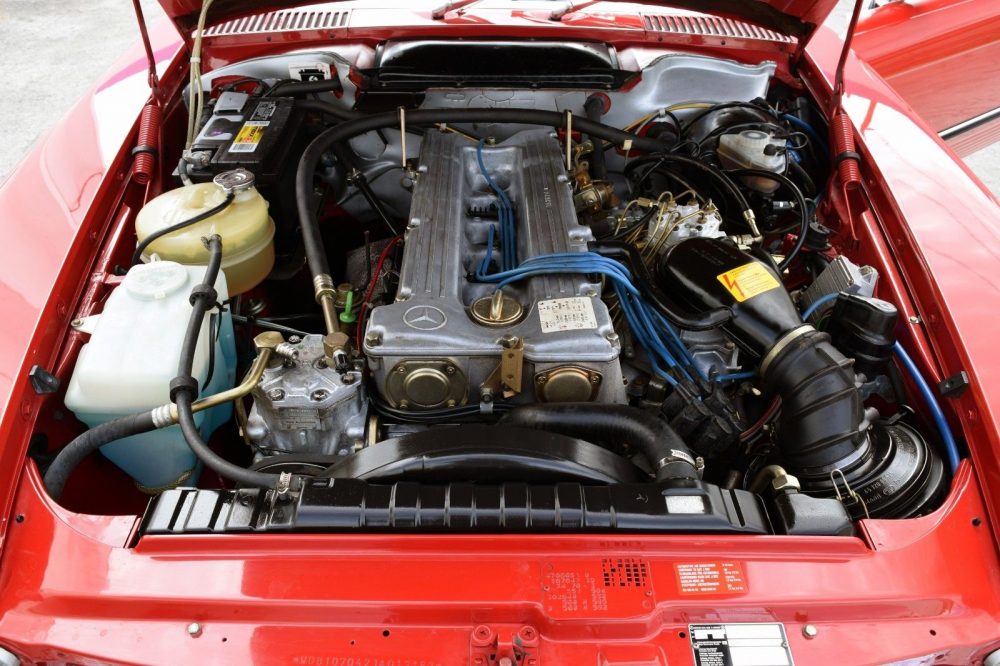 The 280SL 5-speed is exactly what it says. The M110 2.8 liter inline-6 making around 185 horsepower mated to the 717 5-speed manual transmission. Everything you know about the heavy V8s with the lethargic 4-speed automatic in these cars is no more. A R107 that actually feels peppy and not like it has an elephant under the hood. Even better, since this is a European-spec car, it has the slim bumpers and proper headlights. As luck would have it, this example painted in Signal Red is nearly flawless. Everything shines factory fresh and I'm having a hard time seeing any major flaws or issues. The black interior with burl wood suits this car perfectly and the extremely clean Bundts finish the car off great. One more thing to note is the rear jump seats that are installed. It goes without saving that they aren't meant for adults or really anyone with legs in general, but the fact they are present is an interesting tidbit.
Of course, you have to pay for all this perfection. The asking price of $39,500 is high, but considering I see these kind of prices for mint condition 560SLs, I can understand it. Give me this car over a 560SL any day and you will have a tough time convincing me that this won't be the more collectible car as the years go on. The rarity of the European-spec 280SL along with the elusive 5-speed manual will always keep this one in demand, so I don't see how you could lose in the long run if you did pony up for the nearly $40,000. If you really love the R107 and love rowing your own gears even more, this is the one to get.
– Andrew