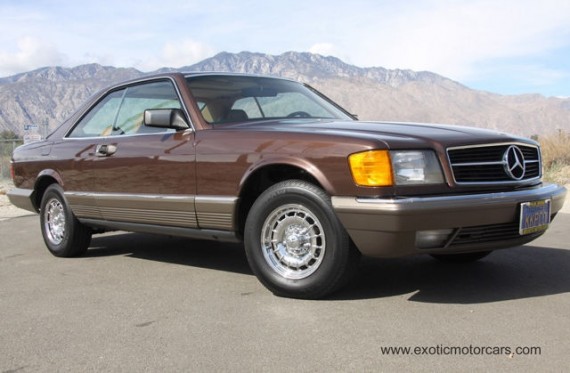 After posting what I considered to be an over priced 911 yesterday, I thought I'd go the opposite direction and post a vehicle that I believe is not only fairly priced but may even be, dare I say it, a deal. To be perfectly honest I've been sitting on this listing for some time because I had hoped to have sold my S4 Avant and shot out to Palm Springs to take ownership of this thing, pending an inspection and test drive of course. It is a vastly different vehicle than the S4 but that's kind of the point of me selling the car, I'm just ready for something different. A two door luxury coupe from the 80's is about as different as I care to get with my next vehicle and man, what a candidate this car is.
The brown over tan interior oozes California country club cool, I like to think that the majority of the miles on this car are from making trips between Torrey Pines and PGA West. Comfortable and relaxing are perhaps the two most appropriate adjectives to associate with this car as the 5.0L V8 only cranked out 184hp. That's not a whole lot for a 3,549lb car but this wasn't a machine built for flat out speed or impressive lap times. This car is all about enjoying the ride, not getting to the destination in the shortest amount of time possible. If you're looking for a luxury coupe that is as happy chasing apexes as it is eating up long stretches of highway then you'll want to look for an E24. It's hard for me to pick a favorite between the two legendary 80's two doors because I haven't an allegiance to either brand. I tend to like more of BMW's cars overall but sometimes I want that little bit of extra luxury that I've always felt a Mercedes Benz offers. While the 635CSI remains on my shortlist of vehicles I'd want to own at some point, surprisingly the W126 500 SEC currently sits above it.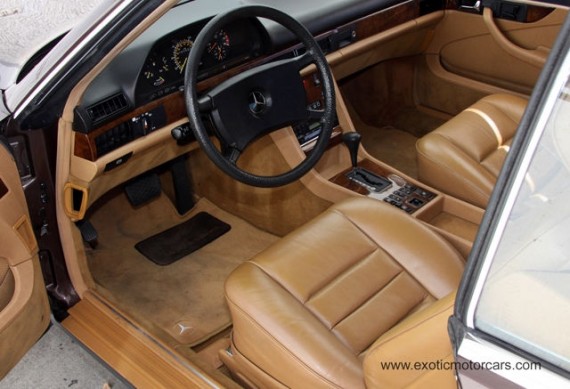 Year: 1984
Model: 500SEC
Engine: 5.0 liter V-8
Transmission: 4-speed automatic
Mileage: 93,521 mi
Price: $11,900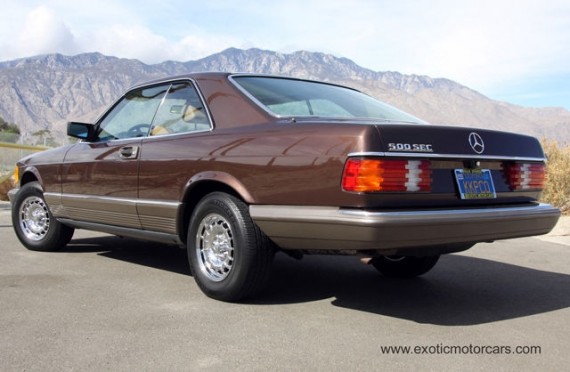 Beautiful Mercedes Benz 500SEC coupe with less than 94,000 original miles. Air conditioning, power windows, door locks, cruise control, power steering & brakes, AM/FM cassette stereo, leather, alloy wheels, and more…. All original car! We offer the finest selection of classic, rare, exotic and luxury automobiles in Southern California.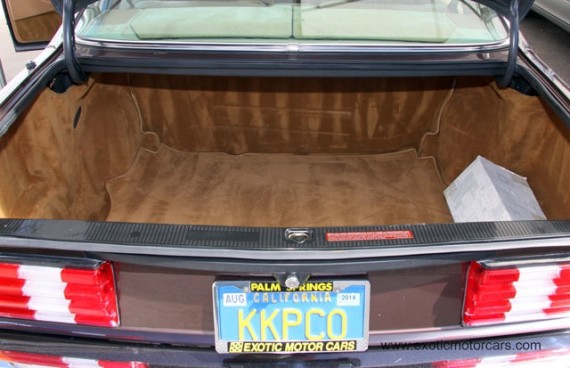 Maybe I'm just romanticizing this car because of it's appearance and my assumption that it was treated well by a couple of retirees but there's just something about it that has me hooked. In addition to the very clean exterior and interior there are a number of pluses to consider with this particular vehicle. The troublesome air conditioning issues have been handled, window has been replaced, front strut bearings have been replaced and it is otherwise an all original car. I happen to know the dealership where it was serviced and they're one of the most respected, well rated Mercedes dealers in California. The CarFax records only go back as far as 1992 so I'd want to do a bit more digging just to find out exactly what kind of life it lived for those first 8 years but all signs point to a good one.
So if you're ok with having the slower of the two W126 SEC's I'd say this is a pretty prime target. At $11,900 OBO and 93,521 miles on it, this car is fairly priced for what it appears to be. If you're on this site I don't need to tell you how mechanically solid a W126 Benz is but I'd like to further praise how much of a solid value it is. Let's say you pick this car up for $10,000, you've got a vehicle that will easily go another 100,000 with usual care and likely another 100,000 with above and beyond pampering. At 10,000 miles a year that's another 20 years of driving at which time the car will be 51 years old. Imagine what this car will be worth 51 years from now if you take good care of it. I mean it's only 31 years old and the damn thing is as much of a style icon now as it was when it first debuted. Change in the general public's taste will always change but I'd be willing to stake my name on the fact that Mercedes from the 80's will always be cool, with one generation or another. I think it's fair to say I'm proof of that as 10 years ago I couldn't have cared less about an underpowered coupe but now that I'm pushing 30, I'm starting to come around and understand the appeal. I hope a GCFSB reader picks this thing up because I'd love to take credit for finding it a good home should I not end up adopting it myself.
Cheers,
-Andrew