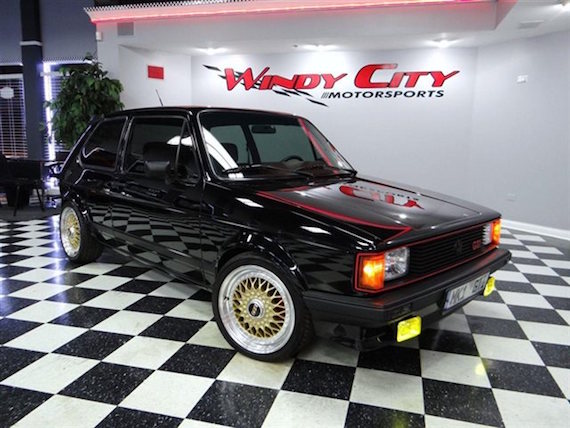 The Volkswagen Mk1 GTI is quickly ascending the classic car ranks and dragging what used to be the most fun performance value available into a serious investment. We've seen nice examples come from Windy City Motorsports before, but today's GTI comes from one of the owners personal garages and features an impressive lineup of modifications. The updates are mostly period-correct, and while they remove any claim to originality, they come together for a beautifully impressive package.
After buying the GTI from its original owner, the seller stripped it down and repainted it, opting to remove the fender flares. Most people want to make their sports cars wider, not narrower, but I can't argue with how great the gold BBS RSs look on a clean body. Lots of other parts were smoothed out too like shaved side reflectors and fender antenna, with tidy Euro bumpers and a Zender roof spoiler yielding a GTI that is somehow even crisper than the outstanding factory appearance Giugiaro blessed it with. The interior is similarly spruced-up 80s with a suede headliner, all-new carpeting, and serious-but-clandestine stereo upgrades. The main performance upgrades are in the suspension, but to call the original 8V engine untouched would ignore the considerable work done replacing pretty much every auxiliary item, gasket, and line.
With just 52k miles, this would be a big-buck GTI no matter what. The well-chosen and comprehensive upgrades come together for a beautiful GTI with enough small touches to keep even the most die-hard VW fan poking around in awe for hours.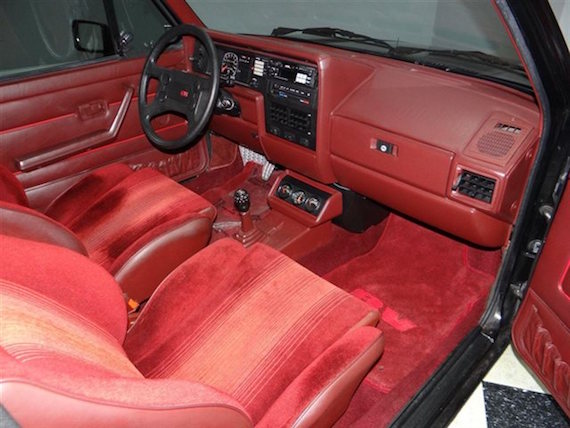 Year: 1984
Model: GTI
Engine: 1.8 liter inline-4
Transmission: 5-speed manual
Mileage: 52,000 mi
Price: $15,999 OBO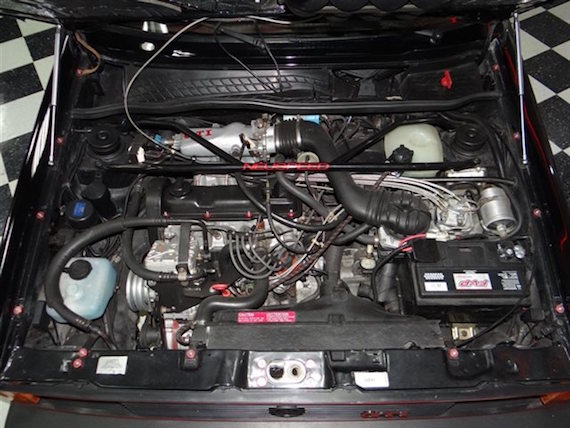 We at Windy City Motorsports are very pleased to offer for sale this stunning 1984 Volkswagen Rabbit MK1 GTI.

***This amazing car is part of my private collection and not part of our regular inventory. I purchased the car several years ago from the original owner. The car was parked in their garage and all original.

Since the paint was original and over 2 decades old, I had it stripped down to bare metal and professionally repainted. The sheet metal is all original and 100% rust free.

I also removed the interior and installed new carpets as well as a matching suede headliner. The seats are all original and like new. I also installed a period correct Alpine pull out head unit and top of the line Alpine remote alarm system with the optional dash mounted keypad.

I hid 2 amplifiers under the passenger seat, and a bass engine under the driver seat just to give it a little depth. I also added power windows and custom mounted the switches to the dash bezel, aluminum pedals, aluminum shift knob, & genuine Lloyd's custom embroidered carpet floor mats.

Trying to keep the upgrades mostly period correct and trying not to comprise the originality too much, the exterior upgrades are subtle and tasteful. The large square side reflectors were shaved, and the bulgy plastic fender flares were removed.The fender mounted antenna was shaved and replaced with a Fuba roof mount. The stodgy metal bumpers were replaced with lightweight European bumpers and smoked bumper lights. I also added a genuine Hella Euro rear fog light. The halogen sealed beams were replaced with projector beam units with HID xenon bulbs, and yellow Bosch Euro fog lights were added. The Rabbit GTI hatch emblem has been changed to the Euro Golf GTI style, but the original emblem is like new and included. There is also a very hard to find NOS Zender rear roof spoiler that gives it a muscular and sleek appearance.

I replaced the clutch, flywheel, axles, steering and suspension components, and also added Raceland coilover shocks in order to be able to adjust the ride height. I also added a genuine Neuspeed upper strut tower brace. The gold BBS RS Style wheels look amazing and are period correct. The original GTI 14″ snowflake wheels are included and in great original condition.

Under the hood, the water pump, radiator, fan, gaskets, seals, battery, alternator, plugs, cap, rotor, wires, AC compressor, stainless steel fuel lines, filters, fluids etc. etc are new. Most other components were removed, cleaned and either painted or powder coated. I replaced the hood prop rod with aluminum gas charged hood struts, and added a racing style battery cut off switch in order to keep the battery from draining when not in use.

I have the GTI owners manual as well as remotes, keys, jack, spare tire, center cap removal tool and also some of the original parts that are included as well.

There is so much more to be said, but I encourage serious buyers to call with any specific questions or concerns and I will be happy to help. I will also be happy to do a virtual walk around with skype, facetime etc. I do not NEED to sell the car by any means, so I will not entertain any low ball offers and and am not interested in any trades. Since this is my personal car, there is no retail sales tax! Free nationwide shipping will be included in the BUY IT NOW price! Thanks for looking, Dan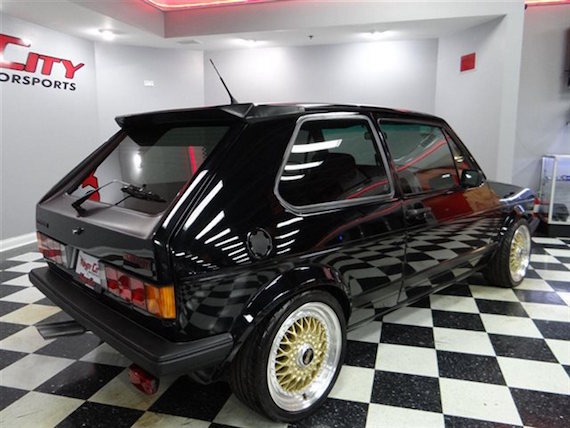 $16k is a lot of money for a GTI. But if you want one of the most special examples we've seen, you need not look any further. Best of all, it comes with most of the original parts, including the beloved snowflake wheels and original Rabbit GTI emblem, now replaced with a sleek Euro Golf GTI badge. With this level of modification, I'd think the next logical step would be to go for a 16V swap like the other GTI Windy City sold. That beautiful Mk1 went for just under $13k, so I guess $16k isn't that crazy. Add in the included nationwide shipping, and this might just be the best GTI out there. Better grab it before they're fetching 2015 E30 M3 prices…
-NR