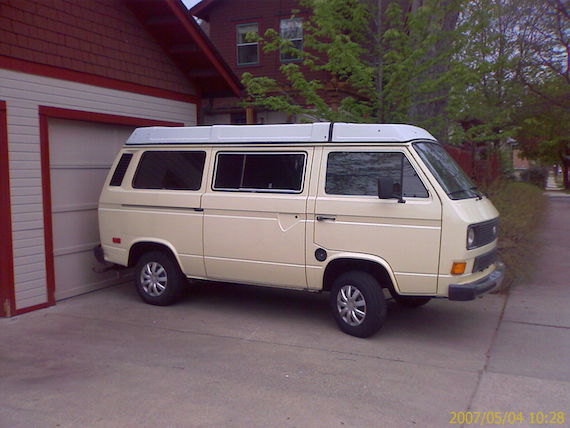 After a day of reflection on independence, I see no better vehicle to represent the ideal than a good, clean Westfalia. Cars in general embody independence, the ability to get in and go, but a Westy means you can go and maybe decide to not come back. Many people live in Westfalias full time, exploring the world and staying in new zipcodes while their pop-top home stays the same. While many command serious new-car money, this 1984 example looks to be an incredible deal. If you can make it through the intimidatingly-long description, you'll find that this van has been loved, gone through, and updated by someone who knows their stuff and truly cared about making a great, functional camper. This is the kind of independence I want in my future, and if bidding remains at such an approachable level, maybe it will be!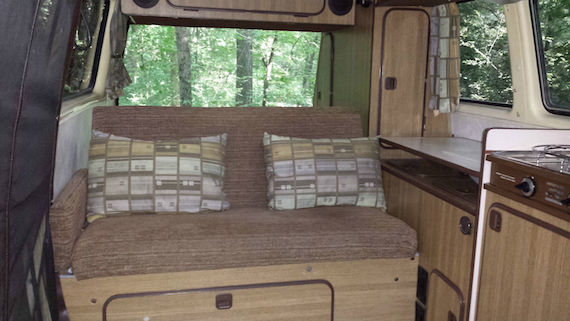 Year: 1984
Model: Vanagon Westfalia
Engine: 1.9 liter flat-4
Transmission: 4-speed automatic
Mileage: 162,000 mi
Price: Reserve auction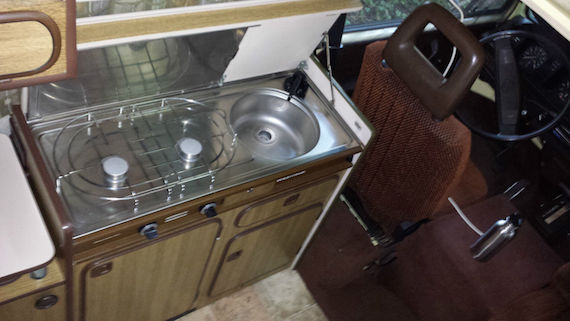 This is a lovingly restored/enhanced Westfalia camper. After searching for one of these for years I bought the camper several years ago from a couple in Colorado. It was in good shape but needed a lot of TLC. I began by removing everything from the inside (seats, cabinets, interior panels, dashboard, etc.) so I could clean, inspect, repair and restore the vehicle from the inside out. After removing the camper interior wall panels and pulling out the original fiberglass insulation (which when/if it gets wet causes the vehicle to rust from the inside out) I scrubbed and repainted the interior with rustoleum to help keep the vehicle rust-free. I put down "Fat Mat" sound deadening barrier on the floor and some wall/door panels to protect them from rust and also to reduce road noise. I cut and installed all new interior panels to replace the old, scratched and damaged panels. I then bought a set of cabinets from a 1981 campmobile because I liked the warmth of the (fake but fun) formica woodgrain cabinets rather than the boring, stock, white cabinets. I installed the cabinets and decided I needed more storage space so I built and installed a small cupboard that is to the left of the spice shelf and converted the original battery/water monitor space into a small storage area. I installed an incandescent light below the custom cabinet which runs off the marine battery and added 4 (110 volt) electrical circuits for fans, lights, chargers, etc. The auxiliary battery and the engine battery have separate chargers so when you are hooked up to electricity at a campsite it automatically charges both of the batteries. The auxiliary battery also has a converter so it can run small 110 volt appliances (fans, lights, chargers, etc.) if you are boondocking (camping somewhere that doesn't have electricity). There is also a small solar charger that can trickle charge either battery. I recovered the cushions on both beds with a durable upholstery fabric and then had complimentary curtains and pillows sewn to complete the look. I added a couple more 12V accessory sockets-one in front and one in the camper area so I could charge my electronic devices without the converter. I found a small Thetford toilet that fits perfectly between the two front seats and then I built a table/cover for it so it was out of site and functional (as a table) when it was not being used as a toilet. The toilet comes in handy when you need to pee in the middle of the night and don't want to make the long trek to the smelly outhouse that are common at most campgrounds.

I had tinting film professionally installed on the windows so the interior wouldn't fade and so the interior would stay cooler, an important factor, since the vehicle does not have air conditioning. I also replaced the top vent with one that is tinted to keep the sun from warming up the interior. I had the underside Ziebart coated to prevent rust and had the paint refreshed with the Maaco Premium Paint package. I replaced all the pop top seals and some of the window seals where it was needed. I replaced the canvas on top with a new 3-window tent which increases the airflow and updates the look. I also had the windshield replaced because the old one, although it was perfectly functional, had lots of little pits in it.

I spent a lot of time, money and effort making the interior more comfortable and functional. I updated the electrical system adding outlets and heavy gauge wiring. I redid the gas lines to the stove and refrigerator. The refrigerator works on 12V, propane and 110V but I rarely run it on 12V because it drains the auxiliary/camper (12V deep cycle marine) battery pretty quickly. (NOTE: the auxiliary battery is not hooked up to an isolator so it only recharges when the camper is plugged in to 110V.) I redesigned and redid the plumbing so that if there ever was a break in a water line it would not flood the camper.

The new upholstery on the couch/beds is durable and classic. The accent pillows and curtains are made from thick material which is light-blocking so neighbors can't see in and you can sleep in because the sun doesn't brighten up the interior when the curtains are closed. I purchased high quality seat covers for the front two seats. I installed commercial grade one-piece vinyl flooring so it is easy to sweep and keep clean. You don't have to worry about bugs, bees, flies or mosquitoes getting in because all the windows have screens including the roll down windows on the front doors. I also have screens for the back hatch and the sliding side door.

I installed a Shady Boy awning which is super easy to use. I then attached some snaps so I could add a screen tent to the side of the camper which is a perfect place to sit and enjoy a cup of tea or read a book. Although this camper is 30+ years old everyone who sees it marvels at how modern and clean it looks.

I installed new bumper caps, exterior side mirrors and hook up ports because the old ones were cracked and faded. I also installed a CD player/radio, which can be used even when the vehicle is turned off. (I like to listen to music when I'm in the camper but don't like to have the ignition switch in the "accessory position" because that engages other devices which can drain the battery.)

It's really quite amazing that a vehicle that can seat four and sleep four with a full kitchen and toilet can all fit into any standard garage. Unlike most conventional RVs this one is fun to drive and easy to park. I have taken this camper on a two week road trip every year since I've owned it with the exception of last year when I was gone for most of the summer. It has traveled from Minnesota to Alabama and back in 2007; Minnesota to Kentucky and back in 2008; Minnesota to Illinois and back in 2009; Minnesota to Tennessee and back in 2010; Minnesota to Indiana and back in 2011; Minnesota to the Ozarks and back in 2012; Minnesota to southern Illinois and back in 2013. I usually take it on several shorter camping trips every year as well. Full disclosure: Only once did it have any problems–the drive shaft broke when I was returning from Alabama. It was a relatively easy fix and I was out camping again the following week. That is not to say it is without any problems. There are a few items that might need attention: after it is warmed up, the engine revs (to about 800 rpm) and drops (to about 650 rpm) at a regular interval when stopped at a light. I've had a few mechanics look at it and none of them seemed too concerned about it so I've learned to deal with it. Also the temperature gauge runs high. In my attempt to correct this I've changed the thermostat, changed the temperature sender, flushed the radiator and done several other things. On my other vehicle the temperature gauge sits at about the mid-range, this one sits just below 3/4. I've asked my mechanic about it and he thinks it's the gauge itself that is at fault because the coolant temp was within normal specs when he tested it. I was told when I bought the vehicle that the engine was replaced at about 130,000 miles but I have no proof of that other than the fact that one of the cylinders has a higher compression than the other three which wouldn't likely happen if it were the original engine with factory specs.

I always maintain my vehicles according to the recommendations (regular oil changes/filters; flush coolant system, flush transmission, etc.) Some of the other mechanical items I have taken care of include a new drive shaft (2007), new accelerator cable (2007), new belts and hoses (2008), new heater blower motor (2009), new o2 sensor (2010), new alternator (2011), new exhaust system (2011), new Midas brakes (2012), new deep-cycle marine battery for camper (2012), new engine battery (2012), new Kumho heavy duty tires and alignment (2012), new trailer hitch (2013), new heavy-duty springs (2013), new pop top tent (2014). I'll also include the Bentley Manual for this vehicle which I have found invaluable when working on the mechanical details of the vehicle. I'm not a mechanic but I was able to identify and tell the shop about certain details (like how to reset the counter when replacing the o2 sensor) because of the detail of the Bentley manual. This vehicle is driven only during the summer and stored in a garage during the winter so as to avoid any road salt damage. This is a smoke-free and pet-free vehicle. I average around 18-21 mpg–not bad considering you are hauling a house on wheels. lol

I did a lot to improve the camper but, like any vehicle this age, some of the improvements were trade-offs. As I mentioned earlier, I had new heavy-duty springs installed because when I first started driving the camper it felt top-heavy and would sway in the wind, bounce up and down after going over a bump and lean deep on turns. To correct this I had lowering springs installed. The camper now tracks much better and is much more stable but the ride is rougher. I guess that is the trade off. Also, when I changed out the water system, I had to by-pass the external input for filling the water tank; this means you have to bring a hose into the camper to fill the water tank rather than filling it from the water port on the outside of the vehicle. It was worth it to me to know that I wouldn't have any water leaks but some might find that an inconvenience. Finally, a couple of things to note. The vehicle did not come with rear seat belts and I never installed any because most of the time I go camping I go alone and never needed any rear seat belts. The fiberglass luggage rack which is on the roof above the driver cab has a dent/scratch in it which is visible if you are on the roof looking down on the camper. I have never used the luggage rack and didn't see any need to replace it since it was still fully functional as it is but I feel it is important to mention it just because it is one of the few items that keeps this from being showroom perfect. Also, there are a couple of small dings on the side of the camper from people swinging their doors into it when I was parked. All of these can be seen from the pictures.

One of the best things about owning a camper like this is the joy it brings to others when they see you tooling down the road. People often give a thumbs up or a peace sign when they see a VW bus or a Westfalia camper. I'm not sure why but it puts a smile on a person's face when they see one of these campers. If a person who owns one of these happens to see you parked at a campsite expect them to stop by and chat. They love to look at other Westies and share and compare. There are regular events across the country where owners of these vehicles come together as a family to share their stories and their love for the Westfalia camper. When you think of all the vehicles on the road today, and how rarely you see one of these beauties, you begin to realize just how rare and wonderful they are. Perhaps that's why most owners are so attached to them.

I am very reluctant and sad to sell this camper. I have loved it and enjoyed owning it but because of a change in my living situation I no longer have a garage to store it in so I have rented a place to store it for the past couple of winters but I'm realizing that it's time to say goodbye to my beloved camper.

As you might be able to tell from this write up I am detail-oriented and very meticulous. I really believe this is one of the best Vanagon Westfalias you will find. I have tried to be as up-front as possible in my description but if you have any questions just let me know and I will get back to you as soon as possible.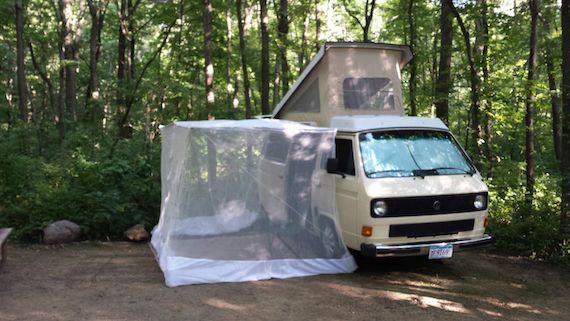 Detail-oriented indeed, but I love it! This description leaves zero questions. There will be small projects ahead, but so many basic elements have been impressively taken care of. Bidding is hot as I write this with almost 30 bids, but the price is still well under $10k which seems crazy to me. Anything under $15k for this is an absolute steal, and you could even argue that higher than that would be reasonable. For a loved, functional Westy, I don't think you're going to find a better deal than this.
-NR