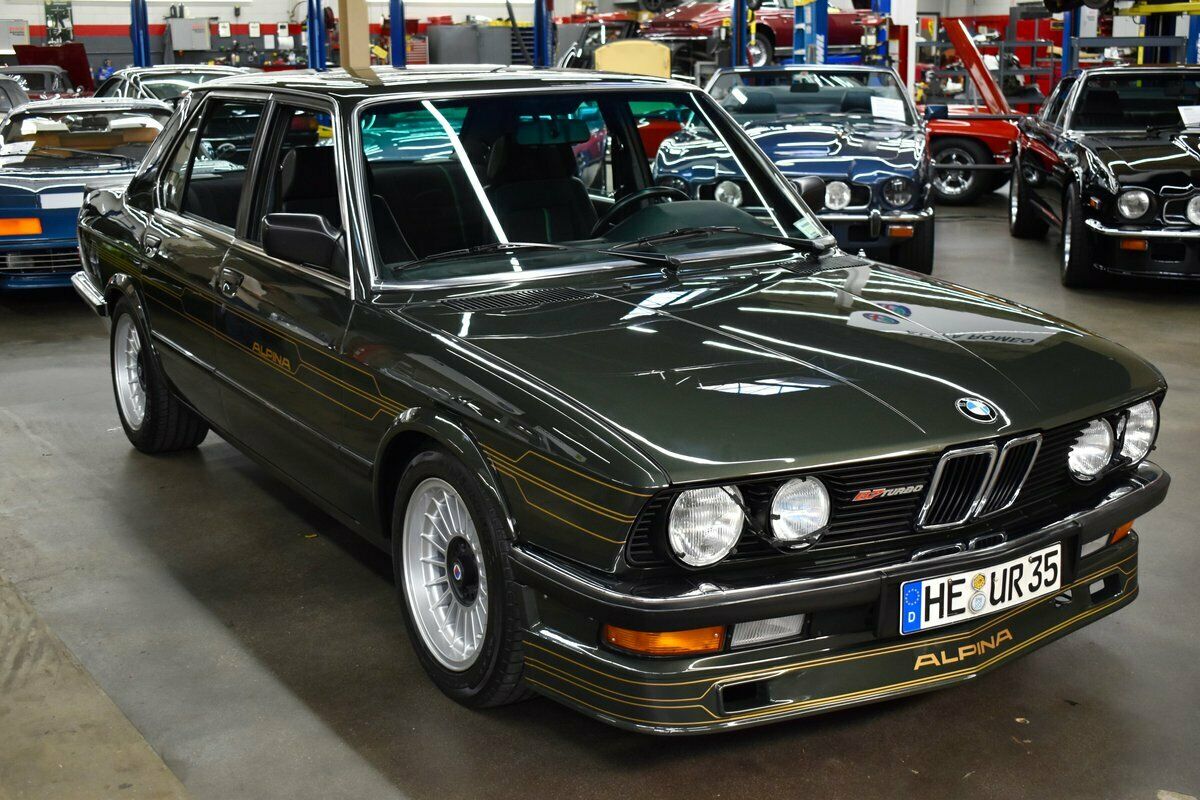 It was a simple, straightforward solution – but its effect was profound. By adding a KKK K27 turbocharger to BMW's M30 inline-6, Alpina made quite a splash and firmly cemented its name in the hallowed halls of the 'World's Best Tuners'. The result of that marriage coupled with adjustable boost, an intercooler and special injection was 300 horsepower and 340 lb.ft of torque – in 1978! Even the much-lauded and celebrated Porsche 911 Turbo Carrera had less power from more displacement; the 3.3 turbo flat-6 produced 265 horsepower and 291 lb.ft of torque. If the Porsche 911 Turbo was a supercar killer, the B7 Turbo was a 4-door 911 assassin. The Alpina was the real deal, and ever since then they've been at the sharp end of the world's fastest sedans.
Beyond just looks, the Buchloe firm of course added signature deep chin and pronounced trunk spoilers. Large (for the period) 16″ alloy wheels wore 225 section tires in the rear to help transfer that power, while specially specified Bilstein shocks were mated with stiffened and lowered Alpina-spec springs and sway bars. Inside, sport seats were outfit with Alpina's beautiful striping, while extra gauge pods read out critical engine performance measures.
The second generation of B7 launched in 1984, and some 236 were made through 1987. A catalyst-equipped version was introduced in 1986 and added another 42 to the tally of E28 B7 production. The standard B7 Turbo/1 used much of the same formula as the E12 generation had, and again it was a 300 horsepower monster at the top of the food chain. Today, you can be owner of #66 of this exclusive club: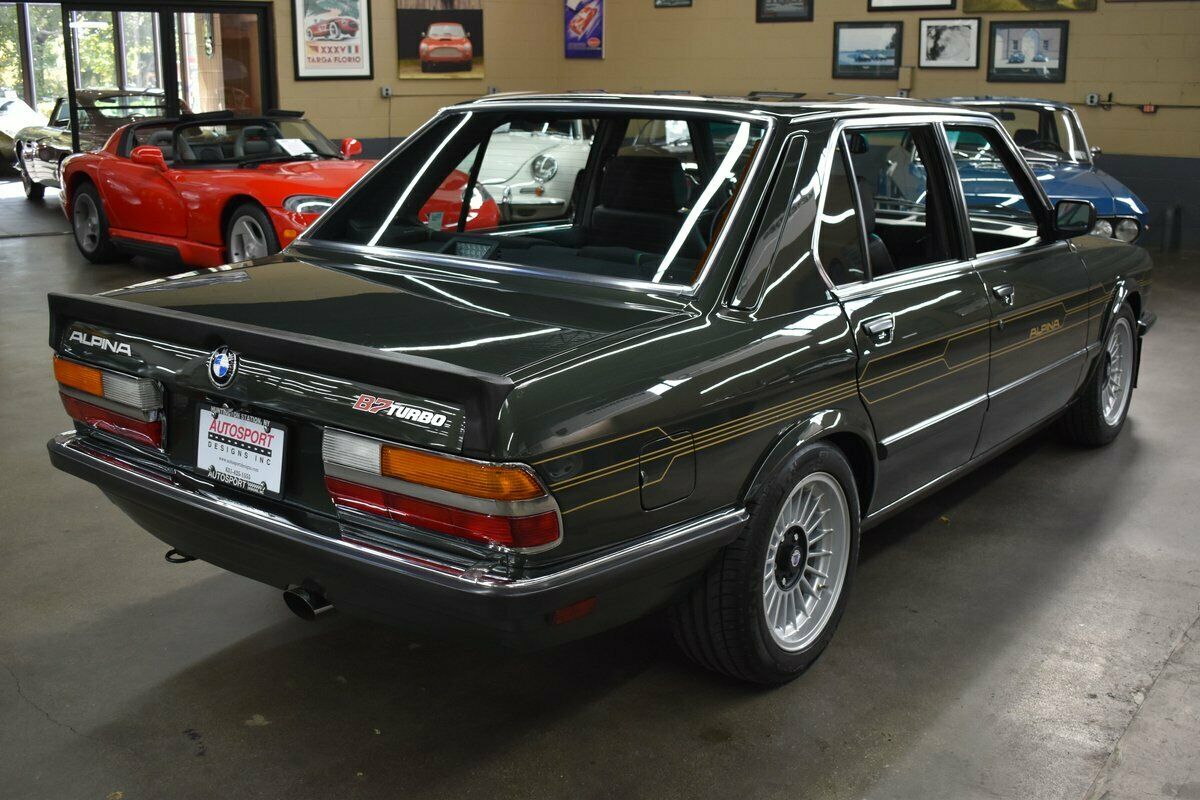 Year: 1985
Model: B7 Turbo/1
VIN: WAPB7TL014B710066
Engine: 3.5 liter turbocharged inline-6
Transmission: 5-speed manual
Mileage: 158,000 km (~98,000 mi)
Location: Huntington Station, New York
Price: $189,500 Buy It Now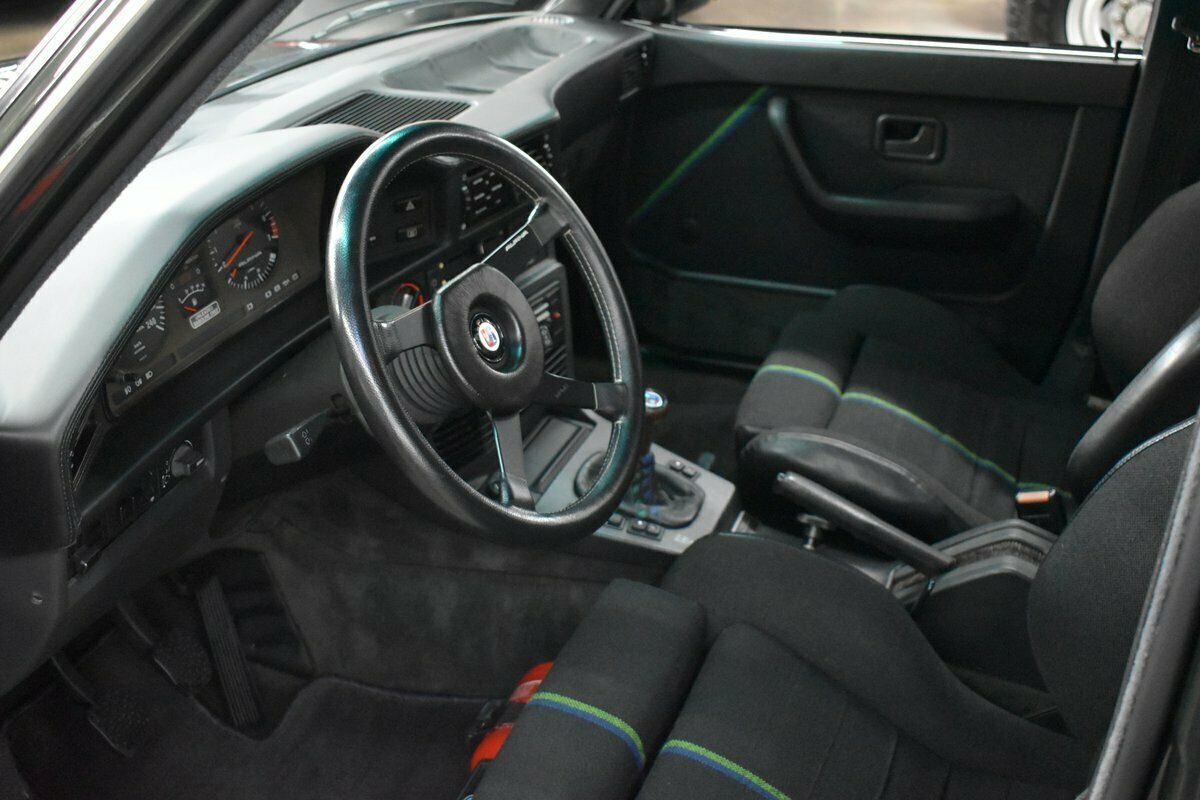 -Agate Green Metallic (177 Achatgruen Metallisch) with Black velour Alpina seating and Black carpeting, 158,000 km/97,000 miles from new, 5-speed manual, 1 of only 4 examples believed to be in the United States, excellent throughout.

The Alpina name is synonymous with the fastest and rarest BMWs sold and they are not from BMW's headquarters in Munich. In Buchloe, Germany approximately an hour's drive from Munich and BMW's home base-factory, Alpina's dedicated workforce tune, modify, upgrade and hand-assemble the cars with exceptional care and precision befitting their reputation in the BMW tuner world for performance and quality.

Both F1 champions, Niki Lauda and James Hunt raced BMW tuned by Alpina in the 1970s. Alpina saw a business model that brought detuned versions of their racing counterparts to the street as road going "tuner" BMW's. Having built an excellent product at all times, Alpina built a strong and loyal customer base that has followed ever since and with the blessing of BMW, the manufacturer.

This Alpina B7/1 Turbo is believed to be 1 of only 4 such models imported to the United States and number 66 of 236 examples manufactured by Alpina at their Buchloe, Germany facilities between 1984 and 1987. Complete ownership history is on file from new. This B7 Turbo was originally imported to the USA to Portland, Oregon, but spent most of its life in Southern California before being moved the East Coast in late 2009.

Power from its 3.0L inline 6 Cylinder engine is rated at 300+ HP and 369 lb-ft of torque thanks to Alpina-engineered tricks like a reprogrammed Motronic injection system, Modified cylinder head, Lighter pistons, Larger cam, Free-flowing header and three-inch exhaust system. Suspension and brakes are also unique to the B7/1 Turbo, having been upgraded from its standard 5 series counterpart. The B7's single KKK K27 turbo has not only been rebuilt, but also upgraded with a slightly larger and lighter turbine wheel which allows faster spool-up and the ability to hold boost through to redline. Even by modern standards the car remains extremely fast with sub 6 second 0-60 MPH acceleration and a top speed of nearly 170 MPH.

This B7 Turbo has enjoyed enthusiast ownership throughout its life thus far and has received sympathetic restoration when and were needed to keep in its current exceptional condition. The interior remains all-original with Alpina-striped Recaros driver and passenger sport seats with matching upholstery for the rear seating. A leather-covered dash and Alpina-specific, VDO-made computer/vent unit housed in the center of the dash visually distinguish the cabin from standard E28s. Gauges with the Alpina logo, MOMO steering wheel, wooden shift knob and striped door cards signify this B7 being a product of the 1980's German tuner world. A plaque located just behind the shifter confirmed Alpina's limited manufacture and exclusivity.

Once again, the condition of this B7 Turbo is superb in every way both mechanically and cosmetically. Under previous ownership, this B7 has won multiple concours and car show awards. It has also been featured in the August 2010 Hemmings Sports & Exotic Car article where the author described it "as fast, sorted and meticulously detailed." This is a link to the article….stories/article/bmw-m5-vs-b7-alpina

The Alpina is offered with full records from day one which includes original purchase and importation paperwork as well as full detailed maintenance records through its three ownerships and is ready for immediate use and enjoyment.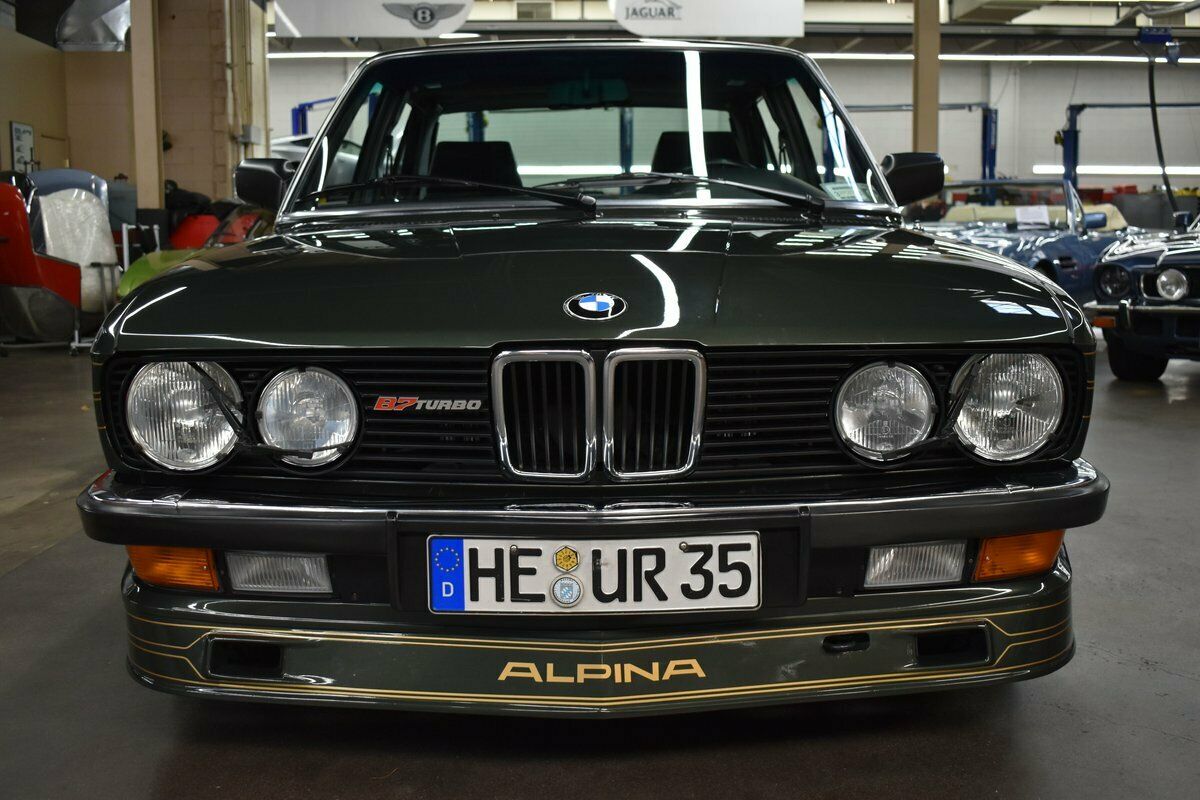 Number 066 has been in the US for quite some time – since new, in fact, according to the Alpina Archives. It's since been restored to its original glory, and boy – is it impressive. As always, the tiny details on these cars amaze. They are not subtle, but they are also so exacting in their execution that – at least to me – they emerge as absolutely spectacular. Agate Green Metallic may also be the hands-down best color for these cars, or perhaps any E28. It is just such an impressive package. Impressive, too, is the asking price – nearly $190,000. However, considering what other BMW legends trade for – the E30 M3 and 850CSi, for example – this seems in line with the market. I do wish it was more affordable personally, but I also understand why it's priced where it is. I just wish I could go back in time to when this sold for $60,500, though!
-Carter