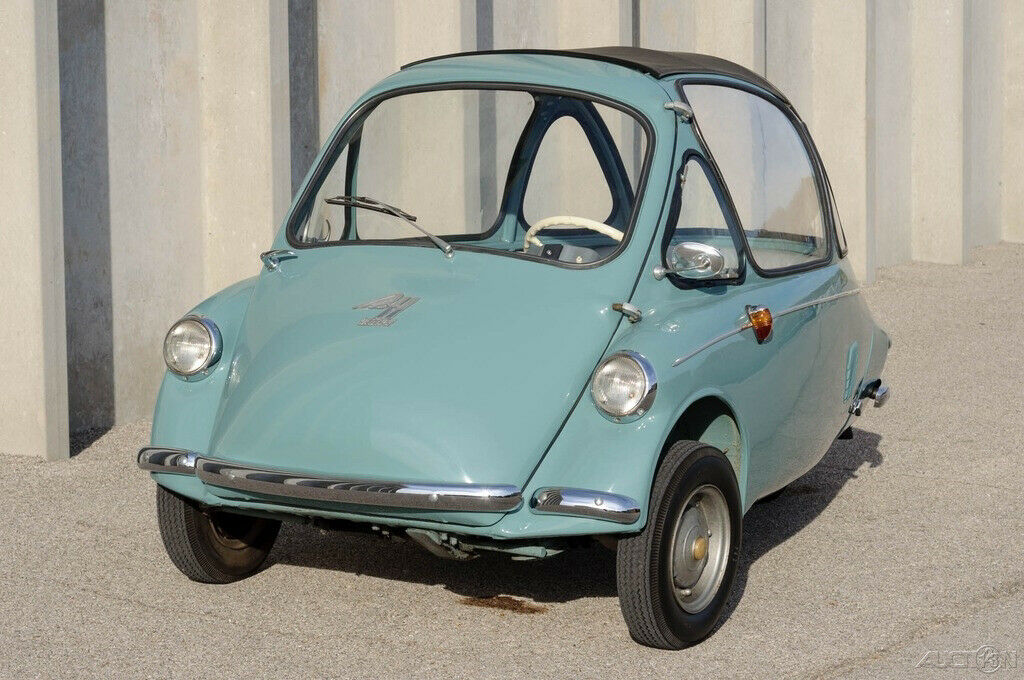 It's always fun to take a look at something different – and bubble cars certainly are different. I've previously looked at several different German variants, including one that looked quite similar to today's Heinkel – the Trojan 200:
The similar looks were for good reason; the Trojan was a licensed copy of today's car, the original Kabine. There were three Kabine variants made; the Type 153 with a 174cc four-stroke air-cooled single, and two versions of the Type 200, which had a 204cc motor in '56 and a 198cc motor from '57-'58. This is the latter of that group, and while it's perhaps not the most exciting, or fastest, or most practical, or prettiest, or even…well, really it's not a car, it's still cool to see: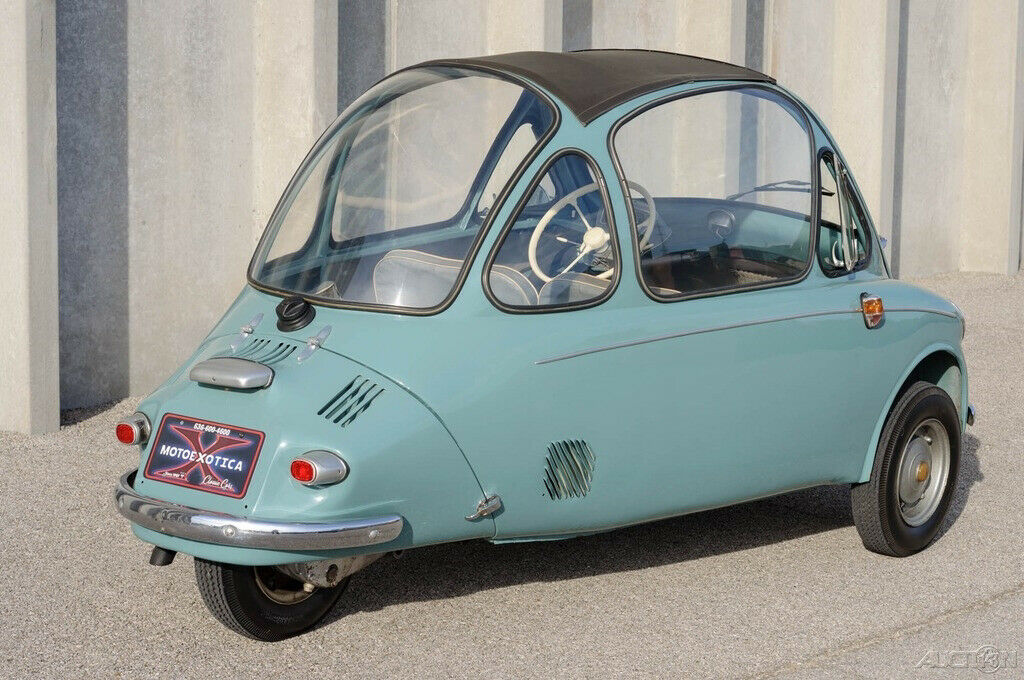 Year: 1957
Model: Kabine 200
VIN: 1534867
Engine: .2 liter single
Transmission: 4-speed manual
Mileage: 24,000 km (~15,000 mi)
Location: Fenton, Missouri
Price: Reserve Auction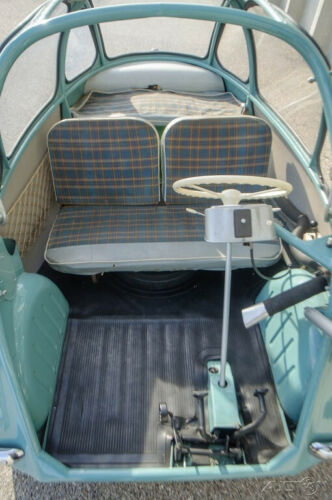 1957 Heinkel Kabinenroller

• 198cc or 0.2L single-stroke, OHV one-cylinder motor
• Four-speed manual transmission with rare reverse gear
• Light Blue exterior with black sliding convertible top
• Plaid patterned interior
• Refreshed fuel system with rebuilt gas tank and carburetor – almost 59 mpg
• VDO gauges
• Owner's and workshop manuals
• Technical reference data
• Top speed of 56 mph, 69.3-inch wheelbase and 27.9-foot turning radius
• Documentation includes the original owner's manual, workshop manual and other documents, including a binder with photos

And now for something completely different…If you ever wanted a BMW Isetta three-wheeler, this is your next unique best chance. This is a 1957 Heinkel Kabinenroller that was produced by German aircraft manufacturing company Heinkel.

Following World War II, Heinkel was prohibited from manufacturing aircraft and instead built bicycles, motor scooters, and the Heinkel microcar. The company eventually returned to aircraft in the mid-1950s, licence building F-104 Starfighters for the West German Luftwaffe. In 1965, the company was absorbed by Vereinigte Flugtechnische Werke (VFW), which was in turn absorbed by Messerschmitt-Bölkow-Blohm in 1980 and later became part of Airbus.

Finished in Light Blue with a black sliding top, the paint and trim are in overall very good condition, the steel unit body is straight and solid. The engine bay is tidy. A cargo area behind the seats is in good overall original condition.

This German micro car rolls on Trelleborg tires, size 4.40-10 at all three points. Each tire is mounted on steelies and all tires and wheels are in good, original condition.

In back is a 0.2L, single-stroke, overhead valve, one-cylinder motor connected to a four-speed transmission on the left side of the cabin. "Kabine" is German for "cabin." The Kabine had a steel unit body. Access to the interior was by an opening in front. So as not to infringe Iso Rivolta's patent used on the Isetta, the steering wheel did not hinge outward with the door to ease passenger access. However, it did feature a reverse gear, unlike some other bubble cars. The fabric sunroof served as an emergency escape hatch should the sole door in front become jammed in a collision.

Inside, the original patterned interior is in overall good shape, as are the floormats. An ivory, three-spoke steering wheel offers some contrast. The single door is right-hinged and contains the sole windshield wiper. The small dash panel, with its VDO gauges and ancillary controls is in very good order.

The Heinkel Kabine was a microcar designed by Heinkel Flugzeugwerke and built by them from 1956 to 1958. Documentation includes the original owner's manual, workshop manual and other documents, including a binder with photos.

Competition to this Heinkel during 1957 included the BMW Isetta, Citroën's Prototype C, FMR's Tg500, Fuldamobil, Kleinschnittger F125, Messerschmitt KR175 and KR200, Peel's Trident, SMZ's S-1L.

The Kabine featured prominently in the 1959 film, "I'm All Right Jack" and the 1961 film, "Murder in Eden," and was briefly featured in the 1957 films, "Blue Murder at St Trinian's" and "The Naked Truth (aka Your Past Is Showing).

If eclectic models like this are in your collection and you want an addition, you would do well to appraise this Heinkel today at MotoeXotica Classic Cars.

VIN: 1534867

This car is currently located at our facility in St. Louis, Missouri. Current mileage on the odometer shows 23,978 miles. It is sold as is, where is, on a clean and clear, mileage exempt title.

GET OUT AND DRIVE!!!


Note: Please see full terms and conditions listed below that pertain to the purchase of any said vehicle, thank you.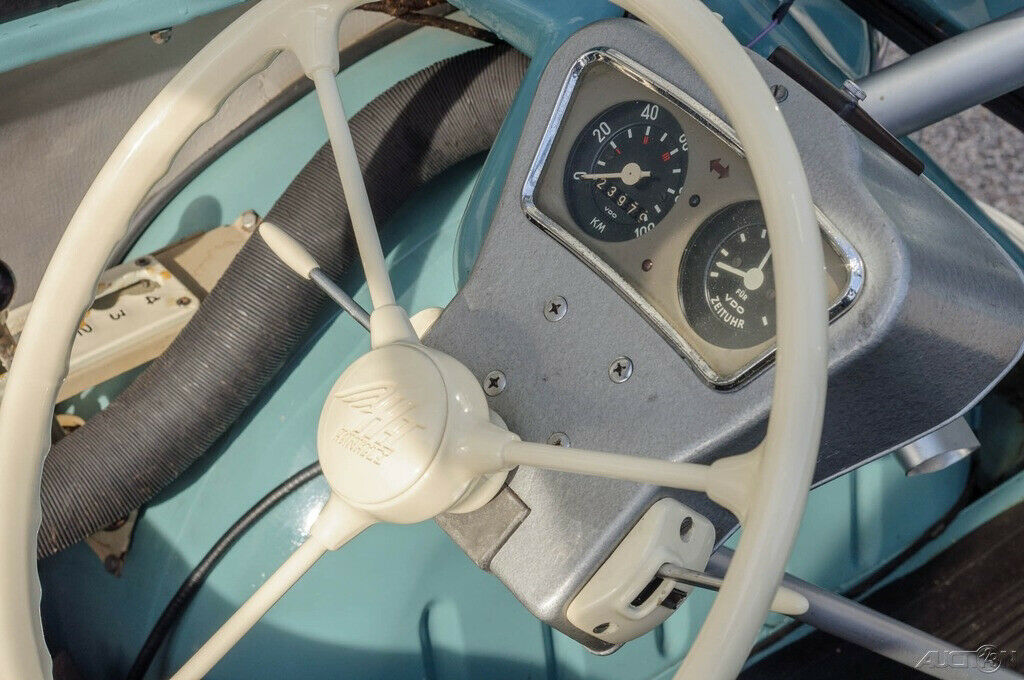 Obviously, this isn't a car for everyone, but these are always fun to take a look at. Truth be told I imagine driving one in modern traffic – with trucks 7 feet off the ground – must be fear-inducing. Still, if you want to stand apart and make a splash at an arrival, as in if the Jetsons just arrived, perhaps this is the car for you.
-Carter