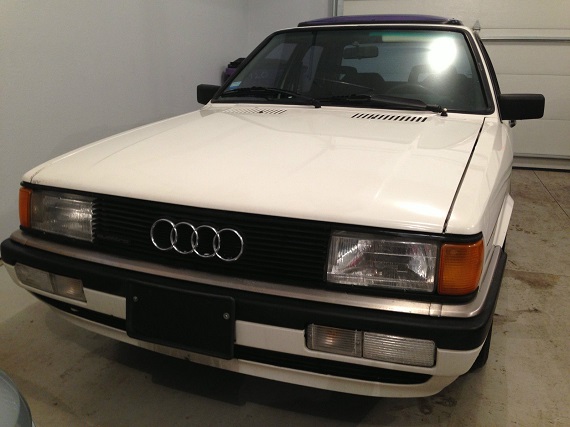 You know, it's funny; we can seem to go months without seeing a clean 4000 Quattro, and then suddenly there is a wave of 5 or 6 in a row. Without a doubt, last week's time capsule 4000 Quattro was the nicest of the bunch, but the asking price was enough to scare many folks away. That car was certainly also a rare color combination, and while today's Alpine White 1985 4000S Quattro gives that 1987 a run for it's money in overall condition, it's not nearly as rare a color combination. Despite that, it's much more appealing to me for one important reason; I bought the near-twin of this car as my first car back in 1996. It's hard in some ways for me to believe, but this is about as identical to my first car as you can come nearly two decades later. Mine was also Alpine White over brown cloth with nearly the same mileage as this car when I originally purchased it. For me, then, even though we saw arguably a better condition "Time Capsule" 4000 with lower miles only a few days ago, this is the car that brings me back.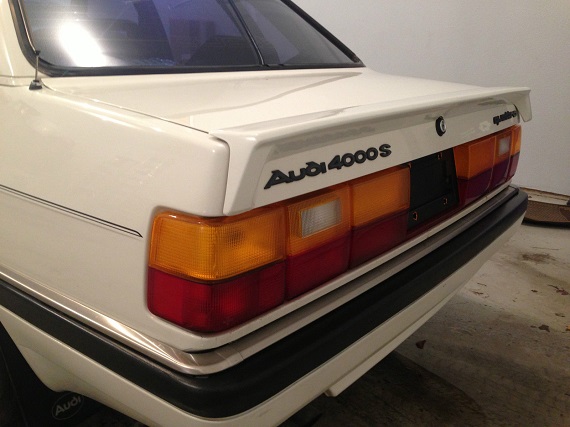 Year: 1985
Model: 4000S Quattro
Engine: 2.2 liter inline-5
Transmission: 5-speed manual
Mileage: 112,000 mi
Price: No Reserve Auction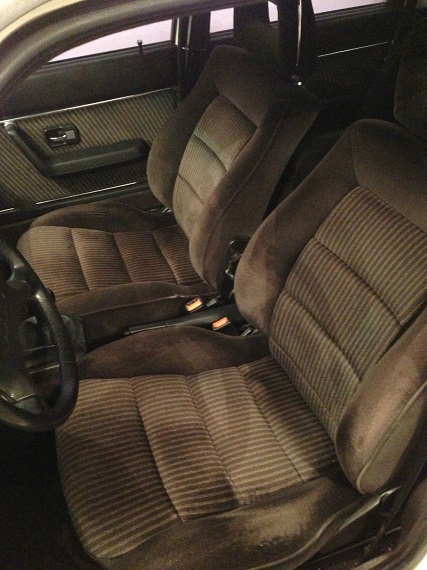 You are looking at (and possibly bidding on) an absolute time capsule. I will try to give an exhaustive description of the car to encompass all that I would want to know if I were perhaps considering the purchase of a car sight unseen. Here goes: I own an operate a premier German repair shop in Denver. Look us up on the internet–we are Paddock Imports. We predominantly work on German cars, with a special interest in BMW, Porsche, and Audi. This Quattro has been under our care since 2007, when the second owner bought it. Roger was a meticulous owner, and attended to everything we ever recommended on this car. He brought this car to us twice yearly and let us know that it was an "open credit card" situation. As such, we took meticulous care of his beloved Quattro. The mileage on this car is low because Roger also owns a Porsche, an E39 BMW M5, and a Ford F250. This Quattro was a little hobby car for him, and as such, it got driven sparingly. Eight months ago, Roger told me he was selling the car to make room for a collector Saab he bought. After I got over the shock of him buying a Swedish car (better him than me) I jumped on the opportunity to buy this Audi for my son. Caleb turned 16 last year and I had been looking for a reliable car for him to drive to school and hockey. I therefore bought the car and went through every single nook and cranny to make it mechanically perfect. Heres the list of what we did to it 8 months ago: timing belt, spark plugs, distributor cap, distributor rotor, drive belt, timing belt roller, water pump, water pump seal, brake master cylinder, brake proportioning valve, expansion tank, expansion tank cap, camshaft seal, drive belt, coolant antifreeze, new door handles, all new fluids, and new battery. Parts alone (I did the labor myself) totaled almost $2000. Suffice it to say, the mechanical condition of the car is virtually flawless. I would get in this car and drive it to Connecticut tomorrow. The only reason we are selling it is that Caleb has to drive himself and two of his teammates from school to hockey, and quite honestly, the car isn't big enough for these boys and their gear…not even close. We therefore bought Caleb a BMW 528 wagon. So the Audi goes to the next steward. Here are some bullet notes:

Mechanical: Absolutely flawless–it doesn't leak a drop of anything. not a single spec. starts in the bitter cold and runs flawlessly.

Glass: perfect–not a scratch or chip in any of the original Audi glass.

Clutch: plenty of life left in it–engages low and has great feel.

Body: not a single spec of rust anywhere on this car. It has been a Colorado car it's whole life and we do not use salt here–hence no corrosion. The paint has tiny chips here and there commensurate with its age, but you have to look hard to find them. I drive a brand new BMW M5 and this car honestly gets more thumbs up.

Interior: Indistinguishable from new!! The dash is perfect with no warping or cracks, the old school felt seats are perfect with no tears, the seats are firm and supportive, the door cards look new, the headliner is perfect, and the original floor mats still look amazing!! Interior is by far and away the most amazing part of the car—a true time capsule.

Tires: 85% and balanced perfectly…I know because I did it myself.

Electrical: absolutely everything works–even the sunroof. the passenger front window is going up and down slowly, but I will attend to that before the auction closes.

Heat: blows very warm and strong

Radio: my son had me install an Alpine deck with Pandora and iPod hookups. I also installed Fosgate speakers for him. Sounds really nice.

I am sure I forgot many things, so if you have questions, please feel free to call me on my cell phone. Doug Paddock at 303-807-1863.

Bottom line, you are bidding on a super low mileage, pedigreed Audi, that looks and runs perfectly. It will give some lucky buyer years of faithful service. I am positive that I will never get all they money out of it that I put into it, but you know the old saying: One man's dream…another man's bargain. My family now officially has 4 cars and a 3 car garage, so the Audi is now at my shop. I am therefore selling the car at NO RESERVE. That's right. High bid takes her home. I will be happy to help with shipping arrangements.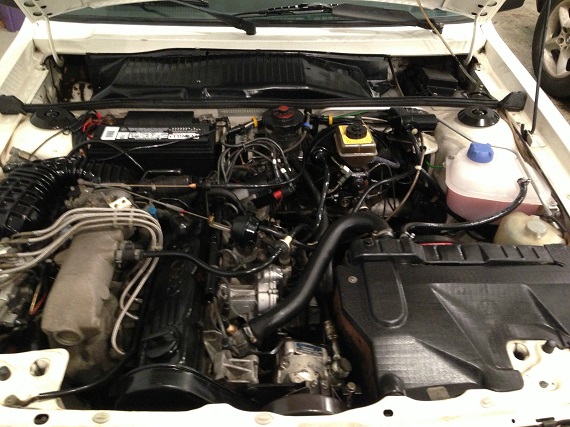 Over my ownership, my appreciation for the stout 4000 Quattro grew and I'm not alone in that. I paid around $2,500 for mine in about identical condition to this car 17 years ago, and sold it with around 140 on the clock and a bunch of improvements 10 years ago for…you guessed it, $2,500. Since then clean 4000s have started up the appreciation chain, cresting $5,000 just a few years ago, and now serious buyers are talking about $10,000 to get into a clean one. That comes as a bit of a surprise to the enthusiast community that has followed them all along, but like so many cars we feature here on GCFSB it's a simple matter of math; you can't find a clean example and return it to the condition of a car like this for $10,000. Does that make the car worth $10,000 plus? Well, for the right person, it just may. It shouldn't come as much of a surprise, either – just look towards the E30 market and even the quickly appreciating 944 market to see where these cars that were once throwaway second-hands are going. If you're interested, don't wait too long; we're not quite to the buy a shot one to restore point on the 4000 Quattro, but when clean prices start to head towards $15,000 start expecting it. There's the secondary issue of what else you can buy for that money, but like many other cars – the A1 Golf, the E30 BMW, and many others, that argument doesn't hold because if you want the platform, you don't really want anything else. Want a 4000 Quattro? This is the car to buy, folks.
-Carter