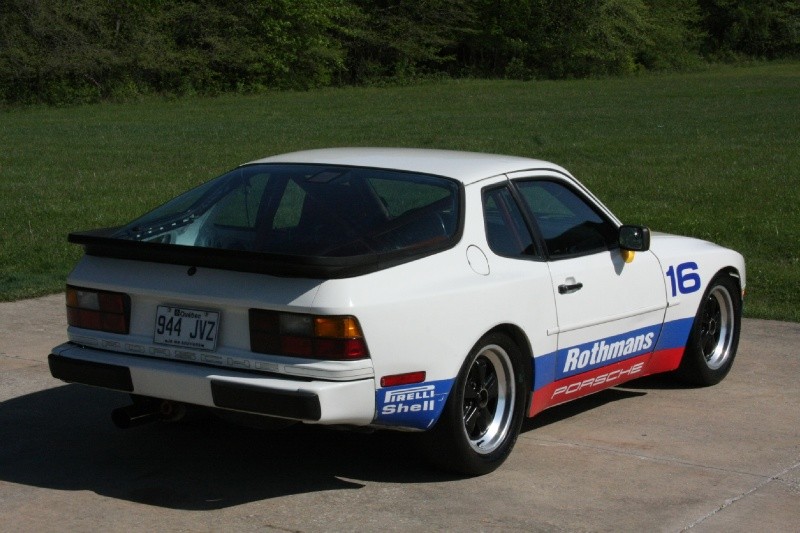 If you don't know about the Rothmans Cup 944s, you'd be not the only one. As one of the lesser known single-make race series from the 1980s, the Canada-only Rothmans Cup series didn't have the flashiest, fastest cars on the planet. It wasn't even as crazy as the later Turbo cup, where the cars had magnesium and unobtanium bits. No, what the Rothmans Cup was all about was the bare-bones racing. Some of the best drivers in the world signed up, proving the idea was a good one – and the sealed motors ensured a level playing field. It was all about the driving! To help a bit though, the Rothmans cars were stripped to the bones; no A/C, no power steering, no sunroof – and they were beefed up with the M474 Koni suspension and M220 limited slip differential. This isn't the first time I've written up a 944 Rothmans car, as last year we saw a Rothmans Cup in need of a restoration that had trouble trading hands. In much better overall shape and ready to race, this car looks splendid in its original colors: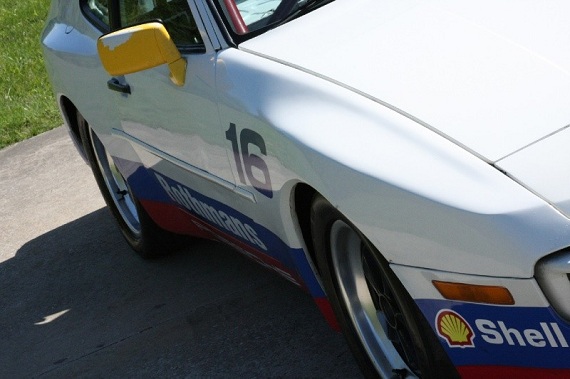 Year: 1986
Model: 944
Engine: 2.5 liter inline-4
Transmission: 5-speed manual
Mileage: N/A mi
Price: $24,990 Buy It Now
1986 Porsche 944 Rothmans Cup

Call 440-914-0000 or email sales@mcgohio.com

1986 Porsche 944 Cup Car

Rothmans Cup car, CASC numbered!
One of only 31 built in 1986!
Fully maintained and ready to race
NASA 944 Cup eligible
Corbeau racing seat
Fresh Koni Sports
Get your feet wet in racing with a piece of Porsche history!

One-make series racing has been around forever, and here was Porsche's first effort with the 944–the Rothmans Cup cars from Canada. Stripped of most amenities, these cars were still very close to stock, and the series boasted such racers as Scott Goodyear, Paul Tracy and Ron Fellows. One of only 31 built in 1986, this is one of the rarest Porsche factory racers ever built.

The cars started out as standard 1986 944 shells with no sunroof, no power accessories, no air conditioning, no insulation, no power steering but with the upgraded M474 suspension and M220 limited slip differential. They had the 1986 US and Canada 944 motor with 9.7:1 CR and 150 HP. They weighed somewhere around 2688 lbs, about 100 lbs less than the standard 944. The cars that ran in this series were ordered "en masse" from the Factory by Porsche Canada as option-delete cars, and they were not able to be purchased by the general public – not only did you have to be "in the know" but you also had to purchase the car – for the express purpose of running it in the series – from the dealer that was sponsoring you. So, you had to agree to race the car, and the dealer had to agree to sponsor you, before you could take possession of the car. All cars were dyno tested to ensure engines were all within 2% HP and then sealed to ensure they were not tampered with or modified.

The series was a totally Canadian Series which was the brainchild of David Deacon who was at the time the marketing manager of VW/Porsche Canada. 31 cars were built by Porsche on special order and sold to race teams in Canada. Sponsors included Porsche dealers and firms like Denon and Reebok. The series ran at Mosport, Shannonville, Mt. Tremblant and other eastern tracks as well as Westwood (near Vancouver, now closed) and other Western tracks.

This car is an active race car, with NASA logbooks. If you're looking at getting a REAL Porsche race car, this car is a total bargain, and it will do nothing but increase in value.

At the Motor Car Group, we're enthusiasts first. We want you to enjoy your new car from the minute it's delivered and the trailer door drops. Before a car leaves our shop, it's gone through comprehensively, both visually and mechanically. We do more than just kick the tires, though: We fill your tires with nitrogen, road test (if the weather permits us here in Cleveland!) and clean it inside and out. We buff the paint using a three-step process immediately before it's taken away so that it gleams when it arrives. Every car we sell, from Sunday drivers through the rarest exotics, is meant to be driven–get out there!
If you have any questions before, during or after the sale, do not hesitate to contact us. It's what we're here for! Call us at (440) 914-0000, write us at sales@motorcargroup.com or stop by and see the new shop at 6441 Davis Industrial Parkway, Solon OH 44139. We're 26 miles from Cleveland Hopkins Airport and we can pick you up when you come to inspect or purchase your car. We welcome any prospective buyers, their buyer's agents or inspectors from Monday through Friday during business hours, as well as evenings and weekends by appointment. We're car people who love what we do, and you'll feel it from the first time you contact us. Give the R&H crew the opportunity to serve you: Our passion and attention to detail set us apart!
Call 440-914-0000 or email sales@mcgohio.com!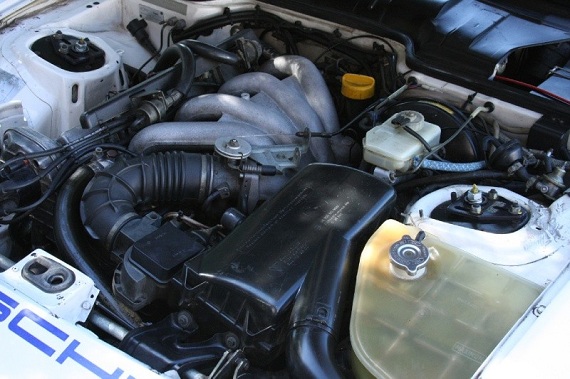 There isn't much outside of the car's description that I can add, other than running these 944s can be quite affordable if you don't go crazy with the motors. The Rothmans cars are the lightest 944s that were sent to "market", but buying into a factory-prepared race car such as this puts you into some pretty rarefied air in Porsche circles without breaking the bank. As they were always race cars and special order, they're recognized by the factory and eligible for entry into events like the Rennsport Reunion and other classic race series, as well as the very active PCA Spec 944 series. Keep it simple, keep it original, and likely the seller is right – it probably will increase in value. It's priced fairly appropriately considering what it is, and especially considering $25,000 would only rebuild a motor in some other factory Porsche race cars. Plus, it's running Rothmans livery – and looks so right!
-Carter