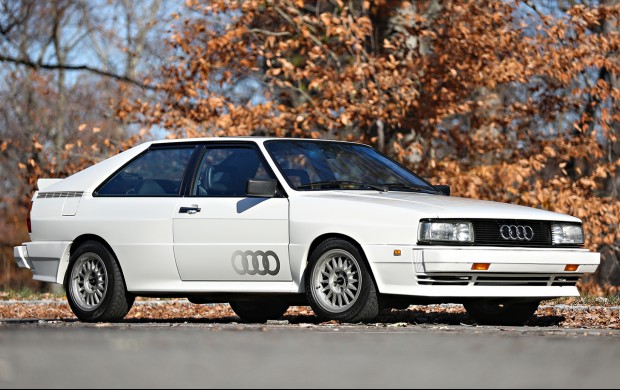 It is, admittedly, quite hard to lump the importance of one car into the same category with yesterday's M3. But if there's a German car from the same period that deserves to be mentioned in the same breath, it's certainly the Quattro.
True enough, the U.S. version wasn't really as quick as you'd expect it would be considering the Deitous stature levied upon it by fans of the brand. But if you looked up "game changer" in the dictionary, an image of the Quattro should certainly appear next to it. So advanced was the thinking behind this car that today it's still the recipe being followed by many manufacturers nearly 40 years later. And those iconic boxflares that the M3 sprouted? That's right, they appeared here first. While in some ways the re-work of the design sullied Guigiaro's clean silhouette, the result was monumental and again the basis for all of the important be-flared WRC fighters that came after. The M3 was only one to copy the style; the Celica Alltrac Turbo, the Escort Cosworth, The Lancia Delta Integrale, the Subaru WRX, and the Mistubishi Lancer Evolution are but a few of the turbocharged, all-wheel drive and box-flared cars that would go on to become legendary in their own right. But the one that started it all has finally gotten some recognition over the past few years. Great examples of the Quattro are few and far between, so when they come to market it's something very special. And this particular Quattro is really exceptional: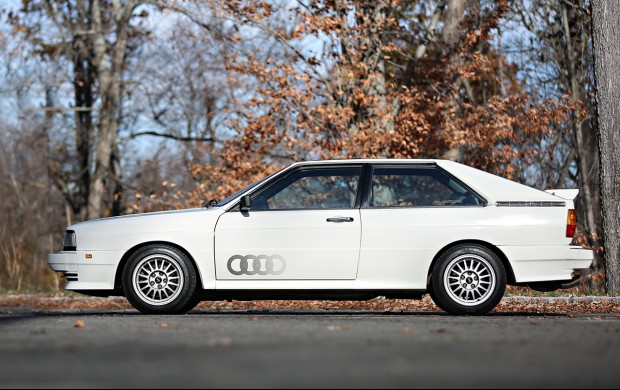 Year: 1985
Model: Quattro
Engine: 2.1 liter turbocharged inline-5
Transmission: 5-speed manual
Mileage: ~32,000 mi
Price: No Reserve Estimate $70,000 – $90,000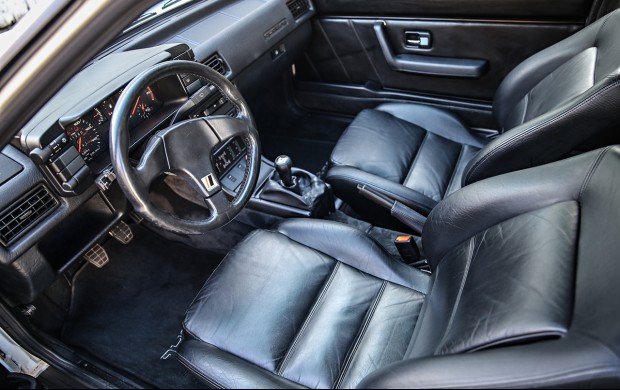 Distinguished Provenance and Likely One of the Most Significant Examples Extant
Extremely Original and Displaying Less than 32,000 Miles
One of Just 75 Quattros Produced for the US Market in 1985
Known History with Current Ownership of 18 Years by Quattro Enthusiast
A Unique Opportunity to Acquire a Truly Outstanding "Ur-Quattro"

When World Rally Championship rules allowed four-wheel drive, Audi took advantage, introducing the groundbreaking Quattro in 1980. It dominated international competition for nearly a decade, and a desirable early run of street cars followed, known as "Ur-Quattros."

Displaying less than 32,000 miles, this example has led a distinguished life. The current owner of 18 years, the former general manager and principle of an Audi dealership, is a devoted Ur-Quattro collector, having owned seven. He states that the car remains almost completely original, including paint and interior, and that it was Audi of America's show car and display modle is the SCCA World Challenge series.

During the mid-1980s, Audi of America gave this Quattro to German motor sports legend Jo Hoppen, its race team's manager, according to a letter in the file from Shokan Coachworks' John Smith. A Quattro enthusiast and Hoppen's friend, Mr. Smith states that it was then owned by Steve Beiser, whose team prepared the SCCA World Challenge series Quattros. A letter from previous owner Gerald R. Bouchal, who purchased it from Mr. Beiser, said: "The car itself was the 'show car' which received all the trick pieces that the race cars had but was not used for competition purposes." Mr. Bouchal noted the car included a balanced, blueprinted engine with performance camshaft and turbocharger. Meticulously preserved, this Quattro represents an unrepeatable opportunity to acquire one of the most original, and most significant, Ur-Quattros in existence.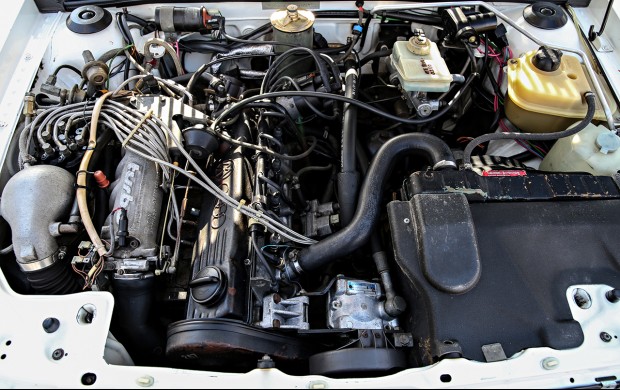 The listing does a good job explaining why this particular car is significant. However all of the '85s are significant, as they featured some upgrades to the model; they carried the same revised dashboard as the other Type 81/85 cars did in 1985, as well as the sloped grill associated with the bumper and light refresh. '85 Quattros originally wore a unique sloped-quad headlight setup which is highly desirable because of its rarity, but honestly I think the H1/H4 Euros do look better personally. The trunklids were also painted body color (early models were matte black on the upper portion), and now had stick-on badges rather than the stickers early models ran. Other upgrades include the later fusebox, less prone to issue than the early car, and a few other odds and ends. While Gooding claims 75 were imported, Audi lists only 73 as the number. These really are about as rare as Audis get.
Unlike most, this one is truly exceptional, too. The L90E Alpine White paint looks great, as does the interior. The original four-spoke wheel has been replaced by a Nardi wheel, but otherwise the rare all-black leather looks brand new. Outside of the Euro headlights and Scorpion stainless exhaust, the exterior also shows as completely untouched. Couple that with an interesting history associated with Hoppen and the SCCA World Challenge cars, along with AoA ownership, and this example really does have few peers. There really is little to complain about here, other than that if you're a fan of the Quattro you likely can't afford one of this stature. Where these cars could be had for a song just a few years ago, the top estimate at $90,000 probably sounds shocking to you. Yet compared to contemporaneous models it almost seems reasonable. Case in point? A 1989 BMW M3 sold via BaT this week at $102,000. Doesn't this Quattro deserve the same amount?
-Carter