Before we move any further, yes, I know this is a Ford. Ford isn't German, you're sure to say, not even when they're masquerading as Merkur. Right you'd be. However, allow me a bit of latitude; first, Henry Ford was I'm fairly confident the only American to receive the 'Grand Cross of the Supreme Order of the German Eagle' from one Adolf Hitler. I always love to toss that one into a conversation should I be cornered with a true-blue American-devotee proudly wearing a Ford hat at a social function because he's also a 'car guy'. "You know Henry Ford was basically a Nazi, right? I mean, beyond hating the entire Jewish race, he was also a megalomaniac who wanted to create his own master race of workers. No, I'm not joking – it was called Fordlândia. Look it up." The conversation usually ends quickly after that.
Too edgy?
Okay, how about this – Ford Europe's headquarters is in Cologne, Germany. And they produce a fair amount of cars in Germany even today. Since we consider the Volkswagens built in Chattanooga and Westmoreland, the BMWs built in Spartanburg, and the Mercedes-Benz models bolted together in Alabama, I think we can deviate for a moment into a hot Ford.
So what Ford is it? In many ways, this is the perfect follow-up for the Quattro. Audi and SAAB helped to mainstream turbocharging, and by the 1980s it was almost expected in performance circles. That culminated in a wave of ever increasing performance hot hatchbacks that completely changed our perception of speed. As newer, faster models emerged, the technology increasingly filtered its way into lower-spec models until the results of all of the turbocharging basically were acknowledged to be wrecking the world's environment. I call it 'Trickle-down Turbonomics'. The result? The Fiesta RS Turbo you see here:
Year: 1991
Model: Fiesta RS Turbo
Engine: 1.6 liter turbocharged inline-4
Transmission: 5-speed manual
Mileage: 71,995 mi
Price: Reserve Auction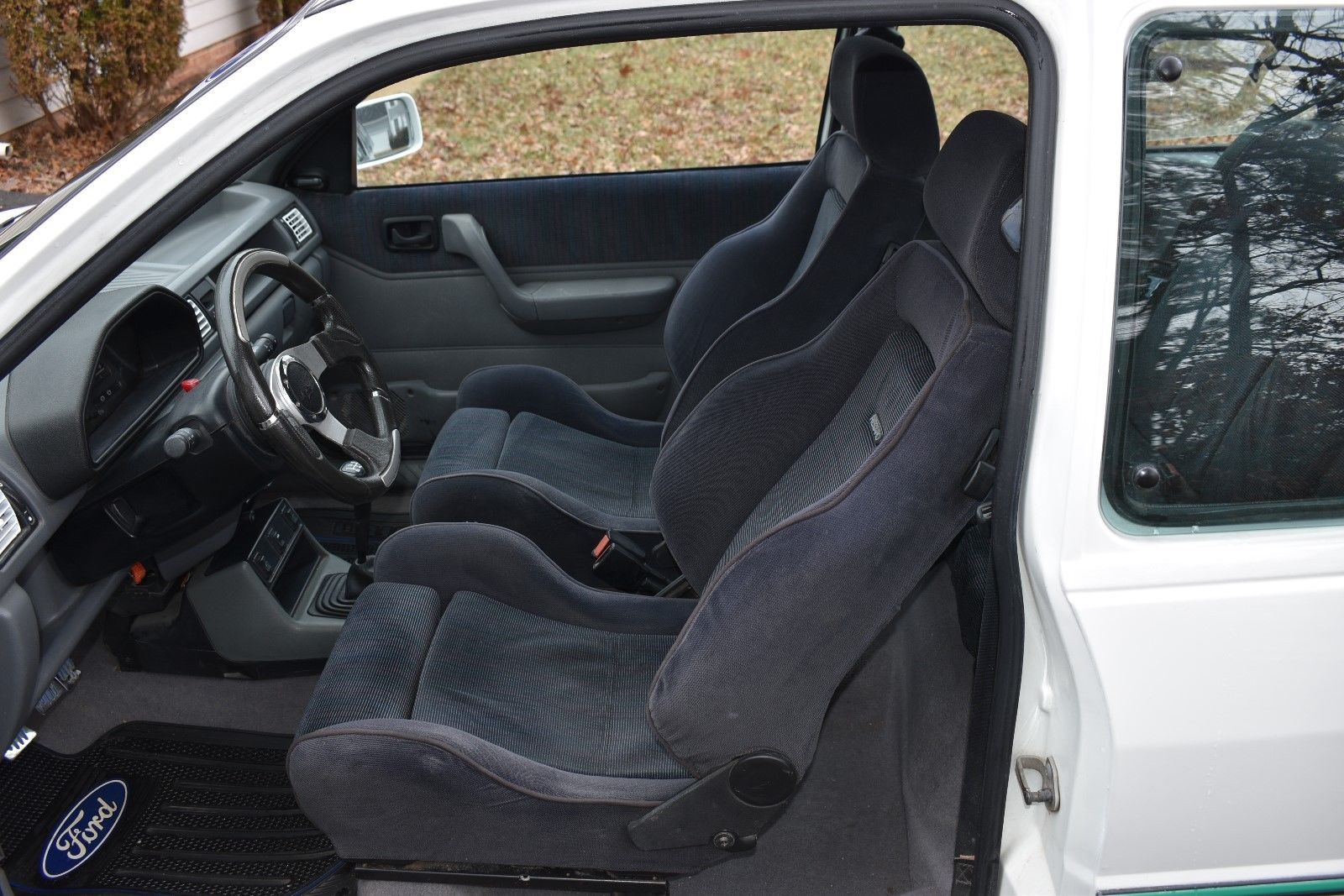 The Fiesta RS Turbo was the high-performance model in the Ford Fiesta Mk3 range and was introduced as a three-door version only in April 1990 with production continuing until 1992. As an example of the excesses of the bygone 'hot hatch' age, the Fiesta RS Turbo from the early Nineties is typical. This was an affordable little Ford with an extrovert approach and a Porsche-like punch. Those who could tame the peaky turbo, the torque-steer and the handling under acceleration loved them. And the same is true today. Theoretically, it was only available from specially appointed Ford RS dealers, which was a bit of a marketing ploy. Powered by a potent CVH 1.6-litre four cylinder turbocharged engine with a Garrett T2 turbocharger, it was blindingly quick, developing 132bhp with a top speed of 133 mph and a 0-60 time of 7.9 seconds. The transmission was lifted from an Escort RS Turbo and the suspension was beefed up also. Visually, there was a set of 14'' RS alloy wheels, a body kit, green rather than blue stripe mouldings, colour-coded rear spoiler and door pillars, opening rear quarter windows, green tinted glass and RS bonnet louvres. Anti-lock brakes . Inside the car, the differences included raven coloured Recaro seats trimmed in Benetton/Ascot and a grey leather trimmed gear knob , electric windows and central locking. The Fiesta RS Turbo is a 'pocket-rocket' – no doubt about it. Mid-range acceleration is awesome. Thanks to the standard limited slip differential, it grips like a leech too. Today there are very few Fiesta RS Turbos left ( you can only find a couple in the English ebay ).

The car presented here then, has been recently imported from Italy and is something very special. It is a completely standard 1991 Fiesta RS Turbo, having covered only (115,866 KM) 71,995 ORIGINAL miles . The car has been part of a collection and has been kept in superb original condition. Always been garaged. The engine sounds and runs great never been molested ,recently inspected with oil and filters changed. Brand new turbocharger purchased in England for 1200 pounds. Tires and brakes are in excellent conditions. The car is in excellent overall conditions inside and out , Rust Free as you can see from pics.

VA title is clear and under my name.

VIN n. VS6BXXWPFBLA15406.

This is a real opportunity to buy a special example of a rare 'Fast Ford'.

For the English market the shipping costs are around 700 pounds.

Bid with confidence and only if you are really interested in the purchase, if you have any questions feel free to contact me at 804/9160574 or email me at : idem03@yahoo.it.

Thanks for looking and happy bidding!!!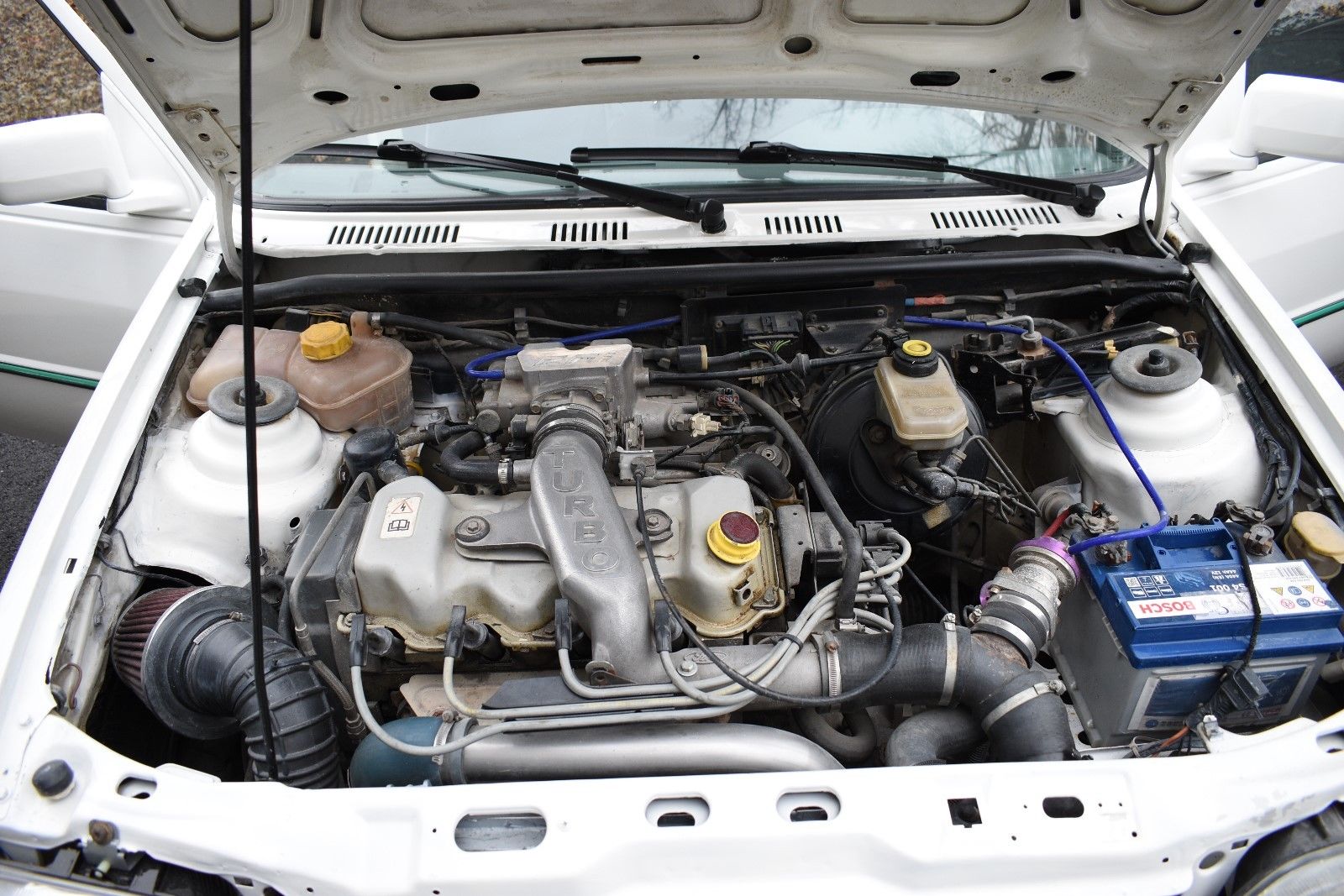 The Fiesta RS Turbo was produced only for a short time. It borrowed the 1.6 liter turbo from the XR2i Escort, but moved from Bosch's KE Jetronic injection system to a new proprietary and more tunable electronic injection. In Fiesta RS trim that meant 133 horsepower and 135 lb. ft of torque at 2,400 rpms – numbers which nearly exactly matched the Volkswagen 9A 2.0 16V, but with a more peaky turbo woosh. 0-60 arrived in a few ticks less than 8 seconds and the top speed was nearly 130 mph. Like the GTI, the Fiesta RS came outfit with a specially-trimmed Recaro interior, special alloy wheels and was available in only a few colors. This one is Diamond White and all the RS Turbos came with green trim stripes as shown, along with a mini-Cosworth look. Turbos went out of vogue due to emissions changes in the early 90s, so the RS Turbo had a short life – only living from 1990-1992, making these collectable pocket rockets in the same vein as the GTI.
Pricing is steep here, but then this is a unique car to see in America and far cheaper than a Sierra RS or Escort RS/Cosworth will run you, and with the Fiesta ST currently the love interest of many enthusiasts, this original model can be viewed as having some potential to increase in value down the road. However, you can also still pick one up in England for about $7,500. Or, you could look at this Escort RS Turbo for under $10,000. In both cases you'd still need to import the car here, so you'd have to add quite a bit to the price tag. The seller's ad copy is pretty heavily lifted from this Royal Auto Club review, and other reviews generally say the same thing – this is a fun car that should be relatively cheap to run but isn't without its quirks.
To stand apart from the crowd with a unique "classic" is all the rage today, and this RS represents a way to draw a crowd on a short budget. Still, it's all the money for a pocket-rocket, so you'll have to want to pass over superior driver's cars like the BMW M3, nicer all-arounders like the Audi S4, and better hot-hatches like the Mk.5/6 GTI in order to be unique at this price point.
-Carter