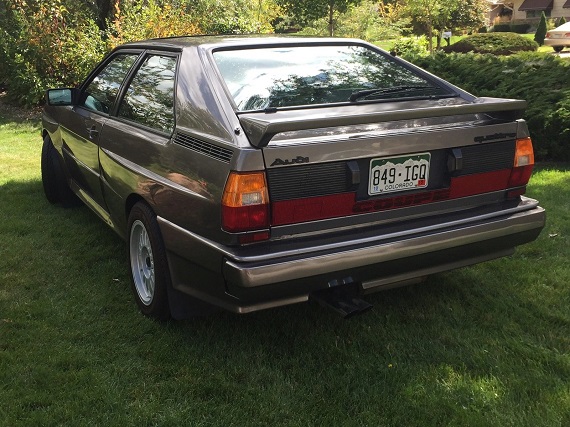 Rounding out our unofficial "Rare Audi Monday" is a 1985 Quattro, one of a reported 73 sold here in 1985. Back in September, this seller was looking to flip and profit from their more reasonable 2013 price of around $15,000 to a seemingly outrageous $79,950 asking price. Well, no one took the bait and proving that the Quattro isn't the E30 M3, it's back on the market six months later with a $25,000 price drop. Though it's more in line with top ask on later Quattros today, it is still very steep for the market and arguably out of line with the current value, which is likely around a further $20,000 less than the new ask. But, since there are only a handful left out there, this is an opportunity that doesn't come along every day!
The below post originally appeared on our site September 29, 2015: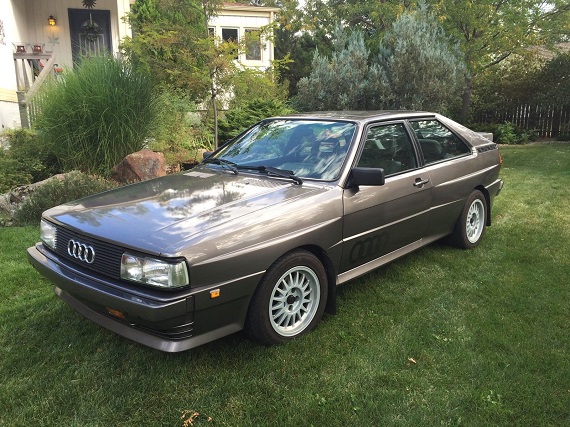 It's always a bit of fun to see a GCFSB alumni pop up again; back in September of 2013 this particular Quattro appeared on these pages. Now, typically when we relist a car we've previously featured, we'll do a "revisit". But I'm not going to do that with this car for one simple reason; the change in price. You see, the current seller bought this car almost exactly two years ago to the day. I remember looking longingly at the listing and thinking that if I was in a slightly different place, this car had the prospect of being an incredible deal. Not only were few 1985 model Quattros imported, but to me they're the best looking of the bunch and offer the upgrades of the later Type 85 chassis; better electronics, an updated dash and some trim bits and of course the classic 8″ Ronals. There were a lot of positives, including a respray, working air conditioning and recent maintenance. Despite that, it traded hands at $15,000 – a bargain for a legendary car in good shape with low miles. Well, if you missed the boat then, tickets for this ride have gotten slightly more expensive….as in, just over 5 times more expensive: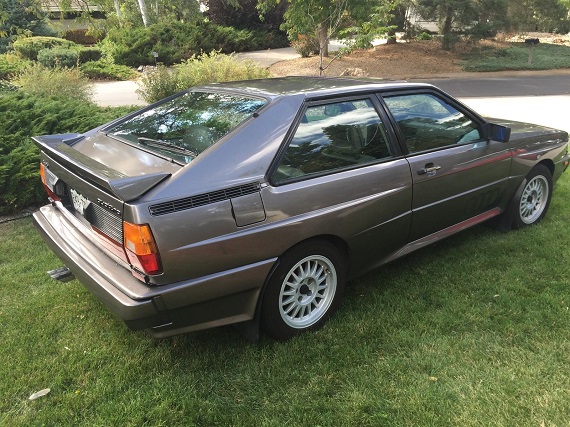 Year: 1985
Model: Quattro
Engine: 2.2 liter turbocharged inline-5
Transmission: 5-speed manual
Mileage: 117,900 mi
Price: $54,985 Buy It Now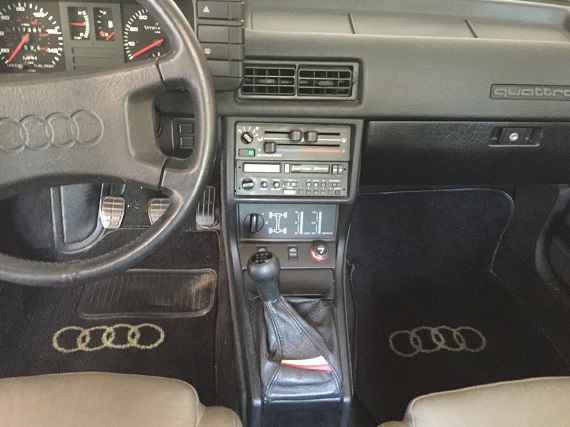 Among the 667 (+/- 1 or 2) ur-Quattros imported to the United States from 1982- 1985, the 84 models (65 cars) and the 85 (73 cars) are the rarest, the rest being sold as 82/83 models. The 85s are generally considered the most desirable due to the incorporation of a considerable number updates several of which began with the 1984 models and numerous others that were unique to the 85. Almost all who have seen this car say it is among the cleanest and nicest unrestored original spec quattros they have seen. While repainted in the original color by the previous owner about 3 years ago, the well kept interior is original as is most of the car in the context of normal use and maintenance. It also has some desirable upgrades such as European lights and bumper treatement, as well as well as invisible upgrades such as brakes, a short shift kit and R-134A A/C . In summary it is an outstanding example, one of 73, rare among the rare Quattro Coupes

While not a hangar queen, it is extemely clean and beautiful and runs as good as it looks. There is no evidence that the car has ever had any rust. There are no leaks, and with that wonderful 5 banger sound, my mechanic in Boulder who has worked on these cars since the late 80s said it is one of the best running WX 10 valve cars he's ever driven.

I have had the car for 2 years this week. I am the 4th owner (all documented) The car has been in Colorado/California since 1991/92:

First Owner 4/15/85 – 1991/92 Mileage at transfer about 6000

Second Owner 1991/92 – 7/2/2012, Mileage at transfer about 107K

Third Owner 7/2/2012 – 9/26/13 Mileage at transfer 114600

Current Owner 9/26/2013 – present – Current mileage is 117465

The drive train is original however, the car has had some recent extensive maintenance. About 3 years ago the previous owner had the head rebuilt and the original turbo rebuilt. He also installed new brakes and rotors (with dual piston caliper front brakes), replaced all of the CV joints, water hoses, etc.installed a new hydraulic slave cylinder, and had the A/C rebuilt. In addition to the major mechanicals he paid attention to detail such as restoring the original stereo cassette player and putting the cruise control in proper order.

In February , 2015 I had the timing belt, water pump, alternator, and drive belt replaced. Upon having the A/C ,which works great, charged, I had it converted to R-134A from R-12 freon. The modification is invisible and the car cools like my newer Audi, without heating up in traffic.

The car is a joy to drive and is a people magnet wherever it goes. I had 2 of these back in the late 80s and early 90s and prayed for snowstorms in order to go for rides in the mountains, or winter road trips ( a fellow skier name the cars "snow missiles").I guess I have decided to sell it because I shamefully found myself not taking it out skiing or in snowstorms because I found it "too nice" to be driven when it of course an outrageous rallye car should be.

The car is equipped with almost all factory options (e.g. it doesn't have the Canadian option)and comes with original books and receipts from all four owners

Optional Data

Rather than go through a discussion of the differences of the 85 model from the rest of the pack, for those who might be interested in specifics I have included below a series of general descriptions of the 85, 84 and 82/83 models from a great web page last revised in 1997 but that no longer exists entitled "The US Model UR Quattro

Model Year 1985

The 1985 model has proven to be the most desirable with only 73 imported to USA. Many of the updates the1984 cars has were also carried over to the 1985 cars including the optional 15 by 8 inch Ronal R8 16 spoke wheels with 215/50VR15 tires, wider rear valance, 'rolled' inner fender edges. The 1985 did receive an updated interior, which included a new style black dash that was shared with the 4000/4000Q/Coupe GT. The differential lock switch was changed to a rotary knob that was also used in the 4000 quattro. Located next to the differential lock switch were voltmeter and oil temperature LED bar-graph displays. To help eliminate trunk strut problems and lighten the car, a Kevlar trunk lid was introduced which was painted body color. The rear spoiler was also painted body color. The front grill was now sloped like the 4000/GT models but the headlights were still 4 sealed beams The 'Audi' and 'quattro' labels on rear deck were now plastic instead of decals. The rear window now had 'quattro' spelled out in the rear defogger lines. As on the 1984 model the rear bumper doesn't have bolt holes.

EXTERIOR/INTERIOR COLOR CODES

08.01.1984 >> 07.31.1985 MODEL YEAR 1985

F 85-F-90001 >> 85-F-901500

DESCRIPTION

STONE GREY-METALLIC / PLATINUM

Model Year 1984

The 1984 model is the rarest Quattro with only 65 imported to USA. Starting in 1984, the ur-quattros were equipped with the desirable 15 by 8 inch Ronal R8 16 spoke wheels with 215/50VR15 tires. The rear valence was widened to cover the larger wheels. The factory also started to 'roll' the inner fender edges to eliminate tire contact with the body. The 1984 models had a restyled dash, which is only used for this model in this year. It is brown in color and has a carpeted center console. The door pockets are full length and carpeted. The differential lock still uses 'pull' style switch. The A/C is now controlled with an on/off switch by the sliding vent controls. The electrical system is improved with the fuse box now located under hood on drivers side. The interior still has the 83 style diagonal stitching on the seats and door panels. And also like the 83 it has silver 'quattro' stickers on rear side windows. The rear bumper doesn't have bolt holes like the 83 model.

Model Year 1982/1983

The 1983 version of the ur-quattro is the most common. There were 289 imported into the US as 82 models and 240 as 83 models. The 1982/83 cars had 15 by 6 inch Ronal R8 16 spoke wheels with 205/60/15 tires standard. The Quattro drivetrain included vacuum operated center and rear differential locks with a 'pull' style switch. The front grill was vertical with 4 headlights. It had an older style dash with plastic center console, brown in color. The aftermarket ABT dash fits these years. The interior has diagonal stitching on the seats and door panels and half-length plastic door pockets. There are silver 'quattro' stickers on rear side windows; the upper portion of the trunk deck was painted black. The trunk lid also had a black rubber rear spoiler. Some late build 83s have an improved electrical system with the fuse box now located under hood on drivers side. The rear bumper has 4 bolt holes for access to the bumper shock bolts. There are also rear reflectors are located on the body under the rear taillights. On VIN D0542, the suspension was changed to the 4000 quattro style. At this point, the rear sway car was eliminated and the size of the wheel bearings changed.

Description and Specific Data relating to 1982-1985

US Model Audi Turbo Quattro Coupes (ur-Quattros)

The US specification ur-quattro included the following standard features: power steering, power brakes, power windows, power door locks, air conditioning, AM/FM/cassette radio with amplified antenna, 23.8 gallon fuel tank, electrically adjustable as well as heated mirrors, electric rear window defroster, air-air intercooler, crank-triggered hall effect ignition with 100% electronic ignition timing control which incorporated a CPU that monitored boost, engine speed, coolant temp, inlet air temp and throttle position (idle & WOT), oil cooler, auxiliary radiator, hydraulic-assist power brakes, lightweight alloy jack, tinted glass, dark tint top windscreen stripe, 3-point seat belts in rear, low center of gravity & moment of inertia mounted battery, oil-jet cooled and lubricated pistons, forged crankshaft, connecting rods and pistons, sodium-filled exhaust valves, 2 1/2″ stainless steel free-flow exhaust system with dual chrome tips. The following list shows the available options on the ur-quattro.

OPTION CODES:

M027 – Catalyst/Emissions package

M079 – Leather interior

M113 – Canada version

M139 – Passenger seat and backrest heated

M188 – Hot weather package (Radiator & fan)

M289 – 4 wheel drive

M340 – Heated front seats

M341 – Central Locking system

M352 – Cruise Control

M360 – Engine code "WX"

M425 – Wiper and washer for rear window

M430 – Tinted windshield

M439 – Recaro front sport seats

M458 – 7JX15H2 ET45 wheels

M478 – 8JX15H2 ET24 wheels

M553 – US version

M560 – Removable manual sunroof that stores in the trunk

M568 – Tinted side windows

M999 – Sun visor with illuminated mirror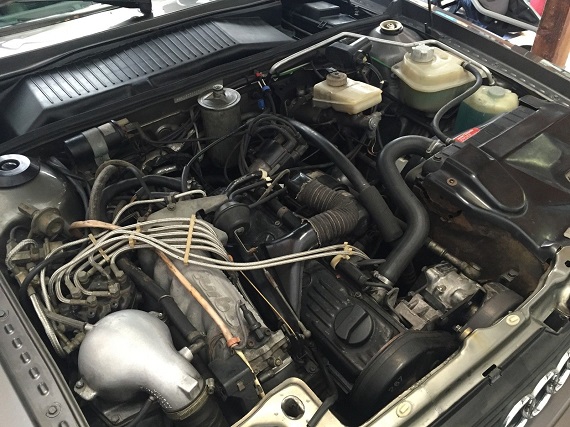 So, as far as I can tell, the current seller has effectively done little to the car, having driven it roughly 3,000 miles and doing a timing belt service, as well as converting the air conditioning to the easier to obtain R-134. Let's call it less than $2,000 of work even at the most expensive shop rates – the big work went in before this seller obtained it, with likely the best part of the 2013 sales price being invested by the previous owner. Has the market quintupled in the past two years? No, not likely. But it has gone up substantially, there is no denying – a few quality examples of even U.S. spec cars have traded north of $50,000 already this year. The '85s are for many the most desirable model, and this is one of the more rare colors and it's in great shape. There may be someone with the funds to make this sale price happen, and perhaps this is exactly the one they're looking for. Unlike the equally priced M3, there just aren't many examples like this to choose from, making the asking price perhaps more justifiable to some. But perhaps the most hopeful for the asking price to be met is the small group of enthusiastic owners of these cars, wishing for greater and deserved recognition for what was a world-changing supercar of the 1980s and a long-awaited appreciation – both by car enthusiasts as a whole, and in monetary value.
-Carter