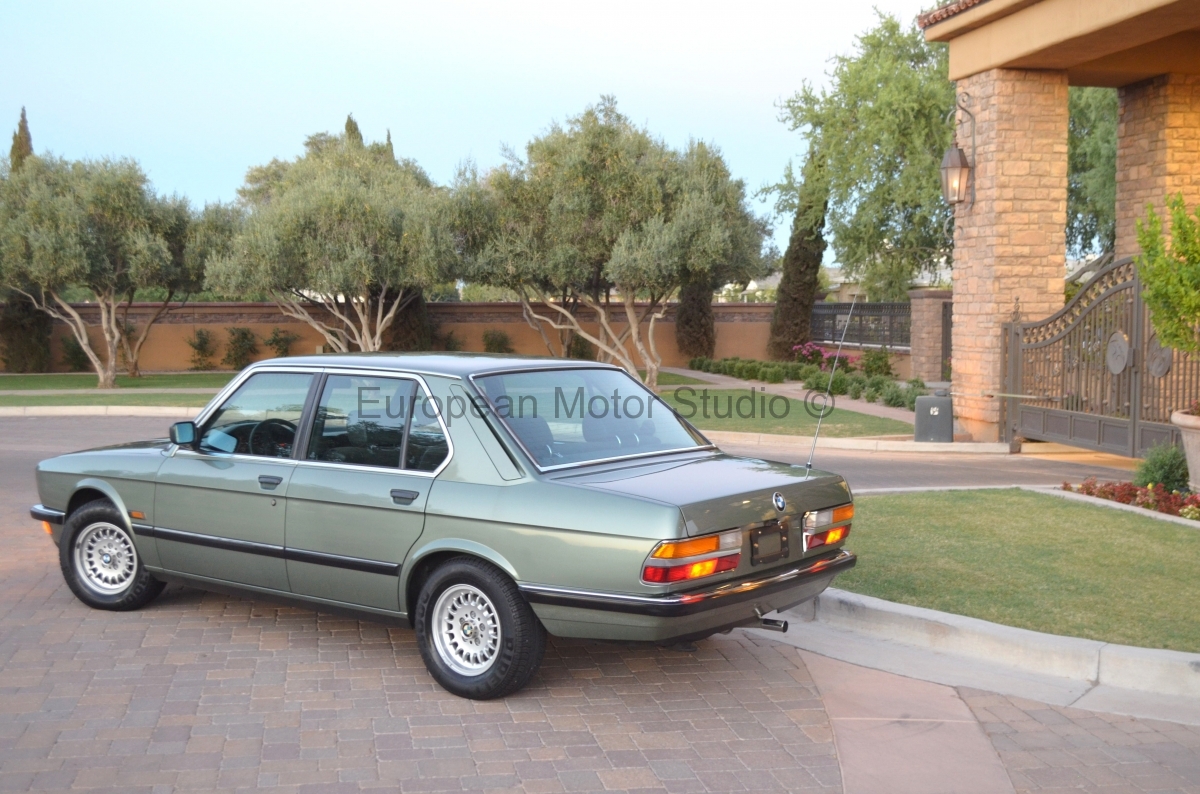 From the top-tier of the BMW performance catalog in 1985, we're shifting gears to what was just about the slowest BMW you could procure in the 1980s. The E28 of course had a base model – here it was the 528e with the M20B27 good for just over 120 horsepower. But European countries and Japan got an even pokier version, the 518 and 518i. The 518i had the fuel-injected M10B18 looking a bit like a lost puppy cowering under the long hood, rated at 103 horsepower. It was capable of gently motivating the E28 to 60 in 12.6 seconds and had a top speed of 109 mph. Hardly thrilling, right? However, it wasn't intended for speed – it was intended for economy. The 218 horsepower M535i you'd like to be reading about consumed 9 liters of fuel at 120 kph over 100km, while the 518i sipped one less. Not impressed? Around town, that same M535i churned through 15 liters for 100 km. The 518i? 9.9. Even though gas was relatively cheap in the 1980s, that still adds up when you're sitting in traffic.
But today if you're looking at a classic BMW E28, you're not thinking of fuel economy. What are you thinking of? Condition, condition, condition: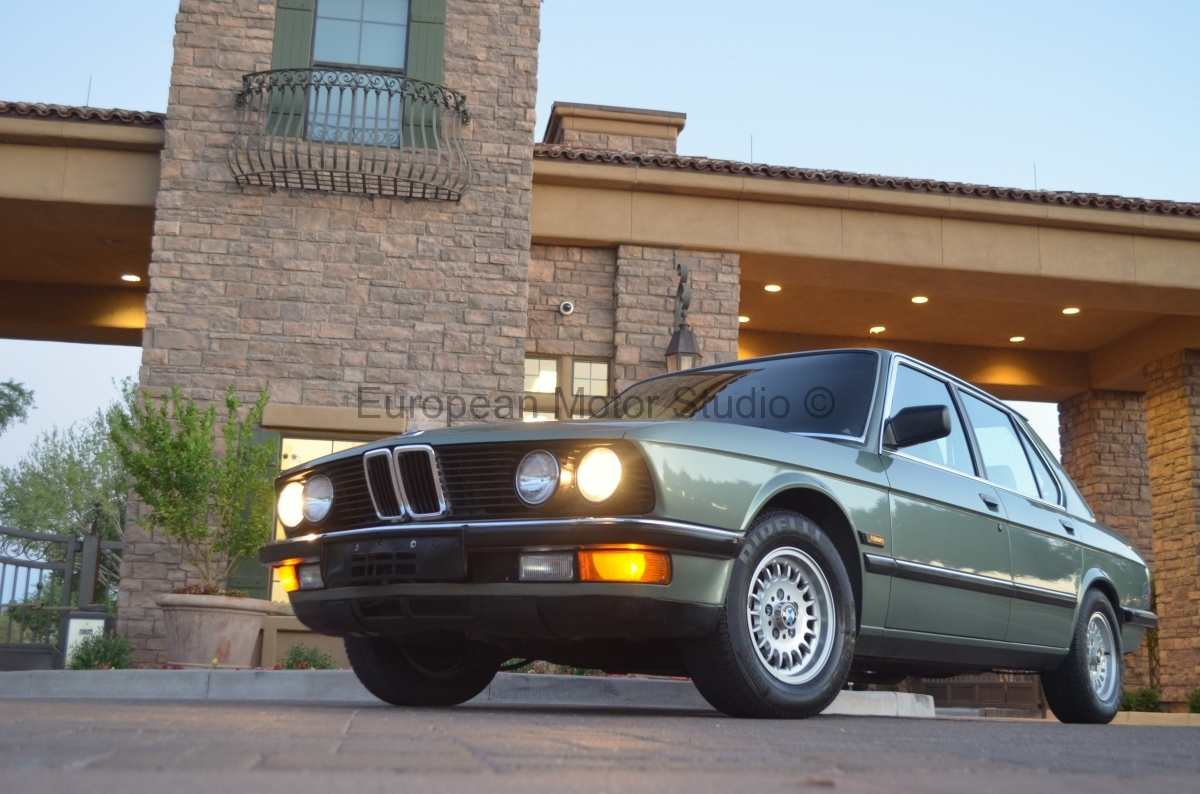 Year: 1985
Model: 518i
VIN: WBADK480336198769
Engine: 1.8 liter inline-4
Transmission: 4-speed automatic
Mileage: 36,850 km (22,900 mi)
Location: Chandler, Arizona
Price: $23,995 Buy It Now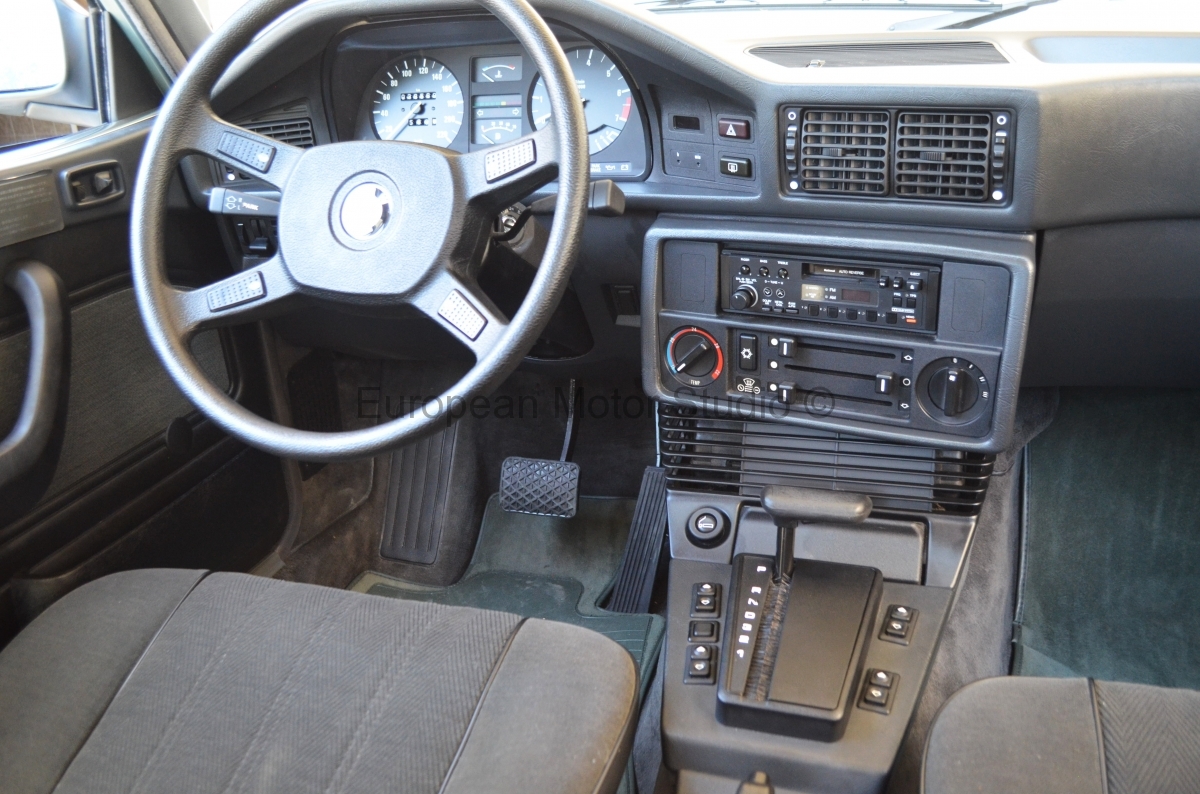 European Motor Studio is very excited to bring to market an incredibly rare and unusual find. This Japanese import, 1985 BMW 518i finished in Platinum Green Metallic over Black cloth interior having covered a mere 36,850 (22,898 miles) kilometers since brand new. This E28 5-Series is draped in its original factory Platinum Green Metallic paint verified by a paint meter used on all of the body panels. Absolutely no signs of accident repair or rust can be seen in this E28 including the undercarriage. All of the exterior trim and glass is all original and in spectacular original condition (one small indent in the rear bumper chrome just under the passenger tail light). All of the exterior rubber seals appear to be original and still soft and not dry rotted out or cracked. The interior is all original and in near showroom condition. The cloth seats and the door panels do not have the typical rips, separation or fraying and the carpets do not have any stains or heel wear. The dashboard looks just about new with no cracking or discoloration of any kind. All of the switchgear and gauges are all unmarked and clear with no signs of wear. Open the hood of this 518i and the engine is just about as clean and original as you would expect to find when it was sitting on the showroom floor. All of the original zinc plating is still present which is very unusual to see still intact. The engine starts right up and idles smoothly and free from any smoke on start up or acceleration. Brand new tires, front pads and rotors along with a service has just been performed on the car. This E28 has to be one of the tightest and nicest driving 5-Series out there. It performs incredibly well and rides beautifully. The suspension and steering are excellent with no signs of wear or looseness. All of the electronics are operating as designed including the original radio, power antenna, power windows, power locks, AC blows cold and all of the interior and exterior lights are functioning. There are no dash lights or check lights on and the system appears to be operating as designed. The undercarriage of the car is incredibly clean and original with absolutely no signs of damage, rust or prior repair. As mentioned above, the car has been paint metered and the reads outs verify that it is wearing original paint top to bottom. Original Japanese paperwork and books are present with the car along with the original spare tire and complete tool kit. This is an incredible opportunity to acquire one of the lowest mileage, incredibly original examples of a BMW E28 sport sedan.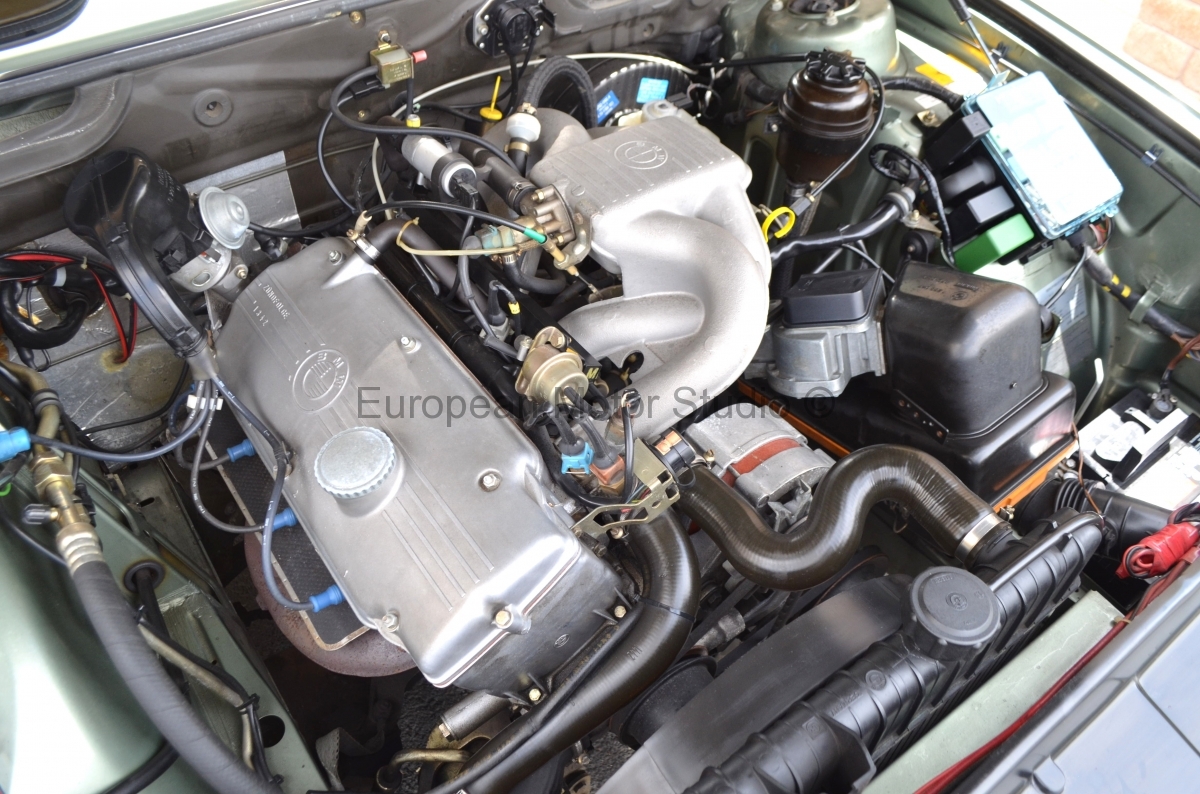 If you can get over the powerplant and transmission, there's a lot to love here. The Platinum Green Metallic is lovely and is matched well by the charcoal interior, both of which appear in great condition. While 5.5″ wide steel wheels were standard, this car has the upgraded 6″ x 14″ alloys, air conditioning and power windows – but little else, including no sunroof. The European bumpers look light and lovely here, but I do wish they were matched with the staggered Euro headlights. Throughout this car appears a time capsule that will (slowly) take you back to 1985. There's even a Japanese label, which our reader Daniel (who is well-versed in the Japanese market) thinks might be an explanation card for the car features.
Price is dictated by rarity and condition rather than speed, and as such you'd expect it to be high. The question comes in opportunity cost, as the $23,000 ask will get you into some very nice E28s – such as this lovely Euro-spec 533i, a neat 535is or even a M5 that recently sold on BaT. While none are quite in the pickled condition of this 518i, they're all a lot more fun to drive. The choice is yours, but I'd expect this economy E28 to hang around a while longer.
-Carter