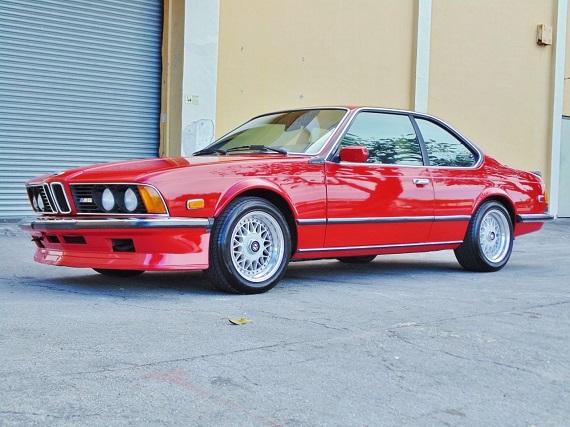 An odd reversal has occurred in the BMW world; go back even five years and the car from the 1980s – outside of the M1 – was the M6. Now, oddly, the M6 may be the best value going in Motorsport BMWs from the 1980s. What caused the turn around? Well, it certainly had little to do with the M6, and probably more to do with the inevitable acknowledgement that the more rare M5 was a great car too, and the E30 has equally gained status as – effectively – a 911 replacement. So the M6, the grandest of BMW's grand touring lineup, has become relatively affordable for the performance level offered. The extra benefit of it's high residual price has been that most have been kept in excellent condition overall; while it's normal to see highly modified or ratty M3s and M5s, finding pristine M6s almost seems cliche; odd, considering the relatively low number produced. Even more affordable than the later M6s was the M6 prototype; the M635CSi. While never imported to the U.S., a fair amount made it here through the grey market long before the M products debuted in this market. With an even more potent version of the inline-6, the M1-detuned M88/3, coupled with lower weight, these early M6s were even more impressive performers than the later cars. However, unlike the later M6s, finding clean and unmolested M635CSis is more difficult as lower residual value on the grey market cars meant they were sometimes neglected or more heavily modified: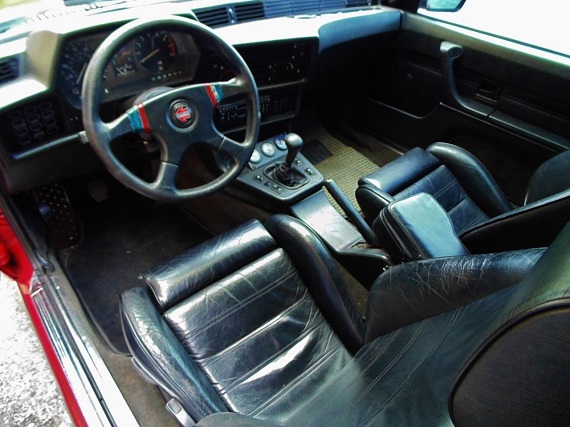 Year: 1985
Model: M635CSi
Engine: 3.5 liter inline-6
Transmission: 5-speed manual
Mileage: 73,000 mi
Price: $24,000 Buy It Now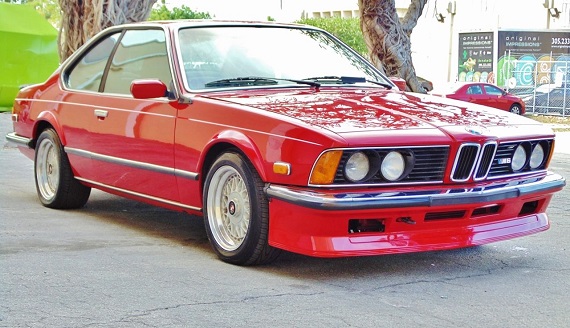 1985 BMW Euro "M6" M635 Non – Sunroof

For those of you unaware of this cars history here is a little break down…

This specific model 6er was powered by a M88/3 (detuned version of M1 engine) which drove this sharknose to an acclaimed 178 mph top speed, making this the second fastest BMW every produced while the M1 was still the first. A M635 was nearly 500lbs lighter and had almost 50 hp more then the American M6. This is my opinion is by far the prettiest and still one of the best performing BMW's ever produced, with a perfect balance of speed and elegance these cars are sure to skyrocket just like the e30's and e28's!

The Zinnoberrot red shines beautifully and is laser straight. This euro M appears to have never been in any accident and is rust free. The interior is unrestored and shows well for its age… most euro 6ers came with a plastic dash opposed to a American version with full leather, this dash has cracked in three different places but is overall not in bad condition as you can see from the pics. Leather on the seats are still nice, date correct momo steering wheel is a little dried out. dealer installed vdo gauges give this 6 a nice touch.

The M88 starts easily and revs freely, pulls hard through all the gears with no hesitations. This car has sat for a long period of time, although it runs and drives a tune up is recommended… The transmission has no worn sychros or pop outs issues, clutch is on good shape with no slippage but it does have a winding noise once it starts rolling. Brakes work but will need some attention.

All in all this is a beautiful sharknose with low actual mileage… although a little bit of TLC is needed this Euro 635 is still affordable.

This Sharknose is a absolute joy to drive and turns heads everywhere you go. A very sought after car by many enthusiast. Buy this one now before the prices sore just like other M cars have… these e24's are great investment, and this particular one wont disappoint you one bit.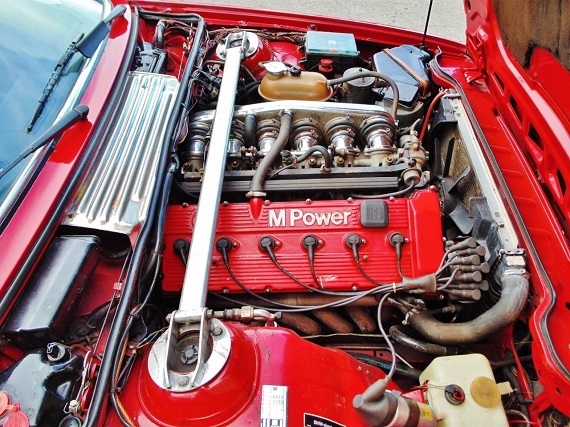 This '85 M635CSi was obviously worked over at some point in its life. It has interesting modifications, such as the polished intake plenum and red valve cover – an indication that it was probably apart at least once. The strut bar is also aftermarket, as are the added VDO gauges and Momo steering wheel inside. None of these items were particularly cheap, but the addition what I believe are Compomotive wheels is probably the single biggest statement. They're neat and stand apart from the usual crowd. However, some details are a bit too much, in my opinion – the red Roundels and extra "M" badge on the nose are just a little overdone. It's also worth noting that it doesn't appear that front bumper is sitting correctly, nor is the driver side indicator; combined with the shiny paint it makes me wonder if the car was in a shunt at some point. The asking price is certainly towards the top of the market for M635CSis, and this doesn't appear to be the best one out there – but again, compared to what it buys in the M3 world, this might not be a bad option and is certainly an example which could easily be brought to a higher level. It will also likely appreciate eventually, especially if all the details are brought in order.
-Carter