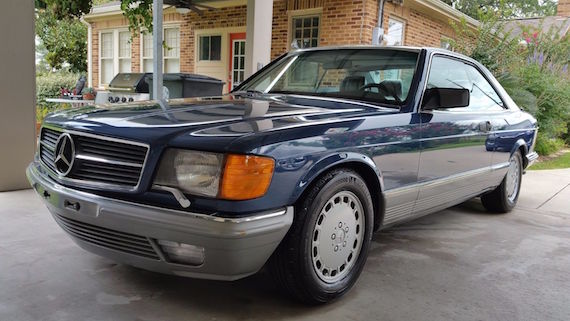 When I brought home a nautical blue W126 last month, I was pretty chuffed to find a car in such an attractive and unusual color. But ever since then, I've been seeing nautical blue Benzes pop up left, right and center. I hadn't really noticed them before, but it turns out that color code 929 isn't as rare as I first thought. Still, it is gorgeous, and looks just as nice on the C126 coupe as it does on my W126 sedan. This particular car was spotted by fellow contributor Andrew H. It's a Euro-spec 500SEC, powered by a version of the 5.0 liter M117 motor unsaddled by US emissions restrictions. That means it should be good for about 250 hp, give or take. Performance won't be blistering – the SEC is more of a grand tourer than a sports car – but that motor is definitely more potent than the one offered in the US-spec 500 from the same period.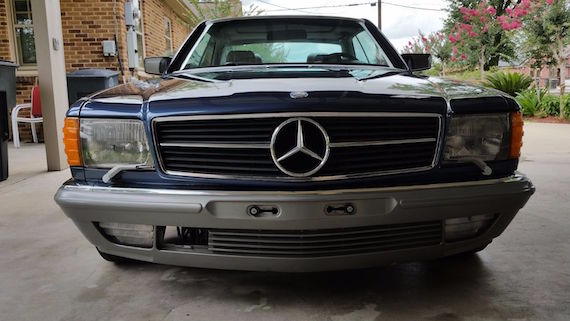 Year: 1985
Model: 500SEC
Engine: 5.0 liter V8
Transmission: 4-speed automatic
Mileage: 186,500 mi
Price: No reserve auction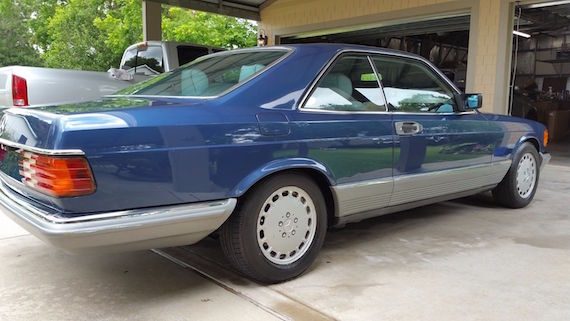 Nice clean California EURO car VIN# WDB1260441A129918. Has had transmission rebuilt along with lots of engine work, new injectors, many gaskets, new altenator, belts, hoses, a/c charge, etc. in Feb., bill was $3500. I have many service records back to 2008 or so. At about 102K $4000 was spent on suspension front and rear, the brake booster and master cylinder as well as the a/c compresor look newer to me. The paint shines nice, but there is some dings here and there, but nothing that PDR couldn't take care of. The interior is very clean for the age and mileage, no offensive odors. It does have an oil leak from a small crack in the pan under the plug, but a new pan and gasket as well as a new hood pad, and a tow hook cover for front bumper is included. I also have a set of 14″ bundt wheels that will go with the car. I ALSO HAVE A SET OF PENTAS AND AN AMG WHEEL LISTED IN MY OTHER AUCTIONS! The car is over 30 years old, so it not new, or like new, its a used car that looks really good for its age. Its sold as is, with no guarantees!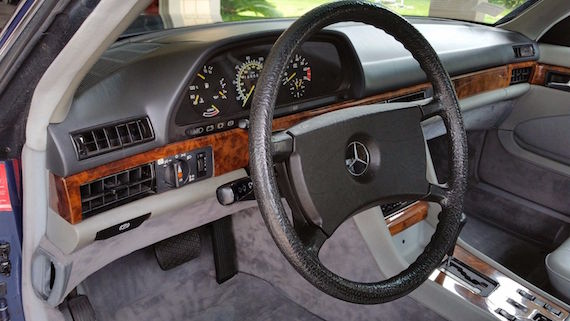 While the seller mentions some dings and nicks in the paint in the ad copy, the images show a car that shines up remarkably well. The chrome and bumpers look good (the tow hook cover is missing in the images, but the seller says one is included). The gray leather interior looks mostly pretty neat, with what looks like a little bit of sagging apparent on the leather in the rear.
A google of the VIN reveals that the current seller, based in Texas, bought the car in April from someone in Illinois. You can find the original eBay listing here. The recent maintenance history reported in the ad (a few thousands dollars worth of work, including new hoses and belts, fuel injectors, a valve cover gasket and a transmission service) was performed back in February by the previous owner. The picture of the February repair invoice shows the tech inspected the timing chain and guides and found them within spec, concluding that they had likely been replaced recently.
It does make you wonder why the car is being flipped so quickly. Potential buyers would want to ask some probing questions to make sure there aren't any mechanical needs (besides the oil leak mentioned in the ad) lurking beneath the surface. With so many miles on the odometer (186k), this is a good candidate for a cheap daily driver. Provided it passes a PPI.
– Craig