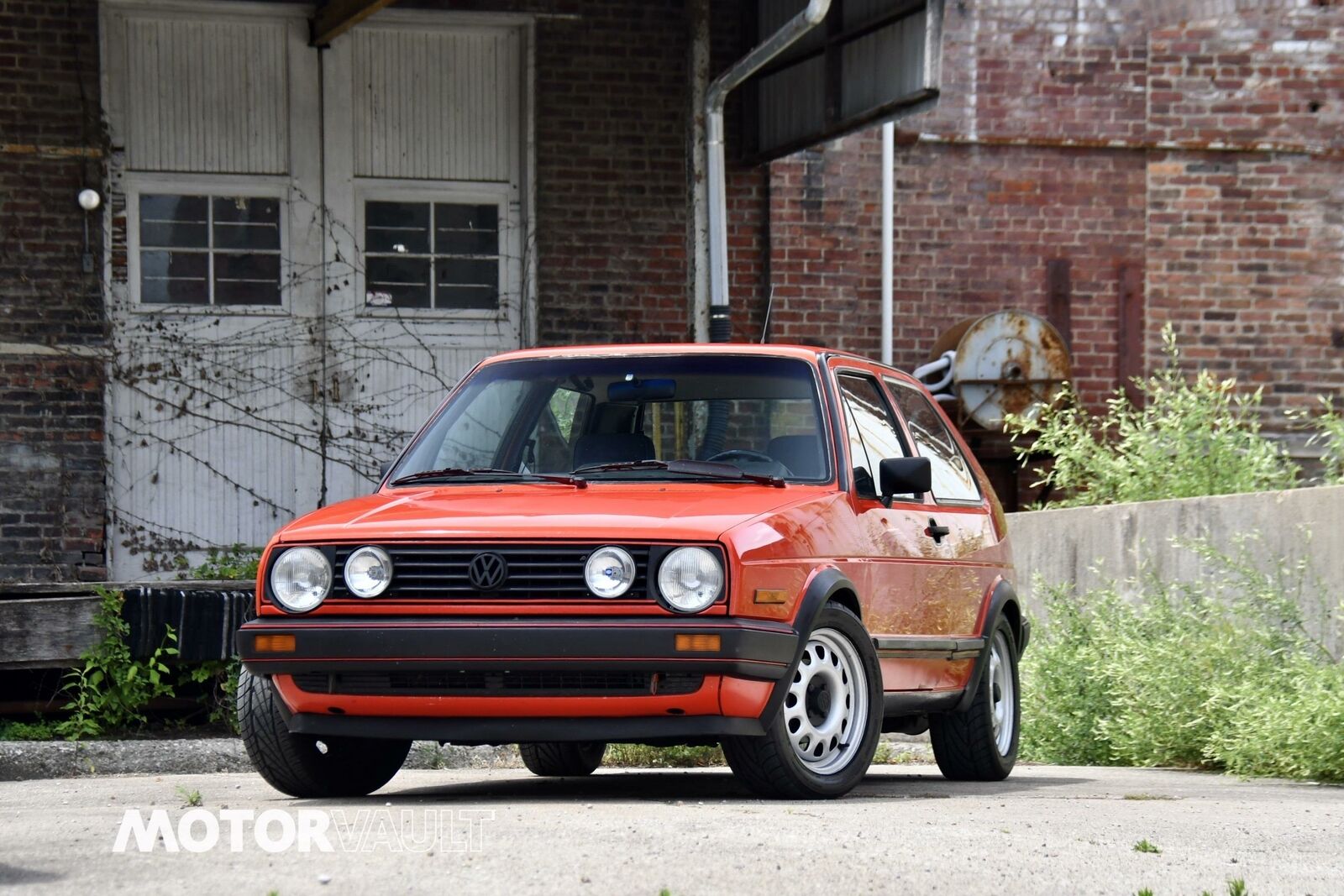 Replacing a car universally heralded as the second coming of the automobile certainly wasn't easy for VW, but the Mk.2 chassis proved up to the task immediately. It was very much the same formula as the original with a touch more refinement, space and power. The lines of the Mk.2 were less angular and upright than Giugiaro's original design, but several aspects of the Herbert Schäfer replacement mimicked another Giugiaro design – the Lancia Delta. This was most notable in the C-pillar, which tapers with nearly the exact same angle, while early 4-door Golfs also shared the split-glass look on the doors.
For U.S. customers, the GTI continued to be a 2-door only affair and was initially only available in three colors – Mars Red, Black, and Diamond Silver Metallic for an extra charge. Customers opting for the GTI package paid approximately $10,000, which included red-accent trim outside, 'Bottlecap' 14″ alloys and blacked-out fender trim, a rear spoiler above the window and aerodynamic headlights. Dynamically, the GTI received the new 100-horsepower 'HT' high compression 1.8 liter fuel-injected inline-4, which was solely mated to the front wheels via a close-ratio 5-speed manual. GTIs also sported 4-wheel disc brakes for the first time and front and rear anti-sway bars to go along with the sport-tuned suspension. The driver got special striped fabric in either gray or red over their sport seats, and a leather-wrapped steering wheel and digital computer display were all standard. Buyers could, of course, opt for a sunroof, air conditioning, power steering, cruise control and an upgraded stereo if they chose.
Despite the upgraded spec and new model, Golf sales continued to slide in the mid-80s from their height (as the Rabbit) in the late 1970s. Coupled with their spunky nature, affordability and less-than-stellar build quality, very few Westmoreland-built A2 GTIs remain around. This one looks to be saved from obscurity, and a few tasteful mods have it looking ready to impress: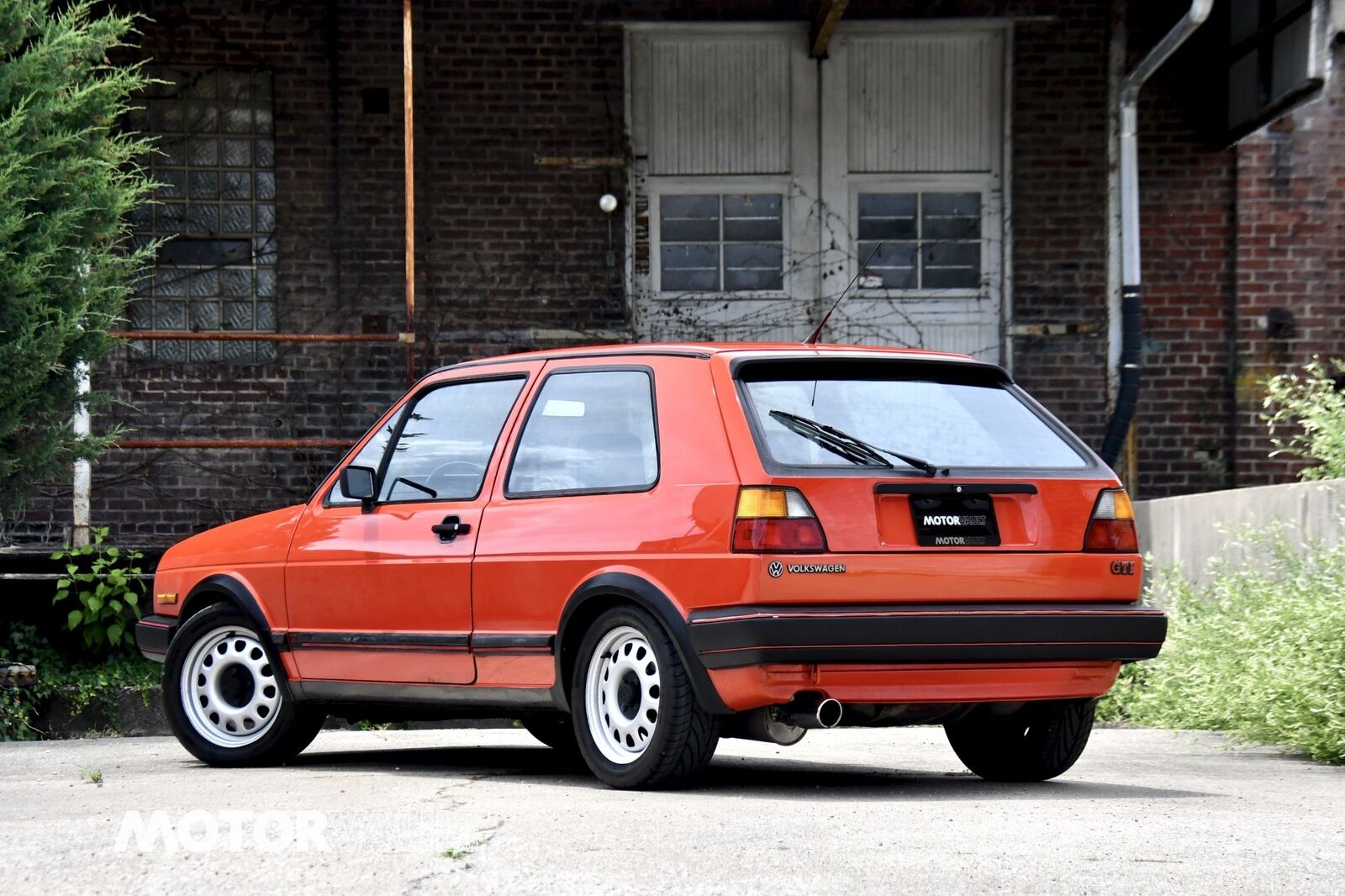 Year: 1985
Model: GTI
VIN: 1VWDB0173FV056241
Engine: 1.8 liter inline-4
Transmission: 5-speed manual
Mileage: 186,990 mi (TMU)
Location: Indianapolis, Indiana
Price: $8,100 Buy It Now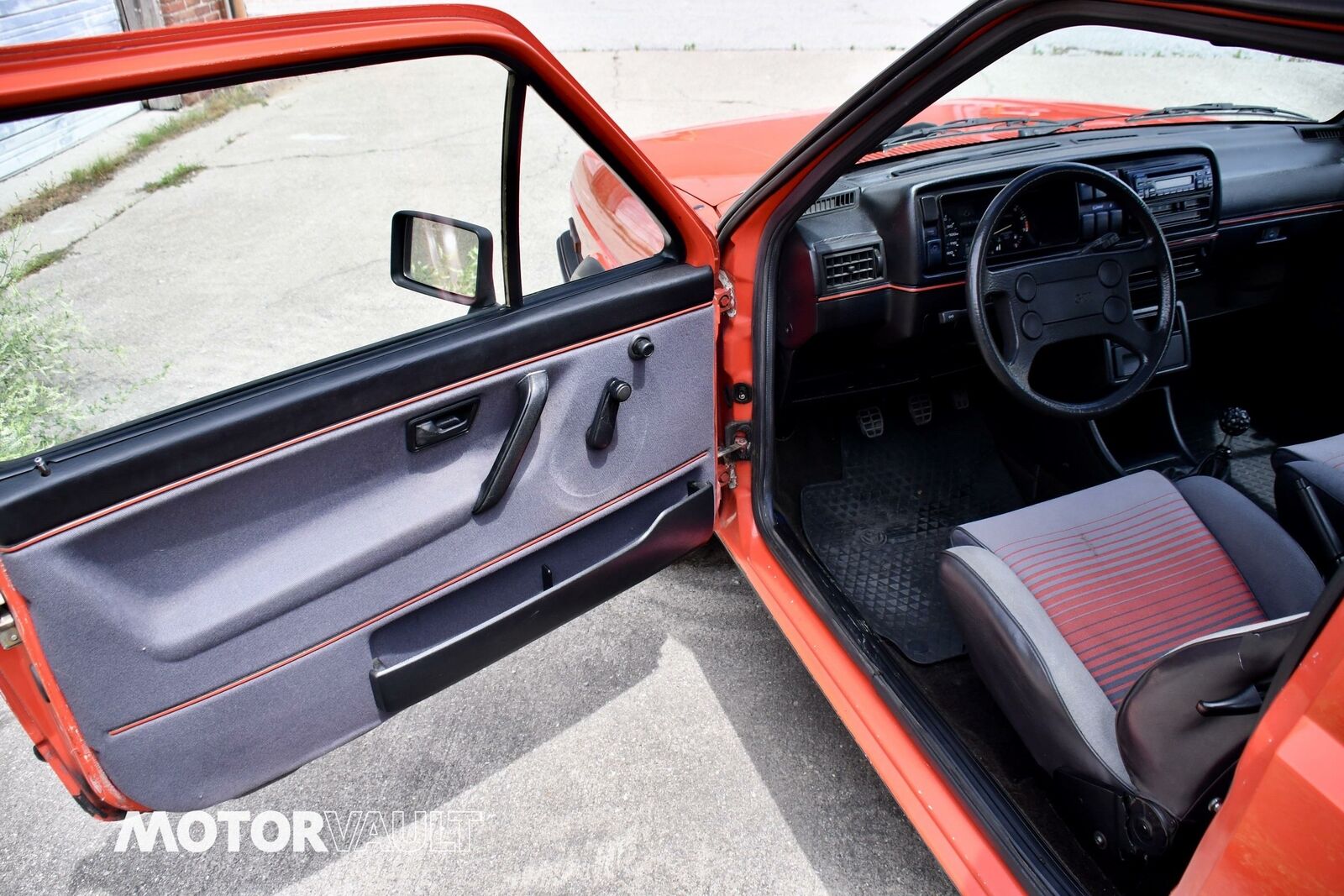 Vehicle Description
YEAR: 1985
MAKE: VW
MODEL: GOLF GTI
VIN: 1VWDB0173FV056241
MILES: 186,990 (TMU)
ENGINE: 1.8L 8 VALVE
TRANSMISSION: 5-SPEED MANUAL
EXTERIOR COLOR: MARS RED
INTERIOR COLOR: GREY

To arrange an appointment to view the vehicle, please contact or call 317-522-8260.

_______________________

When this lovely GTI popped up on Facebook Marketplace in early 2019, the current owners interest peaked. As an enthusiast, when certain vehicles present themselves, we sometimes find ourselves throwing logic out the window and minds begin to cloud with illusions of grandeur. After swiping through the three grainy photos, hairs began raise on his neck and a voice said he was destined to pick this gem up ASAP. A Carfax was then purchased and it checked out. A mileage discrepancy was noted, but this isn't a collector, it's a car that's meant to be driven and enjoyed by the masses. He was even more interested knowing the vehicle has remained in the Indy area since at least 1988. Upon initial correspondence with the previous owner, he was pleased to see the amount of service completed throughout his ownership.

Items included:

Timing belt
Water pump
V-belts
Valve cover gasket
New cap, rotor, wires, plugs, oem ignition coil and igniter module.
Low temp thermostat
New tie rods inner and outer on both sides
New control arms
Sach G60 struts, H&R OE sport springs, mounts on the front and rear.
New FTE master cylinder, ATE proportioning valve, hard lines, rear rubber lines, and TRW Mk4 aluminum rear claipers
Brembo discs on mintex pads front and rear with FAG rear wheel bearings
New front engine mount
Trans oil flushed
91 Corrado wheels

Everything was lining up and the car gods seemed to be on his side. After a quick chat with the wife, he drove south of Indianapolis to Columbus, IN to pick up his new Mars Red 8v Golf GTI. Immediately rewarding himself with smiles for miles on the slow two hour cruise home! Windows down for cross air ventilation and the raspy sounds emitting from the tail pipe.

Immediately after picking her up, the vehicle was taken to Reggie's Motorworks, a go to shop in Indianapolis where a complete safety inspection was performed.

Upon inspection, the following services were completed on 03/22/2019 – $824.38:

Ignition tune up
New air filter
Brake fluid flushed

About 10 miles and a week later, the vehicle was brought back in for the recommended steering shaft replacement. Vehicle was then aligned and a new breather hose grommet and heater hose were installed. – $608.10

New Nitto Neo Gen 205/50/R15 tires were installed on May 8, 2020 – $434.89

As with all other vehicles, additional opportunities have presented themselves so the vehicle was taken in to Jon Fricker Automotive in Westfield, IN. for a check over and a pre-sale inspection.

The following items were serviced on 05/08/2020 – $2,163.38:

New exhaust hanger
New timing belt kit including idler pulley
Adjust clutch
Repaired blower motor speeds
Drilled bottom of the airbox to hear more noise!
New speedometer cable
Fuel system cleaner, service and clean throttle body and CIS air flow plate
PDR work
Exterior saw complete paint correction

In preparation for sale, you can clearly see how much this car touched the owners heart. He hopes someone will enjoy it as much as he has, but hopes they drive it! The vehicle was driven on nice dry days and had only accrued less than 200 miles in the last 18 months.

Items to note:

The a/c does not blow cold and the previous owner noted it wouldn't hold a charge.
Driver's side seat track could be removed, cleaned, and lubed.
Idle screw sometimes needs adjusted.

Vehicle comes with service receipts, period correct new MTV and Reagan Bush 84 bumper stickers, carfax vehicle history report, and a clean Indiana title.

_______________________

Please consider this an invitation to visit MOTORVAULT! If you have any questions or wish for more information about this vehicle or any other vehicle, please do not hesitate to call Brian Henry @ 317-522-8260 or email
Vehicle Warranty

VEHICLE SOLD AS IS. NO DEALER WARRANTY IMPLIED NOR APPLIED.
About Motorvault

As a locally-owned small business, we strive to exceed your expectations!

With over 20 years of sales, consignment, brokerage and marketing experience of high-line and exotic vehicles, we opened our doors to work with like-minded enthusiasts.

We wanted to make the sales process easy. If you're looking to sell or buy your next daily, or in search of your next track car, MOTORVAULT is here to help.
Contact us for more details
317-522-8260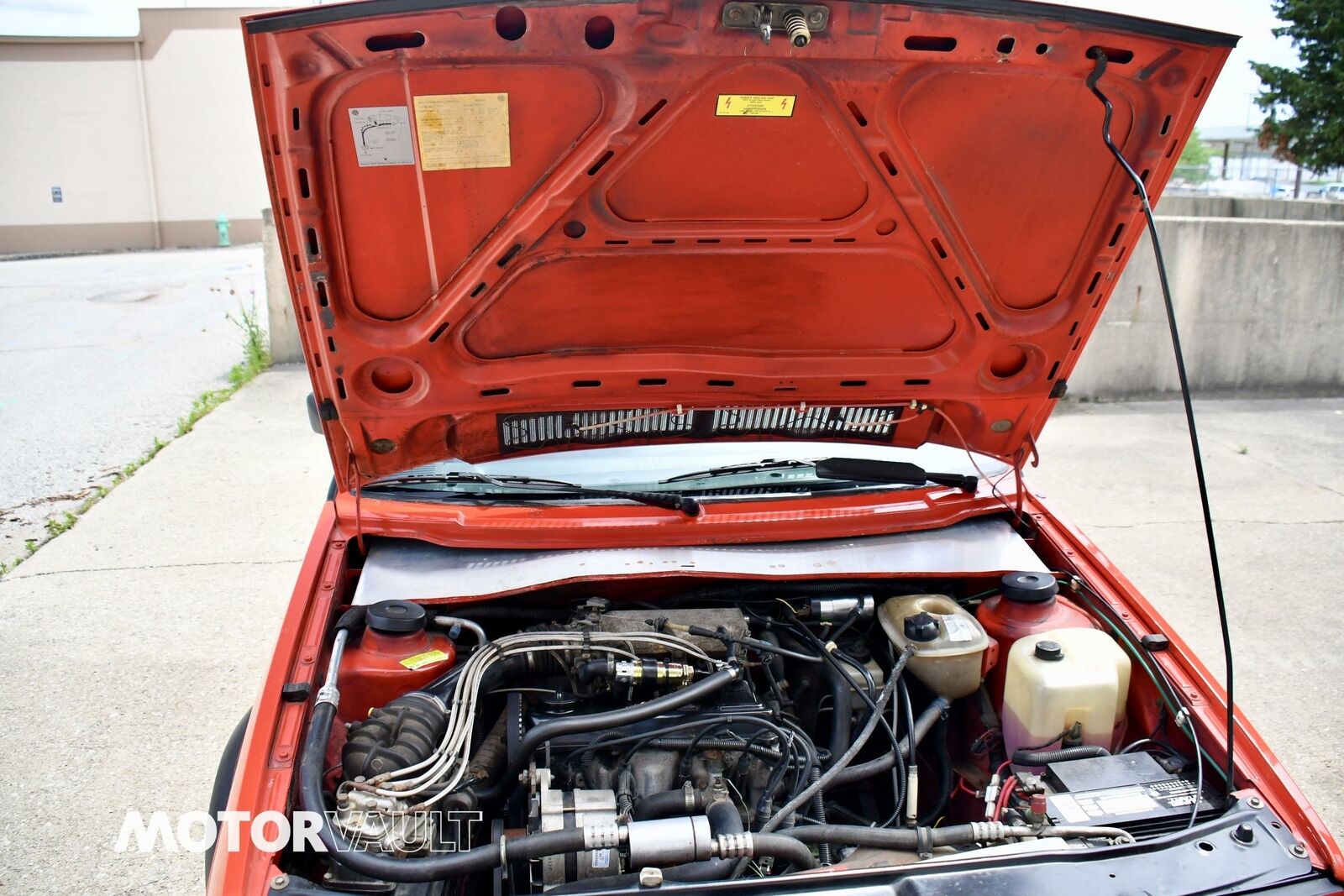 Probably like you, my first reaction when seeing this example – with its slick photography and gleaming paintwork accented by Corrado steelies and a four-headlight grille – was 'Wow!'. And considering that clean A1s have been trading in the stratosphere recently, the $8,100 asking price seemed at first quite reasonable. There's a lot of mechanical work completed recently, which is frankly unusual on these cars, and outside of the wheels, lights, and a larger exhaust, it looks to be nicely original right down to the striped seats. It's when you start to dive into the details that things start to look a little less Marsy.
First, the car has a branded TMU title, which isn't the end of the world on a car such as this, but also means that it's been around the block a few times. The lead photographs were also presented in such a way as to capture the best angles of the car while hiding a few of the warts. While that is certainly the point of sales photography, if you look closely you can see dimpled body panels, trim hanging off, ripped interior surfaces, and corrosion. None of it is completely a deal-breaker, but it's also not necessarily a screaming deal if you're looking for a pristine example.
In all, I think probably priced a little aggressively for what you're getting. Finding a clean early A2 is difficult, no doubt. But they do turn up from time to time, and last year I looked at a similar car in better condition that sold for $2,600 less than the asking price here. That car too was not without issues, but seemed to have a few less than today's example.
-Carter